Coronavirus status – you can buy books and ebooks to plan, enjoy and dream. Please use the 'contact us' form for any essential messages. Thank you!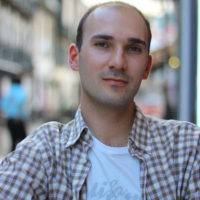 Jacint Mig
---
Jacint met Nike many years ago on a long coach journey as they both travelled into the unknown to build a new life in a different country. His love of outdoors emerged after a holiday in Madeira 2008. where he was mesmerized by the views and trails and since then wherever he and Nike go they try to seek out the best trails.
He became a keen outdoor photographer and he enjoys documenting the trails with his photos. His enthusiasm about health and fitness drove him to become a personal trainer and when he is not walking he loves to run along the River Wey in Guildford. He really enjoyed collecting the trails of Cyprus and hopes to share his passion for outdoors with others.