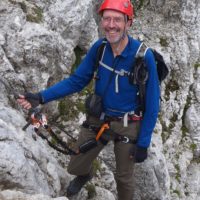 Mick Borroff
---
A Southerner by birth but a Northerner by adoption, Mick Borroff has enjoyed hiking, scrambling, mountaineering and snowshoeing for many years since a back injury led to giving up caving. He has explored many of the European alpine regions from Norway to Bulgaria and further afield in New Zealand, Nepal, as well as Ladakh, Spiti and the Garwhal in India.
Early retirement has opened-up more opportunities to travel and develop his photography skills. It has also provided the time to finish his last remaining Munros and deepen his understanding of the integrated application of digital mapping, remote satellite imaging and GPS in the outdoors.
Mick is an Alpine Club member and current President of the Yorkshire Ramblers' Club, a 125-year old mountaineering, caving and exploration club who don't all ramble and aren't all from Yorkshire! He lives in Nidderdale, on the edge of the Yorkshire Dales.