Kanchenjunga Base Camps trek: Where heaven and mountains meet
After hearing about its reputation as one of the most beautiful treks in the world, Mick Borroff decided to undertake the Kanchenjunga Base Camps trek in Nepal and see it for himself.
One thing about being a member of a long-established mountaineering club like the YRC is that there is usually plenty of ideas and in-depth advice available from other members. When I gave a slideshow after the fantastic trek we did across Dolpo, people asked me what was next. During the discussion, three members with somewhat starry eyed waxed lyrical about the Kanchenjunga Base Camps trek in Nepal as being something rather special… so I had to take a look.
Among the 20 treks outlined in the Cicerone guidebook Trekking in the Himalaya, Kev Reynolds contributed a chapter on the Kanchenjunga: North and South Base Camps trek following his visit in 1989. He noted that mountaineer Peter Boardman 'confessed that the walk to the base of the mountain had been the most beautiful he had ever undertaken.'
Kev also wrote the more detailed Kangchenjunga: A Trekkers Guide (now out of print), which was published by Cicerone in 1999. Having read this, I strongly suspect that Kev shares Peter Boardman's view that the base camps trek is a strong contender for the most beautiful walk in the world – it is clear it's certainly up there with the best. Although some of the introductory material is now a bit dated, the trek descriptions are still spot on.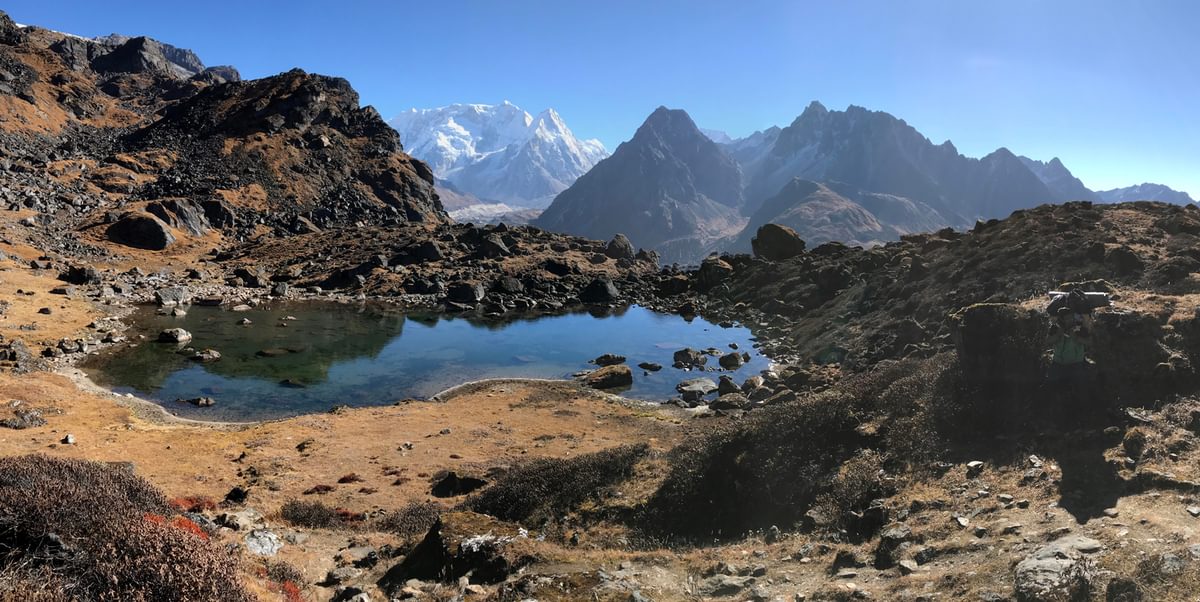 A world class trek
I reflected on what makes a world class trek. It's not just jaw-dropping scenery; there are many other dimensions: the local people, the culture, the challenge and remoteness of the countryside, together with the plants and animals seen on the journey. The trekking crew, your companions and the weather also come into play.
Measuring the Kanchenjunga trek against these criteria from the guidebooks, personal accounts and material on the internet made it easy to choose it for my next challenge.
Kanchenjunga (8586m) is the third-highest mountain in the world and rebuffed an attempt by Dyhrenfurth's 1930 expedition from the North Base Camp. Kanchenjunga was first climbed by Joe Brown and George Band in 1955 from the South Base Camp. This creates two objectives for the trekker, with different perspectives of the mountain and its surrounding peaks and glaciers from the Nepal side.
This area is also attractive because it is little visited by tourists compared with Annapurna or Khumbu and there are few tea houses and lodges. The entire district was closed to trekkers until 1989 and eastern Nepal probably sees no more than 500 trekkers each year undertaking the Kanchenjunga.
The route ascends through five of Nepal's climatic zones (tropical, sub-tropical, temperate, sub-alpine and alpine). It progresses from the hot and humid lowlands of the Nepal–India border (the Terai), up through the foothills through a progression of habitats – past the rice paddy terraces on cultivated hillsides and black cardamom plantations, then bamboo, rhododendron, pine and larch forests and on to more familiar terrain higher up as the mountains and glaciers are reached.
The houses in the villages are adapted to weather conditions in these zones, with thatched roofs lower down, then tin roofs and finally simple timber-planked roofs held in place with numerous heavy rocks. The birders in our party were kept busy and there were plenty of plants and wildlife to see, including orchids, gentians, edelweiss, blue sheep, lizards, geckos, frogs, cicadas, butterflies, moths, spiders and some slippery leeches.
Simbu, a colourful Limbu village
Limbu memorial stones set into the walls of chautaara resting places
Wayside Shiva shrine
The villages lower down are predominantly Limbu and Rai and the trails between the settlements were dotted with poignant carved memorial stones often set in chautaara (trailside resting places often used by porters). The higher villages at Phere and Ghunsa were home to people from Tibet and were complete with Buddhist gompas, chortens and mani walls, with many prayer flags in evidence.
Kathmandu and beyond
Our club is fortunate in having a 20-plus year relationship with adventure company Rimo Expeditions, organiser of treks and expeditions across the length and breadth of the Himalaya. A dozen of us began our journey by flying out to Kathmandu to meet co-owner Chawang Motup Goba, who had just wrapped things up in Leh as race director of the Ladakh Marathon to come with us, and Raj Kumar Rai, our experienced guide for the trek, who had accompanied Sir Chris Bonington on several of his expeditions. Kathmandu was much the same as when we were there for the Dolpo trek. Following the earthquake, the repairs to Boudhanath Stupa had been completed and the scaffolding removed. More clearance work had been done in Durbar Square and there were notices giving details of works to rebuild some of the temples.
We caught an internal flight to Bhadrapur in the Terai lowlands in the east of Nepal.
The flight afforded a spectacular view of Everest and the other snow-capped Himalayan giants above the clouds.
At Bhadrapur, our kit was loaded into three jeeps and we headed for the hills. The road was mostly tarmacked and comprised an endless series of switchbacks as we climbed up and down spurs and crossed watersheds, bridged rivers and progressed into the foothills. On the way, we saw rhesus monkeys playing beside the road. We stopped for a pleasant thali lunch and drove past the tea plantations at Ilam then, a gruelling five hours later, stopped for a night in a hotel in the town of Phidim.

Jannu (7711m) and Kanchenjunga (8586m) hover in the distance
Last leg of the jeep journey to Suketar
The next morning, it was an early start and another three hours in the jeeps, stopping only to photograph our first views of distant Jannu and Kanchenjunga. Finally, we drove up the track to Suketar, where the rest of the Rimo crew and some porters waited.
There were no mules on this trip and with over 1000kg to transport we were going to be relying on porters for the heavy lifting. Rimo had brought a team of 20 from a village in the Kathmandu valley. They were helped by a second team of 15 from Taplejung, who were engaged to carry the food supplies.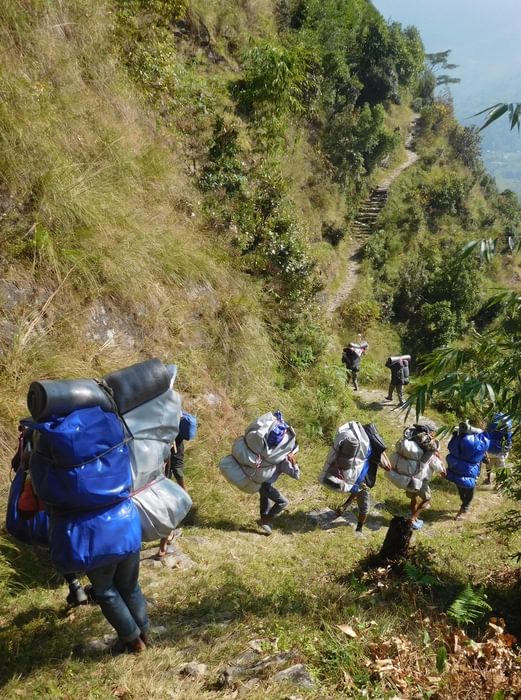 Niri, our excellent and ever-cheerful cook from both the previous Dolpo trips was with us, this time with a nine-strong kitchen crew. They had prepared lunch for us, which we ate in the sunshine while the Kathmandu porters played weighing games with our kit bags to get equitable loads sorted out.
After lunch we started with a gentle three-hour walk along a track down to our orange-tented camp at Lali Kharka, a high pasture with a lovely open view, and we relaxed with afternoon tea in the sun. Just before dinner, Motup got out his transcutaneous pO2 meter to record our baseline oxygen saturation levels so he could monitor how we were acclimatising each day in the weeks to come.
The 6–7–8 strategy
Like most mornings, we had a 6–7–8 strategy. For the uninitiated, this means bed-tea delivered to the tent at 6am, followed by a bowl of warm washing water some five minutes later, then kit bags packed and a large breakfast at 7am, ready to set off walking by 8am.
Four days were spent going against the grain of the lower hills, often passing poignant carved and coloured Limbu memorial stones set into the chautaara – resting places for porters to ease their loads. After a big day, we reached our camp at the damp and misty col of Lalisa Bhanjyang. In the morning we were in another world: bright autumnal colours glowing in the sun, with back-lit views past skeletal trees to Jannu's unmistakable profile.
Lalisa Bhanjyang camp
Entertaining the local kids in camp
Blue mountains at Lalisa Bhanjyang
A day of downhill led us past a family camped in the forest, the father making butter in a churn with a wooden paddle while his two children did their homework outside. We also camped in the forest at Tortong. The next day we entered an ancient Tolkienesque wildwood on the north bank of the Simbuwa Khola progressing upwards past moss-covered rocks, massive old pines and gnarled rhododendrons. We passed the trail to the North Base Camp over Sinelapcha La, marked by a prayer-flagged Shiva shrine, to camp at Tseram. In the morning, the views of Kabru's four summits, Rathong and Koktang over the Yalung glacier moraine were superb. As we walked up into the ablation valley, the views just got better and better. Camping at Ramche was simply a delight and a walk along the lateral moraine to the shrine at Oktang (4855m) was as close to Kanchenjunga's South Base Camp as we could get, and the views even better.
Reflections of Kabru and Rathong with Koktang to the right
Ramche camp (4492m) in the ablation valley beside the Yalung glaciers lateral moraine
View along the moraine to Oktang chorten 4855m to Kanchenjunga and Talung
Offerings to Shiva at the Oktang shrine
Descent to Tseram camp
After backtracking to Tseram, we had a 5–6–7 strategy, with packed lunches to deal with the three passes connecting us to the Ghunsa valley. As we climbed in the morning sunshine, the views were simply stunning – lots of good excuses to stop and rest. Higher still we could see the valley coming down from Sikkim, used by the early expeditions.
World class scenery on the trail to the Sinelapcha La
The views of the Yalung Glacier and upper Simbuwa Khola just got better as we climbed
Ghunsa village is populated by Tibetan-speaking Bhotyas and is the last permanent settlement in the valley, its sturdy wooden houses built among yak pastures and potato fields. Holy juniper, fire smoke and prayer flags flutter around almost every house, and they have a new health centre, a thriving primary school, post office and several smart lodges. It is an excellent place to take a well-earned rest day, which we used to visit the Tashi Choeling Gompa, one of the oldest Bhuddist temples in Eastern Nepal.
The old cantilever bridge from Ghunsa village to the gompa
Tashi Choeling gompa
Deities in Ghunsa gompa
Deity in Ghunsa gompa
It was a cold morning as we left Ghunsa, thankful for the warming sun as we steadily climbed up through the larch woods, their frosty needles glowing gold, to reach the wide glen of Kambachen at a river confluence, overlooked by Jannu. The next day the alpine terrain became more open and we passed yak herders' tents on the way to Lhonak, our final high camp. The magnificent mountain views developed further to include Gimmigela Chuli and Wedge Peak (Chang Himal). Another gloriously sunny day was in store for our excursion to the small lodge at Pangpema and Northern Base Camp.
Frozen grassland, boulder fields and several landslips were crossed to gain the moraine of the Kanchenjunga glacier and a breath-taking view of its towering north-west face. Reluctantly we tore ourselves away and returned to Lhonak.
Camp at Kambachen
Camp at Kambachen
Lhonak Camp
L to R: Cockscomb Taple Shikhar Gimmigela Chuli and Kanchenjunga from Pangpema
We returned the same way back to Ghunsa, every downhill step now easier with the oxygen gain. We followed the Ghunsa Khola through Phere, another Tibetan village, and on to its confluence with the mighty Tamor Nadi. A succession of hillside traverses, suspension bridges, gushing waterfalls, sections of deep river gorge, verdant bamboo thickets and lush forest were passed over another five delightful days.
Heartfelt thanks
Finally, we walked past terraced rice fields to reach Taplejung, where we met the jeeps for our switchback ride back down to Bhadrapur airport and our flight to Kathmandu. We said goodbye and gave heartfelt thanks to our porters and crew to whom we owed a deep debt of gratitude for their efforts in making a dream come true.
So, there you have it, a memorable trek that in every respect lived up to its reputation for having some of the finest scenery on the planet. Where next I hear you cry… that's a very good question!
A timeless scene yaks grazing at Phere
Riverside trail beside the Tamor Nadi
Look, no hands! Kulparsad, our head porter, crossing a bouncy bridge.
Foothills tower above the cardamom plantations
Rice terraces nearly ready for harvesting
A Limbu lady dressed in her finery
Helping with homework
Some of our porters from the Kathmandu Valley
To read more articles like this get our newsletter
Sign up today for a 20% discount on your next purchase. Join over 30,000 enthusiasts from around the world. If you don't love our mix of new books, articles, offers and competitions, you can unsubscribe at any time. We will never spam you, sell your data or send emails from third parties.