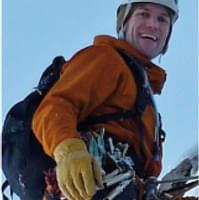 Mike Pescod
---
Having climbed on Ben Nevis and in Glen Coe for fifteen years, Mike Pescod has an in depth knowledge of the climbs, the weather and the conditions you can experience here. Working full time as a mountain guide here for ten years, Mike has been on Ben Nevis over a thousand times and regularly spends up to a hundred days climbing each winter both professionally and recreationally.
Mike has been on climbing trips right across Europe as well as to Russia, Tadjikistan, Nepal, East Africa and Peru but it is the unique quality of the climbing in Scotland that gives him the most enjoyment and satisfaction.
With his wife, Louise, he runs a mountain guiding and instruction company and has every intention of climbing in the hills here for many years to come.