BookSource is closed for stocktake and orders will not be processed until the 24th.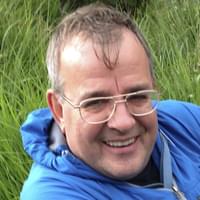 Paul Besley
---
Paul Besley has spent a lifetime walking through the dales and villages of the White Peak. His interest is in the human interaction with landscape. His love of the ancient – whether it is a Neolithic burial chamber, a Norman church or the medieval ridge and furrow landscape – has provided him with thousands of hours of enjoyment. His desire to pass on his experiences has always informed his writing.
He is a regular contributor to magazines. His writing has taken him across Britain and across the world, working on varied subject matter. He is a team member of Mountain Rescue and a dog handler in Mountain Rescue Search Dogs England with his Border collie. He lives in Sheffield with his wife, metalsmith Alison Counsell, and their three dogs Olly, Monty and search dog Scout.