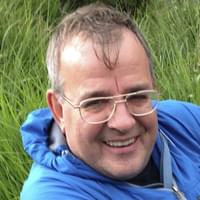 Paul Besley
---
Paul Besley is a writer who began exploring the British Landscape while at school in the 1970s. His focus of work is the interaction between human and the land.
His work has evolved into the study of how the physical environment imprints itself on humans and how as a race we respond.
His belief that walking is a simple activity has led him to support the effort of many just starting out on a lifetime of pleasure. He has a desire to show people that walking does not just have to be in the hills and mountains of national parks or rely on expensive equipment but can be enjoyed from the front door of home through our urban landscape and out into our local countryside.
His books, Day Walks in the South Pennines and 1001 Walking Tips for Vertebrate Publishing, and the three Peak District guidebooks for Cicerone Press, are well respected by walkers and explorers of all ages.
He lives close to the Peak District in The Outdoor City of Sheffield with his partner, metalsmith Alison Counsell, and their three dogs Monty, Olly, and Scout.