Dark Peak Walks
40 walks exploring the Peak District gritstone and moorland landscapes
Guidebook to 40 walks in the Dark Peak area of the Peak District National Park. 35 circular routes for most abilities, from 8km to 19km, around Edale, Marsden, Fairholmes, Baslow and Castleton, including Kinder Scout and Mam Tor, and 5 longer (25km to 45km) routes highlighting the best of the Gritstone Edges, High Moorland and Deep Valleys.
Seasons
The high moorlands in winter and summer; the gritstone edges in spring and summer; the valleys in autumn; the cloughs in spring
Centres
Hathersage, Grindleford, Langsett, Marsden, Dove Stones, Edale, Upper Derwent Valley, Castleton, Greenfield, Chatsworth, Sheffield, Hayfield, Crowden, Hope, Dunford Bridge
Difficulty
Walking in the Dark Peak requires good navigational skills, especially in winter, and a good level of hillcraft. Having the correct equipment and clothing and knowing how to use it is paramount when venturing out onto the high moors.
Must See
Kinder Scout, the highest point in the Peak District; Bleaklow, the second highest; Howden and Derwent Edges; Black Hill and the Wessenden Moors; the gritstone edges of Derwent, Bamford, Stanage, Burbage, Froggatt, Curbar, Birchen, Gardoms and the Roaches; the Eastern Moors; the Goyt Valley, Shutlingsloe and Wildboarclough
Overview

Table of Contents

Updates

Reviews

Downloads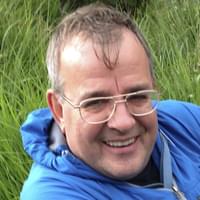 Paul Besley
Paul Besley has spent a lifetime walking through the dales and villages of the White Peak. His interest is in the human interaction with landscape. His love of the ancient – whether it is a Neolithic burial chamber, a Norman church or the medieval ridge and furrow landscape – has provided him with thousands of hours of enjoyment. His desire to pass on his experiences has always informed his writing.

He is a regular contributor to magazines. His writing has taken him across Britain and across the world, working on varied subject matter. He is a team member of Mountain Rescue and a dog handler in Mountain Rescue Search Dogs England with his Border collie. He lives in Sheffield with his wife, metalsmith Alison Counsell, and their three dogs Olly, Monty and search dog Scout.
View author profile