Cycling the C2C 17 years on
Lesley Williams reflects on her second time cycling the Coast to Coast (C2C) cycle route from Whitehaven on the west coast of Cumbria to Tynemouth on the north-east coast near Newcastle and Sunderland. Read on, and then watch the video...
It was cold, grey, and could definitely resume raining at any moment. We barely noticed though, for as a stranger took our photograph on the beach at Tynemouth, my son Joe and I knew that we had achieved something special, England's Coast to Coast – our first cycle touring adventure. That was 17 years ago, the culmination of four and a half days battling against easterly winds and pretty persistent heavy rain in mid-March – not bad for Joe, who was then only 12 years old.
Opened in 1994, the Coast to Coast cycle route runs west to east across northern England from Whitehaven to Tynemouth, crossing some spectacular and remote landscapes. Now it has become a popular long-distance cycle route, as it makes its way along minor roads, disused railway lines, off-road tracks and dedicated cycle paths.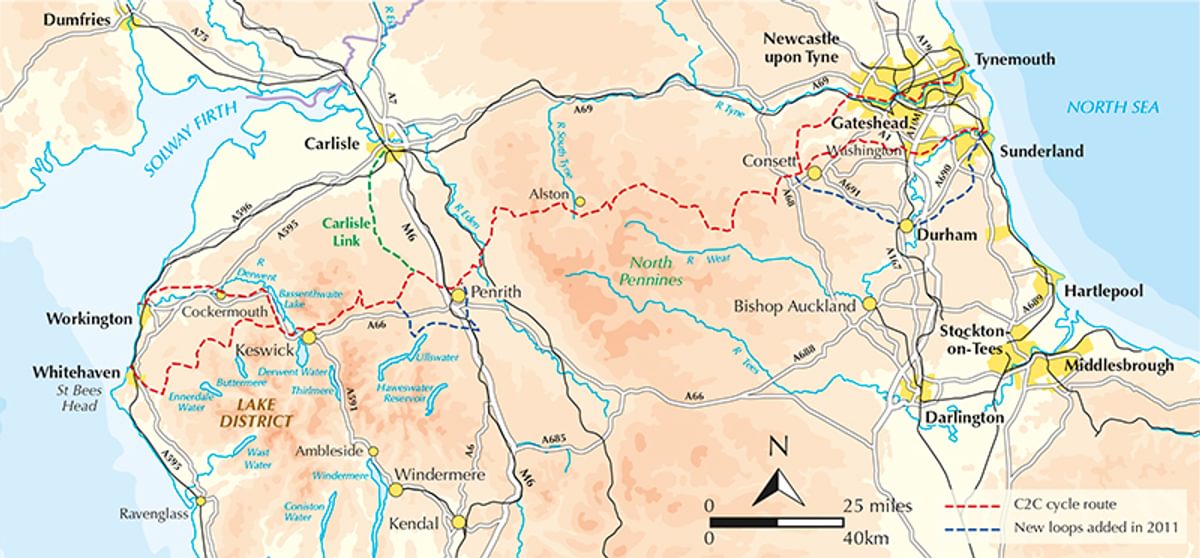 I had occasionally talked about repeating the trip, and an opportunity presented itself in early September, this time with husband Jonathan. I was keen to see how the route, and the infrastructure, had changed over the intervening years, and so, with minimal luggage, we boarded the tiny train from Carlisle, bound for Whitehaven, on Cumbria's remote west coast.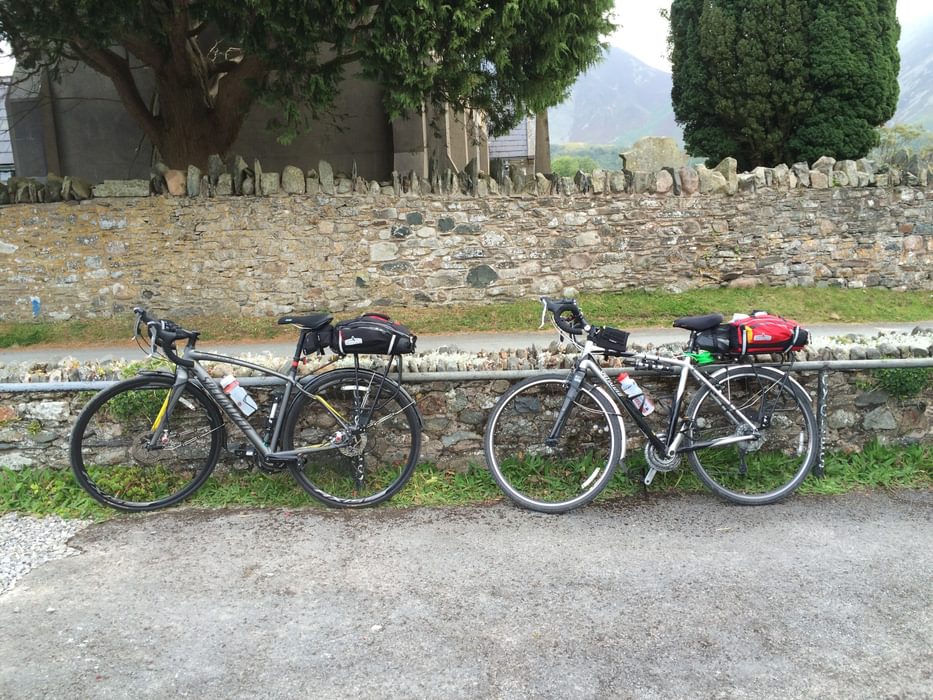 Whitehaven to Loweswater
Finding the start of the route in Whitehaven harbour is easy enough, but navigating through numerous backstreets and a couple of housing estates requires care and concentration, the blue waymarkers often taking you in rather unlikely directions. But it all seemed fairly familiar, and we were soon speeding along the disused railway line that once served the mining towns of west Cumbria, as the gradient steadily rose towards Cleator Moor and beyond. We had left Whitehaven in sunshine late in the afternoon, and our first stopover was at Loweswater, just to the northwest of Crummock Water, one of the Lake District's beautiful lakes.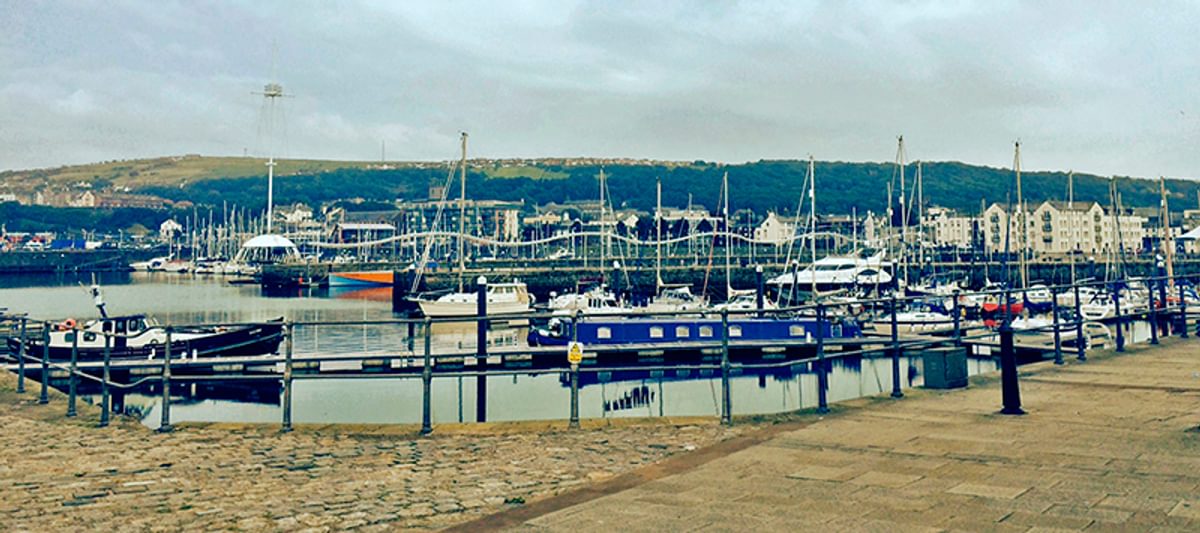 Loweswater to Renwick
Our planned second leg was from Loweswater to the tiny village of Renwick, nestling on the west side of the slopes of Hartside, the first of the really big Pennine hills on the route. After a gently undulating introduction to the day, we were soon grinding our way up Whinlatter Pass. I remembered this first testing hill of the route, and even recognised places where I had taken photographs 17 years earlier.
But the climb is fairly quickly over, and the glorious downhill to Keswick was a welcome treat, as was the coffee and cake at the Saddleback cyclists' café.
My recollections of the next section differed from the currently waymarked route. A gravel cycle track, using another old railway bed, now took us through woodland out of Keswick and nearly as far as Threlkeld, making the gradual climb easy to handle, whereas I recall Joe and I navigating through steeply undulating lanes all the way to Troutbeck on the A66, before being able to enjoy relatively easy cycling through Greystoke and on to Penrith. After Threlkeld the route was a delight on tiny gated lanes across the southern slopes of Blencathra, then on to Mungrisdale, returning briefly to the side of the A66 before matching the 1998 route to Penrith. Between Penrith and Langwathby the route is again a little different, the old route having passed through Edenhall. After a quick cuppa in Langwathby, we headed off for a quiet evening and early night in our farmhouse B&B at Scalehouses, just outside Renwick.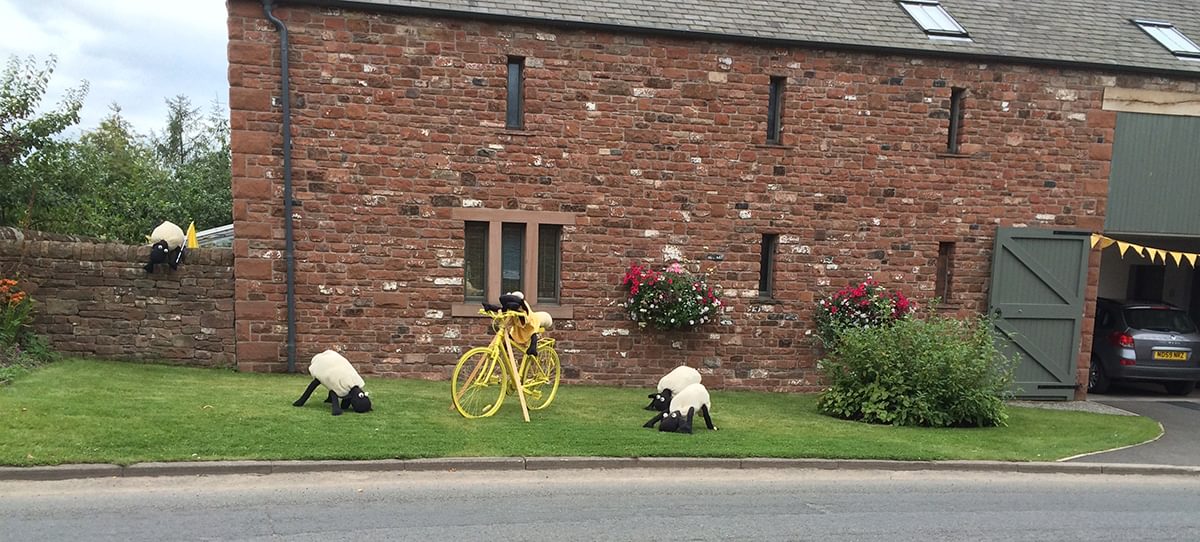 Renwick to Consett
Next day was 10 September, and those who followed the Tour of Britain may well remember that that was the day the Tour finished Stage 5 at the top of Hartside. We puffed our way up the steeper lower slopes, battling against an ever-strengthening southeasterly wind, (nothing changed since 1998!) then joined the easier gradient of the A686 with no traffic whatsoever! We had the entire road to ourselves, as race officials busied themselves setting up barriers, flags and signs. It's a shame we weren't allowed to cross the finish line, but it was fun to cycle the road to be taken by the pros later that day, albeit in relatively slow motion!
The great thing about going uphill on a bike is the downhill that follows – a definite advantage over walking. Our descent down Hartside was a little slower than expected as the stiff breeze did its best to dampen our speed. Short sharp undulations followed, before we reached Garrigill, a charming and innocent-enough little village, but one that sticks in the memories of all C2C cyclists for an entirely different reason... the hill out of the village towards Nenthead.
For 'leisure' cyclists like us, it's one of those hills where you end up going so slowly you can only just stay on the bike.
I chose to go faster, and pushed a short stretch. It's onwards and upwards to the summit and then the downhill begins, which is equally steep and challenging in places, as you screech into Nenthead. Seventeen years ago, Nenthead was extremely quiet, the Miner's Arms just a small pub with a sort of lean-to on one side. Joe and I were cold, wet and tired, and had stayed in their one and only B&B room and enjoyed a fantastic curry. (It's funny how you remember good meals!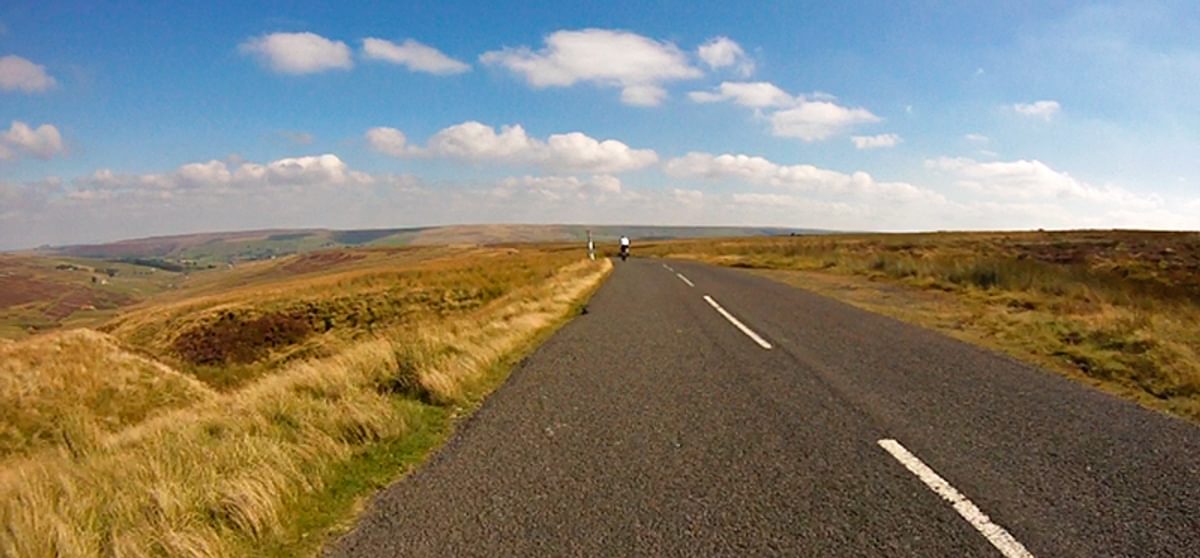 The Pennines turn brown, pink and gold in the early autumn
On this occasion, we had a quick cup of tea from the community shop in Nenthead, then pressed on up the next hill, into Northumberland, where we met a young couple loaded with huge panniers and camping equipment, and then down to Allenheads, for a great lunch sitting outside enjoying the sunshine. It was uphill again out of Allenheads, crossing this time into County Durham, and then another amazing downhill all the way to Rookhope, passing old mine buildings nestling quiet and still in the remote valley, abandoned, as if someone had simply shut the gates unexpectedly one day. Back in 1998 we had arrived in Rookhope just before midday. The pub was shut, but when it still hadn't opened at 12.15 I knocked on the door:
'What time do you open?'
'We opened last Easter, and only had one customer, so we haven't opened since.
'If you want to find food, you may just catch the village shop round the corner before they close at 12.30.'
We had scuttled round to the shop. Everything was in tins, apart from mini-cheddars, and cream eggs – so that was what we ate for lunch. How different Rookhope is now. With a thriving pub with accommodation, and various other facilities, the C2C has definitely revived this rural community.
At Rookhope there are two alternatives. One takes you high onto the moors, following a narrow, rutted trail, which is fine on a mountain bike (we did this route in 1998) but more challenging otherwise, particularly in wet conditions. The alternative is up (yet again) over another hill, down into Stanhope, then a long steep grind up Crawleyside to the moors above, and the welcome haven of Parkhead Station, where the routes rejoin.
After ingesting the biggest and best chocolate fudge cake ever, we were off again, this time on the glorious Waskerley Way. The surface is good, the views sublime, and it's slightly downhill all the way to Consett.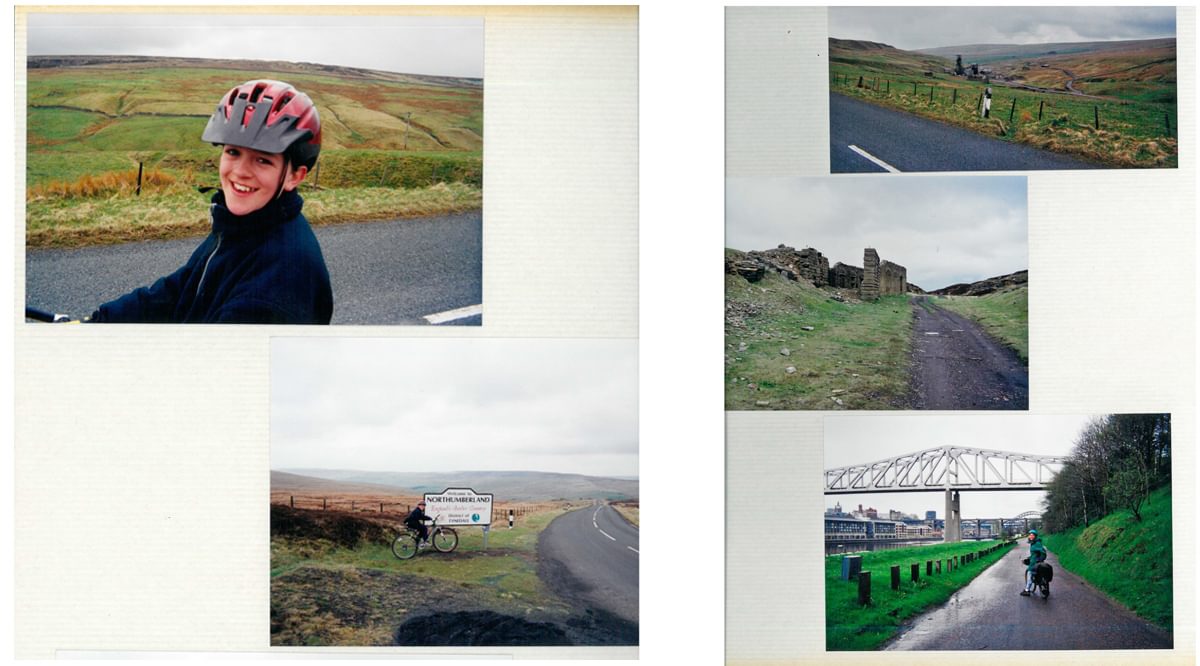 Consett to Tynemouth
Our final morning was again mainly on traffic-free cycle track using disused railway beds, as we made our way through the Derwent Valley park, then onto the north side of the Tyne. Seventeen years ago Newcastle's riverside facilities were only slowly developing, and the only option for the C2C was along the south bank, then under the Tyne tunnel. The north bank is far better, as you speed through the very heart of Newcastle, then onwards down to Tynemouth.
Our timing was again pretty perfect – just a day before Newcastle's centre was to be paralysed by, first, the Great North CityGames and then the Great North Run, the following day.
Arriving at Tynemouth, 17 years on, I was delighted to have cycled the C2C once again. It's a great challenge route, but attainable by most cyclists. Just as Joe and I had in 1998, Jonathan and I celebrated with a brilliant fish and chips lunch sitting on Fish Quay.

More about the C2C
The C2C route was developed by Sustrans in partnership with various organisations including local authorities, Groundwork West Cumbria, North Pennines Tourism Partnership, Forest Enterprise and the Lake District National Park. When I first cycled the route, we didn't see any other cyclists, and the supporting infrastructure had yet to develop. Today, according to Sustrans, an average of between 12,000 and 15,000 cyclists now complete the route every year, contributing around £12 million a year to the local economy.
This year marks the 20th anniversary of the National Cycle Network, the catalyst for a walking and cycling revolution. These 14,000 miles of traffic-free and quiet on-road walking and cycling routes have transformed the way people in the UK travel, making it easier for them to get around by foot and bike. Nearly five million people make the most of the Network every year, and it's made governments take walking and cycling seriously.
The C2C has alternatives for both the start and the finish point – you can start at Whitehaven or Workington on the west coast, and finish at Tynemouth or Sunderland on the east coast, with various options on the way, all of which are covered in the C2C Cycle guidebook.

Our itinerary in 1998
31 miles: Whitehaven to Keswick
29 miles: Keswick to Little Salkeld
20 miles: Little Salkeld to Nenthead
32 miles: Nenthead to Rowlands Gill (just beyond Consett)
28 miles: Rowlands Gill to Tynemouth
Our itinerary in 2015
17 miles: Whitehaven to Loweswater
49 miles: Loweswater to Renwick
46 miles: Renwick to Shotley Bridge (just beyond Consett)
28 miles: Shotley Bridge to Tynemouth
To read more articles like this get our newsletter
Sign up today for a 20% discount on your next purchase. Join over 30,000 enthusiasts from around the world. If you don't love our mix of new books, articles, offers and competitions, you can unsubscribe at any time. We will never spam you, sell your data or send emails from third parties.