How tough should I be for walking in the Alps?
Kev Reynolds, author, speaker and expert on all things mountainous, answers the often asked question: "How tough should I be for walking in the Alps?".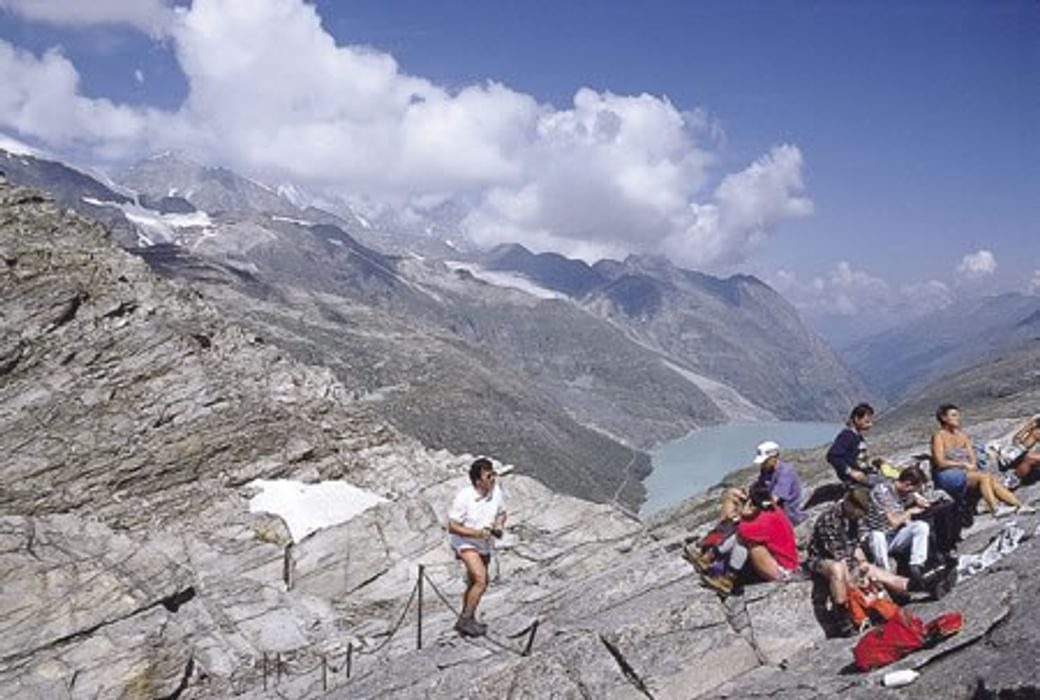 Am I too old / young for walking in the Alps?
The early evening sun bathed the mountains in its warm glow and chased shadows down the hillside into the valley at my feet. It had been another good day's walking, and seated outside the Schesaplana Hut under the Swiss/Austrian border with a cold drink in my hand waiting for dinner to be called, there was nowhere else I'd rather be.
Then across the slope from rocks above the hut came an elderly gent in Tyrolean hat, red-check shirt, long socks and corduroy breeches held up with braces. At the other end of his rope was a lad of about ten, who like his grandfather was attired in red-check shirt, breeches and long socks, but instead of a Tyrolean hat he wore a baseball cap on his head.
Grandpa untied the rope, removed his hat, mopped his brow. The lad tipped back his baseball cap and mopped his brow. 'What'll you have?' asked Grandpa, settling at the table next to mine. 'Almdüdler,' said the lad, and moments later there they were, side by side, Grandpa downing a beer, the lad his almdüdler.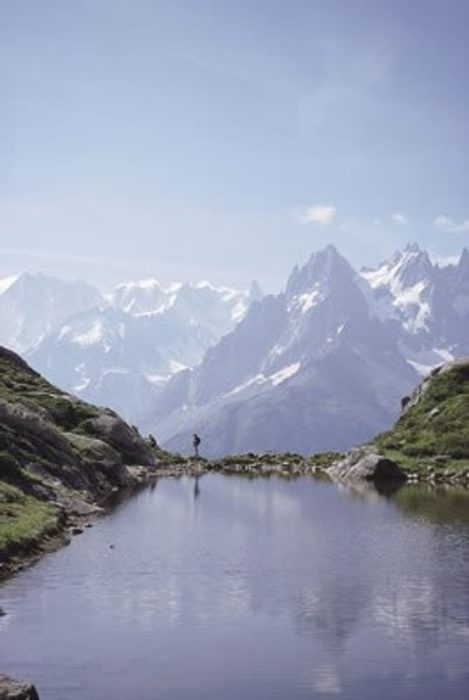 A month earlier, my first grandson had been born. Grinning at the two beside me, I thought: 'Yeah, gotta have some of that!' So, shortly after, I introduced young Charlie to the Alps. He was three months old. The moral of this tale is that you're never too young, nor too old, to enjoy the Alps.

If you enjoy walking in the hills of Britain you will enjoy the Alps
If you enjoy walking in the hills and mountains of Britain, you'll surely find the Alps right up your street. You'll have seen the photos, read the books, maybe watched a film or two and been bewitched by the contrasts of green valley and abrupt wall of rock, of multi-coloured flower meadow and long tongue of glacier ice, of woodland and snowpeak… and dreamed of wandering among them.

But perhaps you've wondered how tough it would be, been daunted by the scale of things, and feared that walking in the Alps might be beyond your capabilities.
The Alps are not just for the macho brigade... there's something for everyone
Fear not! The Alps are not just for the macho brigade, for in this 1000km long chain there's something for everyone; and walking, after all, is only a case of putting one foot in front of the other, no matter where you are or how steep the gradient of your chosen trail. It's all about pace and attitude of mind, of wanting to discover the multitude of experience the Alps so generously offer, and being ready to gather their harvest.
Of course, some Alpine districts are more challenging than others, so I'd suggest a first visit should be spent tackling day walks from a valley base – maybe somewhere in Austria (the Kitzbüheler Alps, maybe, for they're not unlike our Lakeland fells, only bigger); or the Engadine Valley in Switzerland, where there are some cracking valley-based walks amid stunning mountain scenery, good public transport links and cableways to access high trails for a taste of bigger things for the future.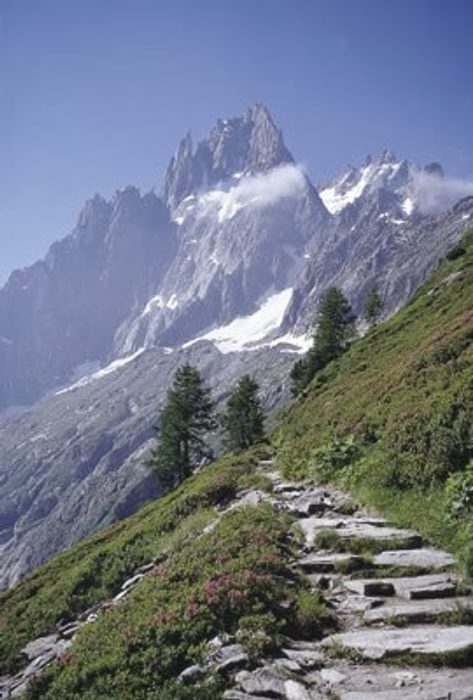 Don't be intimidated by the size of the mountains
Just don't be intimidated by the size of the mountains, nor so excited by them that you rush from one viewpoint to the next. Choose your routes with care and avoid being over-ambitious during the first few days until you've come to terms with the altitude and learnt a few basic truths about your own abilities and just how long any given walk will take to achieve. Learn, too, that the weather can change rapidly, so be equipped with the appropriate clothing; carry food for the day and plenty of liquid, for mountain walking is thirsty work. But many Alpine districts also have gasthofs, restaurants or farms that double as restaurants scattered throughout the valleys and among the mountains, where you can buy refreshments during the day.

You *will* be bitten by the Alpine Bug
Once you've been bitten by the Alpine bug there's no shortage of other areas to visit. The honeypots of Chamonix, Zermatt, Grindelwald or Cortina all have much to offer, of course, and no mountain lover will rest until they've gazed at Mont Blanc or the Matterhorn, been bedazzled by the avalanches rolling off the Jungfrau, or scratched their head with bewilderment at the bizarre peaks of the Dolomites.
But there are so many more districts where the walking is every bit as spectacular as around those resorts. Try the Écrins National Park near Grenoble, for instance (but not until you've had a season or two elsewhere to gain confidence), or sample a hut tour or two (there are dozens to choose from), or….
Hold on, if I'm not careful, this short article will turn into a book.
Let's just finish with that glorious truth. The Alps have something for everyone. Believe me, you don't need to be a toughie, or in your prime, to have a walking in the Alps experience to remember for the rest of your days. That said, I must now grab my boots, collect my grandsons, and go.
More information about walking in the Alps
Kev Reynolds has written a number of guidebooks to the alps, including the inspirational planning bible to Walking in the Alps.
To read more articles like this get our newsletter
Sign up today for a 20% discount on your next purchase. Join over 30,000 enthusiasts from around the world. If you don't love our mix of new books, articles, offers and competitions, you can unsubscribe at any time. We will never spam you, sell your data or send emails from third parties.