Is Norway a hiking destination for families?
If you are a family of hikers, then Norway could be an unforgettable experience for everyone, says Cicerone author Ute Koninx
If you have some hiking experience in your home country or elsewhere, then Norway could be an enduring family memory for years to come.
The Cicerone guide Hiking in Norway - South describes access to a range of huts in fantastic locations, with hikes that many Norwegian children aged 12+ are able to complete.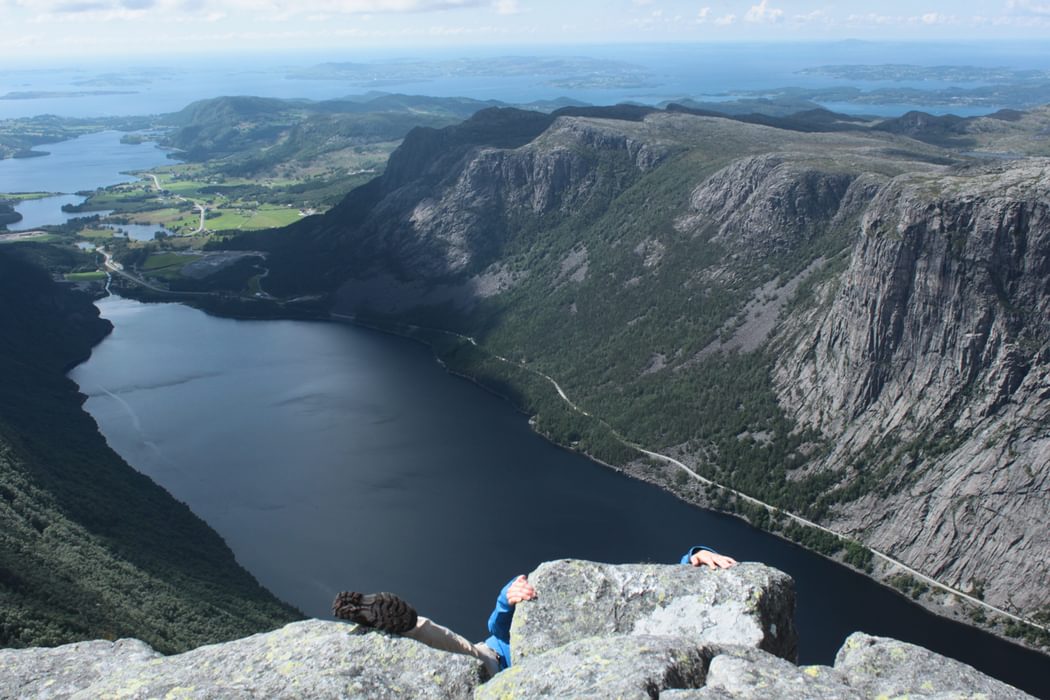 The trail system in Norway is easy to use and many of the mountain cabins are only a few hours hike away from a main road, making it easy for those shorter legs to reach the hut.
Most mountain cabins have day hikes, so even if the distances for a multi-day trek would be too ambitious, you might still be able to enjoy hiking into a cabin, staying there a couple of nights while you explore the surroundings.

Teenagers can pull their own weight - but any youngster should have their little pack (Ryfylke)
A fun way to keep dry feet (Ryfylke)
The fantastic mountain cabins are in beautiful locations, very often with a lake nearby. Endless hours of fun can be had both indoors and outdoors.
The self-service huts are a treasure trove for making memories. Water needs to be fetched from the nearby stream, wood kindling needs to be chopped for the fire in the hut, meals need to be cooked in the communal kitchen and after the general tidy up, many a party will settle for games of different types, reading or storytelling or simply chatting with each other about the adventures of the day.
These deceptively simple activities will have a great affect on children of all ages. They feel a sense of responsibility and achievement doing these tasks that ensure everyone can be warm, drink clean water and enjoy a social atmosphere.
Cold-smoked trout in Reinheim, a day's hike from the railway station (Dovrefjell)
Kids gladly contribute to the chores of hytteliv (Ryfylke)
Fetching wood, chopping kindle and perhaps marshmallows at the fire (Ryfylke)
Needless to say that many Norwegian children are introduced to this at an early age. As children get older they will enjoy hiking more if peers are part of the party. They make for great company and completing a challenge together makes them much more exciting.

At the same time, some of the longer or more difficult hikes need a good fitness and secure footing, regardless of the length of one's legs. Make sure to assess your own children's capabilities before setting out.
For a great start, head to Rondvassbu in Rondane from the busstop or car park at Spranget. It is only a 6km hike into this incredibly beautifully located hut, and you can challenge your party to some of the highest 2000m+ peaks in Rondane from here (Veslesmeden and Storronden are relatively short but respectable summit hikes - see Rondane Extensions in the Guidebook section for more details).
Rondvassbu has a camping area adjacent to the mountain lodge and hut, so you can choose to camp and cook your food if you wish. Camping fees give access to the communal areas and services, such as showers and drying room and lounge. This option is lighter on the budget than staying in the fully serviced hut.

A game of cards after dinner (Skåpet - Ryfylke)
Cookies, chocolate, tea - essential survival items when hiking with kids (Todalen - Trollheimen)
The Trollheimen Trekanten Triangle route is a 3 day trek that can be done by older children. While this trek is all in fully serviced mountain huts and therefore dearer than camping, it would be a true highlight for a family to complete together.
If that is a hike too far, consider Gjevilvasshytta to Vassendsetra along the lake, and maybe scale Okla the next day. Vassendsetra is a lovely and comfortable self-service hut that oozes atmosphere of days past.
In Dovrefjell a short 2-day trek can be done by hiking from the train station at Kongsvold to Reinheim, climbing the peak at Snøhetta (2286m) and hiking to Snøheim. From here a shuttle bus can take your party towards the train station at Hjerkinn.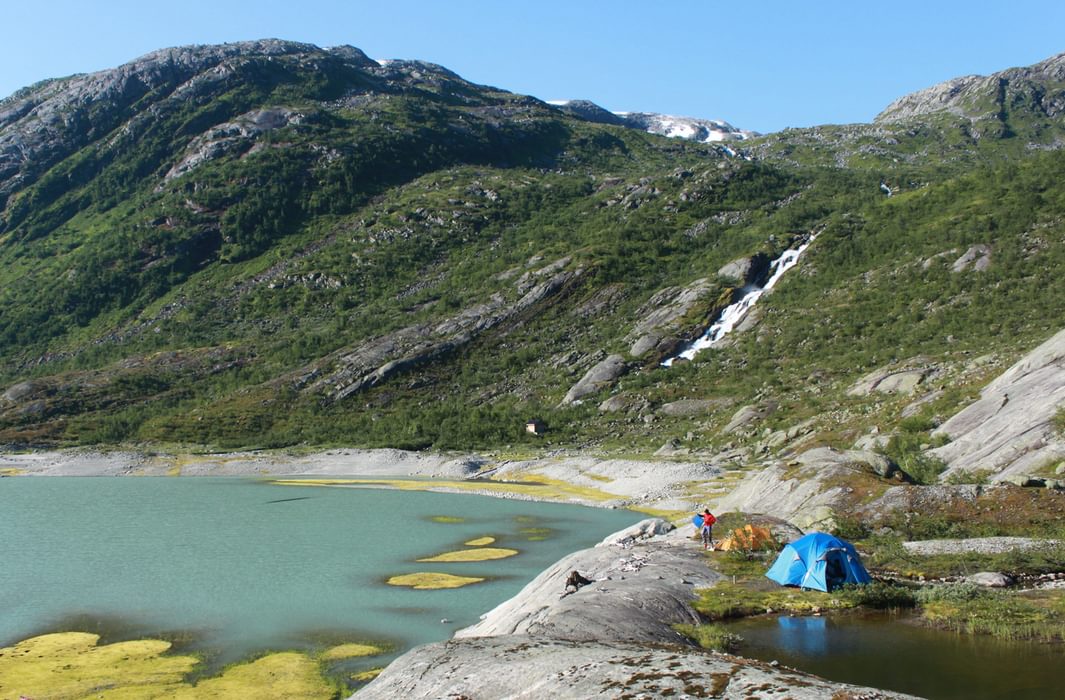 If you like the idea of the self-service or un-serviced mountain huts, there are a good number of them around the Lysefjord. Head to the DNT cabin at Flørli by ferry from Stavanger.
Make sure to bring all your food along for a few days and you can do a number of hikes from here, including the 4444 Florli staircase (note that this is not suitable for small children, due to its exposure).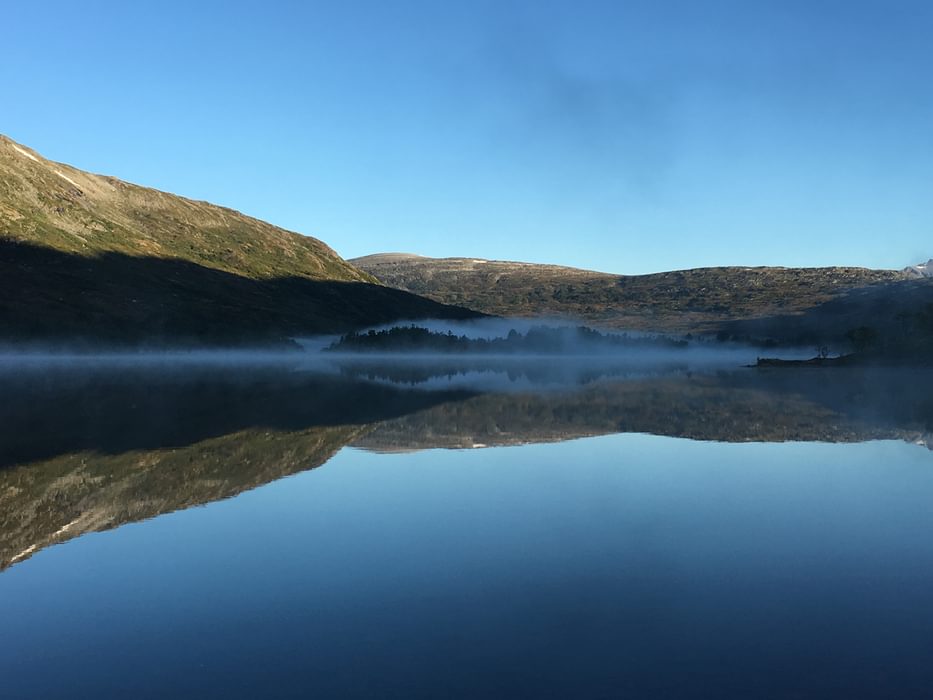 Preikestolhytta and Lysefjord Turisthytte are both fully serviced mountain huts, but offer the option for self-catering, too. From here you could hike up Preikestolen and Kjeragbolten respectively.
With a little planning you could well do a number of these shorter treks around Southern Norway creating a true sense of adventure for your family.
To read more articles like this get our newsletter
Sign up today for a 20% discount on your next purchase. Join over 30,000 enthusiasts from around the world. If you don't love our mix of new books, articles, offers and competitions, you can unsubscribe at any time. We will never spam you, sell your data or send emails from third parties.