Mending, second-hand and bargains - how to buy your outdoor gear for less
When Louise Dickie moved up to Kendal from London, she realised her wardrobe needed an overhaul. Working to a budget, Louise has spent the last few months sourcing and re-purposing clothes that will help her enjoy the outdoors. From mending damaged clothes to bagging bargain buys, whilst aiming for sustainable or environmentally-friendly options, Louise has learned a lot in recent months. Here's how she set about sourcing a whole new outdoors wardrobe from scratch.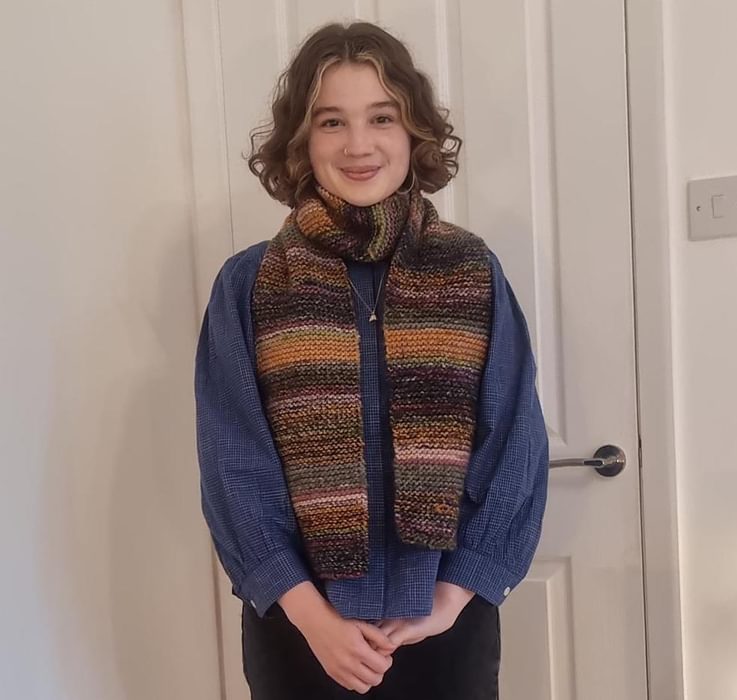 Hello. My name is Louise, and you might recognise my name as I'm the person behind our social media accounts and the newsletters here at Cicerone. This is my first ever article for Extra and, let me tell you, the struggle I've had in writing this has been real. Writing, for me, is usually confined to emails, short punchy captions on Instagram posts or the odd introductory paragraph in the newsletter, not a thousand-word article. But I wanted to write this and share an interest of mine that I feel passionately about.
This interest is sustainable clothing, or rather, clothing that has either been manufactured in as sustainable as possible a way, or clothing that I myself can make more sustainable. But this can be a bit of a minefield, especially when you need technical gear for the outdoors and outdoor activities.
In October of last year, when I moved up to Kendal from London, I knew that I was in for a bit of a wardrobe revamp. Within a few weeks of being up here, I'd experienced rain, sunshine, high winds, and hail (sometimes all in the one day) and realised that my current wardrobe was pretty useless when it came to all the hobbies and interests that I wanted to enjoy more often. I needed to source some more outdoor gear and clothing suitable for walking, cycling, and swimming and, after an expensive move up the country, I needed to do it on a budget.
They say that the most sustainable and environmentally friendly wardrobe you can have, is that one that you already own.
Prior to the move, I had spent the previous couple of years taking more of an interest in clothing generally. The lockdowns forced me to rely more heavily on online shopping, and the extra browsing time led me to find different brands and influencers who were talking about the impact and ethics of clothing manufacturing processes. I started to discover brands and stores who made a point of ensuring their garments were as environmentally and ethically friendly as possible. My own growing concern for the current climate crisis meant that my clothing choices were becoming more considered and this extended to outdoor gear purchases that I needed as well.

They say that the most sustainable and environmentally friendly wardrobe you can have, is that one that you already own. So having decided I needed to take stock, the first thing that I did was to look out what outdoor clothing I already had, and what I could re-purpose and use but might not be specifically designed for the outdoors. This amounted to a sturdy pair of Scarpa walking boots, a too-big waterproof jacket, a pair of walking trousers that could be turned into shorts, two merino wool t-shirts and some hiking socks.
I needed a light mid-layer for colder outings, and so decided to visibly mend a moth-eaten wool cardigan that I'd bought second-hand. The cuffs had been so badly damaged that they were almost non-existent, but I used an old pair of socks to rebuild them and used odd bits of thread from an old sewing kit to fix the holes. It's a bit messy to look at, but it works and that's the main thing.
A cardigan that I mended to wear whilst out walking
A close up of one of the cardigan mends
I bought a pair of waterproof trousers from an outdoor shop in Ambleside for £18. The fabric is quite thin, but they do the job perfectly and, in the future, my oversized waterproof jacket can be cut up and used to patch any worn spots on these or my other pair of walking trousers. In the same way, I'll mend the two merino t-shirts and my hiking socks as needed too.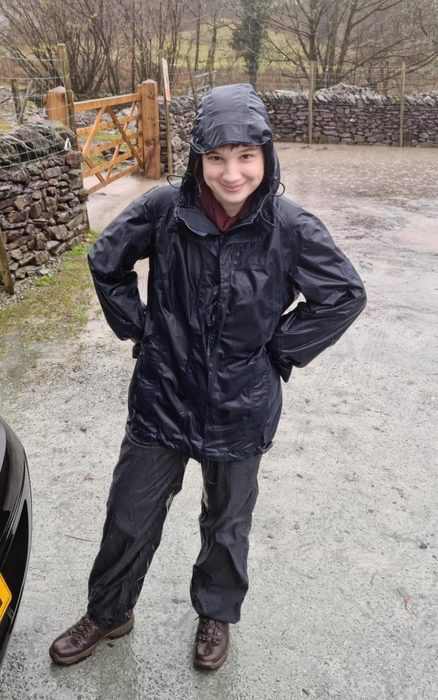 I've continued to use the oversized waterproof for now, but I needed something a little better fitting for fell days and, after scouring the internet, I found that Paramo now sells recycled garments on their own eBay store. These items might have been from an old collection or donated as part of their recycling scheme and are completely reproofed and conditioned before being sold on at bargain prices. I bagged myself a beautiful waterproof climbing jacket for about £100 and not only does it come with a year-long warranty, I can send it back to Paramo for repair for a small fee or I can have a go at mending it myself.
Another raincoat I've had for years, which is perfect for cycling to and from work, or going for a short walk, I rewaxed using a wax bar and painted with clothing dye to give it a fresh look. When I discovered I could do with a warm scarf for my cycling adventures, I followed a basic knitting pattern and knitted myself one. All of these steps, over the past ten months, has meant that I now have a wardrobe full of items that I can use for all my outdoor adventures.
There are lots of outdoor brands and retailers that are putting environmentally friendly and sustainable clothing at the forefront of what they do, so outdoor gear doesn't always have to be sourced second-hand. Sometimes, the benefits of technical outdoor gear outweigh alternative options, and it's worth pointing out that safety is important too. Whilst it is fine to re-purpose other items, you need to make sure that it does the job properly. It's also worth acknowledging that the concepts of 'sustainable' or 'environmentally friendly' or 'ethically sourced' clothing can be problematic and vague, so doing a bit of research into the Ts & Cs can be helpful.
Speaking to Cicerone customers on social media or via email, it seems like everyone has a couple of outdoor garments in their wardrobe that they've had for years and years. For some people, the clothing has a sentimental value, and for others, it's simply lasted so well that there's been no need to replace them. For me now shopping is about choosing items carefully, asking myself whether I really need something before buying it, and looking in my wardrobe to see if there's anything I can re-purpose before taking the plunge. It makes enjoying my hobbies a little less expensive, and it means I get to learn new mending techniques or discover brands and retailers doing amazing things to help save the planet.
If you've done some mending or have re-purposed clothing, or if you've found an ethical or environmentally sustainable outdoor clothing brand or a clothing recycling scheme, I'd love to hear from you. You can email me at Louise@cicerone.co.uk and we'll add any further tips to this article.
My new to me Paramo jacket from the Paramo store on eBay
The second-hand raincoat that I purchased before dyeing and rewaxing it.
The second-hand raincoat after it has been dyed and rewaxed.
To read more articles like this get our newsletter
Sign up today for a 20% discount on your next purchase. Join over 30,000 enthusiasts from around the world. If you don't love our mix of new books, articles, offers and competitions, you can unsubscribe at any time. We will never spam you, sell your data or send emails from third parties.