What are your most vivid memories of childhood? Mine involve rockpools and dens in the woods, muddy knees and torn jeans, the breezy possibilities of heathland and the thrill of my first mountain summits. We felt like explorers. Childrens' playfulness and their insatiable curiosity have free rein in the outdoors, and you'll find their enthusiasm infectious.
Make it all a game
Games help top up the enthusiasm, and if you manage to incorporate them into the landscape then they can be a good way for children to interact with their surroundings too. Use whatever you find around you: racing Pooh sticks, sending the young'uns on a natural obstacle course, or building a snowman. Hide-and-seek is a good one for smaller people, particularly if you can steer the game along the path in the direction you all want to be heading.
Allow just a bit of danger…
The opinion seems to be gaining ground that if we seek to eliminate risk altogether from childrens' lives then we deny them vital life-enriching experiences, and the chance to learn to take responsibility for themselves. A little danger – and I do mean within managed bounds – is surely the essence of childhood. Let them fall and scrape their knee; climb that tree; clamber on the rocks; and if they insist on splashing in a lochan in April then they can by all means try. The key has to be ensuring that any activity remains within bounds appropriate to your child's abilities. As the responsible adult it is vital that you understand the possible risks of the setting, and how to manage them. You wouldn't permit a paddle in a fast flowing river just upstream from a waterfall, for instance, and yet it might be perfectly justifiable below the falls. Think twice before venturing onto scrambling terrain or snow slopes, both places where ill-prepared family groups occasionally get into trouble through basic ignorance on the part of the parents.
…but keep an eye on their welfare
Dramatic possibilities aside, children are more likely to come to grief in the outdoors through simply being cold and tired. Youngsters are resilient, but only up to a point. Their reserves of energy and endurance are soon used up, and the slide from perfectly fine to borderline hypothermic can be alarmingly sudden. Wet or windy weather are the main enemies, particularly for smaller children. This goes double for babies sat still and cold in a child carrier while you're working up a sweat, oblivious to their predicament.
In cold conditions make sure kids are dry, well layered-up, and properly fed. If you're up high in the open and they start showing signs of being worryingly chilled, get them down into the lee of the hills without delay. I speak from experience.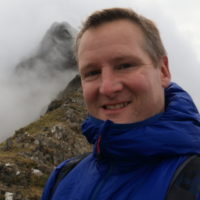 Dan Bailey
A Londoner by birth – if not inclination – Dan Bailey is happier as an adopted Fifer, where he lives with his wonderful wife and two budding young mountaineers in striking distance of hills, rock and water. As well as guidebooks Dan produces words and pictures for the outdoor media, and works as the editor of UKHillwalking.com. Dan has walked and climbed in North and South America, Africa, Asia, Mainland Europe and all over the UK. Having tried the rest he insists that Scotland is the best. He is a particular fan of challenging hill walks and long adventurous traditional climbs, both summer and winter – a passion for which he has far more enthusiasm than talent.
View Articles and Books by Dan Bailey