Running the Ultra Trail du Mont Blanc
A week before the Ultra Trail du Mont Blanc (UTMB) I heard a quote on the TV. I wasn't really listening but I thought it was someone making a tongue-in-cheek reference to how to successfully read a book: 'you start at the beginning, you keep going to the end and then you stop'. A week later I realised that this also perfectly sums up an Ultra race. The quote had become my mantra as I laboured my way round the Tour du Mont Blanc trail taken by the Mont Blanc Ultra race, in the last weekend of August 2008.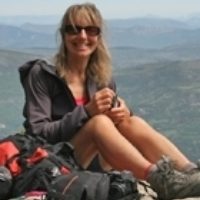 Hilary Sharp
Hilary Sharp is British, a qualified Accompagnatrice en Montagne (International Mountain Leader), and is based permanently in France. After 23 years living in the Alps she now lives in northern Provence, within easy driving distance of the southern French Alps. She runs her own trekking business, Trekking in the Alps and Provence, guiding walks in winter, spring and summer (hilaryalp@gmail.com; www.trekkinginthealps.com; www.trekkinginprovence.com). Her love of walking and climbing has taken her to many parts of Europe and further afield. Hilary occasionally contributes to British walking magazines and is author of Trekking and Climbing in the Western Alps (New Holland, 2002).
View Articles and Books by Hilary Sharp