Traverse of the Spanish Pyrenees (GR11)
Sam McGrady gives an honest account of crossing the Pyrenees on foot during June/July 2022 - the why, when, what and how, with some practical and useful tips for anyone considering all or even part of the GR11 challenge
In the spring of 2022, my partner Steve (59) and myself (53) found ourselves in the very fortunate position of being able to significantly downshift at work.
Seasoned walkers, both in the UK and abroad, we wanted to mark this new stage of our lives with a challenge. Our favourite holidays had always constituted linear or circular multi-day treks (Tour de Mont Blanc, Tour de Monte Rosa, Alta Via etc.) where we used mountain refuges and small hotels in villages to avoid lugging heavy packs full of camping gear and to keep us light on our feet.
However, the longest trek we'd done so far was two weeks – we wanted something bigger and different.


We didn't set out to do the GR11 – rather, we wanted to traverse the Pyrenees coast to coast. As our research suggested the Spanish side might have better weather, the GR11 seemed perfect for achieving our objective.
And so the planning began – working out how we would combine/divide the stages, where we would stay, when we would have rest days, what we would carry.
The GR11 is a 520 mile (840km) footpath bookended by the Cap de Higuer on the Atlantic and Cap de Creus on the Mediterranean. It involves 128,00 feet (39,000m) of ascent (and descent), the equivalent of climbing five Everests or 40 Snowdons (from sea level) and is divided into 47 stages by the Cicerone guidebook.

At the risk of appalling GR fundamentalists, we never planned to do the final stage from Llanca to Cap de Creus because LLanca is on the Mediterranean coast, the last stage involves a fair bit of road walking and it's very difficult to get back from the Cap. So for us, Llanca was job done.
Aside from our usual fitness regime, we trained for the trek by walking long distances (sometimes on consecutive days) carrying an increasingly heavy rucksack, ultimately approximating the weight we thought we'd carry in Spain.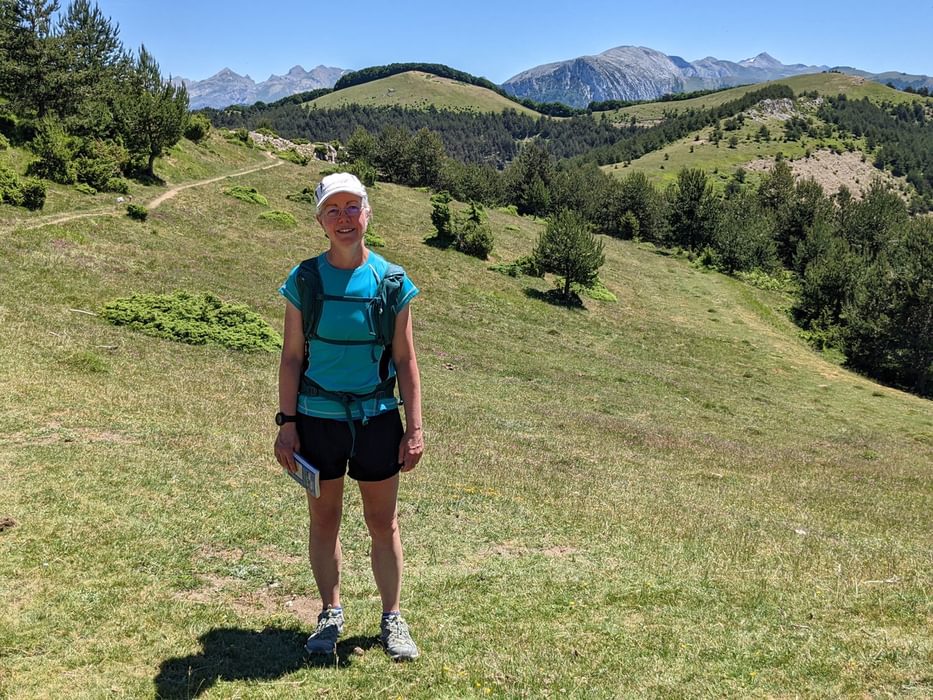 Time flew, and before we knew it we had arrived in Irun on 4 June 2022 and were ready to roll. Instead of the 47 stages in the book, we did it in 37 by stopping/starting the stages at different points to where the book suggests on certain days (partly from necessity as we weren't camping, partly because we felt some of the stages were too short for us). We pre-booked all of our accommodation (for certainty – but taking away any flexibility in our plans).
However, some of these combined stages were extremely tough and disabused us of an overly confident stance on our capability. Our shortest day was 10km (2hr 30 min) and our longest was 32km (11.5hr). Ascent and descent in addition, of course.
We had built in four complete rest days – this turned out to be far too few! We also did not include one at the end of the first week, thinking we'd still be fresh and wouldn't need it (another mistake!).
We also made most of our days too long - there was simply not enough recovery time at the end of most days for us to get off our feet and recover.
When you finish for the day, there's a certain number of tasks that have to be done – showering, attending to any blister/foot issues, stretching sore muscles, charging up devices, eating and assessing the next day's route (including availability of food and water en route).
Then there's making contact with the world back home, making notes about the day and even being a tiny bit sociable if you can with other walkers. If you aren't finishing till late afternoon or even early evening, there's not enough time to relax and recover before you have to go to bed, get up and do it all again.
Small rucksack, travelling light
Poncho in use on the way up to Collado Eriste
We carried the bare minimum for a six-week trip and hand-washed clothes as we went. One of our most successful purchases was waterproof ponchos that went over both person and rucksack and did a brilliant job for us on the half dozen rainy days we had.
The trek was fantastic – there is no other word to describe it. No two days the same, the landscape and terrain, flowers and animals changed daily and we were never, ever bored.
The first few days saw us in the rolling, gentle, damp hills of the Basque Country (reminiscent of Derbyshire, where we live, or the Lake District), very isolated and remote, where we saw almost no-one.
Basque Country on the French border in mist
Basque Country on day 2
As we progressed towards the higher mountains (always tantalisingly in our line of sight as we headed east), the topography changed, rock from limestone to granite, the trees were different, the wildflowers and butterflies altered and the ascents and descents became steeper and tougher!
The language changed too – from Euskara, to Castilian and then Catalan. We were constantly amazed how green it was – during our second and sixth weeks Spain had major heatwaves and the snow was melting rapidly – until Beget (five days before we finished), there was water everywhere, which we hadn't expected.
The final week was in the arid, desert-like terrain heading toward the hot and dry Mediterranean coast; not so much water here!
Much of the time we had the mountains to ourselves, with the exception of a few honeypot stages such as the Ordesa gorge and the walk up to Nuria.

Cascades in Ordesa Gorge
Heading up Nuria Gorge
We made friends with a handful of other walkers (doing either all or part of the GR11) and have stayed in contact with some; there is a real sense of being 'in this together' on these trips, when you keep crossing paths with the same people and exchanging stories and top tips.
Our accommodation choices generally worked out well; as it was relatively early in the season most places were only half full, and in a couple of the refuges we had a dormitory to ourselves, which was an unexpected bonus.
We were never short of food, but being vegetarians it was often limited in terms of choice, variety and protein. We did have some excellent meals, sometimes in the refuges, other times in bar-restaurants, which are more flexible in terms of what's on offer and when. Breakfasts were generally the best in the small hotels and B&Bs we stayed in.
We would highly recommend the cabins/rooms in campgrounds; we wished we had booked more of these. Cheap but with excellent facilities (such as on-site shop, restaurant, pool etc), they are a great alternative to hotels.

Refugi de Colomers
Refugid Illa
Route finding was generally easy and waymarking is mainly good. As well as the Cicerone book, we had paper maps (Editorial Alpina – 21 separate maps) and compass, electronic maps (using the Czech Mapy app – free downloadable maps, by region, not compromised by loss of phone signal and highly recommended by us – but take a portable power bank for recharging!) and a GPX of the route on our Garmin watches.
We tended to use the paper maps when surveying the stage before we started – to get a sense of the overall route and lay of the land. Despite going 'belt and braces' we still managed to lose the route on a few occasions, although not in a significant way.
We did encounter snow (as expected) and used our lightweight running crampons on at least four days. Trekking poles were invaluable on this length of trek and gave our knees some respite, especially in the last two weeks.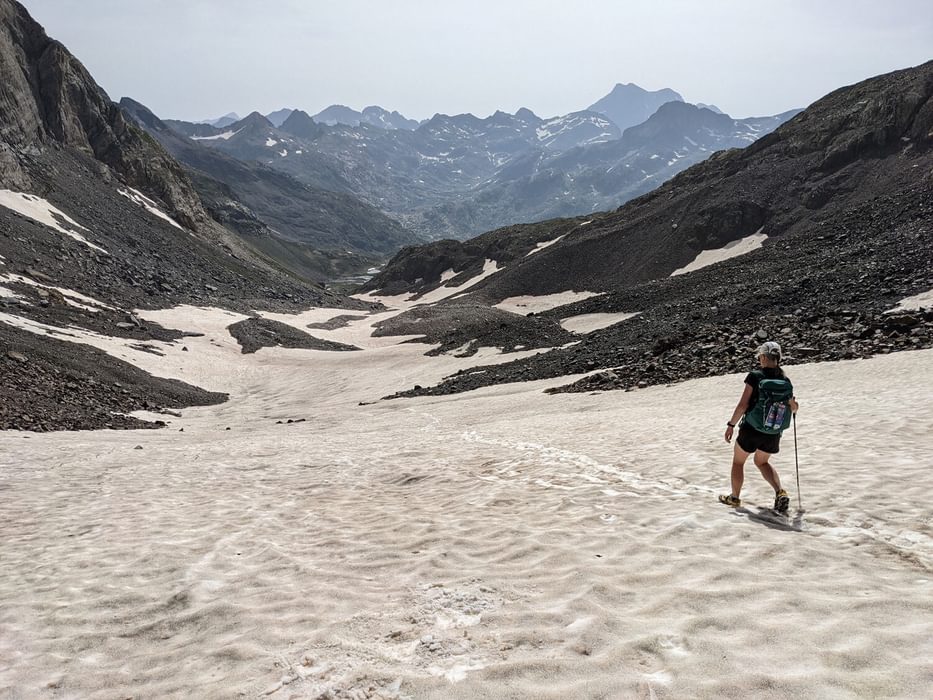 The walking was tough – harder than we had expected – and, as stated earlier, we abjectly failed to give ourselves enough recovery time or rest days.
Our average day was 14.5 miles and 3900ft of ascent/descent; we had some 21-mile days with significantly more ups and downs than average. The biggest issue we had was our feet – not so much blisters, but sheer pounding from the repetitive nature of what we were doing.
In the last few days we were walking in 38 degrees' heat and we both suffered from salt deficiency, which is not pleasant. We cannot overstate the impact of walking with a pack day after day even if you're very fit, strong and have practised time on feet. It's humbling.
We marvelled at how for six weeks our feet felt like they'd been hit repeatedly with a cricket bat thanks to long days and inadequate rest.
Over time it's likely you will also become conscious of stressed calves, quads and knees. You will need more rest than you think. Other hikers we met would vouch for this. Build in proper rest.

First glimpse of the end
We made it Llanca
But – we did it, exactly as we had planned to do, finishing on a sweltering July day when we swam (fully clothed!) in the Mediterranean sea with an enormous sense of achievement.
It's not a trip we will ever forget (in part thanks to the copious notes and photos we took!) and we have learned a lot about ourselves, our bodies, our capabilities and about the amazing Pyrenees.
We will be applying our lessons learned on future treks, and are already eyeing up what we'll do next summer – Tour of the Jungfrau region and the Haute Route from Chamonix to Zermatt are top contenders (and we already have the Cicerone guidebooks to help us plan!).
We wish anyone taking on the GR11 the absolute best of luck and enjoyment – it really is unparalleled, and we loved (almost) every minute.
To read more articles like this get our newsletter
Sign up today for a 20% discount on your next purchase. Join over 30,000 enthusiasts from around the world. If you don't love our mix of new books, articles, offers and competitions, you can unsubscribe at any time. We will never spam you, sell your data or send emails from third parties.