Walking in the South Wales Valleys
Notify me
Enter your email address to be notified when this title becomes available.
A walking guidebook with 32 day routes and 2 weekend backpacking routes (the Coed Morgannwg Way and Glamorgan Ridgeway) across the valleys, ridges and coast of South Wales. This now-green landscape has superb walking opportunities in an easily accessible area. Packed with Roman, Celtic and other historical interest.
Seasons
Every walk is enjoyable in all seasons; higher and more exposed ridges should be treated with some care on windy winter days
Centres
Swansea, Bridgend, Cardiff, Newport, Pontypridd, Pontypool
Difficulty
The ridge walks and those through forests require basic routefinding skills using map, compass and GPS, but none of the routes should present any technical difficulties, and many follow clear paths across farmland and alongside rivers and canals
Must See
spectacular Iron Age forts, Roman roads and marching camps, Celtic churches, Norman castles and a wonderful industrial heritage; Coed Morgannwg Way; Caerphilly Castle at the end of the Glamorgan Ridgeway; Heritage Coast path; Blaenavon World Heritage Site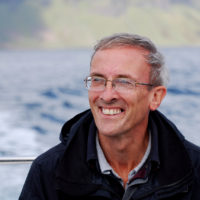 Mike Dunn
Mike Dunn was born and bred in Leicester but has now lived in Penarth in the Vale of Glamorgan for over 30 years. He worked for the Welsh Assembly Government, latterly specialising in environmental and conservation issues, and has also written widely on landscape, walking, pubs and real ale. His books include The Penguin Guide to Real Draught Beer, Walking through the Lake District, Walking Ancient Trackways and Real Heritage Pubs of Wales (with Mick Slaughter). He is married and has two daughters, and his interests include playing and organising tennis (he is a Board Member of Tennis Wales), birdwatching, cricket and real ale. Mike's favourite locations for walking are the Welsh borders, the Hebridean Islands and the Lake District.
View Articles and Books by Mike Dunn