Delivery & Returns
Free 1st Class postage on UK orders. European postage from £2 per item. Worldwide postage from £3 per item. If you're not happy with your purchase for any reason, we'll give you a full refund.
More information...
Commemorating Cicerone's 50th year, Fifty Years of Adventure is a compilation of tales by Cicerone authors. A story to celebrate each year Cicerone has been publishing outdoor activity guidebooks, the collection is a delicious hotpot of adventures in their every shape and form.
Overview

Commemorating Cicerone's 50th year, Fifty Years of Adventure is a compilation of tales by Cicerone authors. A story to celebrate each year Cicerone has been publishing outdoor activity guidebooks, the collection is a delicious hotpot of adventures in their every shape and form. Soak up the sun, ice-cream in hand, with Aileen Evans on the Isle of Man coast path; discover the secret side of Snowdon with Rachel Crolla; cycle downhill for five weeks on the Danube Cycleway with Mike Wells; climb Kilimanjaro with Alex Stewart; and feel the sting of sub zero temperatures climbing K2 - the Savage Mountain - with Alan Hinkes.

Also featured are ten tales of mishaps and misadventures that have befallen Cicerone authors while out and about, researching for a guidebook. Between stifling giggles and gasping out loud, gain greater insight into the mighty task that is guidebook writing. And in 'The Cicerone Story', learn about other aspects of guidebook creation, and discover how things have changed over the last fifty years.

Accompanied by outstanding photography, each page of this finely crafted anniversary book is a veritable visual delight. As enchanting as it is inspiring, Fifty Years of Adventure is a must for anyone with an appreciation for adventure.

Contents

An appreciation

Prologue

The Cicerone story: From then to now

Fifty years: A timeline

Out there: Adventures in the UK

1 Walk on the wild side (Phoebe Smith)

2 Glen Sligachan (Terry Marsh)

3 The Lochaber Traverse (Dan Bailey)

4 Climbing Orion Direct (Mike Pescod)

5 Loch Enoch (Ronald Turnbull)

6 A truly great mountain day (Mark Richards)

7 Intake Ridge (Brian Evans)

8 Running the Bob Graham Round (Joe Williams)

9 Bivvybag (Ronald Turnbull)

10 A walk with the gulls (Aileen Evans)

11 The Bowderdale Classic (Ian Boydon)

12 Magic among the Howgills (Dennis Kelsall)

13 The Pennine Way (Paddy Dillon)

14 The Tissington Trail (Chiz Dakin)

15 The secret side of Snowdon (Rachel Crolla)

16 Hergest Ridge (Mike Dunn)

17 The Thames Path (Leigh Hatts)

Out there: Adventures in Europe

18 Signal Forbes (Kingsley Jones)

19 The Aletschgletscher (Kev Reynolds)

20 Bovški Gamsovec – a 'lesser' gem (Roy Clark and Justi Carey)

21 The Tour of the Bernina (Gillian Price)

22 Sentiero de Luca and Via Ferrata delle Scalette (James Rushforth)

23 Stubai honeymoon (Allan Hartley)

24 Circling the Silvretta (Kev Reynolds)

25 The Zermatt Safari (Bill O'Connor)

26 Valscura (James Rushforth)

27 The Way of St Francis (Sandy Brown)

28 The Robert Louis Stevenson Trail (Alan Castle)

29 From ocean to sea through the Pyrenees (Brian Johnson)

30 Climbing La Torrecilla (Guy Hunter-Watts)

31 Cycling through history on the Danube Cycleway (Mike Wells)

32 The White Mountains of Crete (Loraine Wilson)

33 The GR20 (Paddy Dillon)

Out there: Adventures worldwide

34 The best way to Bou Guemez (Hamish M Brown)

35 Exploring Morocco's Anti-Atlas (Jonathan Williams)

36 To climb Kilimanjaro (Alex Stewart)

37 Sterkhorn (Jeff Williams)

38 The Jordan Trail (Tony Howard)

39 Kyrgyzstan's Tian Shan (Madeline Williams)

40 The Leslie–Karamea Track (Grant Bourne)

41 The Three Capes Track (Rob Houghton)

42 Tippex on the summit of the Americas (Jim Ryan)

43 In search of Alpamayo (Kev Reynolds)

44 The Inca Trail (Will Janecek)

45 The Torres del Paine Circuit (Rudolf Abraham)

46 The Lunana Snowman Trek (Bart Jordans)

47 The heaven and hell of Mount Kailash (Siân Pritchard-Jones and Bob Gibbons)

48 The Manaslu Circuit (Kev Reynolds)

49 To Zanskar along the Tsarab Chu (Radek Kucharski)

50 K2 – the Savage Mountain (Alan Hinkes)

Mishaps and misadventures

Making a splash (Kev Reynolds)

Struck by lightning (Dan Bailey)

Travels in Iceland (Paddy Dillon)

Close encounter of the Germanic kind (Guy Hunter-Watts)

Rainy lessons in the Dolomites (Gillian Price)

No pain, no gain (Brian Johnson)

CD-Day (Mark Richards)

The saddle (Ian Boydon)

Horsing about in Ghorepani (Siân Pritchard-Jones and Bob Gibbons)

Avalanche (Mike Pescod)

An adventurous bunch: Contributing authors

The Cicerone team

Photo credits and captions

Updates

We do not yet have any updates available for this book

We are always grateful to readers for information about any discrepancies between a guidebook and the facts on the ground. If you would like to send some information to us then please use our contact form. They will be published here following review by the author(s).

Reviews

"A lovely book to set you dreaming" Michael Palin

Dear Jonathan and Lesley,

Very belated thanks for sending me a copy of your 50 Years of Adventure book. Made me aware of how little of the world I've seen... And how comfortably I've seen what I've seen.

A lovely book to set you dreaming... And hopefully getting the boots out again!

All very best,

Michael Palin

---

This is a good read, lavishly illustrated with excellent photographs.

A short history of Cicerone is followed by contributions by many of its authors who write of adventures and memories in the UK and overseas. It does not represent the full spread of Cicerone's interest though, as for Britain it concentrates on the uplands, whereas Cicerone produces many excellent guides of the lowlands too—which we review in Open Space.

This is a good read, lavishly illustrated with excellent photographs.

Open Space Society magazine

---

A great book to pick up and dip into

One of the most respected of guidebook publishers, Cicerone must have at least one (and probably more) book on every serious walker or climber's bookshelves, whether it's walking, climbing or scrambling, and in this country or in the furthest corners of the globe.

Founded in 1969, the Cumbrian-based company is celebrating 50 years of inspiration in 2019, with various events and fund-raising efforts for a Cumbrian charity to help disabled and disadvantaged people to access the outdoors and for a project to rebuild a school in Nepal.

Part of the celebrations and fund-raising is this book, which is a compilation of 50 short tales of travel and adventure from Cicerone authors. After a fascinating history of the founding and development of Cicerone, the tales are split into sections covering the UK, Europe, the wider world, and 'mishaps and misadventures'. Each tale is brief and accompanied by excellent and generously sized photographs.

It makes for great casual reading – the sort of book to pick up and dip into – but prospective readers should probably be warned: the book could end up costing a lot more than the cover price. Reading the stories and looking at the photos could so easily lead on to buying the guides and going to the places. In fact Cicerone probably missed a trick by not putting a note of the relevant guide next to each story! But if you are looking for inspiration for a holiday/expedition, you could do a lot worse than leaf through these pages. Makes a good coffee/bedside table book too.

Neil Reid, Scottish Mountaineer magazine

---

The book stimulates and informs just like the guidebooks published by Cicerone over many years

It was a great privilege to receive a copy of the Cicerone 50th anniversary publication just days into 2019. Edited by Kev Reynolds, 'Cicerone – Celebrating Fifty Years of Adventure 1969-2019', hit the shops last week and what a journey they have had. Conceived by Walt and Dorothy Unsworth, together with Brian and Aileen Evans the fledgling company was born in the same year Neil Armstrong set foot on the moon.

It was whilst working together at Climber & Rambler magazine that Walt approached illustrator and artist Brian Evans with the idea of publishing pocket sized climbing and walking guidebooks. Five decades on, the company have almost four hundred titles. These include a wide range of walking, trekking and climbing activities mainly in the UK and Europe but as far afield as the Himalaya. A cover image by multi award winning photographer James Rushforth sets the tone, a truly inspirational shot of Hikers above the Tre Cime.

The book stimulates and informs just like the guidebooks published by Cicerone over many years. I get a strong sense of family through the book's words. In a world where people are often undervalued: employees, authors, suppliers and distributors all are important in the eyes of the current owners, Jonathan and Lesley Williams. The idea that each author is: 'like a parent who is responsible for the birth, delivery and continuing care of his or her child – in this case, the guidebook.'

Fifty authors contribute the narrative, all in print with Cicerone and include founders Brian and Aileen Evans. Brian being responsible for one of the most successful of titles, originally, 'Scrambles in the Lake District', the current versions are split North and South. With over twenty editions or reprints, the first title was published in 1982. A very modest man, Brian is responsible for illustrating over fifty climbing guidebooks, an achievement matched by no artist. It's also noteworthy that Brian and Aileen have enjoyed one of the longest of partnerships, climbing together for over sixty years. The history, 'From then to Now', is a fascinating insight to the Cicerone story from conception to the modern era.

Combine the words with historic images and the guidebook timeline provides a longevity enjoyed by only the hardest working, innovative and caring of publishers. This book will inspire, as do the myriad of titles produced by a company now celebrating a half-century in publishing. I have no doubt they will continue to publish polished and practical guides to adventure for many years to come.

David, by email

---

a sumptuous, coffee table style hardback... a standalone appreciation of the marvellous world in which we live

in celebration of fifty years of success, cicerone have eschewed their regular compact, paperback format and produced a sumptuous, coffee table style hardback that would scarcely be of consideration if heading out on your latest bikepacking adventure. however, adventure is not only at the heart of what cicerone are all about, it's at the centre of the ethos behind this 156 page book.


for the benefit of those of us who could loosely be described as 'armchair explorers', the number of impeccable colour illustrations contained within are likely to offer hours of proxy adventure, accompanied by contributions from cicerone authors and edited by kev reynolds. should the effectiveness of the publication ever be in doubt, the opening double-page spread of mountain tops peeking through the cloudbase, will absorb all but the soul-less for an appreciable period of time. on reaching the facing page to an appreciation on page nine, there is little alternative to experiencing a sharp intake of breath when viewing the 6,800 metre south face of a snow covered jitchu drake in bhutan (above). first climbed in 1988, there is now a ban imposed on all mountain climbing in the region.

there's no denying that 'celebrating fifty years of adventure' is geared more towards the walker, hiker and hill/mountain climber, but that's not to say the cyclist is altogether ignored. cycling readers are regaled with an insight into the offroad world of 'the bowderdale classic' and 'the tissington trail', augmented with tales of riding the 'danube cycleway' and a paean to the bicycle saddle. however, to compartmentalise in such a fashion is sort of to miss the point of this book. cicerone as a publisher, is all about adventure, predominantly helping the uninitiated to find their way around hitherto unknown regions. this book is a celebration of every aspect of that philosophy, explored with great verve when separated from the need to state in which direction to turn or where to find a decent campsite.

it would be wrong to direct this book as an introduction to the incredible wealth of international guiding afforded by cicerone's regular output, but rather as a standalone appreciation of the marvellous world in which we live. and at the risk of being particularly twee, the more of us who ride bicycles rather than take to the automobile, the longer that world might last in its present state.

brian, washingmachinepost

---

"Inspirational. Buy it."

Books have many roles. At the most basic level they can record and inform, and they can also entertain. Some books, though not many, do all three of these things, and very much more as well. "Fifty Years of Adventure", edited by Kev Reynolds, is a book that records, informs and entertains, but much more importantly it is a book that inspires. As we leafed through this outstandingly beautiful book, we began to wonder whether it might be possible to boil our review down to just three words: "Inspirational. Buy it." That would indeed have been possible, and the result would have been an accurate review. But it would hardly have done justice to the huge amount of effort and love that has so very obviously been invested in this book by the contributors, by the contributing editor, and by the publishers, Cicerone Press.

As well they might. "Fifty Years of Adventure" has been published as part of the celebrations being held throughout the year to mark the fact that Cicerone Press is 50 years old in March 2019. At the heart of the book are 50 tales of adventure, one for each year that Cicerone has been publishing. They are divided fairly evenly between adventures in the UK, in Europe, and worldwide. Not that the location of each adventure really matters very much. What the stories have in common is that they are engagingly written and beautifully illustrated. The photography in this book is well worth a special mention. The illustrations are simply outstanding, and many have been printed at large size in a way that maximises their impact.

The stories themselves range from the familiar to the exotic: though of course the distinction between the two will vary for every reader, depending on their own experiences. A sense of the breadth of the coverage can be seen from the UK section, which includes wild mountain walks (especially in Scotland) alongside a piece about Hergest Ridge (especially educational for those of us who never knew Mike Oldfield's second album was about a real place) and the Thames Path. A similar diversity of subject matter can be found in the "European" and "Worldwide" sections of the book. The result is something for everyone: and above all a book that will widen the horizons of anyone but the most committed lifelong globetrotter.

In many ways this is a book that could only have been published by a company that over the years has produced 400 guidebooks which between them have looked at just about every part of the globe that anyone was likely to want to visit with adventure in mind. The book begins with a chapter that looks at "The Cicerone Story" from 1969 to date, which helps set the rest of the contents very nicely in context. The book concludes with what might be described as ten tales of misadventure: "Mishaps and Misadventures" experienced by Cicerone authors over the years. These are entertaining and enlightening, and show that even the best prepared and most knowledgeable of adventurers can have bad days: though whether being struck by lightning on the Cobbler and living to tell the tale counts as being "unlucky" or "lucky" (or perhaps both) is open to debate. This is an inspirational book which will be enjoyed by anyone with an interest in outdoor adventure.

Ken Lussey, Undiscovered Scotland

---

​A beautiful book - a great way of celebrating an important milestone.​

A beautiful book - a great way of celebrating an important milestone.

---

This book is much more than the company's celebration of fifty years... For anybody looking for a gem of information or inspiration for their next adventure, this could be just the place to start.

Inspiration from the word go, the front cover with the Milky Way over the Tri Cime immediately drew my attention conjuring up the epic north-face routes adventures of Cassin, Comici or Hassel – Brandler routes. Breaking away from the format we've come to expect, this fiftieth year celebratory publication is no normal Cicerone guide. The editor, Kev Reynolds, has done a fantastic job bringing together the passion, commitment and spirit of adventure of the Cicerone team of guidebook authors. Their adventures from all over the world have given successive generations of would-be adventurers ideas, dreams and inspirations.

There is a fascinating short historical introduction describing the early days, working from the dining room table, with Walt Unsworth and Brian Evans' passion as climbers and mountaineers to produce high quality guides for outdoor enthusiasts. When eventually taken on by Jonathan and Lesley Williams, the essence, nature and quality could easily have been lost. They may in their own words have had a steep learning curve, but they seem to have survived it!

The book is divided into three main sections, adventures in the UK, Europe, and the wider world, with something for anyone's interest from running the Bob Graham round, to the White Mountains of Crete, to the wild Torres del Paine Circuit.

As a mountaineering instructor and mountain rescue volunteer, I found myself quickly flicking through to the last chapter entitled Mishaps and Misadventures. Colin Mortlock wrote about the nature of true adventure and how that line between real adventure and misadventure is very fine but sometimes where the maximum learning and life-long experience lies. With winter now with us, I was particularly taken in this section by Mike Pescod's piece on being avalanched while working with clients on Aonach Mor. His reflections on the heuristic traps or human errors and poor decision-making to which we are all prone, however skilled or experienced, is food for thought.

In conclusion, this book is much more than the company's celebration of fifty years. It is certainly more than just a coffee table book, taking aside the stunning photographic content. For anybody looking for a gem of information or inspiration for their next adventure, this could be just the place to start.

Mike, Association of Mountaineering Instructors and Mountain Rescue

---

Amazing... wonderful pictures

The 50th years Celebrations book is amazing and [has] wonderful pictures.

Jesus, by email

---

A really brilliant celebration book

I think this is a really brilliant celebration book, an adventure is a journey with an uncertain outcome or it's not an adventure!!! And there are plenty illustrated in the book.

Mike, by email

---

Brilliant

[I] got the book today - it's brilliant!

Hannah, by email

---

​[A] beautiful book...

[A] beautiful book...

Congratulations to you al on the golden anniversary.


Cathy, by email

Downloads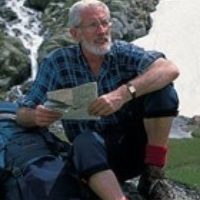 Kev Reynolds
A lifelong passion for the countryside in general, and mountains in particular, drives Kev's desire to share his sense of wonder and delight in the natural world through his writing, photography and lecturing.

Claiming to be The Man with the World's Best Job, he has enjoyed a fruitful partnership with Cicerone since the 1970s, producing over 50 books, including guides to five major trekking regions of Nepal, and to numerous routes in the European Alps and Pyrenees, as well as walking guides for Kent, Sussex and the Cotswolds.
View author profile