When plans fall apart: The Pacific Crest Trail (PCT)
When David and Lisa Jordan set off to hike the Pacific Crest Trail they had it all planned out: equipment, resupply and daily mileage. It was to be the trip of a lifetime. However on a hike of that length things don't always go according to plan, but that doesn't mean that the trip won't be memorable.​ When injury struck their plans had to change, but the events that followed soon became the adventure they'd been seeking all along and they learned that adventure is what happens when you leave the plans behind.
…"Life's like that; go home, buy a cat and stroke it."
We sat there for a moment unable to speak. These words appeared to spell an end to our hike, a trip we'd been dreaming of and planning for years. The doctor, a Romanian locum covering a staffing shortage in the little medical centre in Chester, North California, had just returned from examining the x-rays of Lisa's swollen and bruised right foot. "Something for the pain?" he ventured, perhaps seeing the tortured look on Lisa's face and mistaking it for foot pain, something she'd become accustomed to accepting without the need for pharmaceutical relief. Lisa tried again to explain that her foot only hurt when under load but it was of no matter, the doctor heard none of it, he'd already turned away and walked off down the dimly lit corridor. He returned with a prescription for an opioid drug, something we considered unnecessary and excessive. "But surely these are highly addictive" said Lisa, taken aback by the prescription that was thrust into her hands. "No matter, this is America" proclaimed our ebullient doctor. "Everybody wants drugs… Love America!" he declared enthusiastically giving us a toothy grin and a double thumbs up. With that he was gone and left us, speechless once again, unable to absorb the events of the last hour, let alone the last two days.
In the beginning…
We'd both given up our jobs to do this trip. We'd been planning it for years. The Pacific Crest Trail (PCT), 2600 miles from Mexico to Canada through the Mojave, the Sierra Nevada and the Cascades. The words alone conjured up images of majestic snow-capped mountains, gurgling rivers and dense, foreboding forests. But more than that it was the adventure that this landscape represented that was so appealing. We'd spent many evenings reading everything we could devour about the trail and had a clear idea of what we wanted the trip to be and how we would hike it. It had started well. We had arrived at the official PCT marker post at the Mexican border, just outside Campo, Southern California on 16 April. We felt strong and confident. We'd both been hiking regularly in the lead up to the trip and had been training hard at the gym too, keen to ensure that we were fully prepared. The initial miles and days were both a shock to the system and a wonderful time in which everything about what we were doing was new and fascinating. The desert had the potential to be really tough; we were walking in heat that we were not used to and as a result of the long waterless sections, we needed to carry a lot of water which made our packs heavy. However, it was incredibly beautiful and we soon found a rhythm to our days. We'd wake early – as early as five thirty – to beat the morning sun. The heat could be intense by around nine in the morning, so we always wanted to make the most of the first few hours of each day. The morning air carried a crisp, invigorating chill that crept out from among the shadows and grasped at any exposed flesh. To counter this we'd walk fast, encouraging the blood to quickly warm our shivering extremities then anticipate the dawn, the precise moment when the soft and golden glow on the horizon would break and instantly erase the shadows, painting the desert with intense colour.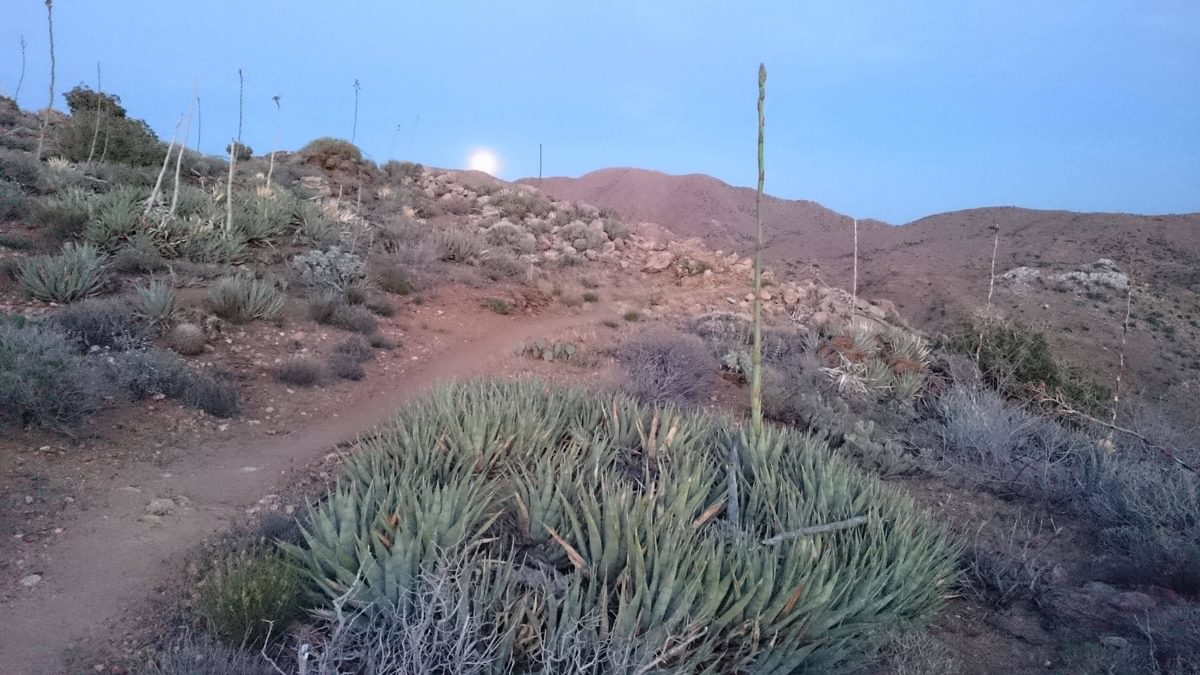 The landscape was not the flat, endless sand that we'd pictured the desert to be, but rocky hills and escarpments dotted with plant life. A long descent across a baking, parched dust bowl led us to Scissors Crossing. Our first hitch-hike and jeep ride followed, then a huge bowl of apple pie once we'd reached the little town of Julien, an idyllic small town that seemed to live forever in summer with a slow pace of life, apple blossom and smiling people. It seemed somehow imbued with a sense of the American dream. We resupplied in the small store and left the following day, not in the morning as might have been expected but late in the afternoon to avoid the heat as we had a long waterless ascent ahead, climbing to a ridge top and following a narrow dusty path that traversed the barren hills. We walked until gone midnight, our way lit by a near full moon. We were almost reluctant to stop but found a clear level dome atop a small peninsula with a view over the moonlit desert that we could not walk past.
We hiked on through the San Bernardino Mountains. Formed eleven million years ago by the San Andreas Fault, they're still rising. Getting more rainfall than the surrounding desert they host a surprising level of biodiversity. We saw our first storm in the San Jacinto wilderness and had our tent blown flat before retreating to a valley where the temperature plummeted, snowing at dusk. We hadn't expected this and at dawn found ourselves cracking ice on the inside of our tent! We climbed Mount San Jacinto, a truly alpine environment, and on through Idyllwild to Big Bear City. For Lisa and I this was a magical time.
Over the last eight years or more work had stolen more of my life than I care to admit. Getting to spend every day together in this way, carefree and exploring beautiful places felt almost too good to be true.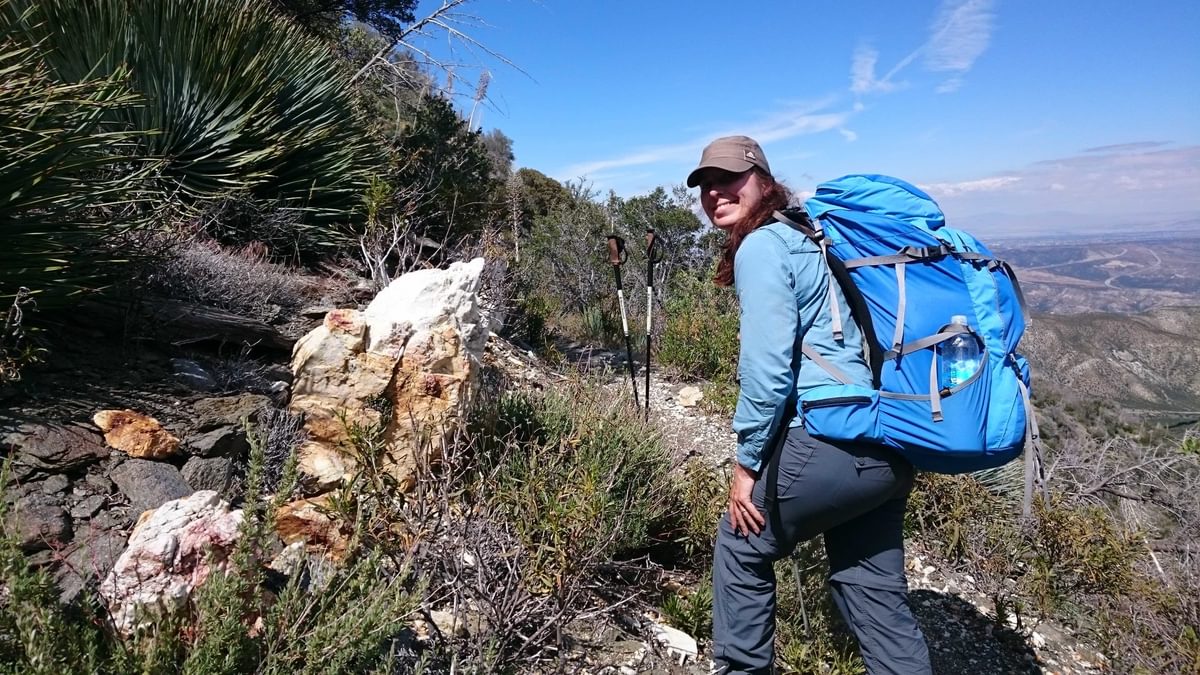 Rattlesnake on the trail
Snow at Chicken Spring Lake
The first signs of trouble
We'd stopped in Tehachapi to buy food and it was here that Lisa started to mention discomfort in her right foot. We avoided too much walking around town but aches and pains were considered normal so we didn't take it too seriously. A couple of days later after a long, steep climb over difficult ground her right foot was throbbing and when she eased off her shoe it was clearly more swollen than her left. There was little we could do so after a night's rest and some ibuprofen, we carried on.
The walk into Kennedy Meadows, an iconic milestone on the PCT was hot and dry. An isolated outpost high in the foothills of the Sierra Nevada Mountains, it consisted of little more than a handful of cabins that served as a store and post office. A dusty yard out front and a scattering of tents, all shapes and colours, littered the trees behind the store.
A corrugated screen barely concealed two al fresco showers, and a part-covered deck was occupied by dozens of grubby and hairy hikers excitedly tearing open resupply boxes.
It was here that Lisa quietly said to me, "I don't know if I can go on." I'd dreaded this happening to either one of us. This was our 'big trip', our chance to create the memories that we would grow old with. We were going to do this together. However, I knew that we were facing the start of the High Sierra. Even then in early June there would still be snow on the passes, and the climbs were rumoured to be the highest and toughest of the whole PCT. I could understand her reticence and I could do little but agree we should take a break, allow the swelling in her foot to subside and then see where we were.
We decided to come off the trail and rent a car for a few days, that way we could enjoy seeing more of the area while keeping Lisa firmly off her feet. However, getting out of Kennedy Meadows was a challenge of its own. We were waiting for a ride in an area with few visitors when we learned of a fierce wildfire that had broken out nearby. We moved fast and got to the small diner hoping for a hitch. There we learnt that the owners had just evacuated their house which was directly in the path of the flames. If the fire took it they'd lose their home and our own concerns suddenly seemed insignificant by comparison. We got out in the nick of time, flames closing in on the road, and were relieved to later learn that no one had been hurt, and no property lost.
Over the next few days we enjoyed what could best be described as an unexpected holiday from the trail. Neither of us had been to Las Vegas so we figured now was our chance. We visited South Lake Tahoe and explored the smaller towns, forests and lakes along the eastern Sierras. We didn't appreciate it at the time, but all of the things we saw and experienced that week were a bonus, something we hadn't planned for, hadn't expected and would not have experienced had it not been for Lisa's foot injury.
Lisa's foot improved and we were keen to get back on the trail. We'd met some hikers we knew from early on and we headed into the mountains together, enjoying the company. We experienced the full force of our first mountain storm at Horseshoe Meadow where we'd been gathered eating dinner as the clouds rolled in and the sky darkened. We knew it was coming but were caught running back to our tents, laughing as the first crack of lightening erupted. It was followed by pounding hail and we were all relieved to reach the tents where we listened to the maelstrom, more thrilled than anxious. The following day we climbed steadily, the scenery becoming alpine once more and it started to snow, heavily. The world around us quickly turned white, lit by flashes of lightening and accompanied by a rumbling soundtrack. By the time we reached camp we had to clear several inches of snow for the tent. It was challenging but exhilarating and we were delighted we'd been able to continue hiking. A couple more days saw us reach Crabtree Meadow and the base for climbing Mount Whitney, which, at 14,494ft is the highest mountain in the contiguous United States. Lisa had been taking it steadily and monitoring her foot carefully. Despite all our hopes, it had started to hurt again and she was keen to have a rest so I climbed Mount Whitney the following morning without her.
She was alone in the meadow that day and I was equally so on the mountain. Although we hadn't said as much we both knew what was coming.
Late in the previous day, as we'd hiked through the snow, I'd paused to allow Lisa to catch up. Seeing the expression on her face I'd asked if it was her foot. She was silent but the expression of anguish and the tear that had slowly rolled down her cheek needed no words. Lisa couldn't go on, she needed to rest her foot properly. As a physiotherapist she knew the range of potential injuries, none of which would heal quickly. We made our way out of the mountains over Kearsage Pass and ultimately out to San Francisco from where Lisa would fly home. It was heartbreaking, not just to part, but to realise that we wouldn't get to share these experiences or build the memories together, at least not in this part of the hike. I would go on through the High Sierra alone and our hope was that she could return and join me again, if and when her foot was fully healed.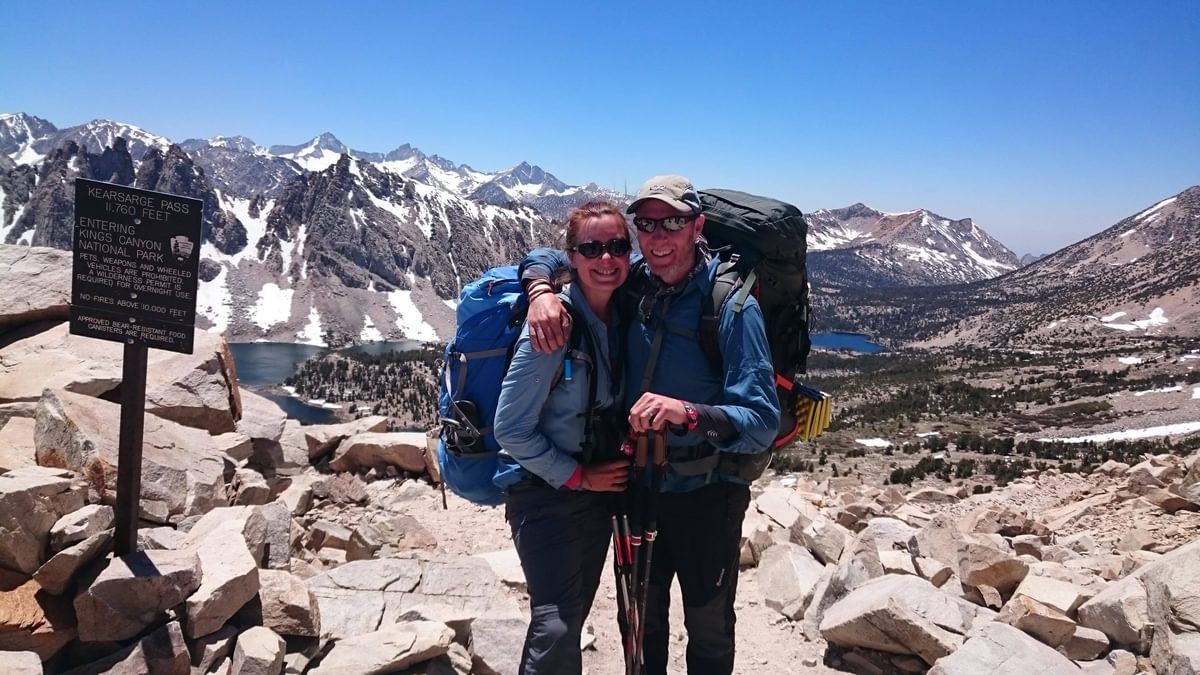 Enjoying the adventure
Fast forward a month and about 400 miles. I'd spoken to an excited Lisa by phone. She'd been walking comfortably over the previous week and been cleared by her doctor to return. She'd wasted no time booking a flight and would be in Reno in just a few days. We met as planned and returned to the trail, thrilled to be hiking together once more, experiencing the trail, the landscape and the people we met. We adjusted our packs so that Lisa carried as little weight as possible and looked forward to all that was ahead of us.
When a few days later, Lisa told me that her right foot had again started aching, we tried to dismiss it. However, the following day it had swollen right up and Lisa was limping a little. By lunchtime that day we had a long rocky descent to do and a further climb. All afternoon I watched Lisa gritting her teeth and struggling along getting slower and slower. By the end of that day we were barely travelling at one mile an hour. There was nothing to say and even less we could do. We would cross a road at the tiny community of Belden the next day. There would be no public transport so we'd have to hitch-hike the fifty or so miles to Chester and the nearest medical centre for advice. The future of our journey rested on that advice.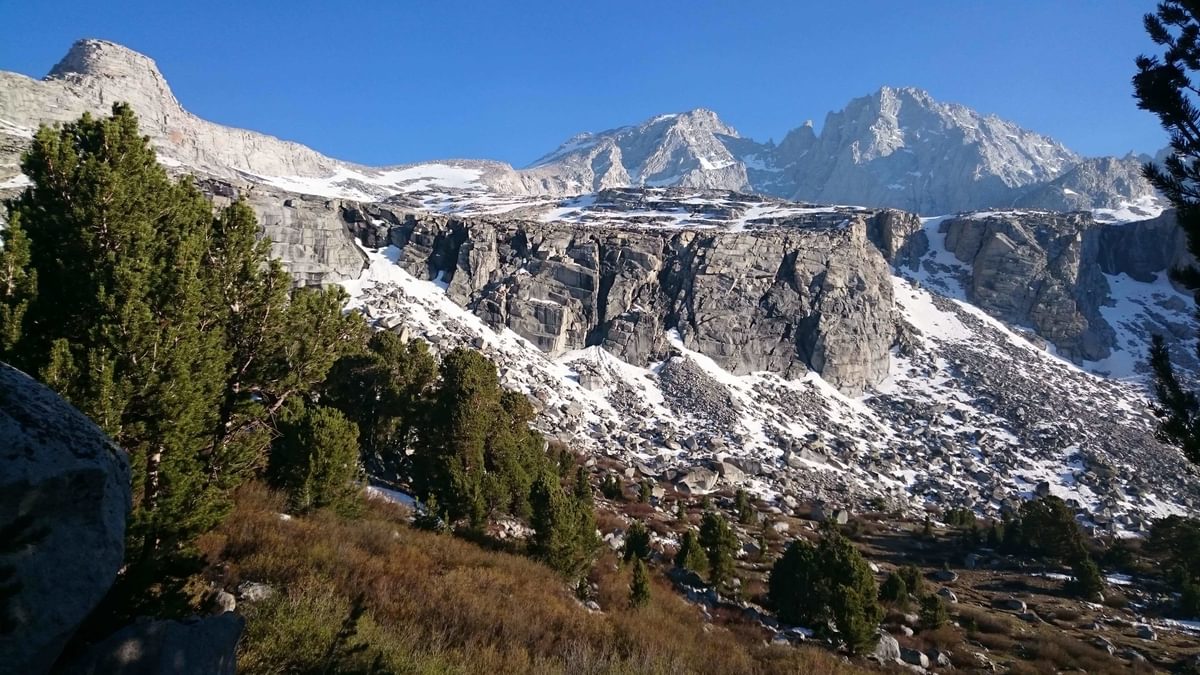 We'd started to realise that getting onto or off the trail, travelling as it does through remote and mountainous regions, was always eventful.
However we had no idea just what an adventure the next couple of days would be. As we set off down the hill that morning we became aware that we could faintly hear music. A rhythmic beat seemed to accompany us down the hill, and as we walked the volume grew. We followed a series of switch-backs down a steep and densely wooded hill until by lunchtime we burst out into sunlight in what appeared to be a rail yard. We gingerly crossed the tracks and followed a narrow lane in the direction of the music. Tents began to appear, many decorated with ribbons or flags.
We turned a corner and found ourselves slap bang in the middle of a dance music festival.
Everywhere we looked people were dressed in costumes or swimwear or some seemingly in little more than paint! Outrageous outfits were accompanied with similarly creative make-up and everywhere people were dancing. There were food stalls and art installations, lounging areas and dance floors. We stood in the middle of it all speechless and completely overwhelmed. We were quickly pounced upon by a group of colourful characters who enthusiastically welcomed us. Already a little taken aback we made to walk on but our hosts would accept none of it. Beers were thrust into our hands and as three of them simultaneously spoke at great speed to us, each offering differing explanations of their ideals and aspirations for a money-free society, a fourth fumbled through a bag and then thrust a pill toward Lisa imploring her to stay and enjoy. "What is it?" she asked, to be told, "its a love pill… it's a message in a bottle!" After briefly considering the potential therapeutic benefits for her foot she declined and we made our way slowly through the crowd to the little store. We stayed just long enough to enjoy the music and adjust our senses, relaxing in the sun near the river for lunch, before heading out to the road to try hitching.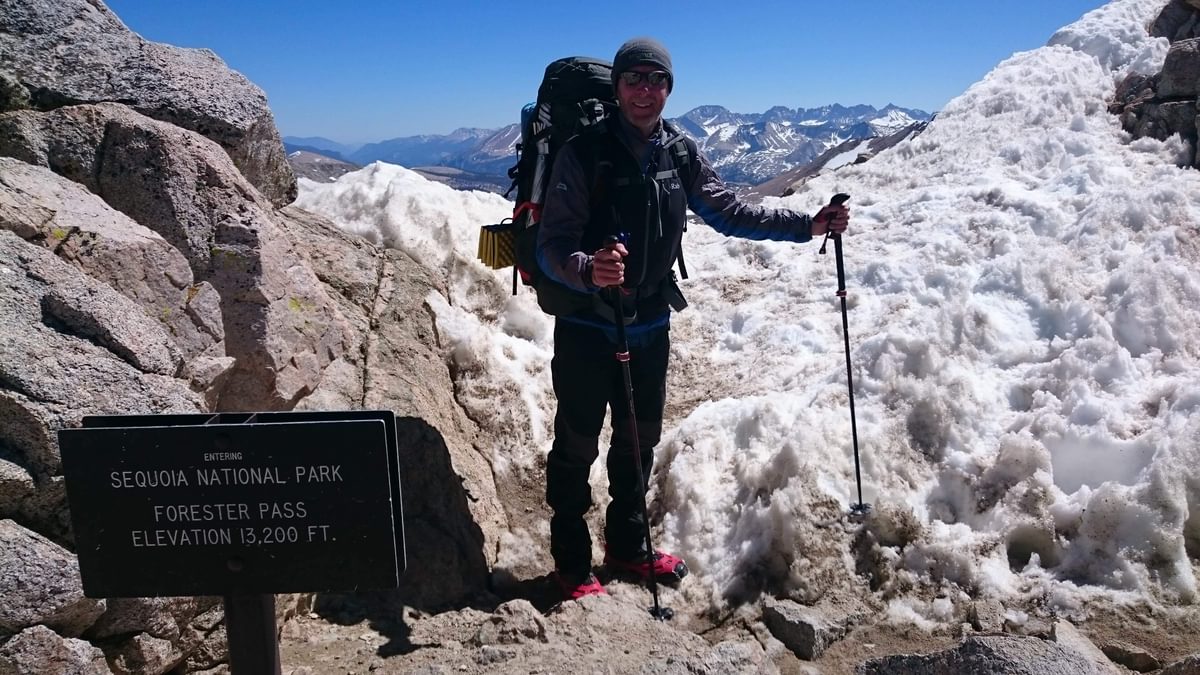 When, after an hour or more in the sun by the road a small, dirty and quite old pick-up pulled in, I was simply grateful. We tried to overlook the fact that there was only one spare seat, and that like every other corner of the truck it was buried deep under years of accumulated coffee cups, newspapers and other assorted trash. We ignored the duct tape and rope that seemed to have taken on a structural role and just got in. Well, after much shuffling of various trash to enable me to lever myself lengthways onto a small ledge behind the seats, while Lisa did her best to settle onto what remained on the seat. Never before on a hitch had we been less conscious that our trail clothes might be grubby or smelly. The truck, a veteran of over a quarter of a million road miles, was gunned and in a shower of gravel we were off. Our saviour was an elderly gentleman in his eighties. Our initial attempts at conversation included an outline of what we were doing, but he preferred to talk more than listen and we suspected that his hearing was not what it used to be. On several occasions he seemed to get so involved in what he was telling us that he would forget he was driving and we veered erratically from side to side in almost cartoon fashion across the road. We soon realized that wherever he peered, the steering wheel followed and the penny dropped when I spotted an eyesight prescription languishing on the dashboard, and no glasses on our driver. He told us he was on his way to see an agent about a piece of land as a potential gold-panning prospect. I asked how he supported himself now and he proudly told us that since needing daily pain medication he had taken to farming his own cannabis.
So there we were hurtling down the highway in a truck that many would have scrapped some years prior, with a half-blind octogenarian at the wheel, who was high on cannabis! The experience certainly helped us put Lisa's foot pain into context and we were relieved and grateful when we arrived in Chester in one piece.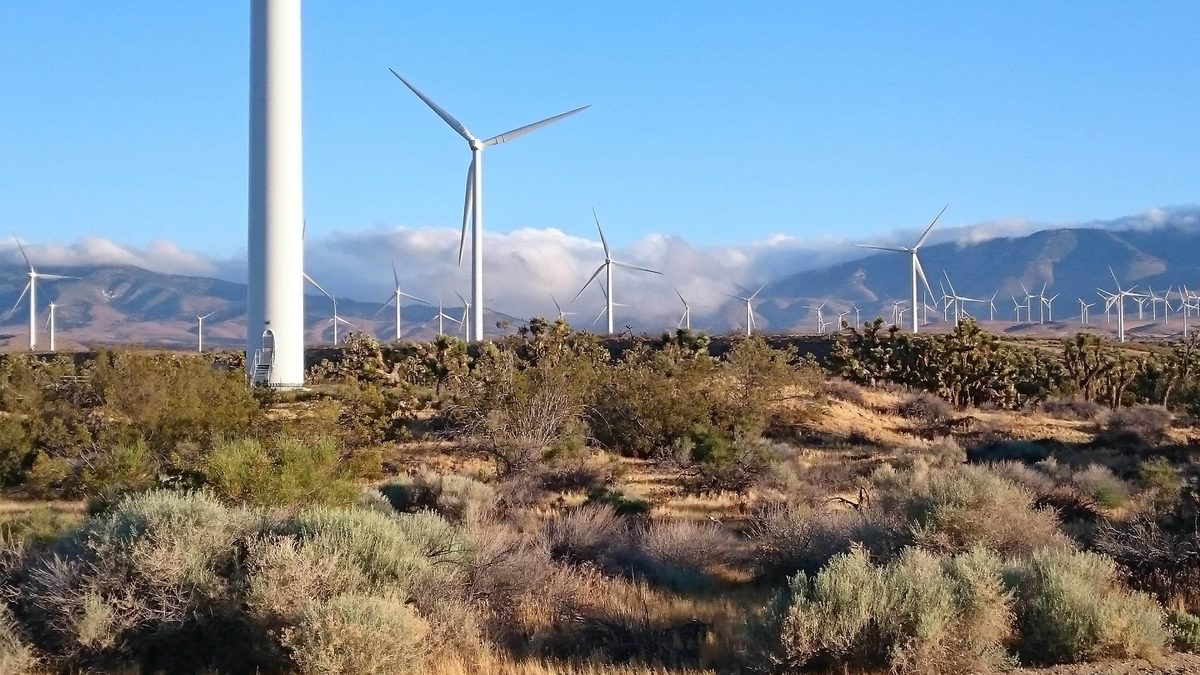 It was a Sunday but the doctor had agreed to see us. "Life's like that; go home, buy a cat and stroke it," he had said brusquely, his tone not inviting further enquiry. Putting aside his opaque reference to the benefits of feline ownership, we were still unclear what exactly the injury was, even less so what we should do next. We had little choice but to seek a second opinion. When we eventually tracked down an Orthopaedic Consultant the diagnosis was quick and simple: Lisa had a stress fracture in her fifth metatarsal and was strongly advised not to continue hiking.
A flight was booked and true to form our journey out to Reno, and the airport, was no less eventful. Getting anywhere in America without a car is a challenge, especially away from the main cities. We'd booked a flight for Lisa for the following day. Without car hire available in Chester we'd taken the 'once a day' bus through the mountains to a neighbouring town and were waiting in Starbucks for the Hertz dealership to open when they called me. They had no car. I explained that I had booked, that they had confirmed, that they'd sent me pick-up instructions, but to no avail, they had no car. Were there any other car hire options in town I enquired, the answer was no. We tried all options: taxi, Uber, rail, ride-share, nothing was available. The flight was paid for and would leave in the morning, we had to get to Reno. It was then that I spotted a U-Haul truck drive past the window. That was it! Surely people round here had to move things, and I was right. There was a U-Haul dealership a short taxi ride away.
The truck was still dirty from the previous hire but it had four wheels and was moving and that was all that mattered to us by then. We arrived in Reno in good time to one of the few hotels that had been available at such short notice, which happened to be an upmarket four-star place.
As we pulled up at valet parking a smartly dressed valet stepped forward scowling, about to tell me I couldn't park here, when I stepped out and tossed him the keys to our grubby truck.
The look on his face said everything. He was not impressed, but the stress of the last few days ebbed away as Lisa and I stifled giggles, maintaining an air of nonchalance, at least until we were past the doors where we collapsed with laughter.
We sat in the airport the following morning reflecting on the events of the previous couple of months, knowing that this time Lisa would not be coming back. We'd had such strong ideas about how we were going to undertake this hike, about what it had meant for us and how we would remember it, yet little of that had happened in practice. Our trip plans had fallen by the wayside and events had taken over. Yet as we talked we realized that, although we were sad not to continue and finish the trip together, we'd had an incredible adventure. We'd created memories and had many, many stories that we would remember and share long into the future. I would go on to complete the hike alone but my most enduring memories from the summer remain the challenges we faced together. If we've learnt anything from this it is to not hold too tightly to plans, let the adventure take over and enjoy it, whatever it becomes!
To read more articles like this get our newsletter
Sign up today for a 20% discount on your next purchase. Join over 30,000 enthusiasts from around the world. If you don't love our mix of new books, articles, offers and competitions, you can unsubscribe at any time. We will never spam you, sell your data or send emails from third parties.