A quick chat with Paddy Dillon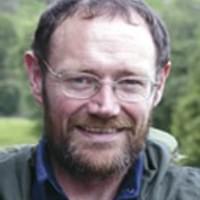 Paddy Dillon is one of Cicerone's most prolific authors and has written over 70 walking and trekking guidebooks. We pin him down to ask a few questions of this 'indefatigable long-distance walker'.
Where are you currently walking?
"I'm currently exploring the Azores - it's a hard life but someone has to do it! The walking here is superb as you can see.
The absolutely breathtaking Azores
Where is your favourite walking destination?
"I love islands - I have quite an obsession and I have written guidebooks to Iceland, Arran, all the Canary Islands, Corsica, Jersey, Sardinia, the Isles of Scilly.... and I'm not finished yet!
A much under appreciated island is Malta. People say that it is hot, dirty, smelly, noisy, scruffy… or words to that effect and I'm sure there are all sorts of reasons NOT to visit Malta. But I've always found plenty of interest there, masses of history and heritage, and for a place that's set so far south in the Mediterranean, it's rather jolly to find that everyone speaks English. My guide is now going into its third edition, so someone must be buying it! Once, while manning a Cicerone stand at a trade show, an elderly couple approached me and told me they'd walked all the routes in the book, then been hired to take other elderly visitors walking there!"
Malta - an under appreciated walking destination
What's next for you?
"Updating my guidebooks takes up almost all of my time as I like to rewalk all the routes in a guidebook to check that the information is still accurate. I do enjoy getting out to talk to people though and I've just been to Ireland on a mini tour. Next up is an event in Keswick in May so I've got plenty of time to prepare for that."
What is your biggest achievement?
"Walking wise I have walked all the National Trails at least twice - not many people can say that! I first walked the South West Coast Path in 1991, in only four weeks, covering over 30 miles a day at times. That'll never happen again! Mind you, when I first walked the GR5 I walked it in both directions, variants and all, in a single trek lasting ten weeks. When I explained to other people, in French, that I was walking both ways, they seemed to assume that my French was poor, because they'd never heard of anyone going both ways in one season.
Writing wise, I'm proud of all my guidebooks, especially the new ones with mapping booklets. I think it's exciting that everything you need for a trek fits in a pocket."
The South West Coast Path
And finally, tell us something we don't know:
"One elderly British ex-Ambassador referred to me as 'St Patrick' during his GR5 trek, because he felt I was watching over him!"
To read more articles like this get our newsletter
Sign up today for a 20% discount on your next purchase. Join over 30,000 enthusiasts from around the world. If you don't love our mix of new books, articles, offers and competitions, you can unsubscribe at any time. We will never spam you, sell your data or send emails from third parties.