An Introduction to The Cambrian Way
Are you an adventurous and experienced walker looking to discover Wales in a whole new way? Here's an introduction to the Cambrian Way - a challenging but equally rewarding long-distance route from Cardiff to Conwy.
Where is the Cambrian Way?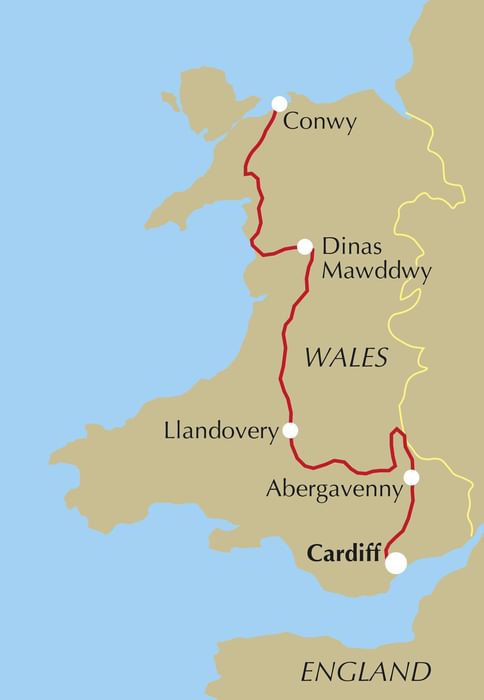 Cambrian means 'relating to Wales', so the Cambrian Way is simply a way to walk through Wales. It's also referred to as the mountain connoisseurs' walk as it showcases some of the best mountainous scenery that Wales has to offer.
The Cambrian Way starts in the middle of Cardiff at the main entrance to the impressive castle. After leaving the city it passes through Bannau Brycheiniog (Brecon Beacons National Park), traversing the iconic Pen y Fan mountain.
It then leads through the Carmarthen Fans with their legendary Llyn y Fan Fach lake. Beyond Llandovery the countryside becomes more remote and wild as the route enters the Elenydd region and crosses Pumlumon.
There is a challenging traverse of Cadair Idris, and a brief glimpse of the sea when crossing the Barmouth viaduct. A stiff ascent leads to Rhinog Fach and Rhinog Fawr where there are views north to Snowdon. The route ends with a descent to the coast at Conwy Castle.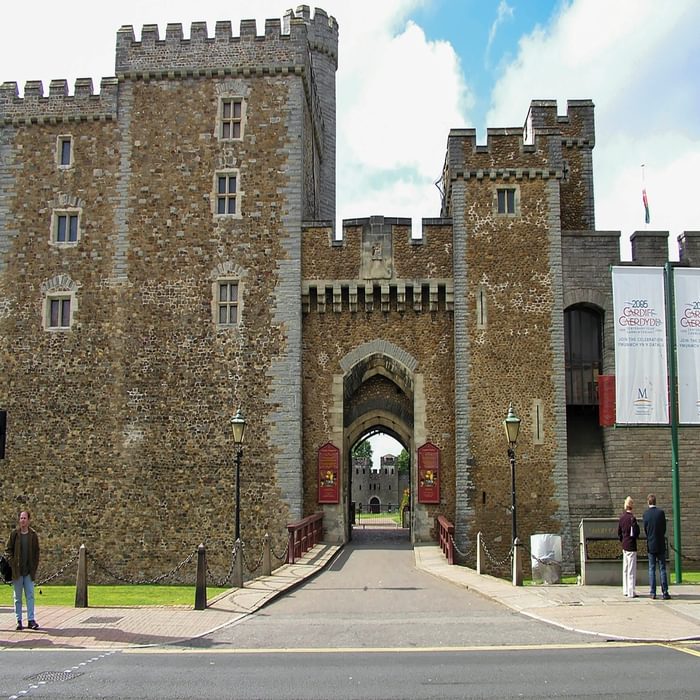 How long is the Cambrian Way?
The Cambrian Way is 479km (298 miles) in total with around 22,500m (73,700ft) of ascent.

How difficult is the Cambrian Way?
Tempting as it may be, the Cambrian Way should not be the first outing attempted by the novice trekker.
It is nearly 300 miles long and much of the route is in open access country, requiring good navigational skills. Some sections are long and remote, and accommodation can be rudimentary.
While the mountains are not high, reaching a little over 1000m, the isolation and the challenge of the highest peaks require good mountain walking experience.
Where can I stay?
With often quite long distances between accommodation it is unwise to arrive without booking in advance. It is safest to book for the whole route or the part of the route you're walking before setting off so that you can be assured of a bed for the night.
There is a wide range of accommodation along the Cambrian Way, from youth hostels, bunkhouses, bothies and campsites to expensive hotels. There are many B&B establishments on the route.
There is a detailed accommodation list on the Cambrian Way website.
Please note: Wild camping in Wales is only allowed with the landowner's permission.
Conwy from Conwy Mountain (Stage 21)
Snowdon's iconic summit, seen here from Bwlch Glas (Stage 19)
Waun Fach and Pen y Gadair Fawr from Pen Allt-mawr summit (Stage 5)
Old spoil heap seen from Mynydd Machen (Stage 2)
Is it well waymarked?
Much of the Cambrian Way is waymarked with the Welsh hat symbol or on marked public rights of way. Substantial parts of it are over open access country and mountain ridges and peaks where paths are not always clear. Often there can be a confusion of paths, many of which may be sheep tracks. For these reasons it is necessary to have good map-reading skills, particularly if visibility is bad.
Is the Cambrian Way a National Trail?
No, the Cambrian Way is not a National Trail – although that doesn't mean it's not a brilliant route! The official route has its origins in the 1960s when a small group of members of Ramblers (formerly The Ramblers Association) decided to look at the formation of a south–north trail running through the upland areas of Wales. Agreement could not be reached and the project would have failed without the determination of Tony Drake, a rambler with a passion for wild Wales. His work is carried on by the Cambrian Way Trust and Ramblers Cambrian Way Working Group.
Pen y Fan and Corn Du from Cribyn
Penygadair provides spectacular views of the surrounding mountain scenery
When is the best time to go?
Wales is renowned for its rainfall so walkers should always be prepared for wet weather. The route can be attempted at any time of the year but the higher mountains of the Snowdonia area are best avoided in the middle of winter due to wind, ice and snow and some of the longer sections would be difficult to complete during the winter months. Some hostels close for the winter, but it is possible to find B&B accommodation throughout the year – although this of course should be checked in advance.
Getting to the Cambrian Way
There are good bus services in the urban districts and on main roads in the countryside, should you want to leave the route in order to take advantage of wider accommodation options. If walking the route in sections rather than in one go, railways can be used to reach many spots along the Way.
What should I take?
Given the demands of the route, if walking the whole of the Cambrian Way in one go, a balance needs to be struck between staying warm and dry in moorland and mountain sections and staying cooler in the earlier sections until the Black Mountains are reached. Even in the summer it can become very cold at night in the moorland and mountain sections.
Pack weight should be between 7 and 10kg, depending on whether camping gear is being carried. It is well worth investing in lightweight equipment, as some of the mountain sections are difficult to negotiate with a large pack.
Although much of the southern section can be walked in good mountain shoes, boots are advisable for the later sections, as well as gaiters for the peat bogs in the mid moorland areas where streams will also need to be waded on occasion.
Sun cream and insect repellent are advisable. Trekking poles can be very useful for the more mountainous and boggy sections. Safety items such as a first aid kit, torch, whistle, map and compass are essential.
Sheets are not usually required for hostels but it is wise to a carry light silk inner lining and pillow cover. For bothies, a sleeping bag and mat will be needed.
The logistics of washing and drying clothes over a three-week trek will need to be considered; liquid soap and a drying line are recommended, although many accommodation businesses will provide laundry services at a charge.

Be aware:
Being an upland route, there are long sections on which food and drink are not easily available without making detours off-route. The detours are not generally very long but a few remote sections require enough food to be carried for a few days.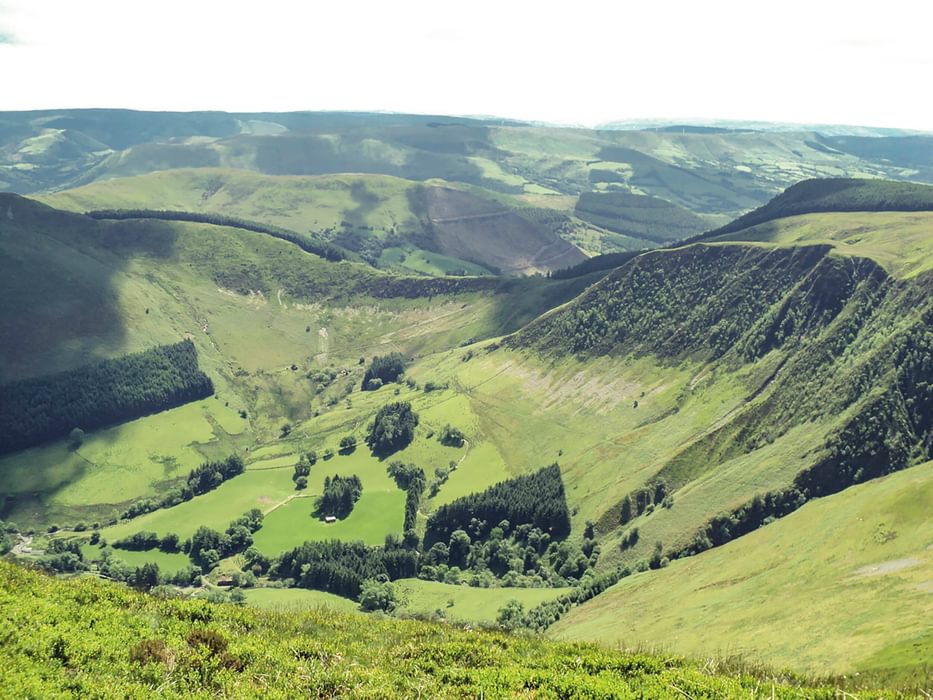 Useful notes
Money
Cash dispensers can be found in towns, and supermarkets will usually give cashback if using cards for purchases. ATMs in shops will be subject to opening hours and they may also charge a fee, so it is worth carrying sufficient cash for several days at a time.
Communication
Telephone kiosks are being phased out and often do not accept cash (although neither cash nor a phone card is required for 999 emergency calls).
The emergency number 999 may be used even in areas of poor signal strength. If in the mountains, ask for the police and then mountain rescue or ambulance, depending on the circumstances. It is wise before starting out for the day to assess weather conditions and the nature of the route as indicated in this guide.

Transport
Getting to Cardiff at the start of the Cambrian Way and from Conwy at the end is easy by road or rail. Cardiff is on the South Wales Main Line which offers connections with stations across the UK and a direct link with London. Conwy is on the North Wales Coast Line which runs from Crewe to Holyhead, Crewe being a major junction with good connections to both the north and south. The National Rail website and Trainline allow you to compare options and make rail bookings, and both train and bus information can be found at www.traveline.cymru.
Cambrian Way Stages
Read on for a summary of the Stages, as well as a detailed breakdown of each stage below.
| Stage | Start / Finish | Distance | Time |
| --- | --- | --- | --- |
| 1 | Cardiff to Machen | 24.5km (15¼ miles) | 6–7¼hr |
| 2 | Machen to Pontypool | 18.5km (11½ miles) | 5¾–6¾hr |
| 3 | Pontypool to Abergavenny | 20km (12¼ miles) | 5–6¼hr |
| 4 | Abergavenny to Capel-y-ffin | 21.5km (13¼ miles) | 6¼–8hr |
| 5 | Capel-y-ffin to Crickhowel | 26.5km (16½ miles) | 7–9hr |
| 6 | Crickhowell to Storey Arms | 33.5km (21 miles) | 9¾–12½hr |
| 7 | Storey Arms to Glyntawe | 19km (11¾ miles) | 5–6¼hr |
| 8 | Glyntawe to Llandovery | 29.5km (18½ miles) | 8¼–10¾hr |
| 9 | Llandovery to Tŷ'n-y-cornel | 26km (16 miles) | 6¾–8½hr |
| 10 | Tŷ'n-y-cornel to Claerddu | 23.5km (14½ miles) | 6¼–7¾hr |
| 11 | Claerddu to Ponterwyd | 24km (14¾ miles) | 6½–8¼hr |
| 12 | Ponterwyd to Dylife | 23.5km (14½ miles) | 6½–8¼hr |
| 13 | Dylife to Dinas Mawddwy | 37km (23 miles) | 10–12¾hr |
| 14 | Dinas Mawddwy to Bwlch Llyn Bach | 15.5km (9½ miles) | 5–6¾hr |
| 15 | Bwlch Llyn Bach to Barmouth | 20km (12½ miles) | 5¾–7½hr |
| 16 | Barmouth to Cwm Bychan | 23km (14 miles) | 8½–10¾hr* |
| 17 | Cwm Bychan to Maentwrog | 16km (9¾ miles) | 5½–7hr* |
| 18 | Maentwrog to Beddgelert | 22km (13½ miles) | 7–8¾hr |
| 19 | Beddgelert to Pen-y-Pass | 17.5km (10¾ miles) | 5¾–7¾hr |
| 20 | Pen-y-Pass to Llyn Ogwen | 8.5km (5½ miles) | 4–5hr* |
| 21 | Llyn Ogwen to Conwy | 30.5km (19 miles) | 9–11½hr |
Stage 1
| | |
| --- | --- |
| Start | Cardiff Castle |
| Finish | Machen |
| Distance | 24.5km (15¼ miles) |
| Time | 6–7¼hr |
The walk starts with fine parkland on the banks of Afon Taff and continues with some canal bank and road walking over and under a large road interchange to climb to Castell Coch. Beyond this, there is ridge walking on forest tracks and farmland with fine views to the Brecon Beacons and the Severn Estuary before descending steeply to the old mining village of Machen.
Stage 2
| | |
| --- | --- |
| Start | Machen |
| Finish | Pontypool |
| Distance | 18.5km (11½ miles) |
| Time | 5¾–6¾hr |
This stage offers the first real taste of mountain scenery, starting with a steep climb. More ridge walking gives views to the Severn Estuary and the mining villages around Ebbw Vale. Some careful navigation is needed on the descent from Twmbarlwm to the road leading to Pontypool.
Stage 3
| | |
| --- | --- |
| Start | Pontypool |
| Finish | Abergavenny |
| Distance | 20km (12¼ miles) |
| Time | 5–6¼hr |
A fine walk starting at the historic Pontypool Park with a climb under a ski run, past a shell grotto to a folly with magnificent ridge views. Somewhat more difficult boggy tracks lead into the Brecon Beacons National Park, and the route passes the grave of the legendary show-jumping horse Foxhunter. There are superb views beyond the Blorenge mountain-top and a very steep descent which needs careful navigation. An interesting descent under the Monmouthshire and Brecon Canal leads to the stage end at Abergavenny.
Stage 4
| | |
| --- | --- |
| Start | Abergavenny |
| Finish | Capel-y-ffin |
| Distance | 21.5km (13¼ miles) |
| Time | 6¼–8hr |
The Cambrian Way takes a long loop round to Crickhowell and this section of the loop ends at Capel-y-ffin ('chapel of the border') in the heart of the Black Mountains. Some initial road walking gives way to tracks leading up to Sugar Loaf mountain, which involves a fairly steep climb and descent. The route goes down to Forest Coal Pit and then rises on paths through woodland to a series of small summits and a superb ridge, which narrows before dropping steeply to the valley.
Stage 5
| | |
| --- | --- |
| Start | Capel-y-ffin |
| Finish | Crickhowell |
| Distance | 26.5km (16½ miles) |
| Time | 7–9hr |
This remainder of the loop to Crickhowell features some of the finest ridges in the Black Mountains, linking a series of peaks with some short steep climbs. At Waun Fach the highest point in the Black Mountains is reached. The walking is nearly all off-road and is quite muddy in places. The views are spectacular.
Stage 6
| | |
| --- | --- |
| Start | Crickhowell |
| Finish | Storey Arms |
| Distance | 33.5km (21 miles) |
| Time | 9¾–12½hr |
This is a hard day's walk and consideration may be given to splitting the day by leaving the trail to seek accommodation in Talybont-on-Usk. The route starts with a pleasant short walk along a canal before rising very steeply to cliffs, descending to a lonely but fast road and then heading across moorland past the Chartist Cave. From there the route descends to another road and through quarry workings before undulating to the Torpantau Pass. There then follows one of the most spectacular mountain crossings of the Cambrian Way over a series of high peaks which can be challenging in poor weather. After leaving Corn Du with a short sharp descent the path curves round to reach the main A470 road at Storey Arms.
Stage 7
| | |
| --- | --- |
| Start | Storey Arms |
| Finish | Glyntawe |
| Distance | 19km (11¾ miles) |
| Time | 5–6¼hr |
After a day walking over some of the busiest mountain paths in South Wales, this section is much less trodden. Tracks are often faint or non-existent. It offers wild mountain scenery and solitude; only one small mountain road is crossed until approaching Glyntawe. A direct route is available for those wishing to omit Glyntawe and cut across to Bwlch Giedd (Stage 8).
Stage 8
| | |
| --- | --- |
| Start | Glyntawe |
| Finish | Llandovery |
| Distance | 29.5km (18½ miles) |
| Time | 8¼–10¾hr |
This walk through the Carmarthen Vans – 'van' is the anglicised spelling of 'fan' (peak) in Welsh – offers the mountain connoisseur wild mountain scenery, peace and solitude the like of which is hard to find. Footpaths are fairly clearly defined and there are a number of good landmarks. There are steep ascents and descents at Llyn y Fan Fawr and Fach, both iconic lakes. After Llanddeusant the rugged landscape gives way to the rolling hills and valleys that are typical of Mid Wales.
Stage 9
| | |
| --- | --- |
| Start | Llandovery |
| Finish | Tŷ'n-y-cornel Hostel |
| Distance | 26km (16 miles) |
| Time | 6¾–8½hr |
Much of this section is on minor roads with linking paths and tracks. The Doethie Valley, which the trail follows north of Llandovery, is very picturesque. Few other walkers are likely to be met and Ty'n-y-cornel ('house in the corner') Hostel is said to be the most remote in Wales. Here the weary walker can rest on the carved bench outside dedicated to Tony Drake, the creator of the Cambrian Way.
Stage 10
| | |
| --- | --- |
| Start | Tŷ'n-y-cornel Hostel |
| Finish | Claerddu |
| Distance | 23.5km (14½ miles) |
| Time | 6¼–7¾hr |
This section gives the lover of wilderness an opportunity to traverse some very wild and remote areas where paths are often faint or non-existent. A considerable amount of peat bog has to be negotiated in addition to stream crossings. Garn Gron gives good views back to the Brecon Beacons and ahead to Pumlumon. A detour to Pontrhydfendigaid is available for accommodation, but the direct route is on road and clear tracks to Claerddu Bothy.
Stage 11
| | |
| --- | --- |
| Start | Claerddu |
| Finish | Ponterwyd |
| Distance | 24km (14¾ miles) |
| Time | 6½–8¼hr |
The wild and remote walking continues as a large expanse of peat bog is crossed before the route follows a track down to Cwmystwyth. After a short ascent, forestry tracks lead to a stone road dropping gently to Devil's Bridge, after which the Rheidol railway is crossed and re-crossed as the Cambrian Way negotiates the steep gorge of Cwm Rheidol. Country roads and farm tracks then lead to Ponterwyd.
Stage 12
| | |
| --- | --- |
| Start | Ponterwyd |
| Finish | Dylife |
| Distance | 23.5km (14½ miles) |
| Time | 6½–8¼hr |
The Cambrian Way now ascends Pumlumon, one of the wildest and most remote mountain areas in Wales. It provides a watershed between the east and west of the country and the sources of the Rivers Wye, Severn and Rheidol. There are 13km (8 miles) over 600m (1970ft), and in bad weather – especially mist – very careful navigation is necessary. There are fences and large boundary markers to follow but the former can lead the walker astray in places. The route drops to Bugeilyn lake, from which easier tracks lead to Dylife.
Stage 13
| | |
| --- | --- |
| Start | Dylife |
| Finish | Dinas Mawddwy |
| Distance | 37km (23 miles) |
| Time | 10–12¾hr |
This section is in complete contrast to the starkness of Pumlumon, with much undulating grassy and moorland walking over two attractive passes. There is a swift descent to Commins Coch – and an alternative accommodation route for the village of Cemmaes – then lanes and tracks ascend to a traverse of the Mynydd y Cemmaes wind farm. The trail negotiates a slightly tricky forestry section, which is followed by an ascent and then a descent to Mallwyd. It then climbs and contours along the mountain before finally descending to Dinas Mawddwy.
Stage 14
| | |
| --- | --- |
| Start | Dinas Mawddwy |
| Finish | Bwlch Llyn Bach |
| Distance | 15.5km (9½ miles) |
| Time | 5–6¾hr |
From Dinas Mawddwy, a path rises steeply through forest to a disused quarry. The route then continues unmarked over rough moorland and down a heathery spur before winding around high mountain ridges with spectacular views to Cadair Idris, the Aran mountains and the high Snowdonia ranges. Accommodation options can be reached via the alternative route at the end of the section.
Stage 15
| | |
| --- | --- |
| Start | Bwlch Llyn Bach |
| Finish | Barmouth |
| Distance | 20km (12½ miles) |
| Time | 5¾–7½hr |
The traverse of Cadair Idris is one of the great stages of the Cambrian Way. It is the most iconic and finest of mountains in southern Snowdonia, with spectacular bird's-eye views into deep valleys and lakes and westwards to the sea. The route starts with a steep climb involving some scrambling, which levels out to a broad ridge leading to the mountain-top. There is then a long, initially rough descent, to the beautiful Llynnau Cregennen lakes and Arthog Waterfalls, and finally a footpath alongside the long wooden railway bridge over the estuary to Barmouth.
Stage 16
| | |
| --- | --- |
| Start | Barmouth |
| Finish | Cwm Bychan |
| Distance | 23km (14 miles) |
| Time | 8½–10¾hr |
This stage traverses the southern section of the Rhinog mountains, which are the most demanding and the most rewarding of the Cambrian Way. The terrain is steep and rocky in many places and requires good navigational skills as well as the ability to walk and scramble up and down rocky crags while carrying a heavy rucksack. There is a lot of exhilarating ridge walking with extensive views across Tremadog Bay to the Lleyn Peninsula as well as views across the Mawddach Estuary and Cadair Idris. This is also an area much less walked than other parts of Snowdonia, giving a feeling of wilderness and solitude. Please exercise caution in regards to the weather in this stage.
Stage 17
| | |
| --- | --- |
| Start | Cwm Bychan |
| Finish | Maentwrog |
| Distance | 16km (9¾ miles) |
| Time | 5½–7hr |
The northern section of the Rhinog mountains consists of a series of rocky, often bare ledges with clefts between, some of which contain small lakes or tarns. It is a fascinating landscape but makes for challenging walking that includes some scrambling. Wayfinding is difficult with only a few cairns and little evidence that walkers have frequented the ground between rocks. There are several cliff faces to ascend but only a few places in them where easy scrambles can be made, and care is needed to find these. Allow for slow progress.
Stage 18
| | |
| --- | --- |
| Start | Maentwrog |
| Finish | Beddgelert |
| Distance | 22km (13½ miles) |
| Time | 7–8¾hr |
This stage gives a taste of high Snowdonia, with numerous lakes and tarns and steep mountains on which wayfinding can be difficult in low cloud. There are spectacular views of most of the Snowdonia National Park, Tremadog Bay and the Lleyn Peninsula. The route also encounters the impressive pumped-storage electricity dam at Ffestiniog, and the popular narrow-gauge Ffestiniog and Welsh Highland Railways.
Stage 19
| | |
| --- | --- |
| Start | Beddgelert |
| Finish | Pen-y-Pass |
| Distance | 17.5km (10¾ miles) |
| Time | 5¾–7¾hr |
For most walkers this is the highlight of the whole route, passing over Snowdon, the highest mountain in England and Wales. On a clear day the views in all directions are wide-ranging and impressive. Snowdon is a classic mountain with steep rugged ridges, sheer cliff faces and bird's-eye views of the lakes and tarns below. The walk is initially a flat valley walk but then ascends the lower section of the Watkin Path and steepens considerably up the south ridge of the mountain. In mist, care must be taken to select the correct descent to Pen-y-Pass.
Stage 20
| | |
| --- | --- |
| Start | Pen-y-Pass |
| Finish | Llyn Ogwen |
| Distance | 8.5km (5½ miles) |
| Time | 4–5hr |
This is a short stage because much of it is steep and rugged, on sections that are like lunar landscapes. It starts with a steep climb. Views are breathtaking but careful route finding is necessary in cloud or mist.
Stage 21
| | |
| --- | --- |
| Start | Llyn Ogwen |
| Finish | Conwy |
| Distance | 30.5km (19 miles) |
| Time | 9–11½hr |
This is the longest stretch of high-level walking on the whole route, with 7km at over 900m (2950ft) and including six of the 16 'Welsh 3000' mountains. Carnedd Llewelyn is only 21m lower than Snowdon. In fine weather there are spectacular views all the way down to the magnificent Conwy Castle, a fitting end to the journey.
To read more articles like this get our newsletter
Sign up today for a 20% discount on your next purchase. Join over 30,000 enthusiasts from around the world. If you don't love our mix of new books, articles, offers and competitions, you can unsubscribe at any time. We will never spam you, sell your data or send emails from third parties.