An unusual family in the Apennines
Gillian Price writes about staying with an unusual family whilst trekking the Grande Escursione Appenninica in the Apennines.
Absolutely ravenous, we tucked into our mouth-watering tortelli, the speciality of this countryside trattoria in Italy's Marche region. Mamma Giuseppina had insisted we order them, luscious home-made fresh pasta ovals stuffed with potato and liberally dosed with fragrant ragù, meat sauce and grated parmigiano cheese. A fitting reward after an 8-hour day on foot in the rugged Apennines. We were on the trail of medieval pilgrims on the so-called 'Strada Romea'. Huge crowds used to trek cross-country from Rimini on Italy's Adriatic coast in the east passing through sanctuaries and hospices, final destination Rome. We were exploring the stretch to Sansepolcro in the Tiber valley, an important stopover for its hospice and where homage would be paid at the chapel holding precious relics of the holy sepulchre, booty from the Holy Land.
The unmistakable Duce
But back to the trattoria dining room... It wasn't until the last forkful of pasta had been appreciated that either of us had time to look up and take in our surroundings. Nick did a double take 'Don't look now', he whispered, 'but there's a photograph of Mussolini right above your head.' Not wanting to appear overly curious and stand out as a tourist (not hard, as the other diners were dressed up to the hilt for Saturday night out, not exactly in clumpy walking boots like me), I surreptitiously inspected the room. Not only was it the unmistakable Duce, but he was depicted in full dress uniform loaded with medals and astride a white horse! And as it turned out the entire room was wallpapered with images of the man, addressing rallies, inspecting troops in his typical strutting manner. We were horrified that anyone would want to remember this dictator who had proved disastrous for the country and caused so much hardship and death.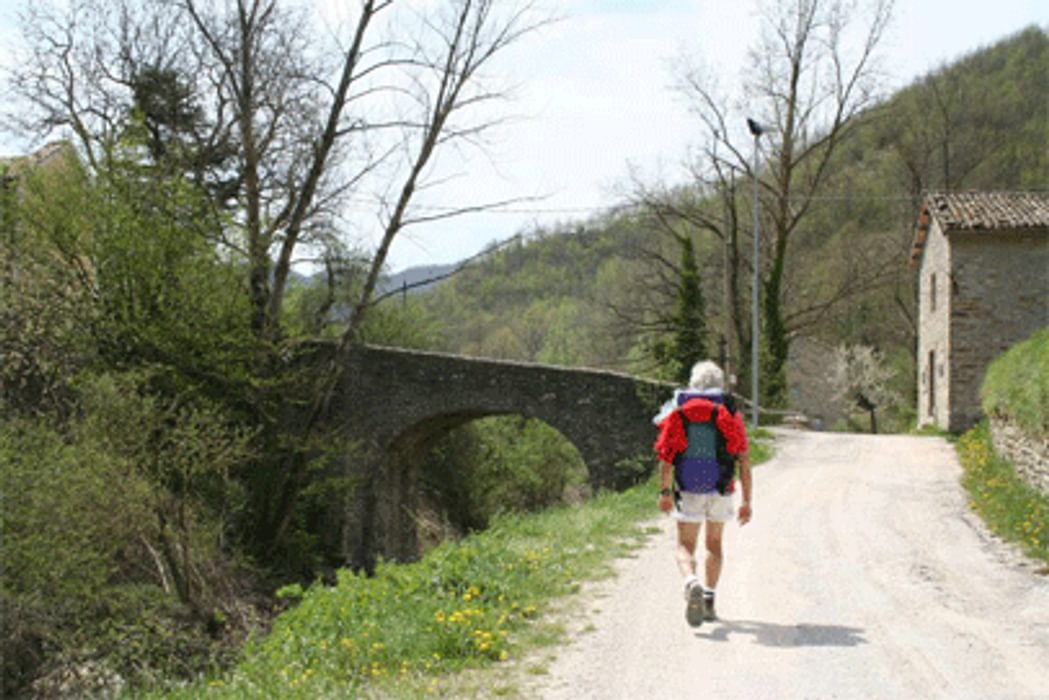 In the morning curiosity got the better of us and we enquired of the young owner. Adamantly right wing he was carrying on the family tradition, it seemed, and even bemoaned recent local election results where the centre-left was gaining ground. However the dialogue was abruptly interrupted as we were summoned by his elder sister, who bustled around getting our breakfast ready. She'd seen I was English from my passport and was beaming: 'You must have a cup of tea,' she insisted (though I was hanging out for a blast of strong espresso coffee!). 'Real English tea' she continued proudly. At my mystified expression (well, we were in a remote hamlet of central Italy) she explained that her aunt had just been visiting from London and it was a gift. And thereby hung an amazing story about the other half of this politically schizophrenic family.
And a romantic tale
During the later years of the Second World War, after Italy's recapitulation, the country was occupied by the German army which was gradually forced to retreat northwards in the face of the Allied advance. An underground network of Italian resistance operated closely with British troops parachuted in behind the lines. A young girl, Aunt Maria Rosa, was a runner for the partisan groups, her intimate knowledge of the valleys and mountain paths a precious help. It was during these risky operations that she met Uncle Zlotowski, a Polish soldier fighting under the Union Jack since the invasion of his homeland. The two managed to keep in touch after the hostilities and she later joined him in London to become his wife. I found myself moved to tears by this romantic story, which naturally reminded me of a favourite book of mine, Love and War in the Apennines by the late Eric Newby, where he tells of his wartime love story with Wanda (his spouse-to-be) and the incredible courage of the hill farmers who saved his life and helped him to safety.
After breakfast we bade farewell to this unusual family and shouldered our rucksacks to pick up the pilgrim route once more, our faith in mankind restored.
Note: The names in this account have been changed for reasons of privacy.... also because I can't remember them all properly.
Trekking in the Apennines
The Grande Escursione Appenninica
£14.95
Guidebook to the Grand Apennines Trek, or Grande Escursione Appenninica (GEA). Through Tuscany and Emilia-Romagna and 2 national parks, this 400km trail takes 23 days to complete, exploring the mountains, forests and hills of central Italy. Suitable for a range of walkers, it can be split into shorter sections or day walks if needed.
More information
To read more articles like this get our newsletter
Sign up today for a 20% discount on your next purchase. Join over 30,000 enthusiasts from around the world. If you don't love our mix of new books, articles, offers and competitions, you can unsubscribe at any time. We will never spam you, sell your data or send emails from third parties.