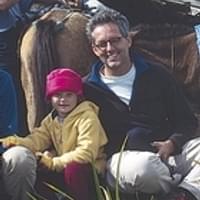 Bart Jordans
---
Bart Jordans has been guiding and exploring treks and trekking peaks in the Himalaya, Karakoram, Hindu Kush, European Alps and on Kilimanjaro since 1984. Originally from the Netherlands, he lived in the Himalayan Kingdom of Bhutan for over four years with his wife and two children. He also lived in Vietnam for two years, and is now settled in Copenhagen. He caught the bug for mountain activities early in life when his parents took the family to either the Swiss or Austrian Alps every year, and with his brother he later trekked and climbed throughout the Alpine range. From Amsterdam he regularly visited Belgium and the UK for rock climbing.
As well as Bart's acclaimed Bhutan: A Trekker's Guide (a finalist at Canada's Banff Mountain Book Festival 2006), he contributed the section on the Kangshung Face trek for Kev Reynolds' trekking guide to Everest and four chapters to Trekking in the Himalaya, edited by Kev Reynolds. Bart is a freelance trekking guide for several well-known companies. When not in the mountains he works in the outdoor gear business and writes articles on the mountains of Bhutan, for which he is a noted expert.
For any enquiries and comments contact Bart at info@bhutantreks.com.