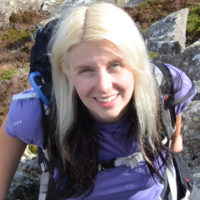 Phoebe Smith
Phoebe is an award-winning travel writer and photographer. She is editor-at-large of Wanderlust travel magazine and writes extensively for a range of newspapers and magazines in the UK and overseas. She contributes regularly to BBC Radio 4's From Our Own Correspondent and is often seen on BBC Breakfast talking travel and adventure.
She delights in finding strange places to spend the night and in 2017 gave up her Christmas to Sleep the 3 Peaks, solo over 3 nights, waking up on Ben Nevis on Christmas Day having raised over £8,000 for Centrepoint (the young people's homeless charity).
In 2014 she became the first person to camp solo at all the extreme points of mainland Britain on consecutive nights. Her other books include Extreme Sleeps: Adventures of a Wild Camper; Wild Nights: Camping Britain's Extremes; Britain's Best Small Hills and Wilderness Weekends: Wild Adventures in Britain's Rugged Corners.