Look out for 'The Lookout' bothy on Skye
Phoebe Smith shows you around 'The Lookout' bothy on the Isle of Skye, featured in her latest book 'The Book of the Bothy'. Find out where is is, and take a look around by watching the video.
In this extract from The Book of the Bothy, Cicerone author Phoebe Smith takes us to a far-off corner of the British Isles.
'There's something special about the Isle of Skye – the constant sea views, the layer upon layer of volcanic rock scoured into other-worldly shapes and towers. The northernmost reach is arguably one of the best spots and is home to the Rubha Hunish, a headland that seeps into the water in a jagged fringe of rock. Above, the cliffs sharply rise up in dramatic fashion, the white stone seeming to glisten as brightly as the nearby lighthouses on the Isle of Lewis. At the top of this natural tower is something manmade – a small bothy.
Built in 1928, The Lookout was just that – a former watch station for the coastguard – which accounts for the superb views out over The Minch and the Isle of Lewis and Harris in the Outer Hebrides.
What to look out for:
Wildlife:
At the bothy there's a chart of whales and sea mammals you might spot from the window – dolphins usually, but minke whales, orcas and even basking sharks have been spied from The Lookout. There's even a pair of binoculars for you to use. If you walk down to the headland keep an eye out for otters too.
History:
On the way to the bothy you'll pass above the abandoned village of Erisco – now nothing more than a few foundation walls and piles of rocks from about eight drystone-walled buildings. It is thought to have been a crofting community established in the 1600s, but it became a victim of the clearances and was deserted by 1875.'
Take a look inside, as Phoebe Smith welcomes you to one of her favourite bothies, just one of a selection featured in The Book of the Bothy.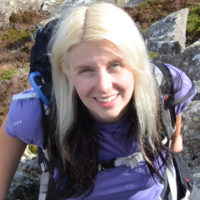 Phoebe Smith
Phoebe is an award-winning travel writer and photographer. She is editor-at-large of Wanderlust travel magazine and writes extensively for a range of newspapers and magazines in the UK and overseas. She contributes regularly to BBC Radio 4's From Our Own Correspondent and is often seen on BBC Breakfast talking travel and adventure.
View Articles and Books by Phoebe Smith