Sharp Edge: Blencathra Scrambling Route
Curious about scrambling Sharp Edge or Hall's Fell Ridge on Blencathra? Here's what you need to know about two of the UK's best scrambling routes.
There are many scrambling routes to and from the summit of Blencathra, two of the most popular being Sharp Edge ascent, and Hall's Fell Ridge descent toward Threlkeld.
For most scramblers, the route via Sharp Edge to Blencathra summit is one of the best scrambling routes in the Lake District, even the UK.
Brian Evans, author of Cicerone's original guidebooks to Scrambles in the Lake District, says "The most attractive routes are time-honoured classics, two of the really good, albeit short, ridge scrambles in Lakeland - Sharp Edge and Hall's Fell Ridge"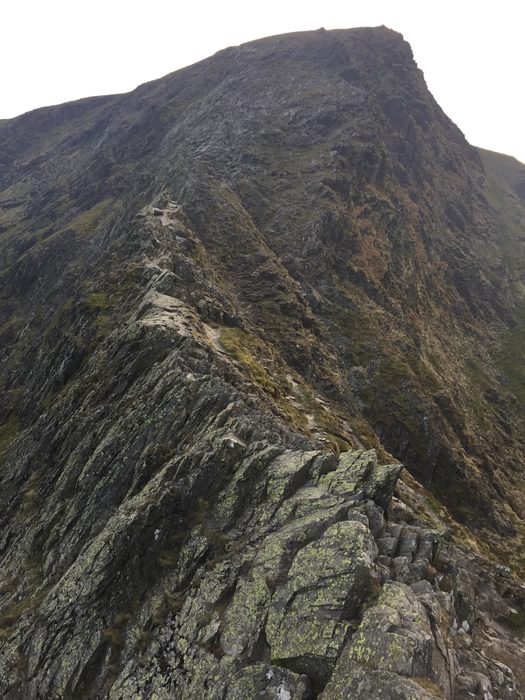 Sharp Edge (Grade 1 ***, +150m)
If you're navigating from Scales, you can follow the path on the valley of the River Glendermackin. The path skirts along the side of Scales Fell and it is here that Sharp Edge (or Razors Edge as it was once known) will first come into view.

The path climbs up beside Scales Beck to Scales Tarn, a beautiful tarn in the shadow of the edge, and a natural place to rest & fuel up to prepare yourself for the challenge ahead.

There are plenty of hand and foot holds, but be sure to enjoy Lakeland rock scenery at its best.
A gully climb at the end of the ridge brings you to the top of Foule Crag, and from there it's only a ten minute stroll to the summit. On a clear day you should be able to see Derwentwater to the West, or the Helvellyn range to the South.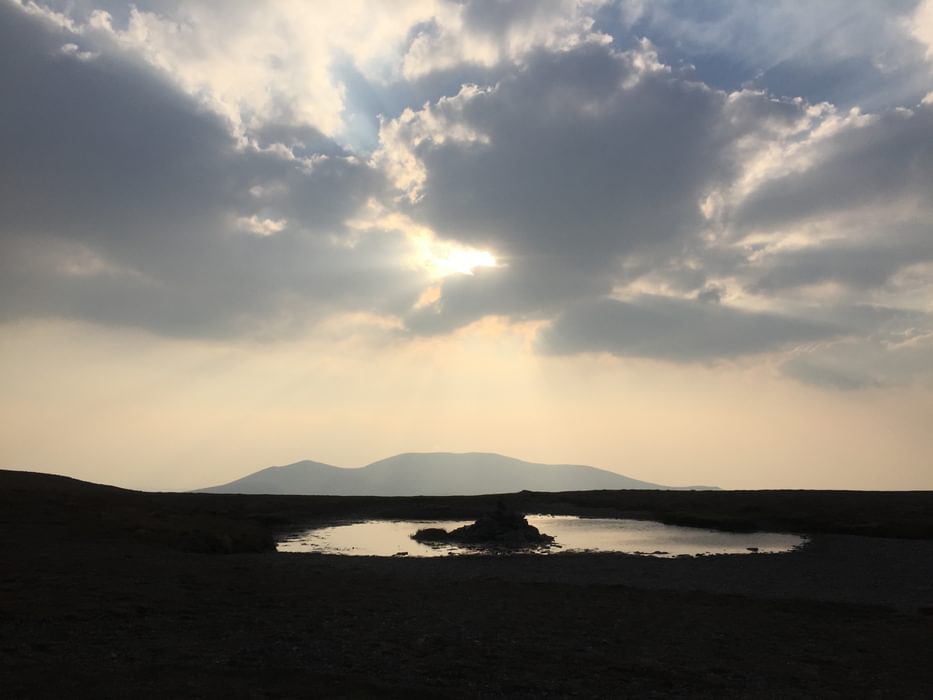 Hall's Fell Ridge (Grade 1- *, -110m)
This is a much easier and less exposed scramble than the Sharp Edge route, and the rock needs to be sought for maximum scrambling. The route involves pleasant rock scrambling along the crest of a sharp ridge. There is an easier-option walkers' path which is never far away.
The easiest way lies just right of the crest (looking down), but keep to the crest for the best scrambling. A small path avoids much of the scrambling lower down, but the crest can more or less be followed. The slaty, down-sloping holds can be very awkward when wet or icy, so take care.
Safety
Safety while scrambling is incredibly important, and thorough research and consideration for current conditions should always take place.
Here are some key points of Scrambling Safety.
DO
Test rocks and vegetation for looseness; handle very carefully if loose.
Stick to clean, water-washed rock as far as possible in gills
Place hands and feet carefully
DON'T
Pull on loose rocks and vegetation
Rip fragile vegetation in gills
Cause unnecessary damage through careless movement
Pollute streams; it may be someone's water supply
Scrambling & Rock Climbing Grading
| Grade | Description |
| --- | --- |
| 1 | A straightforward scramble, with little or no route-finding difficulty. The described route takes the most interesting line, which can usually be varied or even avoided at will. Generally, the exposure is not significant, but even so, great care must be taken to avoid a slip. |
| 2 | Contains longer and more difficult stretches of scrambling, and a rope may be useful for ensuring safety for inexperienced or nervous scramblers. Although individual sections of the scramble can usually be avoided, these sections may be inescapable once the scramble is underway. Some skill in route finding is required to follow the described line. |
| 3 | A more serious proposition, only to be undertaken by competent parties. Escape is difficult. A rope is advisable for safety on exposed passages and for some pitches of easy rock climbing. The routes require a steady leader with the ability to judge how the rest of the party are coping with the situations, and a rope should be used wherever the safety of an individual is in doubt. |
| 3S | A particularly serious outing, often involving poor rock or vegetation, and may include steep pitches of rock climbing. Recommended only for experienced, competent climbers who will almost certainly use a rope on key pitches. Escape is difficult. |
| M | Moderate rock climb |
| D | Difficult rock climb |
| VD | Very Difficult rock climb |
Scramble & Rock Climb Quality Explained
| Rating | Description |
| --- | --- |
| No stars | Not particularly meritorious in its own right, but worth including as part of a day's outing. |
| * | Worth climbing but may be discontinuous, short or lacking in continuous interest. |
| ** | A route of more continuous interest and a good line. |
| *** | A classic route with continuously interesting scrambling that is based on a good line. |
To read more articles like this get our newsletter
Sign up today for a 20% discount on your next purchase. Join over 30,000 enthusiasts from around the world. If you don't love our mix of new books, articles, offers and competitions, you can unsubscribe at any time. We will never spam you, sell your data or send emails from third parties.