Cicerone Book on Islands of Croatia Wins Award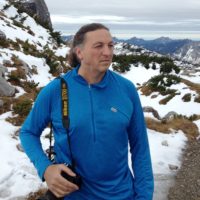 Cicerone are delighted that Rudolf Abraham, author of Islands of Croatia, has been awarded the coveted Best Book Award by the British Guild of Travel Writers. This award was presented to Rudolf at BGTW's annual dinner at the Savoy Hotel, London.
It was the first time a guidebook has won this award but Islands of Croatia succeeded in winning over the judges:
"Looking through this book I became entranced by the beauty of the Croatian Islands, and immediately added them to my list of places to visit...sometime. Like all the best guidebooks, it is a manual, a 'how to book'. Mr Abraham comes across as pretty laid back, but his experience and knowledge of the islands in apparent. He introduces the reader to unexpected delights and provides a comforting companion to the thirty walks covering fourteen of the islands."
The Islands of Croatia
30 walks on 14 Adriatic islands
£15.26
This guidebook describes 30 day walks on the islands of the Croatian Adriatic, ranging from short, easy coastal strolls to more challenging, full day outings over rocky ridges and summits, with spectacular views of the Dalmatian coast. Featuring routes on 14 Croatian islands, including the islands of Hvar and Mljet, as well as quieter islands.
More information
To read more articles like this get our newsletter
Subscribe for Cicerone's latest news, articles, offers and competitions. We send an email every couple of weeks and you may unsubscribe at any time. We never send emails on behalf of third parties.