The Peaks of the Balkans Trail
Montenegro, Albania and Kosovo
Guidebook to the Peaks of the Balkans Trail, a 192km trek through Montenegro, Albania and Kosovo. The route, which can comfortably be completed in less than a fortnight, is waymarked and covers terrain between 670m and 2300m in altitude, taking in remote valleys, dramatic mountain passes, stunning scenery and villages untouched by time.
Seasons
The trekking season begins May/June and finishes in October, with June-August the driest months. Wildflowers bloom in June. Snow-patches may linger until June/July.
Centres
Theth (Albania), Valbona (Albania), Çeremi (Albania), Dobërdol (Albania), Milishevc (Kosovo), Rekë e Allagës (Kosovo), Drelaj (Kosovo), Babino polje (Montenegro), Plav (Montenegro), Vusanje (Montenegro)
Difficulty
Moderate fitness is required, though the walking itself is not difficult. The trail passes through some remote areas.
Must See
Four beautiful national parks: Prokletije (in Montenegro), Thethi and Valbona Valley (in Albania) and Rugova Valley (in Kosovo); birdlife, plants and butterflies; warm Balkans hospitality
Overview

Table of Contents

Updates

Reviews

Downloads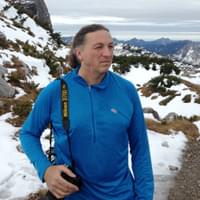 Rudolf Abraham
Rudolf Abraham is an award-winning travel writer and photographer specialising in Central and Eastern Europe – in particular Croatia, Slovenia, Austria and Montenegro.
View author profile