Cycle Touring in Switzerland
9 Swiss National cycle routes including 3 Alpine Star tours
Delivery & Returns
Free 1st Class postage on UK orders. European postage from £2 per item. Worldwide postage from £3 per item. If you're not happy with your purchase for any reason, we'll give you a full refund.
More information...
This guidebook describes nine Swiss National cycle routes including three difficult Alpine Star tours. The numbered National (R) routes are signposted, and include the Jura, Rhone, Rhine, Engadine and Bernese Oberland. Routes range from gentle three day rides to strenuous routes for the experienced cyclist.
Seasons

Most alpine passes closed Oct – May. Thunderstorms in August. Spring and autumn recommended.

Centres

Andermatt, Basel, St Margrethen, Romanshorn, Chur, Koblenz, Interlaken.

Difficulty

Routes of 25–60hrs, divided into daily stages, on quiet roads and cycleways (unpaved). Range from flat family rides to climbs of up to 3000m per day. All graded for difficulty.

Must See

Well-signposted cycle routes. Wonderful alpine scenery and stunning views. Visiting the Jura and Engadine. Following the great rivers – the Rhone and Rhine. Cycling down the hills!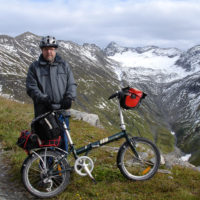 Neil Forsyth
Judith and Neil Forsyth are both Lancastrians, born in the early 1940s and learned to cycle at an early age. Their bicycles were much used, until they stopped cycling in their 20s.

Judith worked as a teacher for 20 years before moving to Germany to marry Neil. He left Britain some years earlier to work for a German engineering company. He was reintroduced to cycling by colleagues at weekends. Once in Germany she too, learned the delights of continental cycling. Together they explored much of southern Germany, eastern France and Switzerland by bicycle. They gained a reputation for British eccentricity with their neighbours by Alpine cycling on Brompton folding bikes. They are both very fond of Switzerland, especially its superbly laid out and signposted cycle routes.
View Articles and Books by Neil Forsyth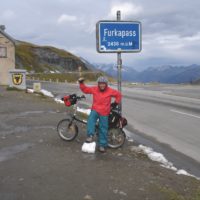 Judith Forsyth
Judith Forsyth (née Instone) was born in Worsley, Manchester in 1942. After university she taught geography for over 20 years at Manchester High School for Girls. Judith took an active part in the life of the school organising field trips and expeditions, and enjoyed a sabbatical six month long stay in India. She left to marry and moved to Germany. Once there, she lectured at an American university and was a freelance editor for a scientific publisher. A keen hillwalker and cyclist she enjoys the German way of life especially touring by bike and on foot through the country and its neighbours.
View Articles and Books by Judith Forsyth