Cycling Connemara on the west coast of Ireland
The west coast of Ireland is a gem that's on many cyclists' bucket lists but can pose a bit of a quandary when it comes to deciding where to ride. Richard Barrett decided on a leisurely loop.
Fans of Douglas Adams' comedic science fiction series The Hitchhiker's Guide to the Galaxy will know that Slartibartfast, the Magrathean designer of planets, specialised in creating coastlines and was particularly fond of the coast of Norway on planet Earth with its 'lovely crinkly edges'.
You can detect the handiwork of Slartibartfast, together with that of retreating glaciers and falling sea levels, along the west coast of Ireland with its numerous bays and off-shore islands. The country even claims to have a 'fjord' in Killary Harbour (An Caoláire Rua), which forms part of the border between counties Galway and Mayo, although some experts dispute the claim.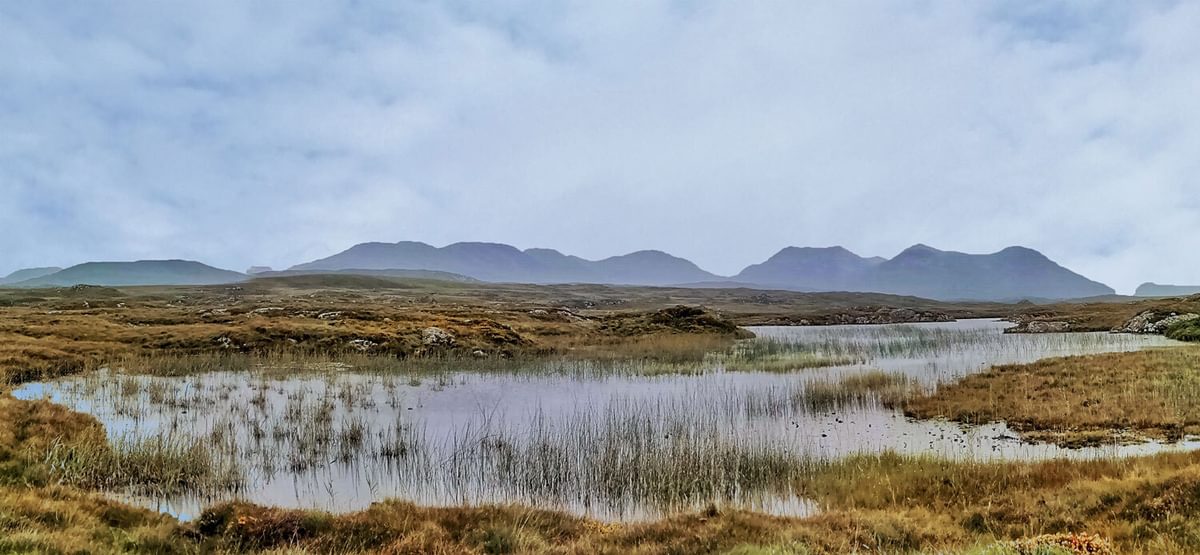 Planning a tour along Ireland's Atlantic Coast
Regardless of whether it is or it isn't, the west coast of Ireland is a gem, that's on many cyclists' bucket lists. However, all of this 'crinkliness' creates a bit of a quandary when it comes to deciding where to ride. The 1600-mile (2600km) Wild Atlantic Way runs from Kinsale in County Cork to the Inishowen Peninsula in County Donegal.
The route was created as a driving route and I doubt if many cyclists have ridden its entirety in a single trip, especially those like us with a predilection to stop and stare at the stunning countryside and seascapes that unfold around every bend.
Our experience of riding along the western seaboard suggests that few motorists meticulously follow the entire route and simply hop between tourist hotspots and the 15 designated Signature Points along the way. This is good as it means cyclists will generally encounter only local traffic on the smaller roads around the numerous peninsulas or across the empty bogs.
Many cyclists with limited time to spare ride the Irish equivalent of Britain's Land's End to John O' Groats (LEJOG), which is Mizen Head in the extreme southwest of County Cork to Malin Head in County Donegal. There is no set route for this Irish End-to-End but it typically entails riding just short of 600 miles, (950km), which an avid rider might cover in a week while mere mortals might take longer.
But no matter how long they take, most Irish End-to-Enders tend to take the direct line, jumping between the tourist hotspots, much like the motorists.
My partner and I wanted a more leisurely experience that allowed plenty of time for standing and staring, living well and 'enjoying the craic', as the locals say. So we decided to do what Cicerone author Tom Cooper recommends in the Cicerone guidebook Cycling the Wild Atlantic Way and Western Irelandand ride a loop, albeit a slightly longer and challenging one than Tom's Tour of Connacht.
But because we had made it decidedly harder, we then decided to sign up with Dublin-based Cycle Safaris, who took care of all the accommodation and luggage transfer, meaning all we had to do was get to our first night in Galway.

Getting there
Being based in North Wales, it was easy for us to drive to Holyhead, take a ferry to Dublin and then drive across to Galway with an overnight stop in Athlone.
Ireland is a very prosperous country and the cost of accommodation and dining tend to be high. However, for those on a budget, Ireland does have an excellent network of hostels and you will soon be able to ride from Dublin to the west coast entirely on traffic-free, shared use paths.
Currently, you can get all the way from Dublin to Athlone using the recently surfaced towpath of The Royal Canal to Mullingar and then the newly opened and generously wide Old Rail Trail to Athlone. See www.greenwaysireland.org for information on how plans to extend the Irish Greenway to Galway and out to Clifden are progressing.
Day 1: Headford to Westport
57 miles with 3600ft of ascent
Enjoying a pint of Guinness in a bar in Galway City
A hostel in Galway City, conveniently situated above a bar
After idling away an afternoon spent window-shopping in busy Galway City, paddling along the shore of Galway Bay in the unseasonably hot weather and indulging in an excellent dinner in Salthill, which felt as balmy as California, we retired to bed for an early start. One of the joys of buying into a holiday package was that the minibus that was ferrying our luggage also carried us and our bikes out of the city and its busy roads to the little town of Headford where our ride started.
To the east of Lough Corrib, which is the largest lake in the Republic of Ireland, the terrain is fairly flat and well wooded. As a consequence we saw little of it and set off at a fair pace, soon crossing into County Mayo before returning to County Galway soon after a coffee stop in the pretty village of Cong.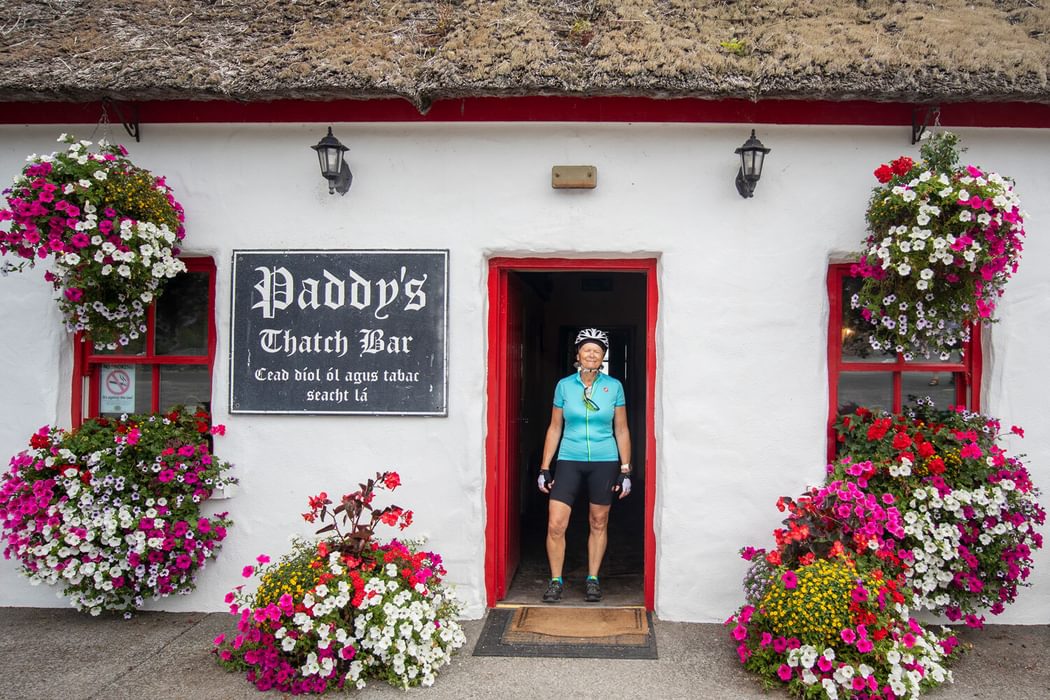 The warm weather had bought in the tourists so we soon departed, heading northwest around the southern shore of Lough Mask into 'Joyces Country'. It has no connection with the famous Irish author James Joyce but is simply named after the descendants of Thomas Joyce whose Anglo-Norman family originally settled in South Wales but emigrated to Ireland seeking new lands. They soon became as Irish as the Irish themselves and were known for resisting English rule, which was difficult to enforce in this remote mountainous area. We pressed on following quiet roads across headlands along the western shore of Lough Mask, which we could see in its entirety.
After being made a sandwich at the village store in Tourmakeady, we turned west and climbed over the Partry Mountains on a single track road that gave extensive views eastwards across Loch Mask. Then once over the top, we enjoyed a long descent into Westport through empty rolling countryside dominated by the pyramid-shaped peak of Croagh Patrick.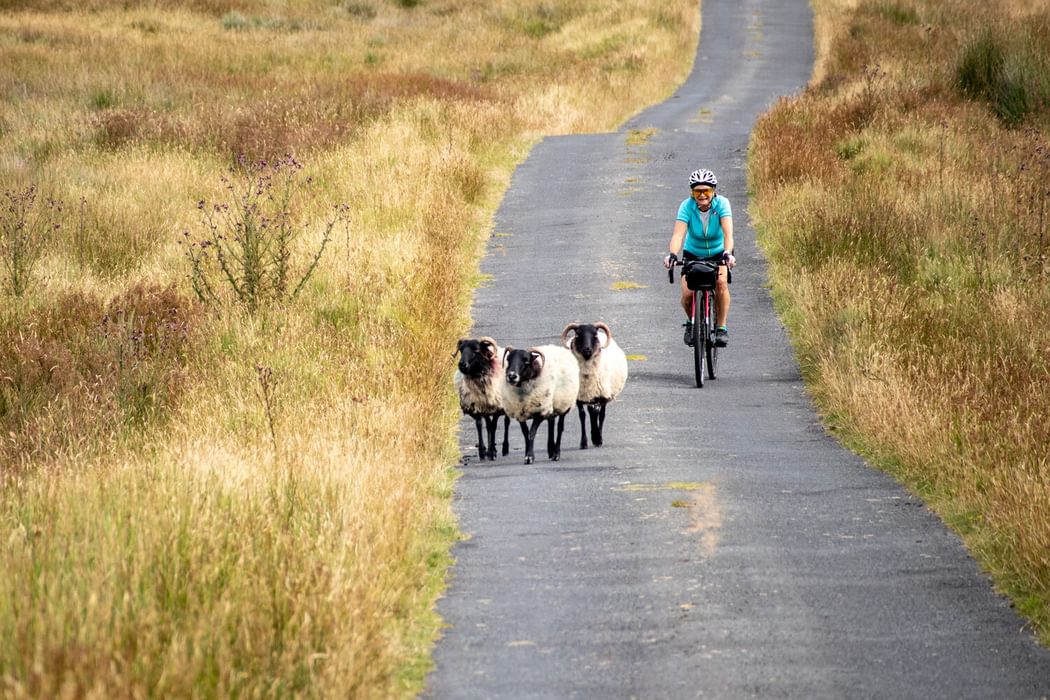 St Patrick, the patron saint of Ireland, is reputed to have spent 40 days fasting on its summit and there has been a small church there since the 5th century. This religious association is celebrated every year on Reek Sunday at the end of July when thousands of pilgrims followed the well-marked track to the top.
Day 2: Westport to Leenaun
42 miles with 1600ft of ascent
John Browne, 1st Earl of Altamont, (c.1709–1776), a wealthy local landowner, planned and developed Westport in the Georgian style in the second half of the 18th century. Its attractive buildings and broad, tree-lined streets are a delight and it thoroughly deserves its designation as a heritage town. Think of Bath, but nearer the coast and with traditional Irish music in every bar seemingly every night of the week, the most famous being that of the flautist, Matt Molloy, who seems to have been in every important traditional Irish band for over half a century.
We erred on the side of caution and avoided the temptations of the town but enjoyed a meal and a glass or two on Westport Quay, ready for a prompt departure next morning.
From Westport we initially headed west along the R335 below the slopes of Croagh Patrick. It was the busiest road we encountered all week, but we were soon back on the quiet backroads, passing through Louisburg where we stopped for a much-needed coffee. Louisburg is another late 18th century planned town that was built by the 1st Marquess of Sligo and named after his uncle, Captain Henry Browne, who fought on the British side against the French in the battle of Louisburg in Cape Breton in 1758. Then it was out along the even quieter roads near the coast with magnificent views west of Caher Island and Inis Toirc, before swinging southeast towards the mountains.

Descending towards Westport with Croagh Patrick in the distance
Looking out across Caher Island and Inis Toirc from the quiet roads west of Louisburgh
The locals frequently joked that it wouldn't be Ireland without rain, and by mid-afternoon we got our share as we dropped down between high mountains into the Doolough Valley where a monument commemorates the victims of the Doolough Tragedy of 1849, when hundreds of starving peasants walked across the moor to seek food from the authorities who were taking lunch at Delphi Lodge further down the valley. They were cruelly turned away and it is thought that 20 or so people died of hunger and cold on their way back northwards to Louisburg. The tragedy became one for the most famous events of the Great Irish Famine and is commemorated each year with the Famine Walk, when locals walk between Louisburgh and Doolough.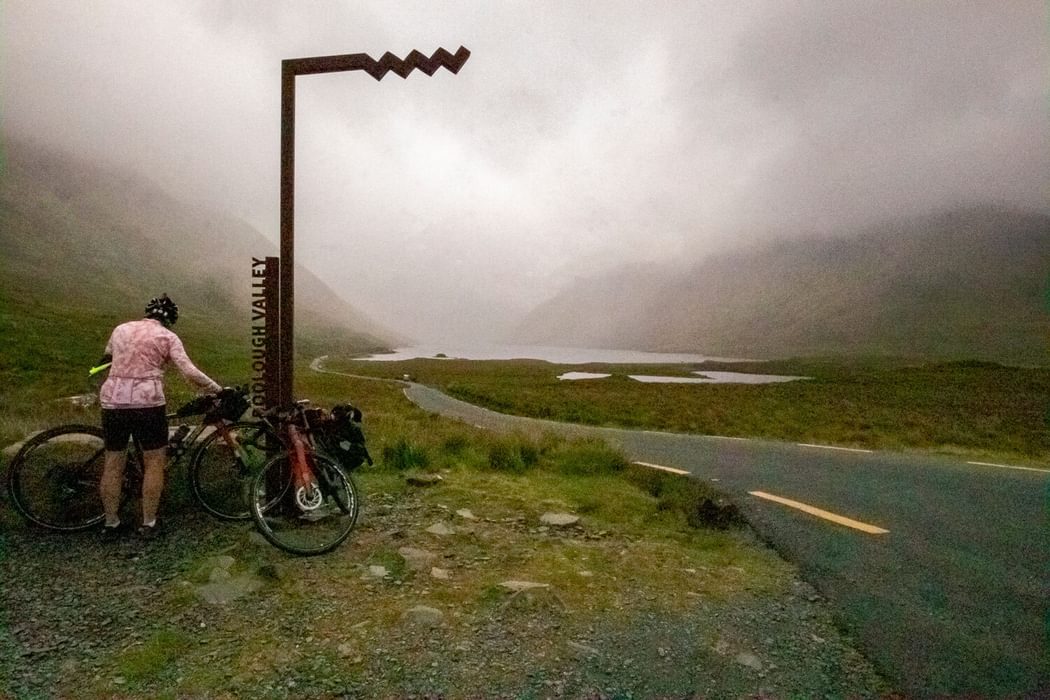 We continue descending, past Delphi Lodge and around the shore of Killary Harbour to our overnight stop in Leenaun, stopping first for the obligatory pint of Guinness in Gaynor's Bar, which was used as a location in the 1990 film The Field. No doubt its star, the late Richard Harris, had more than a pint - and perhaps even a chaser on the side.
Day 3: Leenaun to Clifden
50 miles with 2800ft of ascent
Now we were definitely in Connemara and heading west out around the Renvyle Peninsula, passing stunning white beaches and the ruins of Renvyle Castle.
Then after lunch in Letterfrack, we headed out along the next peninsula, stopping at the little port of Cleggan, where ferries serve the offshore island of Inishbofin, before swinging southwest through Claddaghduff, where you can cross the causeway to the tidal island of Omey at low tide.

Heading towards Letterfrack with the Twelve Pin of Connemara ahead
Cleggan where the ferry leaves for Inis Bo Finne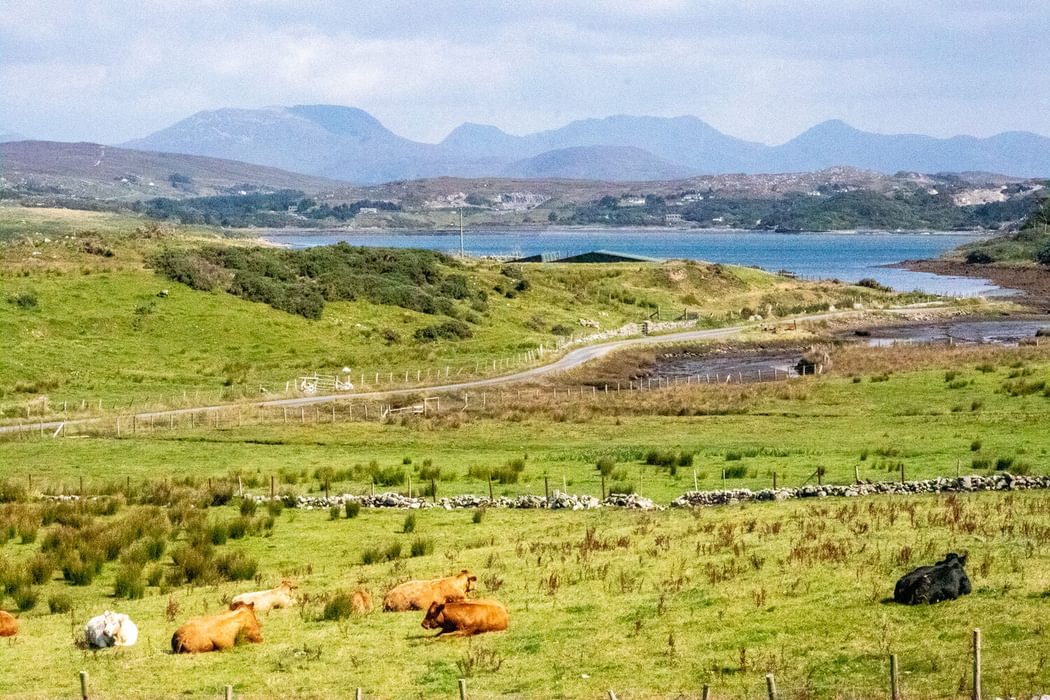 Continuing southeast, we briefly touched the N59 road, before turning westward along our third and final peninsula of the day, which is perhaps the jewel in Connemara's crown. The road around the north side of the Kingston Peninsula initially sticks close the shore before climbing steadily and then swinging south onto The Sky Road, which gives a spectacular panorama of Clifden Bay framed by the mountains to the east and north and a plethora of offshore islands including Inishturbot, Inishturk, High Island, Omey Island, Ininsshark and Inishbofin.
Unlike the roads of other peninsula, The Sky Road is inevitably very popular so care is needed on the descent into Clifden, the so-called capital of Connemara, where we stayed two nights enjoying the excellent food and crowded bars.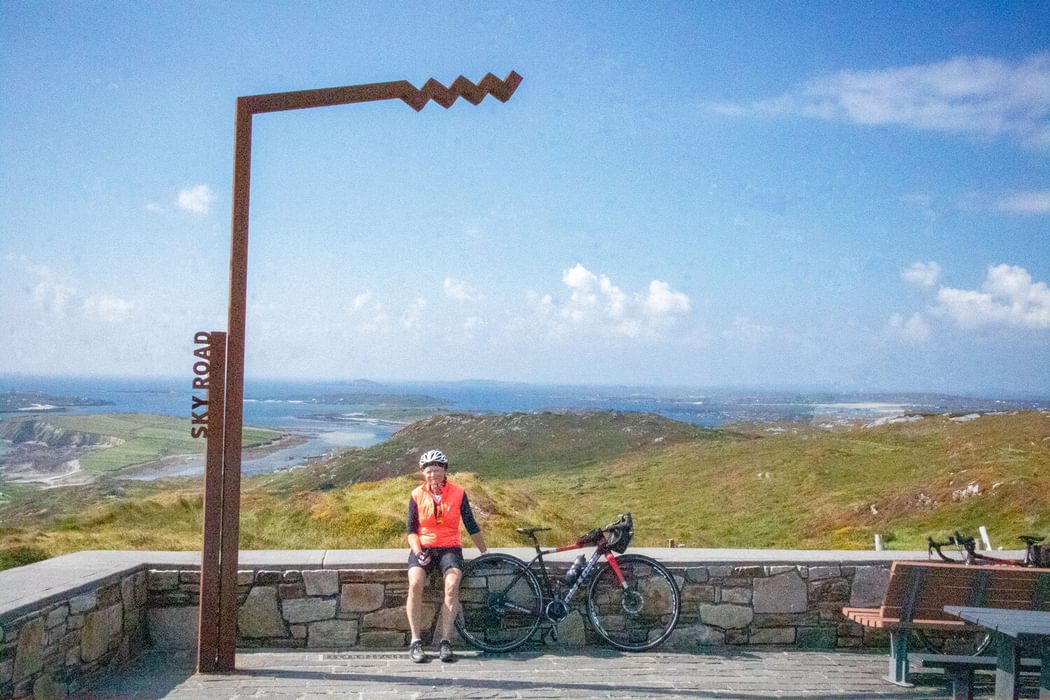 Day 4: A loop around South Connemara
37 miles with 1300ft of ascent
Away from the coast, the bog country of Connemara to the south of Clifden is less popular with tourists and some might say all the better for it.
In South Connemara, there are few tourist attractions. Nonetheless, we spent an enjoyable day riding around this water-strewn terrain. First we visited the memorial to the pioneering aviators Allcock and Brown, who in 1919 completed the first non-stop transatlantic crossing by touching down in Derrigimlagh Bog, which from the air they mistook for a green field.
Then we followed the coast road through Ballyconneely and Roundstone, before returning to Clifden across the empty Bog Road with the spectacular backdrop of the Twelve Bens to the north.

The marina at the pretty village of Roundstone
The Twelve Pins from Roundstone
Day 5: Clifden to Oughterard
66 miles with 2300ft of ascent
On our last day, we re-crossed the Bog Road, through Cashel and out across another stretch of moor, where locals had cut rows of peats that stood drying, ready to provide some low-cost winter heating. Then we swung south to Ros Muc, which is a stronghold of native Irish speakers and an obvious place to build a fine visitor centre that celebrates the Gaelic tradition and the life of Patrick Pearse, writer, educator and leader of the 1916 Rising who built a cottage for himself on the shores of Loch Oiriúlach in 1909.

Peat cutting – a frequent sight along the moor roads
A cottage at Ros Much used as a retreat by Patrick Pearse, one of the leaders of the 1916 Easter Uprising
Round the bay at Camus, we climbed up to The Big O, a sculptured steel ring sculpture by Brian Kelly that frames a stunning Connemara background - and makes a place for the obligatory photograph. Still heading south, we passed through Costelloe and onwards towards Rossaveel, which is the main ferry port for the Aran Islands that give their name to the famous Aran sweater, which traditionally contained so much natural lanolin that it would absorb 30% of its weight in water before the wearer felt wet.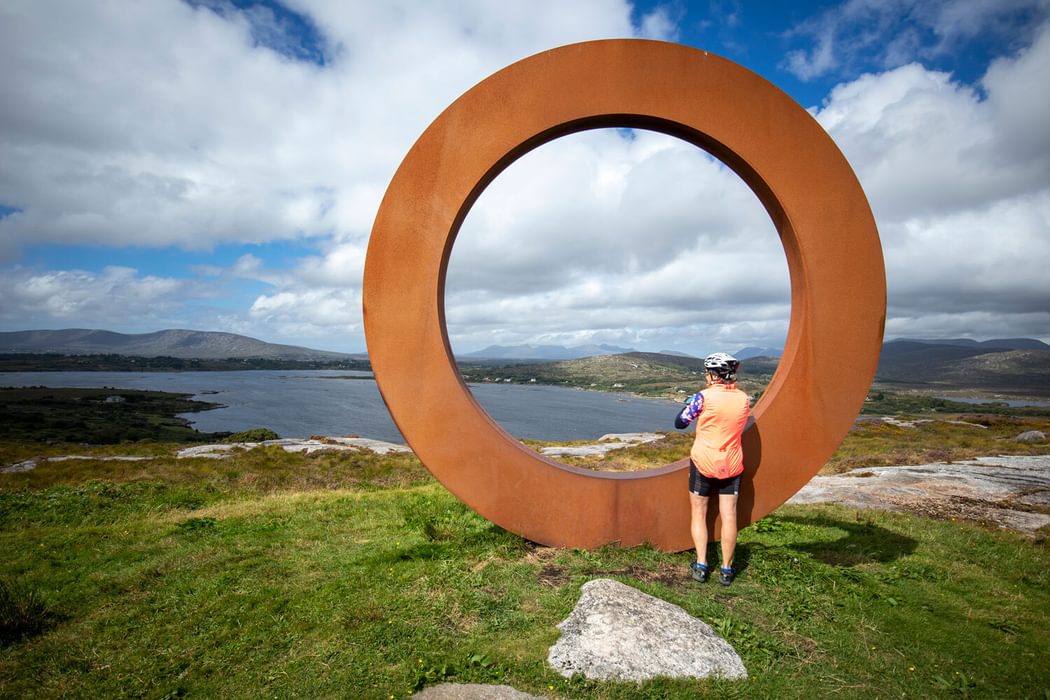 However, we were running out of time to visit and had to swing inland and steadily climb up over the moor and through the forest by Galway Wind Park before a scintillating descent to Oughterard with fine views eastwards to Lough Corrib and beyond. That was where we had started just five days ago. As we pondered what to do next, a man leaning again a minbus waved to us and soon we were heading back into Galway.
To read more articles like this get our newsletter
Sign up today for a 20% discount on your next purchase. Join over 30,000 enthusiasts from around the world. If you don't love our mix of new books, articles, offers and competitions, you can unsubscribe at any time. We will never spam you, sell your data or send emails from third parties.