Damian Hall breaks South West Coast Path record
The speed record for running the South West Coast Path was recently broken by Cicerone author Damian Hall, setting a new time of 10 days 15 hours and 18 minutes. We were so excited about this at Cicerone that we had to catch up with him to find out more about the adventure. Damian wrote the Cicerone guide to Walking in the Cotswolds, but it also turns out he's an incredible ultramarathon runner!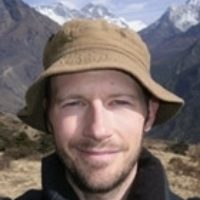 Damian Hall
Damian Hall is a freelance outdoor journalist who grew up in Nailsworth and still lives in the Cotswolds. He has completed many of the world's famous and not-so-famous long-distance walks, including Everest Base Camp trek for his honeymoon and Australia's Six Foot Track, where a hungry possum stole his walking boot. He contributes regularly to outdoor and fitness publications, including Country Walking and Outdoor Fitness, and writes walking guidebooks, including the official Pennine Way guide, a guide to the Somerset Coast Path and Cicerone's Walking in the Cotswolds.
View Articles and Books by Damian Hall