Écrins National Park
70 walking routes in the Écrins national park
Guidebook to 70 walking routes in the Écrins national park in the French Alps. The Massif des Écrins is mostly a national park, with summits over 3000m high. Routes follow well-marked trails in the Romanche, Vallées de la Guisane, Vallouise, du Vénéon and Valgaudemar.
Seasons
July to mid-September temperatures in the Ecrins range from 25°C to 28°C, but heavy rain and even snowfall can occur. Accommodation may be busy during this period. September is often more settled than July or August, but with lower temperatures.
Centres
Walks centred on valley bases in Vallée de la Romanche, Vallée de la Guisane, Vallée de la Vallouise, Valgaudemar, Valjouffrey and Vallée du Vénéon.
Difficulty
Suitable for all experienced walkers, from alpine novices to experts. All walks are graded for difficulty.
Must See
Staying in one of the alpine huts, spectacular scenery (glaciers and peaks over 3000m abound), rustic alpine hamlets, picturesque lakes, abundant wildlife and willdflowers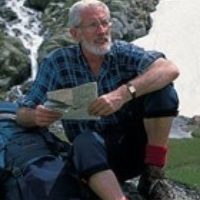 Kev Reynolds
A lifelong passion for the countryside in general, and mountains in particular, drives Kev's desire to share his sense of wonder and delight in the natural world through his writing, photography and lecturing.

Claiming to be The Man with the World's Best Job, he has enjoyed a fruitful partnership with Cicerone since the 1970s, producing over 50 books, including guides to five major trekking regions of Nepal, and to numerous routes in the European Alps and Pyrenees, as well as walking guides for Kent, Sussex and the Cotswolds.
View Articles and Books by Kev Reynolds