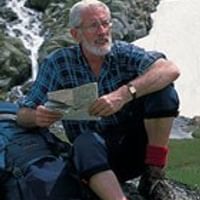 Kev Reynolds
---
A lifelong passion for the countryside in general, and mountains in particular, drives Kev's desire to share his sense of wonder and delight in the natural world through his writing, photography and lecturing.
Claiming to be The Man with the World's Best Job, he has enjoyed a fruitful partnership with Cicerone since the 1970s, producing over 50 books, including guides to five major trekking regions of Nepal, and to numerous routes in the European Alps and Pyrenees, as well as walking guides for Kent, Sussex and the Cotswolds. His collection of autobiographical short stories, A Walk in the Clouds, is a record of 50 years of mountain travel and adventures, while Abode of the Gods tells of eight of his many trekking expeditions in the Himalaya.
Kev is an honorary life member of the Outdoor Writers' and Photographers' Guild, and an honorary member of both SELVA (the Société d'Etudes de la Littérature de Voyage Anglophone), and the British Association of International Mountain Leaders (BAIML).
When not away in the mountains, Kev lives with his wife in view of what he calls 'the Kentish Alps', with unrestricted walking country on his doorstep. But he also travels throughout Britain and abroad during the winter months to share his love of the places he writes about through a series of lectures.