Gravel biking the Heads of the Valleys route
Richard Barrett, author of Cycle Touring in Wales and Cycling Lon Las Cymru, describes a short break riding along the Heads of the Valleys cycle route, a hidden gem, two-thirds of which is entirely traffic-free
A sharp dig in the ribs is how Mari, my Welsh-speaking partner, lets me know that I need to work harder at pronouncing Welsh place names. So it was with some trepidation that we boarded a Transport for Wales service from our home near Chester bound for Swansea.
Our plan was to ride the Head of Valleys cycle route that snakes alongside the famous A465 trunk road from which it takes its name. The official route is a mere 57 miles, but if I messed up too many 'rh's,'ll's and 'dd's, I might have a few cracked ribs by the time we got back home three days later.
It's a route that a fit rider could complete in a day. But we planned a gentler schedule with overnight stops in Swansea, Cefn coed y cymmer near Merthyr Tydfil, which is virtually halfway, and finally off-route in the picturesque town of Crickhowell, leaving just a short ride into Abergavenny to catch a train home on our last day.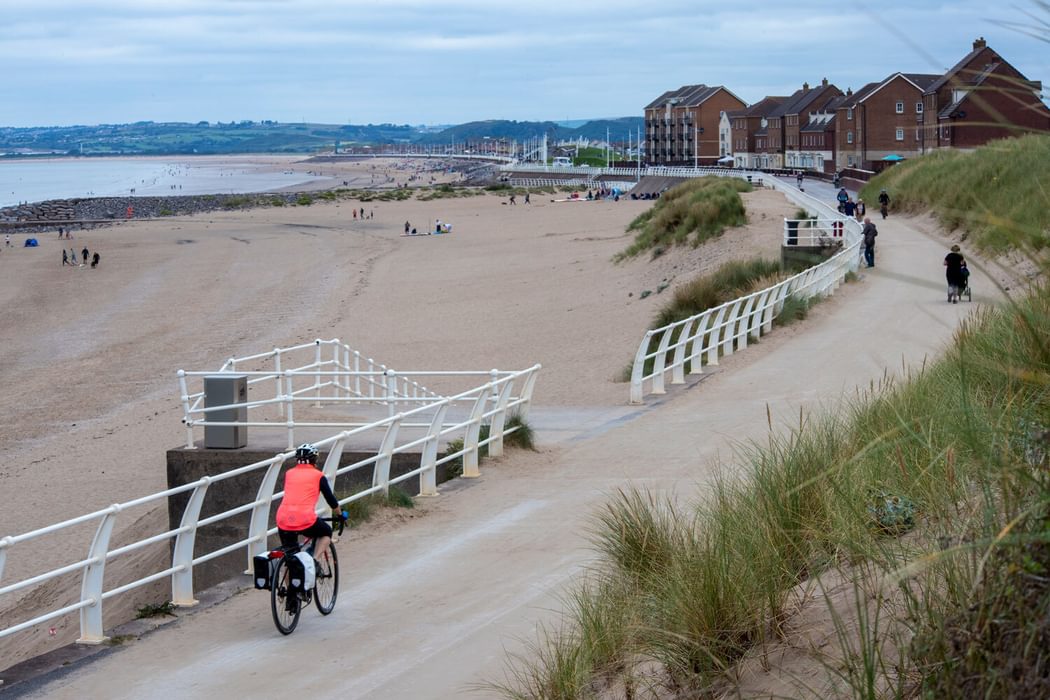 It's not a route for those who expect everything to be perfect and consistently attractive; South Wales is just not like that. Here you get bits of wonderful countryside and abundant wildlife sandwiched between stretches of industrial or post-industrial landscape and towns where the only places for dinner on a Tuesday evening are takeaways or chain restaurants on the retail park.
But thanks to EU funding, you also get mile after mile of high quality traffic-free paths with occasional stretches of rough towpath. For this reason we chose to ride lightweight gravel bikes fitted with 38mm-wide multi-terrain tyres and tiny sports panniers for our fairly minimal loads. They did the job admirably.
Prologue: Port Talbot to Swansea
After four hours on the train and in no hurry to reach Swansea, we got off the train at Port Talbot Portway and followed NCN 4 along a wide shared-use path, first out along the promenade at Aberafan, where we make good use of our bells dodging people, their children and dogs enjoying the Bank Holiday, then back inland through Baglan Energy Park, over the River Neath near Briton Ferry and all the way into Swansea.
In its heyday Swansea was a major centre for copper earning it the nickname 'Copperopolis'. The combination of local coal and easy sea access with copper mines in Devon and Cornwall made Swansea the ideal location for smelting and during the 18th and 19th centuries the city boomed with 60% of all the copper ores imported into Great Britain being smelted locally.
Today the heavy industry has largely gone, the docks have been developed into an attractive 'marina' and the economy of the city relies on the service sector such as education, health, finance services and public administration with the UK's Driver and Vehicle Licensing Agency being one of the biggest employers locally.
We enjoyed coffee and cake on the waterfront then headed into the city centre to check into our budget hotel for the night, where as ever they allowed us to take our bikes into our room.
Soon we were collected by university friends that Mari first met half a century ago and were whisked away around Swansea Bay to Mumbles for a wonderful dinner and much-needed catch-up.
After waving goodbyes, we returned to the city and head for Wind Street, Swansea's party hub, for one last drink in a bar where we decided everyone else is at least half our age.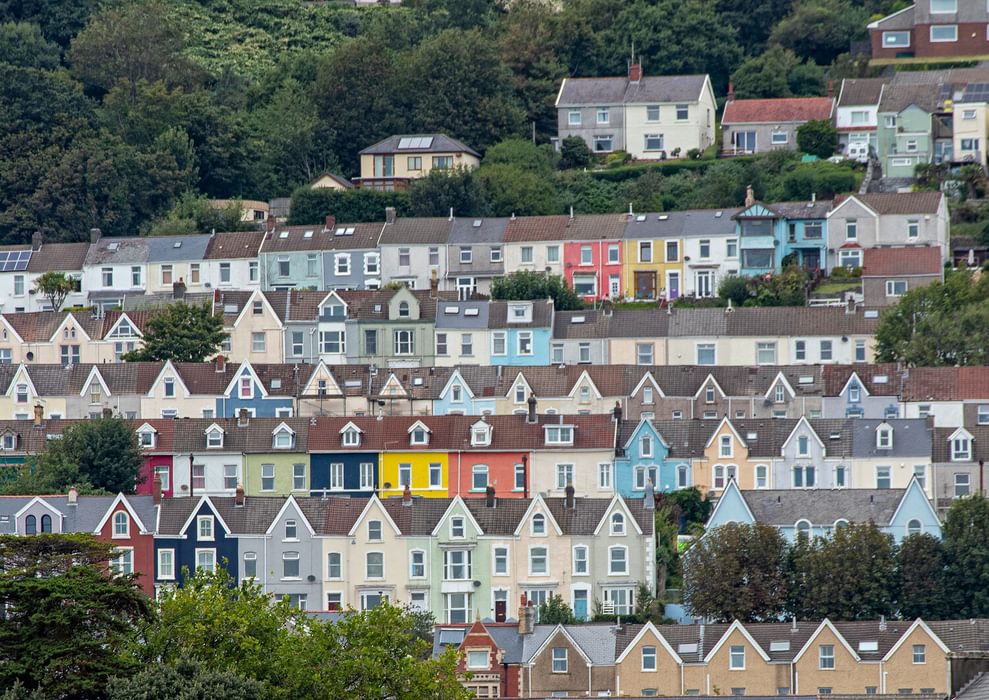 Day 1 Swansea to Merthyr Tydfil
All packed, we headed back to the waterfront and picked up the NCN 4 and were soon following its northern loop eastwards along the disused Tennant Canal to Jersey Marine where we briefly rode alongside the busy A483. Once across the River Neath, we swung left and followed NCN 47 along the wonderful smooth towpath of the Neath Canal, challenging each other to identify invasive species that have spread along its banks.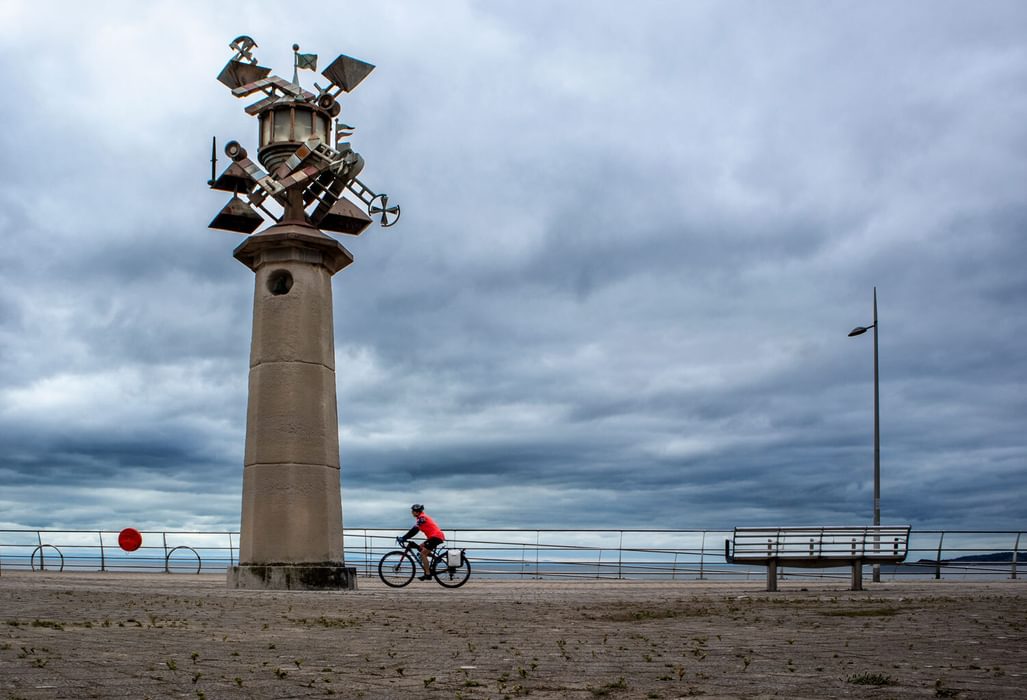 Just after Aberdulais the route number changes to NCN 46, which the Head of the Valleys cycle route follows all the way to its end in Abergavenny. At the same time, the tarmac ends and the towpath is temporarily rough and rocky before returning to better graded gravel a couple of miles further on.
Other than a brief stretch of road at Abergarwed, the route sticks to the towpath of the Neath Canal all the way to Glyn Neath, passing disused locks, relics of old industries and the wonderful little church dedicated to St. Illtyd.

Heading inland along the Tennant Canal
Passing the 13th century church dedicated to St Illtyd on the canal near Neath
We saw plenty of wildlife too; the electric blue of a kingfisher darting along before us, a grey wagtail that crossed our path and a pair of swans with a large number of cygnets making a noisy and ultimately abortive early attempt at getting airborne.
Unlike us, I'd advise you to take a break in Glyn Neath for next comes a long climb up Rhigos Road, leaving the Vale of Neath to cross the heads of the Rhondda and Cynon Valleys. We left the route in the centre of Rhigos, dropped down under the main A465 and rode up through the peaceful oak woods to the hillside village of Penderyn to visit the distillery which back in 1999 started making the first commercially available whisky made in Wales since the 19th century.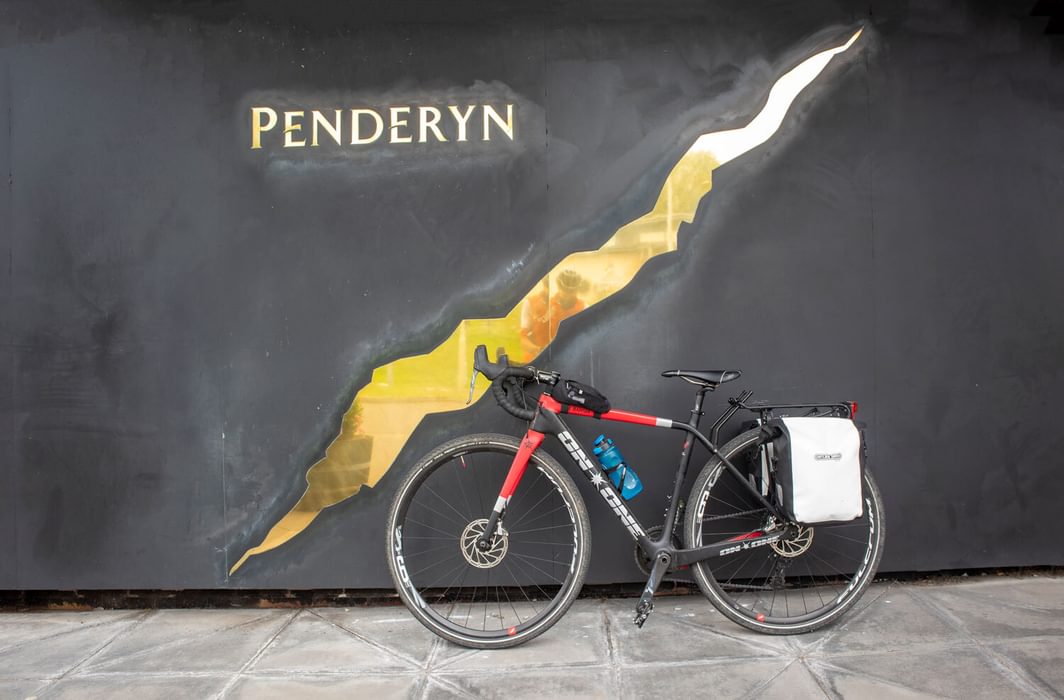 We had planned to continue eastwards to the Llwyn-on Reservoir and then swing back south to re-join the NCN 46 in Cefn Coed Y Cymmer, but the lack of cafés and shops in Penderyn saw us quickly purchase a couple of miniature bottles of Madeira Finish single malt before a rapid descent down NCN 478 to Hirwaun where we enjoyed sandwiches, cake and coffee from the village store.
In the 19th century a tramway carried iron ore and coal from Hirwaun down to the Aberdare Canal in the Cynon Valley and the NCN 46 follows this for a couple of miles before swinging north east along a quiet road to climb over into the Taff Valley.
At the top of the climb near the Gwesty Hotel there is a mile long gap in NCN 46 that will only be fixed when the Welsh Government build a traffic-free path as part of a plan to widen the busy A465. Work is already underway, but until it is completed, you have three options. Take the detour to the north via Penderyn and the Llwyn-on Reservoir as we had intended; make yourself as conspicuous as possible with hi-vis clothing and flashing lights and ride boldly down the eastbound carriageway; or do what we did which was cross the B4276 to the south of its junction with the A465 and follow the field edge for a couple of hundred yards lifting your bikes and bags over a padlocked gate to reach a disused stretch of road that leads down to Gellideg. It's a well-used workaround and not that arduous.
Cross-country done, we pick up waymarkers for the NCN 46 and follow the route downhill and then under and over the impressive Cefn coed y cymmer viaduct, which once carried the Brecon and Merthyr Railway over the River Taff.
We stayed at the cycle-friendly Grange Guest House beneath the viaduct, where the majority of guests are either cycle tourists riding Lon Las Cymru or downhill riders visiting nearby Bike Park Wales. After the Bank Holiday weekend, the local eateries were taking a well-earned break, so we wandered down into Merthyr Tydfil for a pizza, passing Cyfarthfa Castle which was built by the Crawshay family that owned much of the iron industry that flourished in the area until its demise in the early 20th century.
Needless to say, I practiced the pronunciation of 'Cyfarthfa' a few time in my head before daring to comment on the elegant building that now houses the town's museum and art gallery.
Day 2 Merthyr Tydfil to Crickhowell
For a few miles after Cefn coed y cummer, NCN 46 follows NCN 8 along a shared-use path alongside Taf Fechan (the little Taff) and past the entrance to the 1040 yard-long Morlais Tunnel, which until 1958 carried trains between Merthyr and Brecon before emerging on a minor road in Ponsticill where the route turns right.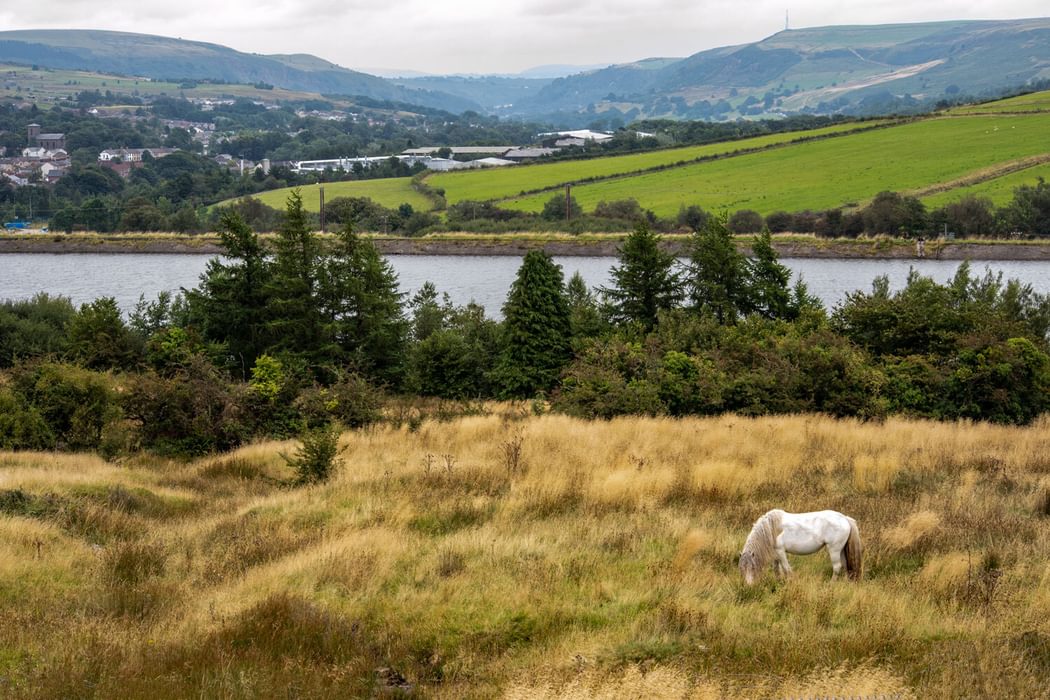 Traffic-free paths
The Welsh Valleys have a well-developed network of traffic-free paths and re-opening the old rail tunnels between them would make them a magnet for tourists with an aversion to hills. There a five former railway tunnels in the Valleys that have been earmarked to reopen as cycling and walking routes and progress is slowly being made on reopening the 1.4 mile-long Abernant Tunnel, which runs between Aberdare and Merthyr, and the 2 mile-long Rhondda Tunnel between Rhondda and Afan Valleys, which if reopened will be the longest cycle and walking tunnel in Europe. We'll be back to ride through them for sure.
Standing on the entrance of Morlais Tunnel
Heading along another wonderful stretch of traffic free path that make up two-thirds of the Head of the Valley's cycle route
Climb uphill to Pant, calling in at the café of the Brecon Mountain Railway if you need an early break. Otherwise, continue through Dowlais with its impossibly steep cemetery and views of the open cast mining at Ffos-y-fran Land Reclamation Scheme, following NCN 46 as it weaves alongside the A465 on a traffic-free path that gives view down into the Rhymney and Sirhowy Valleys.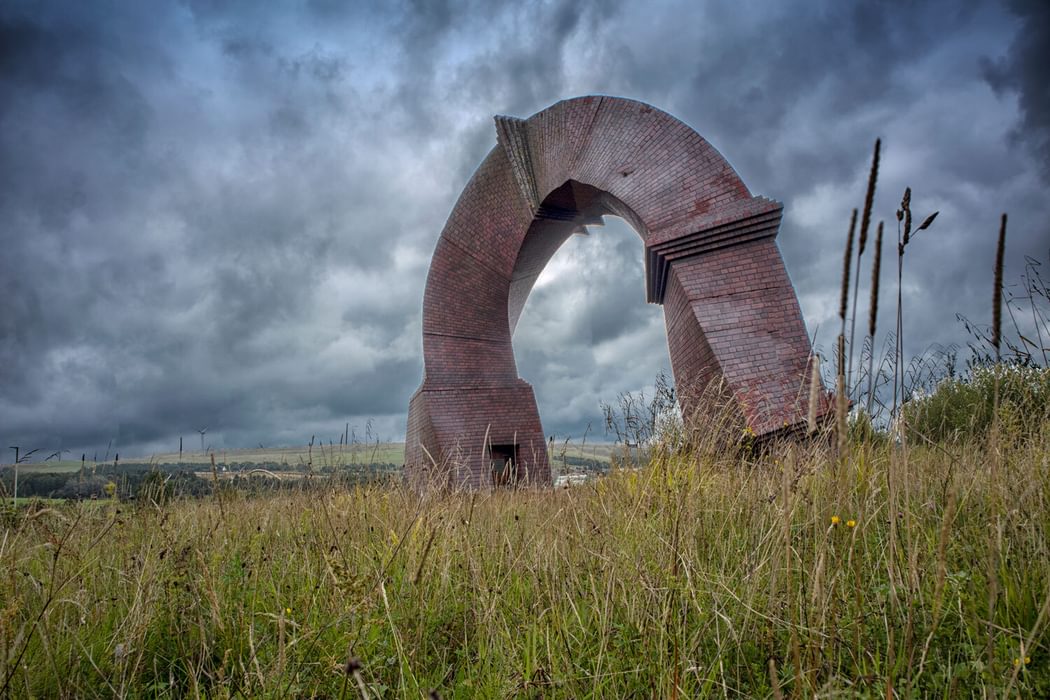 Climb uphill to Pant, calling in at the café of the Brecon Mountain Railway if you need an early break. Otherwise continue through Dowlais with its impossibly steep cemetery and views of the open cast mining at Ffos-y-fran Land Reclamation Scheme, following NCN 46 as it weaves alongside the A465 on a traffic-free path that gives view down into the Rhymney and Sirhowy Valleys.
Just after Bryn Mawr, where the A465 and NCN 46 squeeze through the Clydach Gorge, we swung left along a narrow road that wound around the side of Myndd Llangatwg, giving superb views down into the gorge and eastwards out across the Usk Valley. We saw buzzards, a red kite that hovered right above us and a female sparrowhawk that darted across the road in front of us.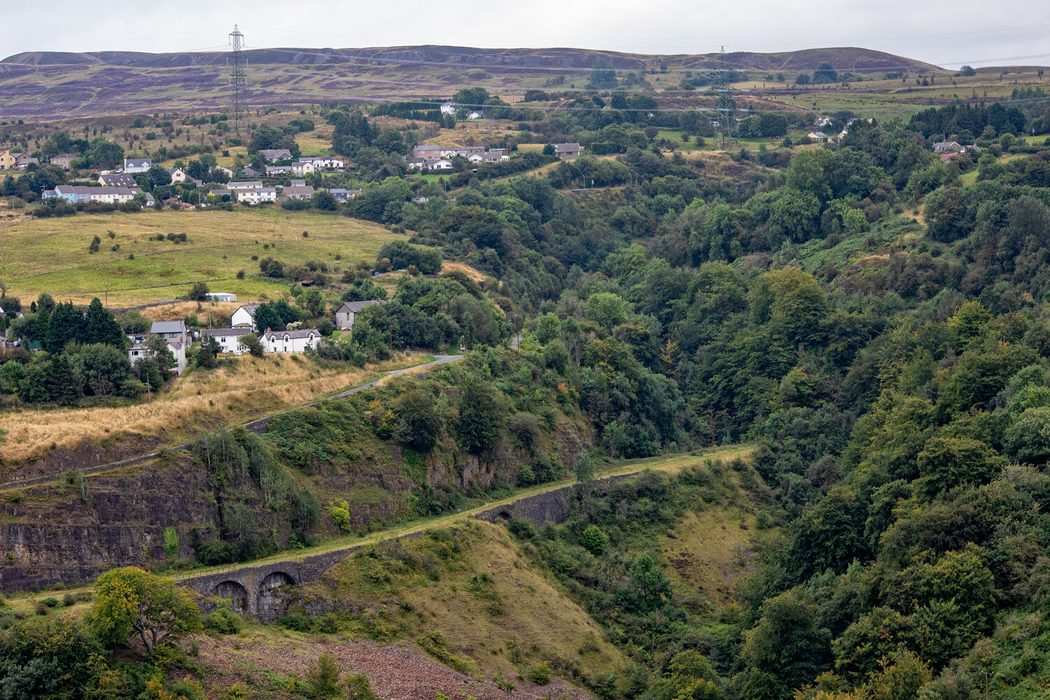 As we got around to the northern slopes of Myndd Llangatwg a man in a van shouted out to us to 'Enjoy the hill', and when we got onto it we knew exactly what he meant. On occasions the gradient went well over 20%, which had us feathering our brakes to slow our descent. They squeaked and at the bottom I dowsed my disks with a shot of water from my feed bottle. They sizzled with relief.
A few miles later we arrived in Crickhowell and checked into our accommodation which was a gastropub with rooms. Crickhowell is packed with galleries, pubs, foods shops and others offering 'artisan lifestyle'. After a pizza on a retail park there was much to be enjoyed so we dipped into the shops, and most of the pubs, before settling down to a dinner of Welsh venison.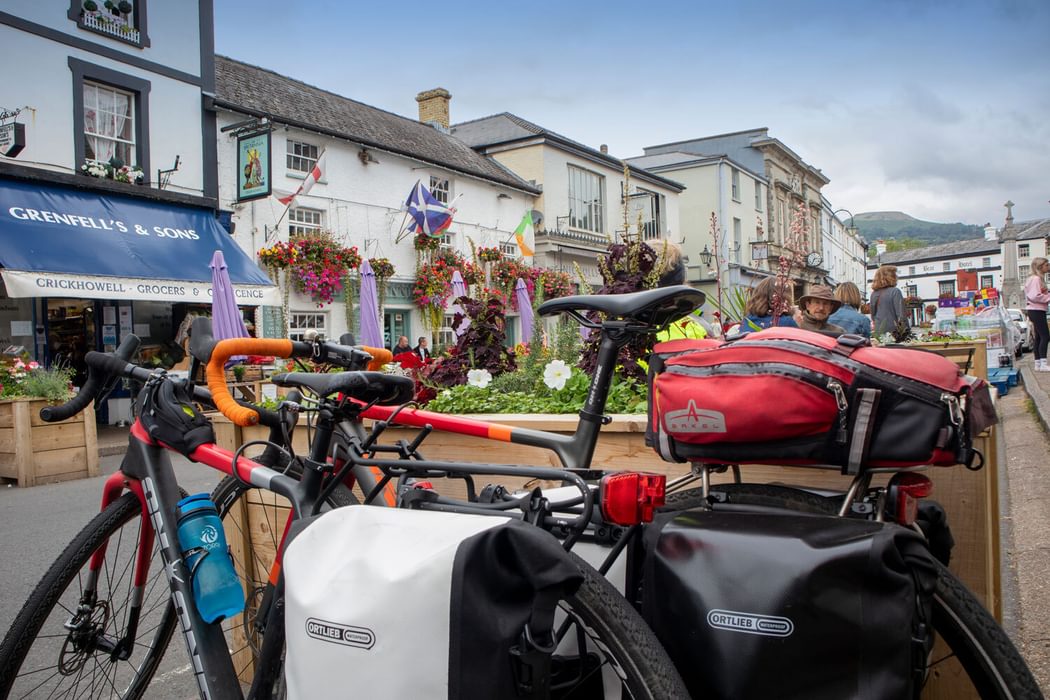 Next morning we headed back across the 18th-century bridge that spans the River Usk, joined NCN 49 in Llangattock and followed the towpath of the Monmouthshire and Brecon Canal through Gilwern and road to Govilon where we re-joined NCN 46 for the final few miles into Abergavenny where we caught the train back home, my ribs still intact!
To read more articles like this get our newsletter
Sign up today for a 20% discount on your next purchase. Join over 30,000 enthusiasts from around the world. If you don't love our mix of new books, articles, offers and competitions, you can unsubscribe at any time. We will never spam you, sell your data or send emails from third parties.