In The Long Run - South West Coast Path Record
Running the South West Coast Path marked the culmination of a journey from hiker to runner for Cicerone guidebook author Damian Hall. On the 24th of May Damian reached Minehead, setting a new Fastest Known Time (FKT) of 10 days, 15 hours and 18 minutes for running the entire 630 mile (1000km) route.
The last day was glorious. I had less than 50 miles to go and a new FKT seemed assured. I knew this bit of coast, from Illfracombe to Minehead, and suddenly my legs were full of running – proving yet again how much these types of things are mental. In both sense of the word, some might say. 
I arrived at the metal sculpture that marks the end of the SWCP in Minehead at 8.19pm on Tuesday 24 May, setting a new FKT of 10 days, 15 hours and 18 minutes. More than anything, I just felt relief. Relief that I could now have a full night's sleep. And see my children. And have my first shower in 11 days.
Would I have enjoyed the South West Coast Path any more if I'd walked it? In truth, without the time and mileage pressures, yes, I probably would have. But would I have had such a great adventure? Probably not.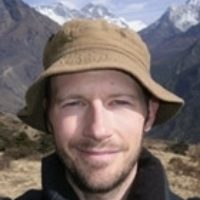 Damian Hall
Damian Hall is a freelance outdoor journalist who grew up in Nailsworth and still lives in the Cotswolds. He has completed many of the world's famous and not-so-famous long-distance walks, including Everest Base Camp trek for his honeymoon and Australia's Six Foot Track, where a hungry possum stole his walking boot. He contributes regularly to outdoor and fitness publications, including Country Walking and Outdoor Fitness, and writes walking guidebooks, including the official Pennine Way guide, a guide to the Somerset Coast Path and Cicerone's Walking in the Cotswolds.
View Articles and Books by Damian Hall