In The Long Run - South West Coast Path Record
Running the South West Coast Path marked the culmination of a journey from hiker to runner for Cicerone guidebook author Damian Hall. On the 24th of May Damian reached Minehead, setting a new Fastest Known Time (FKT) of 10 days, 15 hours and 18 minutes for running the entire 630 mile (1000km) route.
Images: Summit Fever Media / Contours Trail Running Holidays, Tom Jones

I remember the conversation like it was yesterday. Four years ago I was sent by Outdoor Fitness magazine to meet some of the country's best fell runners. I wasn't a runner then, I was a hiker. But I was immediately intrigued by how passionate they all were about running in hills, mountains and green places. They told me it was better for them, made them stronger, fitter and less prone to injury than running on a road or track. And better mentally too, happier, almost therapeutic. Someone even aptly called is 'soul running'.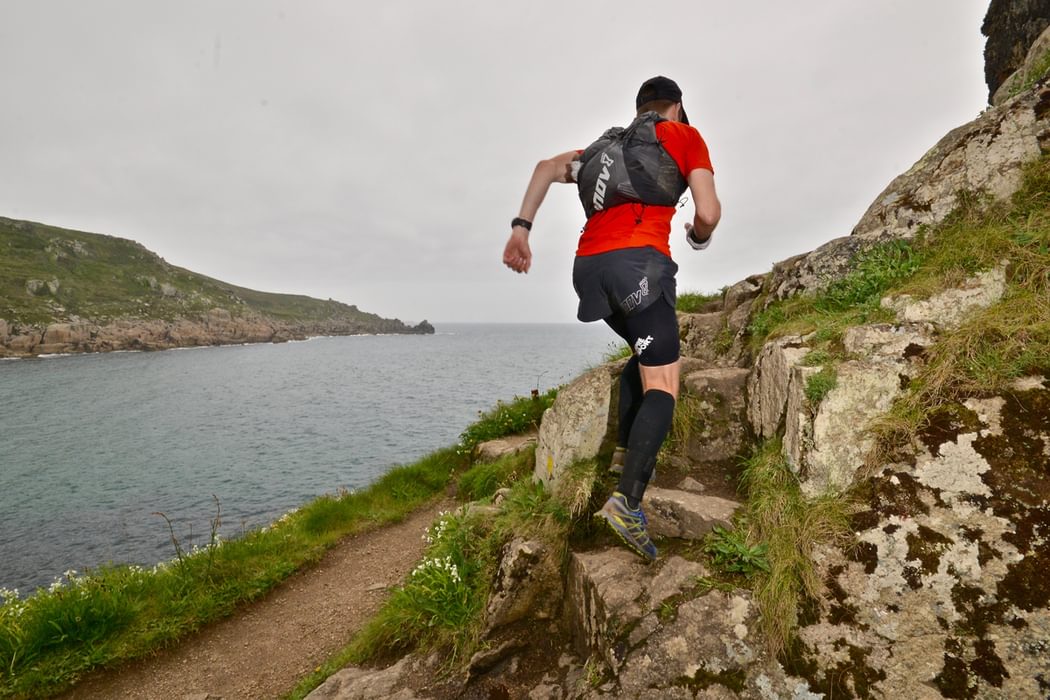 I had only recently started running – mostly on roads, because I knew no different. But now I wanted to be a trail runner too. My only reservation was that, though I loved being in wild places like them, it seemed a tiny bit of a shame to pass through beautiful places at speed. I put that to one of them and, after a thoughtful pause, he said, 'But you travel so much further and therefore you see so much more'.
His comments made running through green places feel okay. I learned for myself that running can be an adventure, every bit as much as long-distance walking. And here I was, four years later, about to run 630 miles on the South West Coast Path (SWCP), Britain's longest National Trail. My biggest adventure yet.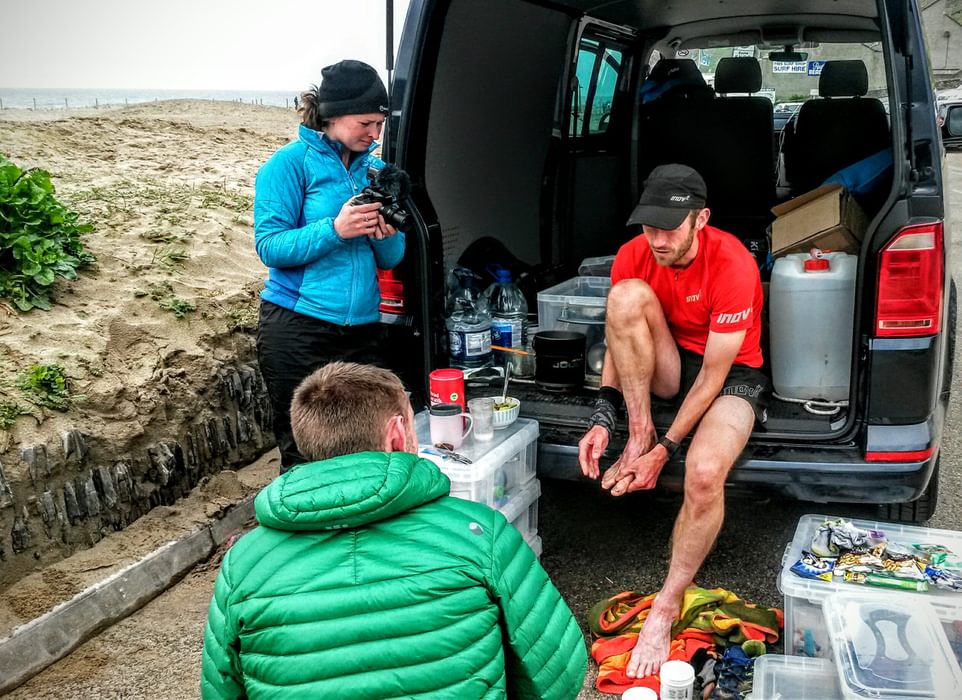 I've both walked and run my beloved Pennine Way. The latter during the Spine Race, in January, and that really hurt. The SWCP is well over twice that distance. My good friend Mark Townsend had invited me along. He co-owns Contours Walking Holidays and wanted to run the coast partly to help promote the company's new arm, Contours Trail Running Holidays, but also because he used to have the record for the Fastest Known Time (FKT), and he wanted it back.
I couldn't resist the lure of a big challenge. I grew up partly in Devon and the South West Coast Path had always been high on my 'to do' list. But finding five to six weeks spare to hike it never seems possible to a self-employed parent – though before children arrived, my wife and I had often talked of section hiking it. I was about to see it all in less than two weeks. Well, if my legs didn't fall off or anything.
I was both fearful – mostly of getting injured – but eager to get going on a dream holiday. All I had to do each day was run. We set off from Poole at 5.01am on Saturday 14 May. We needed to run at least 55 miles a day – as averaged by Mark Berry, who had the current FKT of 11 days, 8 hours and 15 minutes.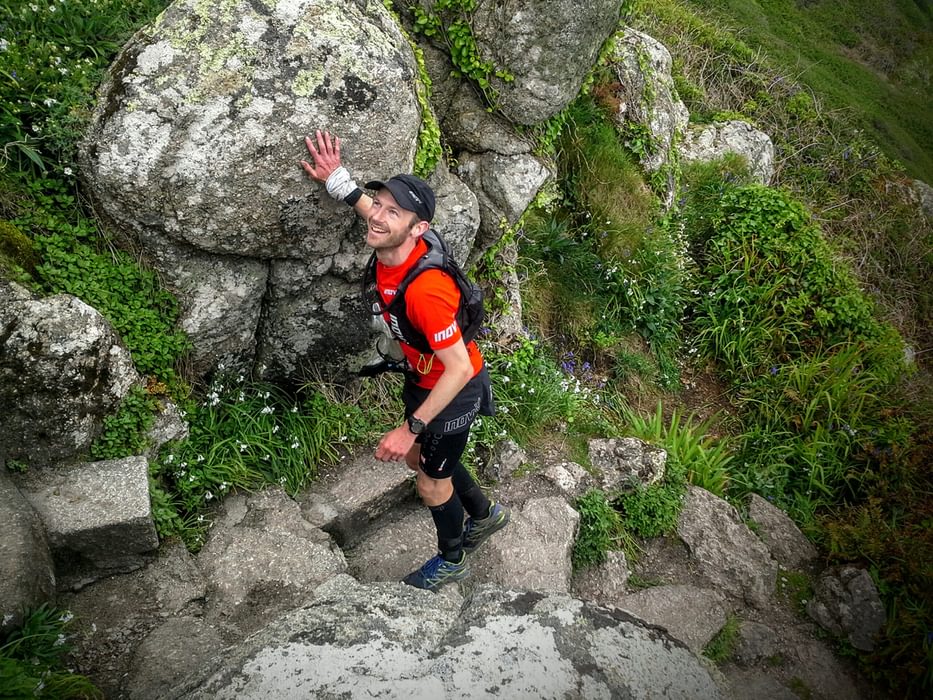 It wouldn't last, but the first few days were wonderful. I loved the rising and falling white cliffs, the buxom greenery inland, the many comely coves, bays and beaches, and having the calming sea as a constant companion. I loved the glorious simplicity of the days. No emails or phone calls, meetings or face stuck to screen. Just one task - and a deeply healthy and happy one at that. Plus all the wolfish scoffing I could do: ice creams, milkshakes, chips, pasties. I was in ultra-distance running, scenic and culinary heaven.
As planned, we weren't sleeping much though. We went slowly to avoid injuries or burn out. But staying ahead of the FKT took a lot of hours, especially as the SWCP includes some 111,000ft of ascent, more than three and a half times up Everest from sea level. There wasn't much time for sleep, between three and four hours in our Volkswagen Transport Kombi, where the legendary Tom Jones crewed for us.
Mark Townsend had started with a knee problem, and it was getting worse. Our daily mileage was decreasing with it and on day five he first mentioned quitting. I knew how hard it was for him to even think of doing that. He'd put so much time, effort and emotion into our attempt. But by the afternoon of day six, though we'd covered 300 miles, we'd slipped behind the current FKT. And Mark stopped. It was really hard for him, and emotional to part ways. But it gave me renewed impetus.
From that point, if I ran 60 miles per day, we'd have a new FKT. But so many things seemed to be working against me: the terrain had so much gradient – often over 10,000ft a day – sand wasn't conducive to quick running, ferry crossings would delay me, rain dampened spirits, the hot sun slowed me, long stretches of tarmac, such as in Plymouth, led to sore feet, and everything was slower at night time. And of course, I was getting more and more tired.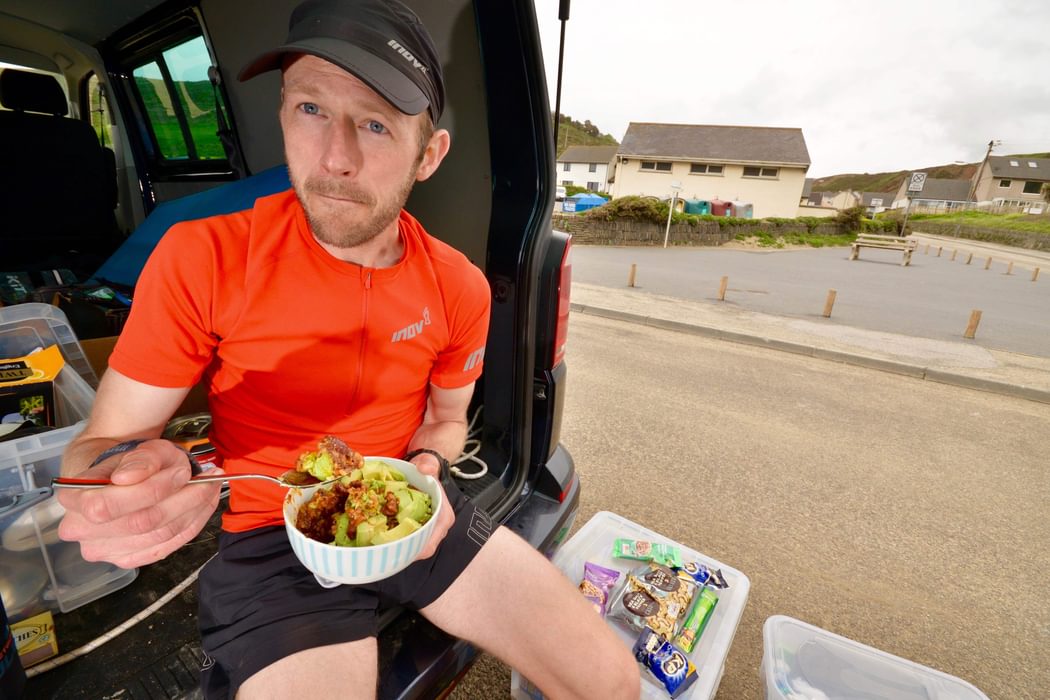 My day became a routine of emotions. Leaving the van at 5am, after the usual three hours sleep, with stiff muscles and (towards the end) shoes feeling like they were full of broken glass, was never fun. But after an hour so, the endorphins would kick in, the sun would warm me up, legs would loosen, I'd remember to cherish the views and I'd usually feel amazing for several hours. Especially if I'd had a quick power weep. Sometimes tiredness, a sense of the task feeling overwhelming, relentless and subsequent emotional rawness, would wash over me. I'd always feel sensational after a five-second sob though. Mid-afternoon tiredness would kick in and I'd become despondent again, though Mark and the tirelessly enthusiastic Tom Jones would lift my spirits and feed me avocados and custard.
When I lived in Dartmoor as a child we visited Tintagel many times and it was exciting to see it again – albeit in blazing sunshine, whereas I always remember it in swirling mist. But that section was so steep it dented my motivation again. I couldn't sleep until I'd covered 60 miles. And that usually took till 2am, sometimes 3am. This wasn't a running holiday – ironic really, considering Contours Trail Running Holidays were sponsoring the trip – it was a serious attempt at setting a distance-running record.
Wildlife would give me a lift. Being out at all hours, I saw deer, foxes, badgers, hedgehogs, toads, seals and more. Countless times I vowed to return to idyllic fishing villages and intimate seaside settlements. What a beautiful island we live on. The people are pretty great too. I was given free meals, ferry rides and people donated to my fundraising on the spot. It could be so touching.
I fell asleep on my feet in Barnstaple, on the penultimate day. It wasn't even dark yet, but I guess I was pretty tired. I allowed myself another power nap, of 15 minutes, in the van afterwards. Then went out again till 3am.

The last day was glorious. I had less than 50 miles to go and a new FKT seemed assured. I knew this bit of coast, from Illfracombe to Minehead, and suddenly my legs were full of running – proving yet again how much these types of things are mental. In both sense of the word, some might say.
I arrived at the metal sculpture that marks the end of the SWCP in Minehead at 8.19pm on Tuesday 24 May, setting a new FKT of 10 days, 15 hours and 18 minutes. More than anything, I just felt relief. Relief that I could now have a full night's sleep. And see my children. And have my first shower in 11 days.
Would I have enjoyed the South West Coast Path any more if I'd walked it? In truth, without the time and mileage pressures, yes, I probably would have. But would I have had such a great adventure? Probably not.
To read more articles like this get our newsletter
Sign up today for a 20% discount on your next purchase. Join over 30,000 enthusiasts from around the world. If you don't love our mix of new books, articles, offers and competitions, you can unsubscribe at any time. We will never spam you, sell your data or send emails from third parties.