Lake District Mountain Rescue Teams Awarded the Queen's Award for Voluntary Service
Huge congratulations to the Lake District mountain rescue teams for being awarded this incredible and very well-deserved award - you are all heroes.
We are delighted to announce that the twelve Lake District Mountain Rescue Teams have been awarded the Queen's Award for Voluntary Service. This is the highest award a voluntary group can receive in the UK. The umbrella organization of the 12 teams is LDSAMRA (the Lake District Search and Mountain Rescue Association).
The Queen's Award for Voluntary service aims to recognise outstanding work by volunteer groups to benefit their local communities. It was created in 2002 to celebrate the Queen's Golden Jubilee. Winners are announced each year on the 2nd June, the anniversary of the Queen's Coronation.
Representatives of the Lake District's teams will receive the award from Mrs. Claire Hensman, Lord Lieutenant of Cumbria later this summer. Furthermore two volunteers from the group will attend a garden party at Buckingham Palace in May 2021, along with other recipients of this year's Award.
"This award is an incredible recognition of the huge amount of work and commitment put into mountain rescue by the current 400 volunteers within the twelve teams and by all members from our 70 years' history," said LDSAMRA Chairman, Richard Warren. "We are all truly humbled by the nomination and look forward to the recognition it brings."
"Thank you to everyone who has supported our Teams over the years."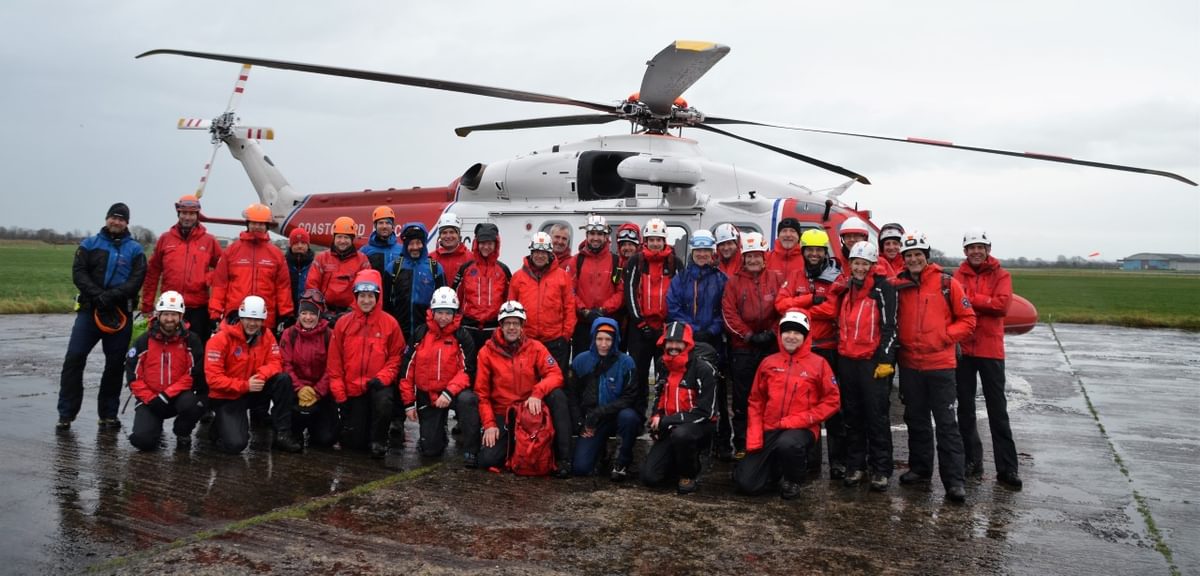 General Facts about Mountain Rescue

• LDSAMRA is the umbrella organisation representing the 12 teams and over 400 volunteers covering the Lake District and Cumbria.
• Across England and Wales there are 49 teams including the 12 Lakes' teams with over 3,000 team members.
• Team members are on call 24 hrs. a day 365 days of the year and operate in all weather conditions.
• All team members are unpaid, professionally trained volunteers.
• Majority of team members have full time day jobs, over 70 include NHS health care professionals, care staff and frontline police officers
• Both men and women are actively involved in mountain rescue
• Training and rescuing demands a very high commitment from the team members
• Tremendous support and understanding is necessary from partners, wives, husbands, family and employers
• Teams are self-sufficient but are charities with hardly any funding support from Government
• Each team needs to raise between £50,000 to £150,000 every year to survive
• Funding comes from donations, legacies and fundraising activities
• The LDSAMRA teams deal with around 600 incidents each year
• A typical rescue may involve up to 20 team members for around 3 hours on average but many last a number of days
• Rescues are split between trauma, medical emergencies and searches
• Helicopters do assist, but are only called for a relatively small percentage of rescues where urgent air support is required and weather conditions allow
For further information about the LDSAMRA, the 12 teams and the work they do, please visit www.ldsamra.org.uk and follow the links.
To read more articles like this get our newsletter
Sign up today for a 20% discount on your next purchase. Join over 30,000 enthusiasts from around the world. If you don't love our mix of new books, articles, offers and competitions, you can unsubscribe at any time. We will never spam you, sell your data or send emails from third parties.