Mountain biking in Scotland - a soggy adventure
Jim Sutherland, author of Walking in Torridon, and his friend Dunc go on an adventure with Sean Benz's new guidebook to Mountain Biking in Scotland.
In August 2015 Dunc and I created our own mountain bike route from Aberdeen through the Cairngorms, Central Highlands and The Grey Corries before heading back west via The Great Glen Way. Back then, time had not allowed us to take the route all the way across to my home in Wester Ross so we decided to do the bit we'd missed out, with the help of Sean's guidebook to Mountain Biking in Scotland.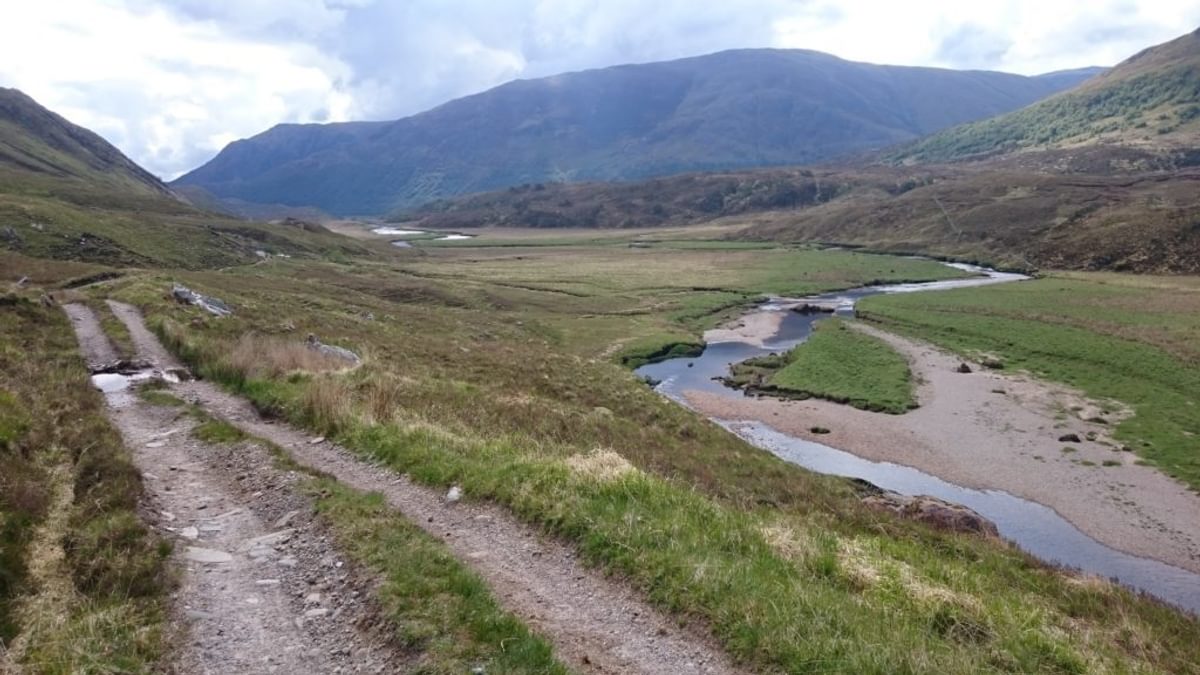 Day 1 Attadale to Allt Beithe, Glen Affric. 52km, 1143m of ascent
Our two-day ride started at Attadale Railway Station with Dunc getting off the train to meet me. The next day I had to be at Beauly Railway Station before 6pm in order to make sure I could get home in time. We both enjoy the use of public transport and a wee hint of time pressure on day two! Riding up through Attadale Estate was the perfect warm up before making that committing descent of Glen Ling. This was a straightforward section of singletrack as far as the point where the river drops into a gorge then some on/off the bike with some pushing until reaching the frontier-like Nonach Lodge. A good friend and very experienced bikepacker had told us not to try and get over the hill from Glen Elchaig so we enjoyed the section of road down the side of Loch Long to Dornie for a well deserved pint. Her advice had been to aim for 80% riding over the two days so who were we to argue?!
The road section past the 'Highlander' castle and through Inverinate was not too bad but it was a relief to leave the traffic and head east to Morvich; the scene of many a nervous start to The Highland Cross. We'd a bit of a job getting started due to a mad sheep which was trying to escape through the gate as we tried to get past. The scenery whilst riding through Gleann Lichd was breathtaking, reminding us how wonderful the mountain biking in Scotland can be. The river provided crystal clear refreshment and we enjoyed meeting day and through walkers as they headed west to Morvich.
In a matter of a few days riders on the Highland Trail 550 would be tanking through here at twice our speed and more, but for now we were more than happy to take in where we were, have a few laughs and discuss some of the routes nearby which are described in the new Cicerone guidebook. Bikepacking, wilderness biking or whatever you want to call it has well and truly got a grip on my imagination, with adventures close to home and much further away often in my mind. The distances are usually greater than walking and you need to carefully consider what you take and how you carry it!
Mountain Biking in West and North West Scotland
£17.95
This guidebook describes 25 mountain biking routes in West and North West Scotland, an area including Fort William, Rannoch Moor, Glen Spean, Invergarry, Loch Sunart, Strathfarrar, Kinlochewe, Sutherland, the Outer Hebrides and the mountains of Torridon and Skye. The routes range from 20 to 73km, graded blue, red or black for difficulty.
More information
Sean's new guidebook was extremely helpful in encouraging Dunc and I to go exploring. In fact one page, page 123, sums up the 'can do' approach that is often needed on adventures like this; but you'll need to buy the book first! His descriptions of the routes local to me are accurate and this gave me a lot of confidence to follow his 'new' ones. The summary panels and overview are packed full of information to help folk decide whether this is the route for them. I especially liked the use of the highlighted OS map extracts. All the stats are there so you should know what you are signing up for but you are always assured an adventure when mountain biking in Scotland. Once you have bought a copy of Sean's guide it might be a good idea to photocopy the pages you need and take them with you in a waterproof case. Finally, the riders that are featured make most of the routes look 'doable'; no whips, manuals or too many lurid outfits either.
Dunc and I both knew the route to the Allt Beithe Youth Hostel quite well having both done The Highland Cross before. We were looking forward to the exciting traverse of the Allt Grannda gorge; it certainly did not disappoint. Clipped in with SPDs I chose not to ride as much as Dunc as I did not trust myself to eject quickly enough if I clipped a pedal on this sensational traverse. Once we passed this milestone there still seemed to be quite a lot of undulating track before the hostel came into view. For us this was great fun with fast descents, cross drains and challenging gear changes on the ups – for many a runner on the 'Cross it is simply torture. The scenery continued to blow our minds with the big mountains either side of the glen still holding a fair bit of snow. We both agreed that this was an amazing place to be riding a bike late in the evening and well worth the effort getting here. Our stop at Camban Bothy was brief because by this time we were both needing our dinner! As we parked our bikes outside Allt Beithe Youth Hostel we could hear the wonderful sounds of folk preparing dinner and laughing; both of us agreed that it sounded just like an alpine hut.
That night we shared our table with a couple of lads who were exploring the Highlands on a trip north from London. SYHA Youth Hostels are great places to meet like-minded folk and that was certainly the case for the four of us. Some malt whisky was shared after our meal along with some stories of shipwrecks and crazy train journeys! I slept soundly because my navigation for the trip was finished; tomorrow it was Mr. Maclennan's turn…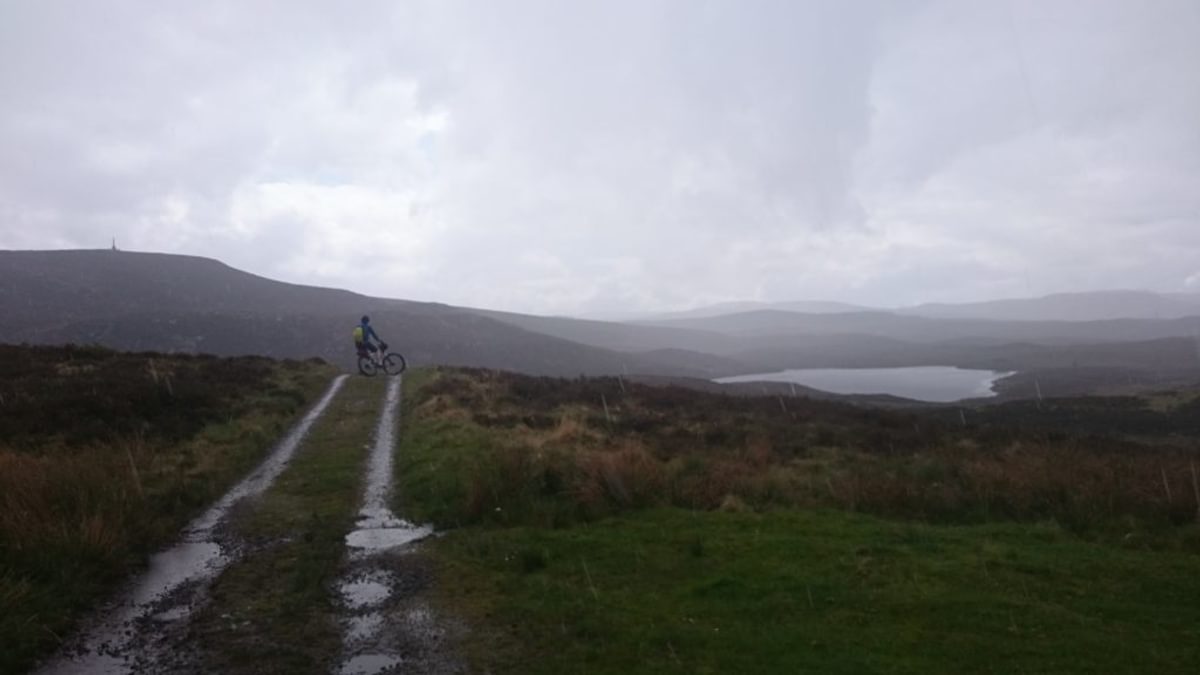 Day 2 Allt Beithe, Glen Affric to Beauly. 73km, 880m of ascent.
Despite a mild scalding with hot water as I was preparing my porridge Dunc got us underway very efficiently and in no time we had traversed the shores of Loch Affric and had made a crucial turn off towards Loch Beinn a ' Mheadhoin. The thunder was close and the showers soon started; protected by the trees we did not get that wet to start with. Just over half way along the loch we made another turn east between two wee lochs hidden in the Glen Affric Forest after a short climb there was a fun descent all the way to the river and Guisachan Estate. The contrast in scenery from the day before was stark. Everything you looked at appeared to have been manicured to perfection. Dunc and I did not have too much time to admire this beautiful estate as there were more dark clouds forming over the hills towards Cannich and Corrimony.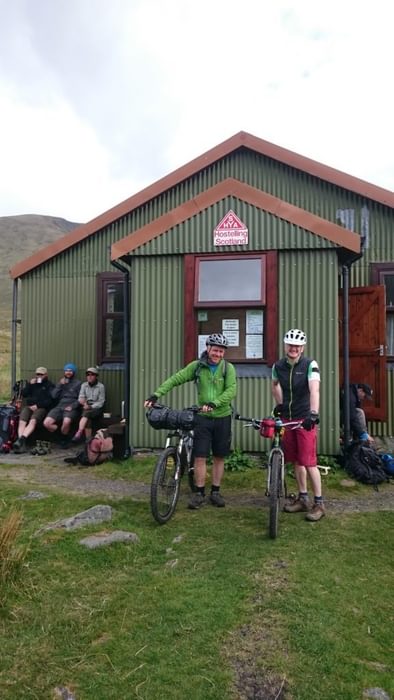 I'm soaking wet, cold and in trouble now, thank goodness there's a climb coming up…

— Jim Sutherland
One day I hope to ride the Great Divide Mountain Bike Route from the Canadian-US border to the US-Mexican border. At Knockfin I had what I hope was a 'flash forward' to this route as I spun along the dirt track towards croft houses where folk were tending their horses in the sun- it was a lovely scene. This warm feeling did not last too long...
A lazy, school child error on the easy drag by Loch Beinn a'Mheadhoin in a slow moving thunderstorm nearly caused a meltdown before reaching Tomich. Coffee and some trail bars and malt loaf put some fuel back into the system. Then it was a case of stripping off those wet layers, throwing on my duvet then slowly putting them all back on again, zippering my hood right up before going into my own wee world for the climb out.

So zippered up we climbed towards the clouds. At one point I thought I could hear a vehicle coming down the track but it was the electricity lines thrumming in the air! Dunc had put together an absolute belter of a route through to the River Enrick. We carefully navigated to a forest break at Loch na Beinne Moire which led us deeper and deeper into the trees. At one point we could see the tips of the wind turbines to our right.
After three kilometers we dropped down to meet the access road before making a swooping descent to Corrimony where we had to make a decision on how to finish this fantastic adventure. Cul na Kirk or Eskdale Moor? Two stops to dry out, refuel and warm up had taken time. If I missed the train in Beauly I did not fancy riding home. I fancied phoning my wife for a lift even less! So we hit the tar and headed down Glen Urquhart to Milton before having our own personal climb up the steep Cul na Kirk. Once again Dunc's local knowledge brought us to our final destination via a combination of back roads, side roads and tracks only known to someone brought up near the Beauly Firth. We made it in time for a beer in Beauly. Sunday afternoon? It was more like the Cantina in Star Wars!
To read more articles like this get our newsletter
Sign up today for a 20% discount on your next purchase. Join over 30,000 enthusiasts from around the world. If you don't love our mix of new books, articles, offers and competitions, you can unsubscribe at any time. We will never spam you, sell your data or send emails from third parties.