Mountain Biking in North West Scotland
Mountain bike leader Sean Benz takes us out for an afternoon on his favourite ride: The Postman's Track route as featured in the new Cicerone guide to Mountain Biking in West and North West Scotland. This is a stunning ride through mountains and coastlines on the Isle of Harris and Lewis with some of the wildest and most rugged mountain biking in the UK.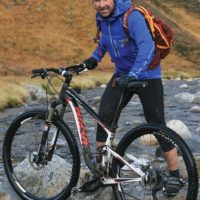 Sean Benz
From an early age the bike has been integral for mini adventures around Sean's native Liverpool where a modified bike was used to weave and race through the narrow alleyways of the local allotments. With Scottish roots, countless holidays were spent north of the border, which eventually led to Scotland becoming home. Sean's mountain bike adventures have extended to Europe, North America, Asia and Australasia, although one place remains dear, and that's Scotland and its Highlands and Islands. From mountain bike races, adventure races, outdoor education and guided mountain bike trips as a qualified Scottish Mountain Bike Leader, he has built an extensive knowledge base of the Highlands and Islands.
View Articles and Books by Sean Benz