Out with Grandpa in the Rätikon Alps
Kev Reynolds has many stories to tell from his years in the mountains. In this new series he will share some of his most memorable moments with us - some funny, some serious, but all very Kev. Each article will be illustrated by colleague and close friend Clare Crooke. This tale is from the Rätikon Alps...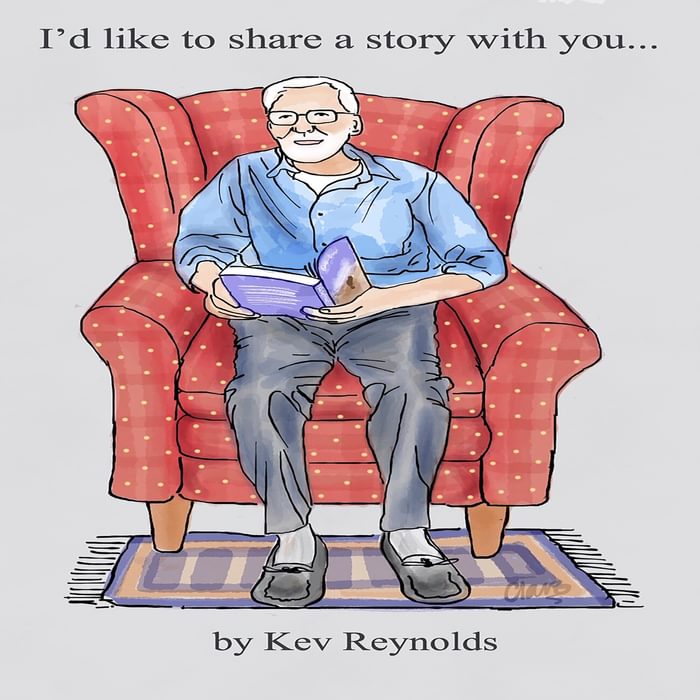 I like the Rätikon Alps. I like the bizarre cluster of pinnacles revealed only when you draw close, the texture of sun-warmed limestone, the surprise discovery of flowers growing where logic tells you no flowers should grow. I like the way you can reach some of the finest summits with nothing more challenging than a light scramble – or test your climbing abilities if you prefer on a big slab face with plenty of space below your boots. And I like the meadows that fall away from screes, the trails that wind among them, the walkers' passes taking you from Austria to Switzerland and back again with no demand to show passports. And I like the huts.
I very much like the huts on both sides of the frontier that enable you to make some really fine multi-day tours.
I was there alone one year, just a few months after I became a grandfather for the very first time. That makes me sound old. I don't feel old – and I certainly didn't feel old then as I romped along the trails, diverting here and there to the odd summit as I went, with no set agenda except to see as much as I could. So I wove a route heading west from hut to hut, crossed into Liechtenstein, then kept going across the Rhine below Vaduz and up to the Alpstein massif where I stormed over the Säntis, tripped along the Lisengrat, then veered south to make a traverse of the wave-like Churfirsten barrier, before plunging steeply down to the Walensee and then heading back to the main block of the Rätikon.
It was a whirlwind tour and I revelled in it: the landscapes that unravelled with every twist and turn, the glorious sense of freedom to go where and when I liked, making new friends in every hut, and the fitness earned after a summer leading groups among other mountains. What was there not to like?
On the final day of this solitary romp I arrived at what was to become another of my favourite huts, despite its simplicity. Nothing sophisticated here; dorms with beds whose springs sag beneath you, formica-topped tables in the stube, and tepid showers in a toilet block outside the main building. But I'm content with simple things, and the hut met all my needs. It had its face to the sun, its back to a big wall of mountain; pasture ahead, rock behind. The dull clang of cowbells could be heard in the distance.
Having checked there was a bed available for the night, I splashed my face with water from a trough and settled myself on a bench outside to relax with a cool drink and a clear mountain view. Dinner wouldn't be ready for another hour, but I could wait. I had all the time in the world.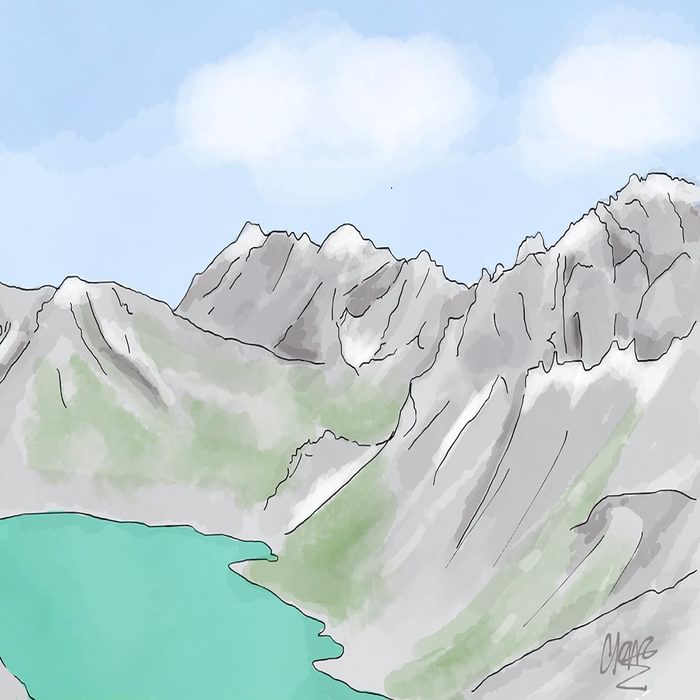 It was then that Grandpa arrived.
Tall but slightly stooped, he wore a wide-brimmed hat, faded shirt, brown cord breeches held up with frayed braces, long socks and lightly scuffed boots. At the other end of his rope was a lad of about ten. His sun-burned face mirrored Grandpa's genes. On his head was a baseball cap. Like Grandpa he too wore a faded shirt, cord breeches, braces and scuffed boots.
They unroped, lowered their rucksacks to the ground, then Grandpa gathered the rope in well-practised loops, bound it in the middle with a loose end, and lay it gently on top of his 'sack.
The two sat side by side out of the sun. Grandpa removed his hat and wiped his brow with the back of his hand. The boy removed his cap and wiped the sweat from his brow. They looked at one another and smiled.
The hut keeper appeared at the door. 'Grüss Gott!' he said.
Grandpa looked at the boy again. 'Almdudler?' The boy nodded.
Grandpa ordered a large beer for himself, and an Almdudler for the lad. The boy grinned at Grandpa. Grandpa winked. And there they sat, side by side with their drinks, barely speaking, but with a glow of satisfaction that said so much. What they'd shared that day would stay with the boy for the rest of his life.
And I remembered my own tiny grandson at home, and thought: 'That could be the two of us in a few years' time…'
To read more articles like this get our newsletter
Sign up today for a 20% discount on your next purchase. Join over 30,000 enthusiasts from around the world. If you don't love our mix of new books, articles, offers and competitions, you can unsubscribe at any time. We will never spam you, sell your data or send emails from third parties.