Researching a new edition of Julian Alps of Slovenia
Justi Carey and Roy Clark, authors of Cicerone's Julian Alps of Slovenia walking guidebook, tell us about what it's like to do the job of updating a guidebook.
It is of course a great honour to be asked to write a new edition of a Cicerone guidebook, and one of the best things about it is the chance to revisit an area and see how things have changed. The Julian Alps of Slovenia was originally published in 2005, which means we were researching it in 2004 – nearly 10 years ago!
In the past few years we haven't had much reason to go to Bovec, one of the 5 bases in the book, so when we had a weekend without any guests in our B&B, we put the camping stuff in the car and went off to have a look.
What first struck me was how beautiful it is down there – everything looked at once familiar and totally fresh and new. The routes here range from easy valley walks to several peaks of over 2000m, but as it was 39 degrees in the shade that weekend (very unusual for Slovenia, even though this is the 'sunny side of the Alps') we decided to start with the easiest walk of all, the Bovec Basin (Route 32).
Bovec lies in a flat-floored valley that long ago was a lake, and this route explores it, walking past the small airfield and down to run alongside the River Soča, and visting the Soča gorge and the Zmuklica springs before returning to the small town of Bovec across the River Koritnica and a large campsite (on this occasion, ours) much frequented by kayakers.

It's a great route for when you first arrive in the area, with wonderful views of the surrounding steep-sided mountains and a chance to get a feel for the lie of the land. Svinjak (Route 37) looks impressively like the Matterhorn from the valley floor, and you get a first glimpse of the quite extraordinary green clarity of the River Soča. Fortunately there are few changes to report on this route; the only thing likely to cause any confusion is the new tarmac road leading to the hangar of the airfield – after crossing the road, bear slightly left and walk behind a shrine to find a nice grassy track instead.
Alas, things are not so straightforward with some of the other routes! Some research the next day found that a total of 4 walks are temporarily or permanently out of bounds. Humčič, Route 35, visited some of the best WWI relics, tunnels and trenches in the area, but has been abandoned now with all the signs and route maps removed, so it looks like it is closed for good.
Razor, a peak on Route 41, has been affected by a landslide and is considered too unstable for use until the path can be repaired – we don't know how long this will be, but it's unlikely to be in use this season.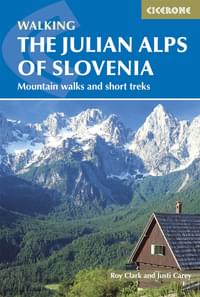 The Julian Alps of Slovenia
Mountain Walks and Short Treks
£17.95
Guidebook describing 58 walks in the Julian Alps of Slovenia. The walks are organized around five bases - Kranjska Gora, Bovec, Kobarid, Bled and Bohinj. The routes in the Julian Alps range from easy valley walks and rougher forest trails to high-mountain protected routes, including Triglav at 2864m, and multi-day treks.
More information
But the biggest blow of all is the loss of the gondola which lifted winter skiers and summer walkers to height of 2202m, giving easy access to the high peaks of Viskoi Kanin, Prestreljenik (both on Route 38) and Rombon (Route 39). An accident in January (in which, thankfully, no-one was hurt) left the lift badly damaged, and further revelations of debts and troubles in the operating company has meant that it has not been repaired.
Local reports say that they are trying to gather the money rebuild it completely, but it is not at all clear when that will be. Hopefully by the time the new edition of the guidebook is completed timescales will be a lot more definite.
We'll be reporting again on our progress with the new edition, and publishing any major changes on the Cicerone website; in the meantime, if you have any information or comments to make about any of the walks in the book, please email us on info@rivercottageslovenia.com.
To read more articles like this get our newsletter
Sign up today for a 20% discount on your next purchase. Join over 30,000 enthusiasts from around the world. If you don't love our mix of new books, articles, offers and competitions, you can unsubscribe at any time. We will never spam you, sell your data or send emails from third parties.