Scrambling in the sunshine – spring in the Moroccan Anti-Atlas
Mick Borroff recounts his first trip to the Moroccan Anti-Atlas - a place of fantastic mountains, ridgeline scrambles, gorgeous gorges and painted rocks.
It's always an event when Cicerone release a new guidebook. It sparks a flurry of questions: Is it a completely new guide? Have I been there? Do I want to go back again? Should I get a copy? WithWalks and Scrambles in the Moroccan Anti-Atlas then the answer to all of the above is yes.
I first visited the area in March 2009. Back then I was with a group from the Yorkshire Ramblers' Club, a BMC-affiliated mountaineering club, on one of our regular winter sun rock meets. Armed with the walking and scrambling suggestions in a copy of Cicerone's earlier book, Climbing in the Moroccan Anti-Atlas, and an indifferent copy of a 1960s 1:100k map of the Tafraout area, those not rock climbing enjoyed an excellent week of scrambling and walking, but at the end of the week were left with a taste for more, much more. From the summits we reached, we could see other tempting objectives and David Wood has clearly done a great job in prospecting these in his new guide.
Our 2019 trip began with a flight to Agadir, where we hired a car for a three-hour drive through increasingly impressive scenery to the comfortable Hotel des Amandiers in Tafraout, our base for a week. The spring weather was gorgeous.
Tizi Ridge scramble
One of our first routes was the enjoyable Tizi Ridge scramble, which we combined with the rocky walk to the summit of Tasselt and back to the hamlet of Tizi Ou Manouze. The airy scramble began with a delightful walk through flower meadows up to the foot of the ridge. The rock was sound, and we made steady progress to emerge at a shepherd's stone shelter at the summit, where lunch was accompanied by splendid views across to Tasselt, our next objective, and an easy walk.
On the return to the hamlet we literally waded knee-deep through a carpet of flowers back to the pale ochre-hued houses.
The Cockscomb Tizi Ridge with Tasselt Peak behind
High on the Tizi Ridge
Tizi Ridge and Tizi Ou Manouze from Tasselt
Wading through flowers near Tizi Ou Manouze
Walks and Scrambles in the Moroccan Anti-Atlas
Tafraout, Jebel El Kest, Ait Mansour, Ameln Valley, Taskra and Tanalt
£17.95
Guidebook to 41 graded walks and scrambles in the Anti-Atlas mountains of southern Morocco. Routes from 3 to 25km, including a summary of a 1-week long-distance trail from the north to the south of the Anti-Atlas. Covers 6 main areas, including Tafraout, Jebel El Kest, Ait Mansour, Ameln Valley, Taskra and Tanalt.
More information
The climbers and scramblers in our party united for an ascent of Jebel-el-Kest (2375m), the highest summit in the Anti-Atlas. After an exposed drive to the Anergui village, a thin path took us up to the foot of some of the climbing crags. Then some complex route-finding led up to a ledge system and on up to the shepherds' shelters and cistern on the summit. Huge views stretched into the distant haze beyond the Ameln valley. We returned by the Great Ramp back to the village.
On the path to Jebel El Kest from Anergui
Complex route finding high on Jebel El Kest
View from Jebel El Kest over the Ameln Valley to distant Adrar Mqoun
Napoleon's Hat
We had an easy day with a walk from just outside Tafraout to visit the rocky pink granite outcrop of Napoleon's Hat and to wander around the famous painted boulders, decorated in the 1980s by Belgian artist Jean Verame – apparently with the help of a team of Moroccan fireman and tonnes of blue, red, violet and white paint!
I'm not convinced the mountains need this sort of installation art, still they are worth seeing to make up your own mind.
The pink granite tor of Napoleon's Hat
Jean Verame's painted rocks
Jean Verame's painted rocks
Definitely not to be missed is a side-trip north-east from Tafraout to the sophisticated three-courtyard fortress-granary of Tasguent Agadir, which was built in the 17th–18th centuries. In times past, the village's wealth and security were essentially the food reserves, grain and oil they had secured in their granary. They were so important that they had a permanent garrison. Tasguent has multiple wooden-doored cells, some still marked with traditional symbols to ward off the evil eye, the upper ones are reached by flights of projecting slabs.
Tasguent Agadir
Tasguent Agadir courtyard
Tally sticks
Door ornamented with symbols
Back to the scrambling, another route we thoroughly enjoyed was the airy, pinnacled 2.5km-long Tizgut ridge traverse. Confident scramblers happy on grade 3 terrain will enjoy this fine and often exposed route, which does have a few escape routes, if needed.
The Tisgut Ridge in the middle foreground
The Tisgut Ridge – a bit like parts of The Cuillin (only warmer and no one on it)
The Tisgut Ridge (excellent airy scrambling)
Mention should also be made of the mid-week souk in Tafraout. Like most markets, it is a vibrant gathering of locals buying and selling anything from goats to slippers. The marinated fried fresh fish brought overnight from the coast, served in newspaper, was surprisingly excellent and the local dark amber-coloured fragrant mountain honey was simply amazing.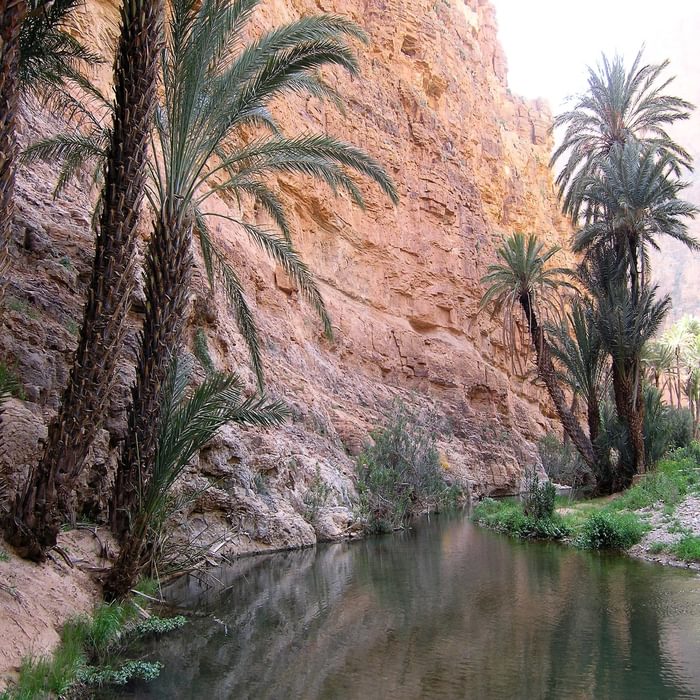 We also did an ascent of the north and south peaks of Adra Mgourn from Ayerd, which provided some interesting route-finding problems around the summits.
For something completely different, we took a trip through the oasis of the Ait Mansour gorge, the water and palms giving a contrasting experience to the rocky scrambling enjoyed elsewhere.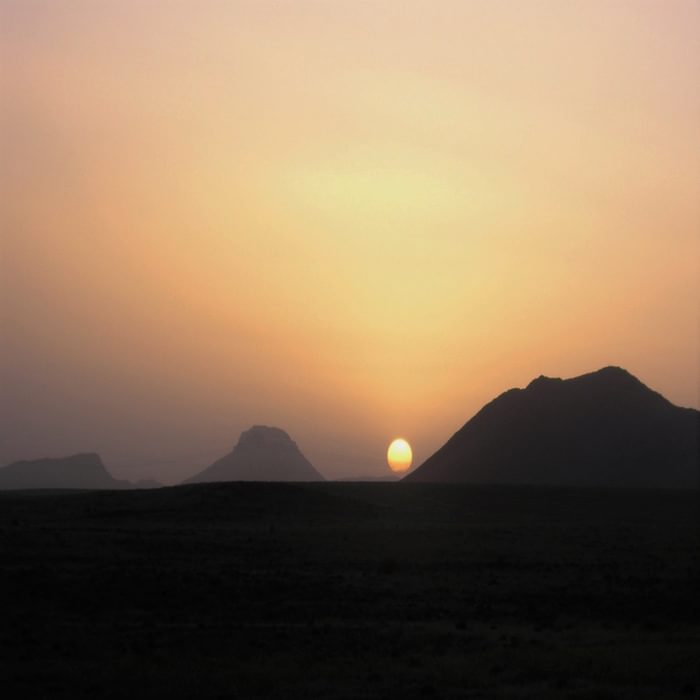 This guidebook certainly provides a much more comprehensive selection of scrambling and walking routes than the old one, which was more focussed on climbing and is to be warmly recommended. All the routes we did are included, but even more interesting are the wide variety of other routes in different areas it contains. The newly described areas around Taskra and Tanalt look very appealing, with superlative views from the ridges and summits.
As well as having well-written descriptions, each route in the book is plotted on new high-quality mapping of the Anti-Atlas produced by the Oxford Alpine Club. For those using GPS, the Cicerone guide comes with a welcome set of downloadable GPX tracks to facilitate navigation on each outing.

To read more articles like this get our newsletter
Sign up today for a 20% discount on your next purchase. Join over 30,000 enthusiasts from around the world. If you don't love our mix of new books, articles, offers and competitions, you can unsubscribe at any time. We will never spam you, sell your data or send emails from third parties.