Secrets of Mallorca's Trails
Paddy Dillon has been uncovering the secrets of trekking in Mallorca and sent these photos of the long-distance GR221 to make us jealous.
Here's something that's being kept under wraps... quite literally! It's a scoop for Cicerone so everyone can say they saw it here first!
After several years of access difficulties on the slopes above the village of Banyalbufar, everything recently ended up in court. The judge ruled that certain paths and tracks should be regarded as rights of way, and path managers moved incredibly quickly to install map-boards, signposts and waymarks. They're just waiting for a final legal rubber-stamp, then the wraps come off. The new routes will link Banyalbufar with the huge public estate of Planícia, and greatly improve the course of the long-distance GR221.
Mallorca's GR221 has a system of refuges, and this is one of the most popular, at Tossals Verds, at 520m above sea level. The distant mountain in the middle of the photo is Puig d'Alaró. It has a refuge only a few paces from its 821m summit.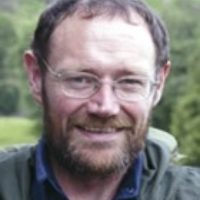 Paddy Dillon
Paddy Dillon is a prolific outdoor writer with over 90 guidebooks to his name, and contributions to 40 other publications. He has written for a variety of outdoor magazines, as well as many booklets and brochures for tourism organisations. Paddy lives near the Lake District and has walked in every county in England, Scotland, Ireland and Wales; writing about walks in every one of them. He enjoys simple day walks, challenging long-distance walks, and is a dedicated island-hopper. He has led guided walks and walked extensively in Europe, as well as in Nepal, Tibet, Korea, Africa and the Rocky Mountains of Canada and the United States. Paddy is also a member of the Outdoor Writers and Photographers Guild and President of the Backpackers Club.​
View Articles and Books by Paddy Dillon