The Grande Traversata delle Alpi: A Trip Report
Retired lawyer, John Young, has had a lifelong passion for Scottish and Alpine mountaineering in all its forms. Having worked his way through many of the better-known UK and European long-distance treks he discovered the Grande Traversata delle Alpi a few years ago and wished he had found it sooner. This is the story of his completion of the trek in three three-week stages.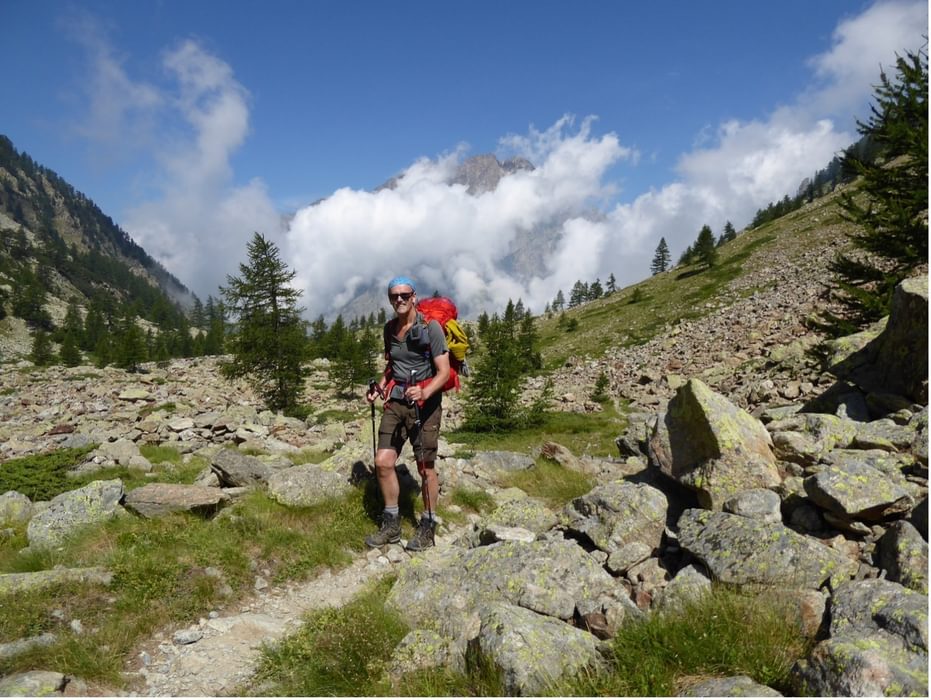 The Grande Traversata delle Alpi (GTA) trek valley-hops the Italian side of the Alps in a sweeping arc from the Swiss border all the way to the Mediterranean. It is in many ways the wilder Italian twin of the French GR5. It was originally an invention of the Piedmont region of Italy, so its official route starts and ends within that region. However it is now widely agreed that the journey is more logical and satisfying if it starts at the Nufenen Pass on the Swiss side of the Alps. Crossing the Alps and then passing east and south of the Aosta Valley, it brushes the southern slopes of Gran Paradiso and the eastern side of Monte Viso before traversing the Maritime Alps and plunging to the sea at Ventimiglia, just east of the French border. The whole route would take nine or ten weeks if approached as a single expedition. I tackled it in three consecutive three-week stages in 2018, 2019 and 2022, pausing reluctantly for a pandemic-induced break in 2020 and 2021.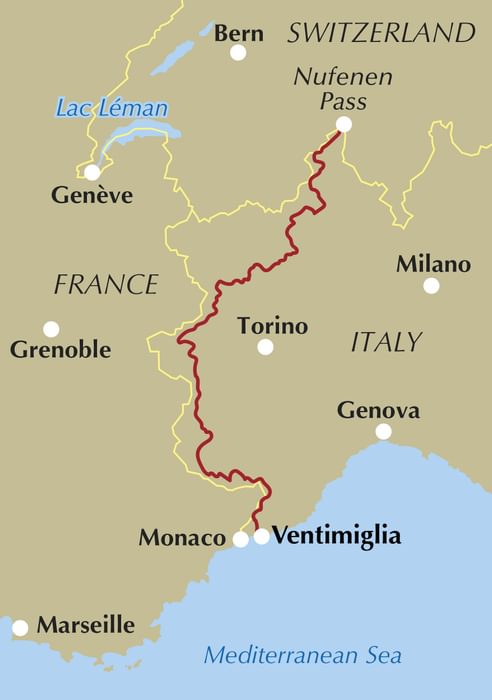 I would count the GTA among the "great" widely-recognised European treks, including the Swiss Alpine Pass Route, the French GR5 and the Trans-alpine E5. It is actually wilder than any of these, and certainly spends time in more remote territory than the popular shorter routes such as the Tour of Mont Blanc. It requires ascents and descents averaging over 900m each day if the route is to be completed in nine weeks. It frequently goes several days without touching even a large village and rarely comes close to any substantial town. Given the nature of the terrain I would have given a lot for local maps of the quality we take for granted in the UK, France or Switzerland. But most trekkers now supplement the variable Italian maps with electronic assistance. Mobile phone signal was reliable on the whole, although there were exceptions. And the quality of local signposting and waymarking of paths is generally good; off-route navigation can be more challenging.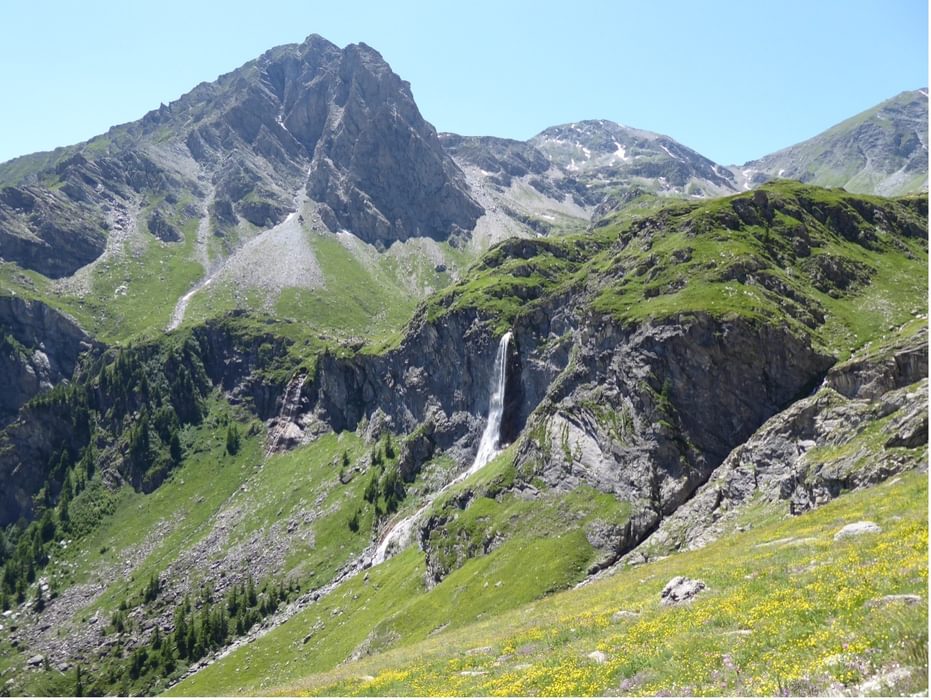 On Friday morning, 29 June 2018, I flew to Zurich and inquired at the airport how best to get to the Nufenen Pass. With typical Swiss efficiency the clerk at the information desk printed out an itinerary which demonstrated that with the aid of four trains and a bus I could be there by mid-afternoon. It was unnerving to see that my itinerary contemplated a change at Zug (including a subway between platforms) with an allowance of only four minutes, but of course this was Switzerland and it was fine. After a 90-minute walk from the bus I was comfortably installed in my first refuge, the Capanno Corno Gries, by 5pm.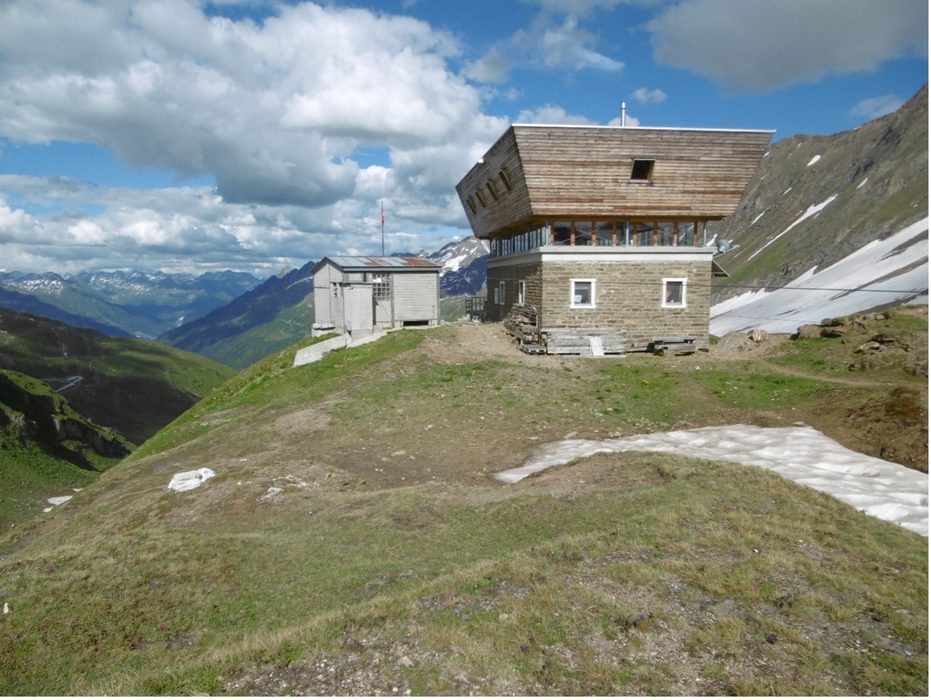 The next few days saw me on the highest part of the GTA, crossing large patches of snow and several passes above 2,500m. My route followed a historic trading/smuggling route across the Alps into Italy. On the snow-covered Passo di Nefelgiu I bumped into a group of five Italians who were happily spending the afternoon demolishing several bottles of red wine. When I said I didn't speak much Italian they asked if I was Swiss; when they heard I was Scottish and planning to walk three weeks of the GTA there were lots of "bravos" and "bravissimos" and they insisted that I should assist them with the wine. Thus I was introduced to a quality of comradeship that I came to regard as normal.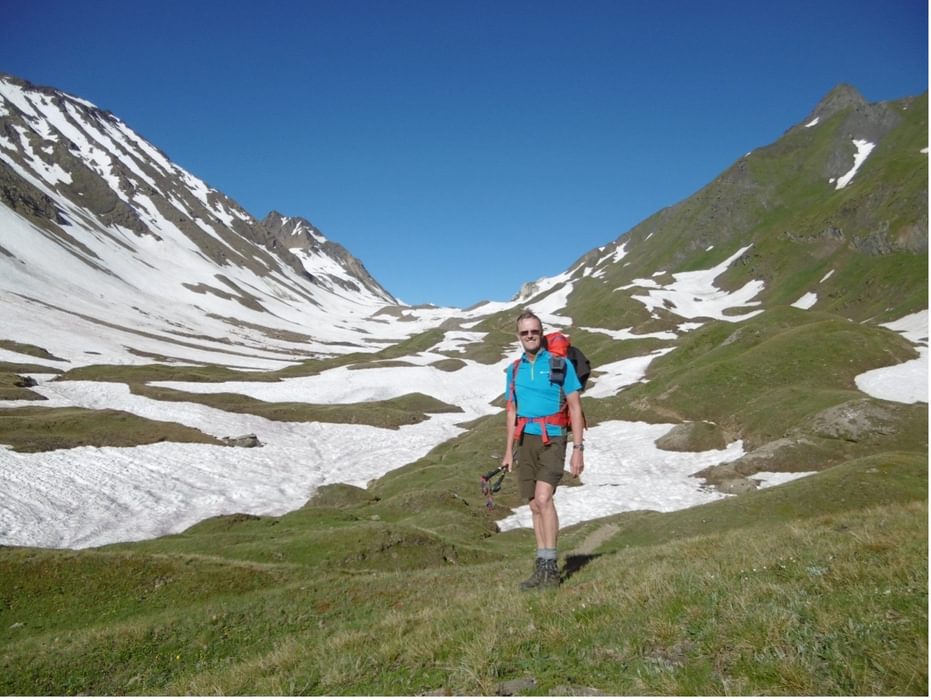 Because the route led between obvious (remote) stopping points it was inevitable that I would meet the same people again and again. They were almost all German, Swiss, Austrian or French. There were many Italian day-trippers but hardly any trekkers. Some of my fellow trekkers were inspiring. When I met Gerd, a German aged 78, he was on the 16th day of his GTA trek. He told me wistfully that his wife had recently persuaded him (justifiably, I suspect) to sell his paragliding equipment and stick to trekking.
With such a cosmopolitan crowd and Italian-speaking hosts some Italian phrases were obviously necessary, but it's not a complicated language and I found a basic phrasebook supplied the essentials. My fellow trekkers, especially the Germans, generally spoke good English but I rarely encountered a native English speaker. When I did, the results could be amusing, as when I met a couple just south of Pontechianale:
Trekker: Buongiorno, come sta?
Me: Mi scusi, non parlo molto italiano.
Trekker ; Are you English?
Me: No, I'm Scottish.
Trekker: Ah, so are we. We're from Pitlochry!
After the high Alpine start, much of my journey was on the ancient mule tracks that were the principal means of communication between villages, valleys and even countries before the advent of motorised transport. The best were constructed and maintained with care and skill over the centuries in accordance with the best standards of pre-modern civil engineering.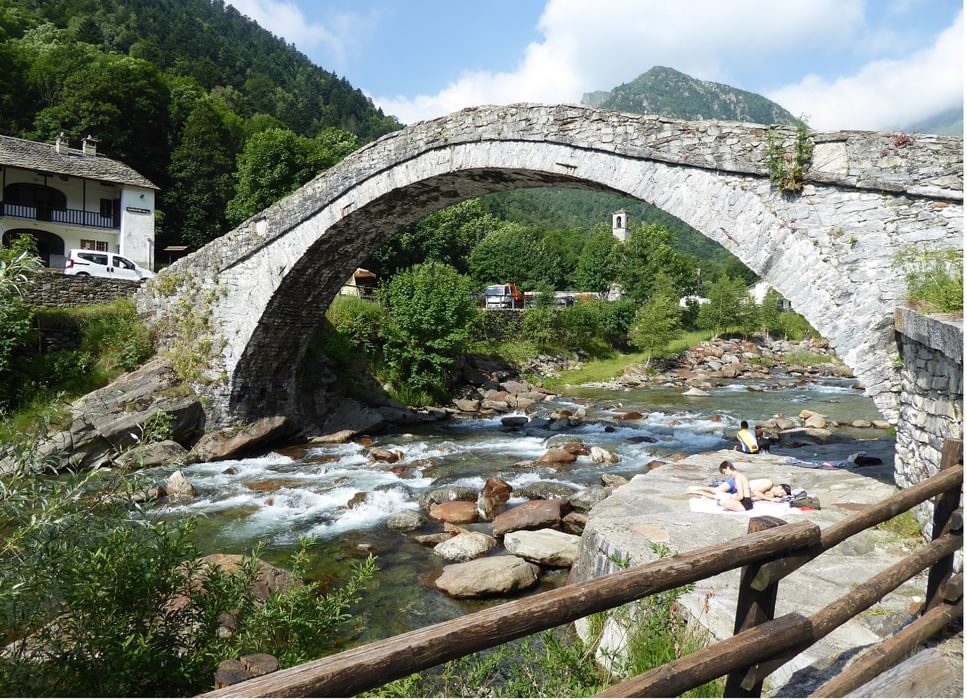 Occasionally even cobbled, they now provide a rare insight into what travel used to be like. During the latter part of the route, on the lower mountains approaching the Mediterranean, I encountered a different phenomenon, the military roads that were built by the Italians, particularly in the approach to the Second World War, when they were keeping a suspicious eye on the French across the border. (The French were, of course, doing the same to the Italians.)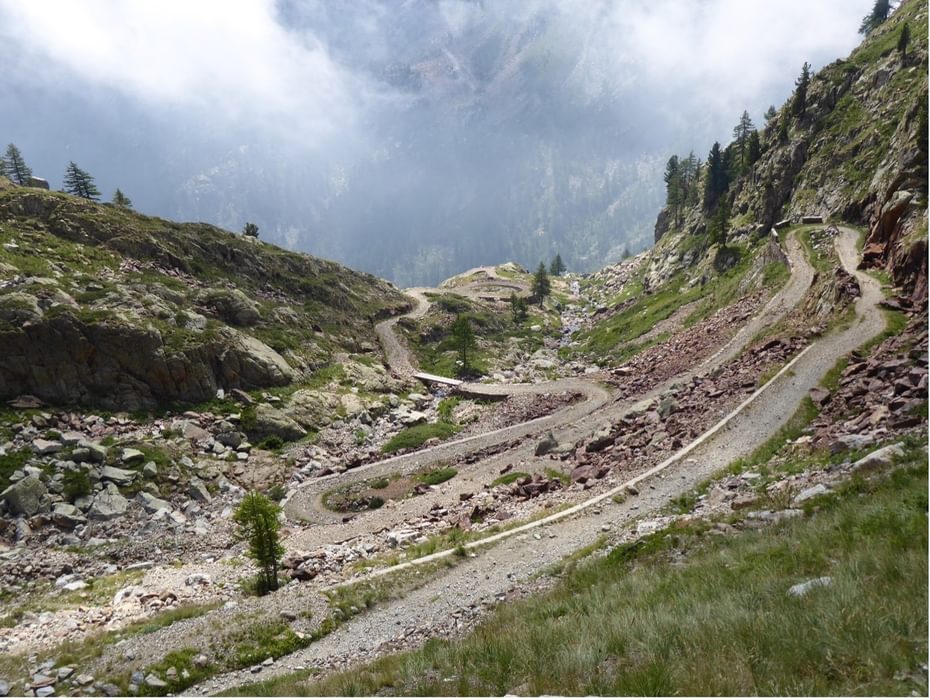 Some of these roads have now become the preserve of weekending 4x4 vehicles and motorbikes. Others were only ever built for pedestrians, including the dramatic Sentiero degli Alpini, which carves its way around the cliffs on the Italian side of Monte Pietravecchia, a large part of the time blasted into vertical cliffs (and, on a few occasions, through them).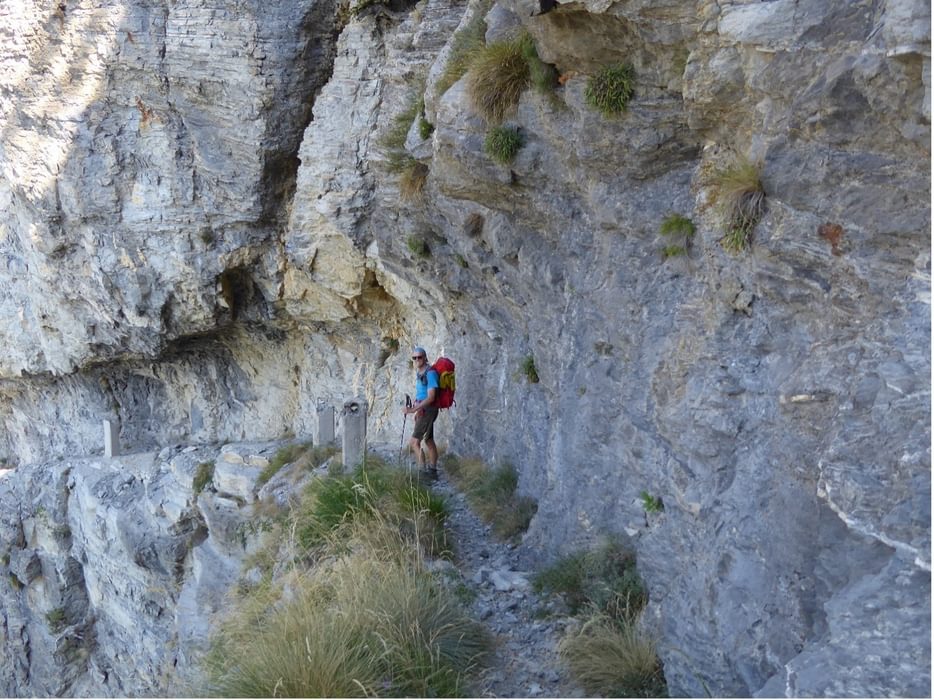 Both mule tracks and military roads were accompanied by abandoned buildings. Especially in the central part of the trek, abandoned villages were frequent, now overrun with vegetation, farm animals and birdlife. A few passes sported the remains of old inns. And the military roads were inevitably accompanied by abandoned fortifications and barracks. All were sobering reminders of how transient an apparently permanent way of life may turn out to be.
Being a trek on one side of the Alps, the GTA rarely supplies ridge walks, but there are a few. There is also a fair bit of forest walking - not unwelcome, as relief from the heat of the Italian summer sun. I could tell when I was the first traveller of the day on a forest ascent by the number of overnight spider threads that snagged on my face as I plodded up my track. And the number of lizards still dozing on the track!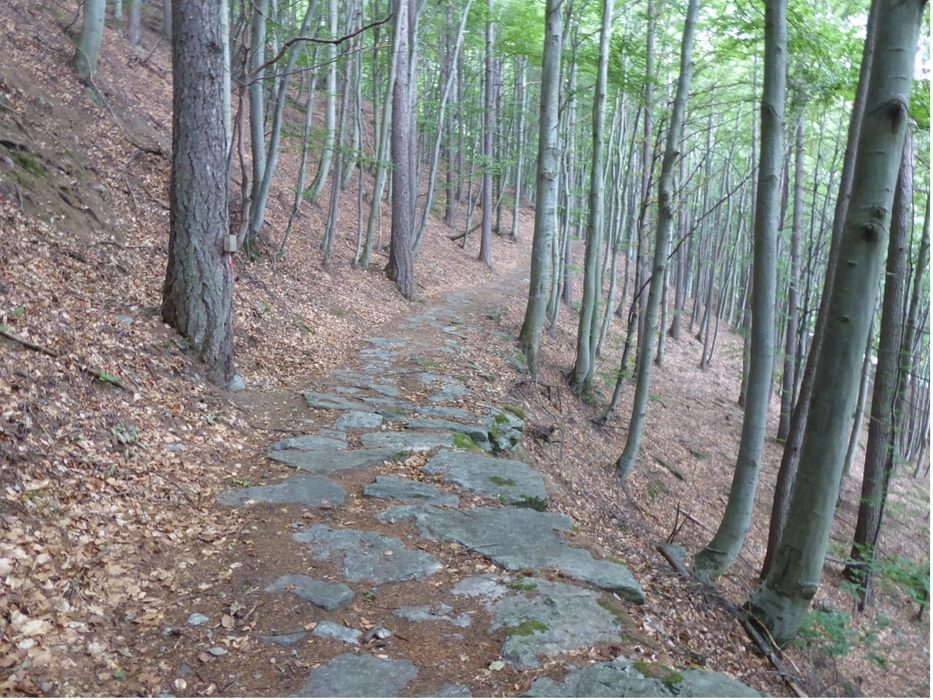 Views during the trek are, obviously, dominated by mountains, including at different times Monte Rosa, Gran Paradiso and Monte Viso. However, after the first couple of weeks the view to the south-east is at times filled with the north Italian Po plain, extending endlessly into the distance. When the Alps come to an end they do so suddenly. The hills just stop and the ground beyond displays barely a ripple on its surface. The view includes an occasional city but the route itself passes through only two significant towns. The first, Quincinetto, straddles the river that drains the Aosta Valley. Given that the river, the Dora Baltea, is draining the entire valley (including whatever drips off the Italian side of Mont Blanc and many of the other highest mountains in the Alps) it is a fair size when it gets there - about as wide as the Thames in the centre of London, although not quite as deep.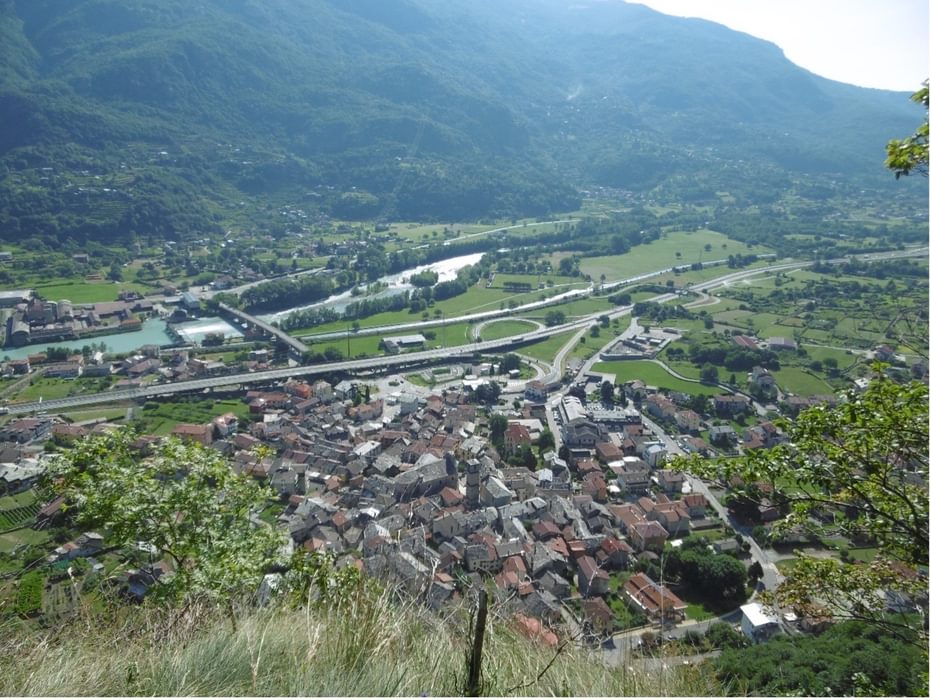 The other is Susa. Situated on the approach to the old Alpine pass at Montgenèvre, near Briançon in France, Susa was an important town from Ancient Roman times until the early modern era. As a result, like many small Italian towns of its size, it is littered with remains that in the UK would be the subject of official control and an entry fee but in Italy are so common that they merit hardly a glance from the locals. I spent a happy afternoon wandering around the mediaeval cathedral, the Roman aqueduct, the Augustinian arch, the old castle-cum-museum and, most impressively, the exceptionally well preserved amphitheatre.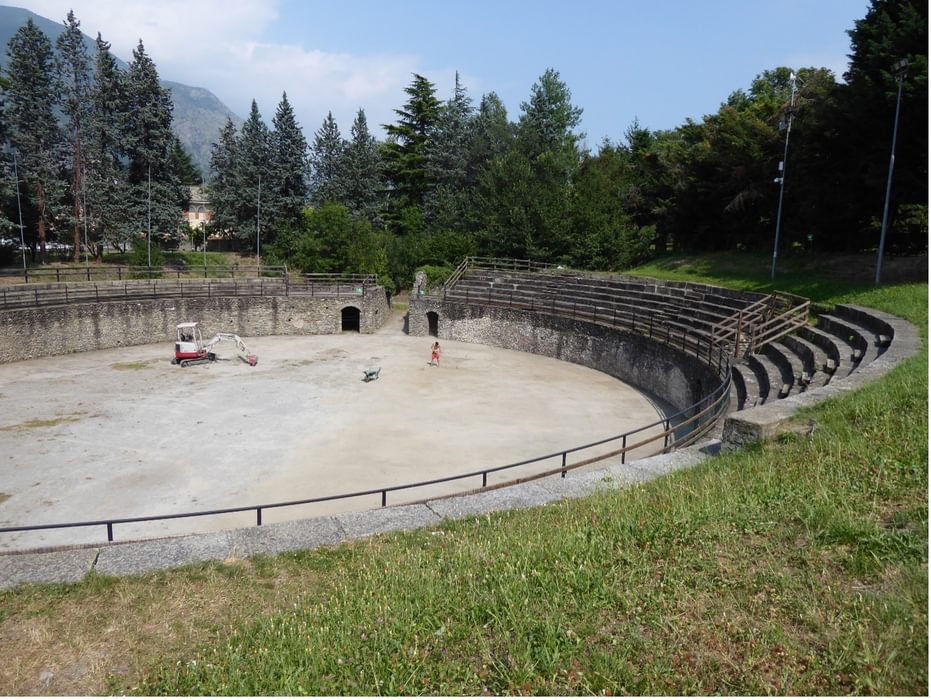 The GTA's remoteness from centres of population is reflected in the nature of the available accommodation, which is plentiful and frequently in dormitories in Italian Alpine Club huts (rifugios) or posto tappa hostels – basic sleeping quarters subsidised by the tourist authorities and managed by a local family. Where my route passed through villages my accommodation was typically in family-run albergos, which reassuringly cost little more than a rifugio with bed, breakfast and evening meal at around 50 euros and wine at 10 euros a litre. They almost always had wifi – other lodgings generally didn't. I usually booked my accommodation two or three days in advance, although it was rarely crowded other than at weekends. Most accommodation had friendly hosts who were happy to show off their limited English and would frequently know all about me via the local bush telegraph before I arrived.
And I never went hungry. The night after I left Susa I found myself in a posto tappa in a working dairy farm with a dormitory and bathroom on the upstairs floor of the farmhouse. On arrival just after lunchtime I was ushered past the farmyard dogs and installed at the kitchen table where I was offered cheese, dried sausage and a large beer with coffee and unlimited grappa to follow. In the evening my hosts planted a two-litre bottle of red wine on the table and told me to help myself. Antipasti came next - plates of sliced dried sausage, various cheeses and chopped tomatoes and peppers. Then a meaty pasta course. And finally a plate of mixed cooked meat, sausages with potatoes. And coffee and more grappa. My total bill for the night was less than 50 euros.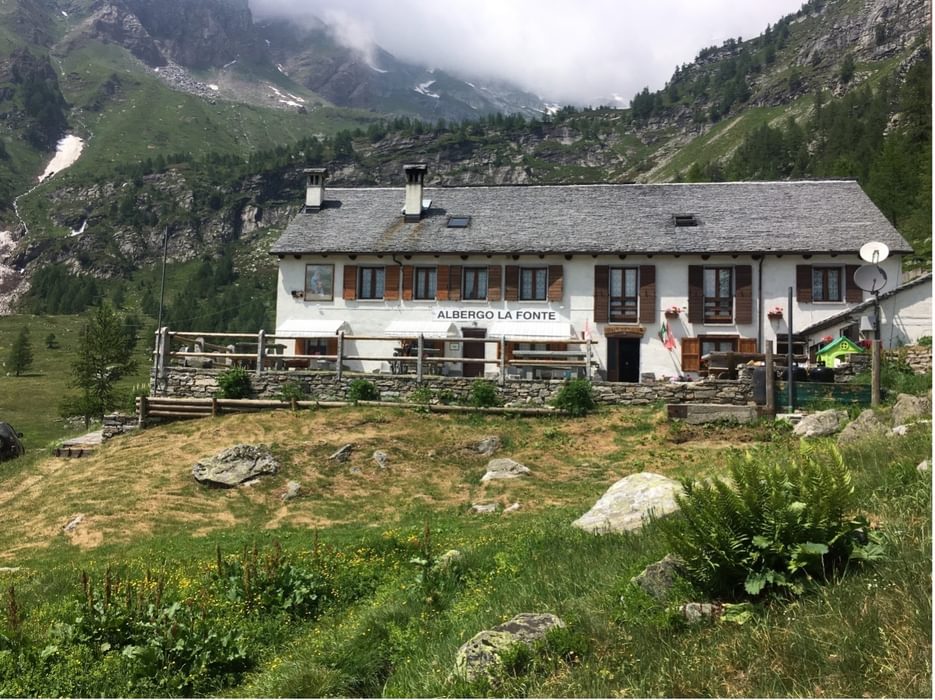 My personal preference is to carry basic bivvy gear on this kind of trek and I used it twice on the GTA. During my first three-week stage I chose to stay at an unstaffed rifugio where a sleeping bag made my night much more comfortable. And in my final stage I discovered at the last minute that a rifugio I had booked had just been closed due to the guardian contracting Covid-19. I slept in the open in my bivvy bag. When I poked my head out in the morning a chamois was picking its way cautiously through a boulder field only a few metres away.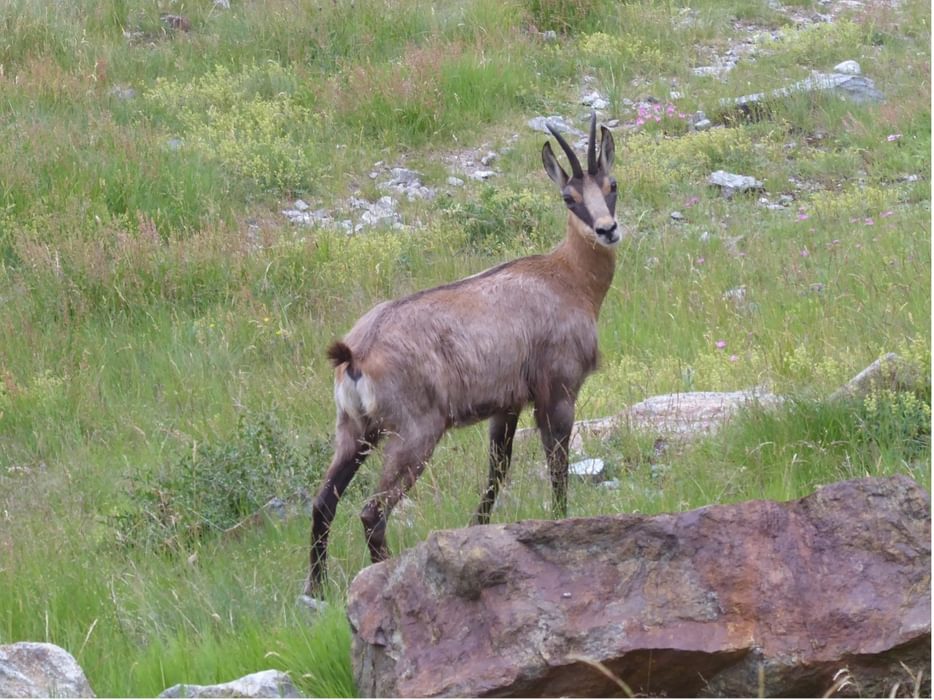 In fact I saw both chamois and ibex frequently during certain parts of the trek, although my most regular (and favourite) wildlife sightings were of marmots.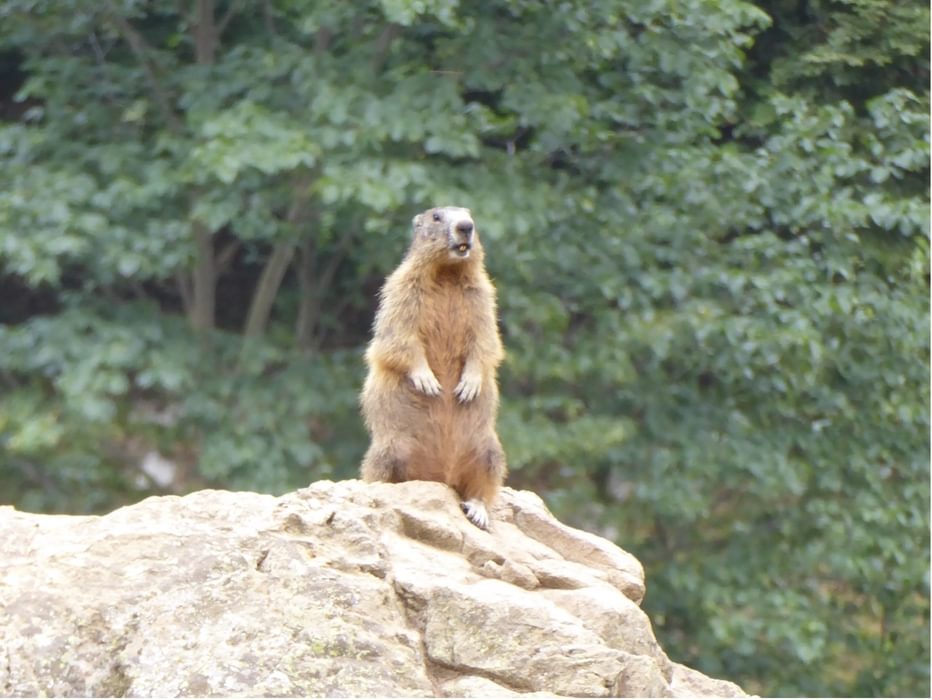 Other prized spots were several black salamanders and one pair of magnificent griffon vultures soaring on thermals. But my more routine encounters were with farm animals. Don't expect to walk the GTA without learning how to bypass cows (and bulls) standing on the path; and how to stand still while being barked at by a patou sheepdog that looks friendly from a distance but less so at a range of three metres with saliva dripping from its huge jaws!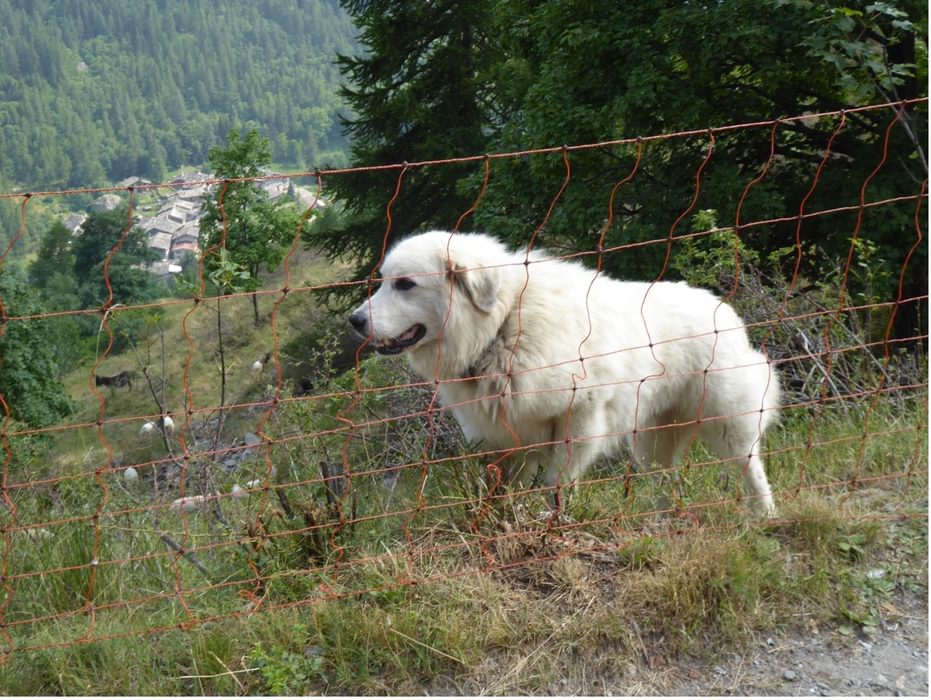 I was generally lucky with the weather with only one really bad episode, at Ghigo di Prali, when I had a freak night and day of torrential rain falling as snow above 2,000m. I delayed my journey by 24 hours, rewarded the following day with a few magical hours walking in sunshine on fresh snow.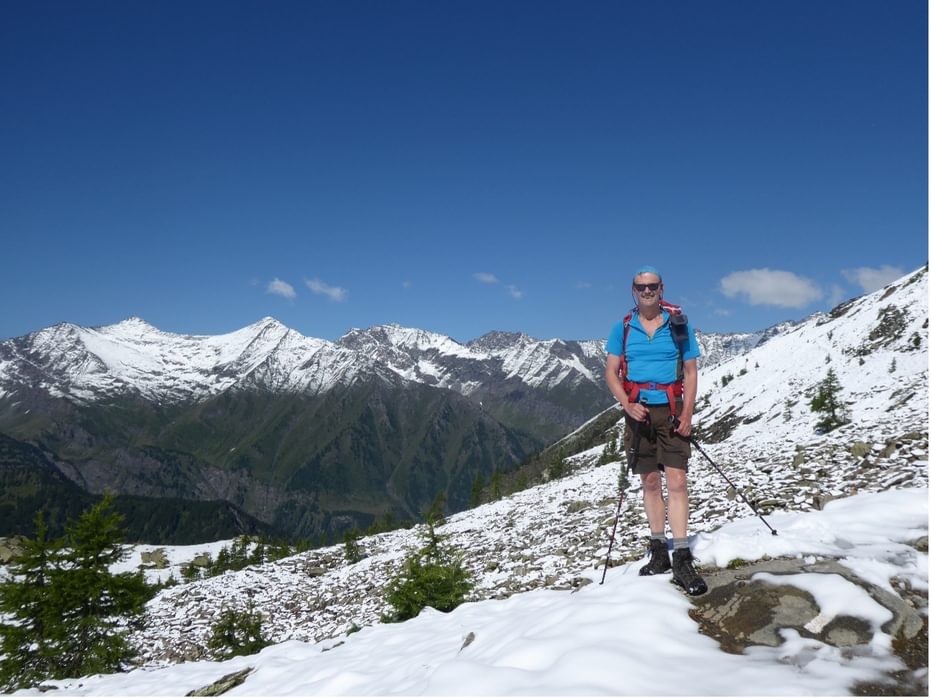 The first three-week stage of my journey concluded at Traversella, just south of Gran Paradiso, and the second at Pontechianale, a loose collection of villages on an ancient pass to France just south of Monte Viso. I chose both because of the quality of their public transport back to Turin. My third stage finished at the sea. On Saturday 23 July 2022, after 62 days of walking, my wild route emerged abruptly and slightly surreally into a smart hillside suburb of Ventimiglia, featuring high fences surrounding expensive houses with electrically-controlled gates. I descended one final hill, navigated a few streets, found a section of public beach, wandered past the sunbathers and dipped my boot in the Mediterranean. It was 1.30pm. A good time to go and find a pasta lunch and a beer. Or two!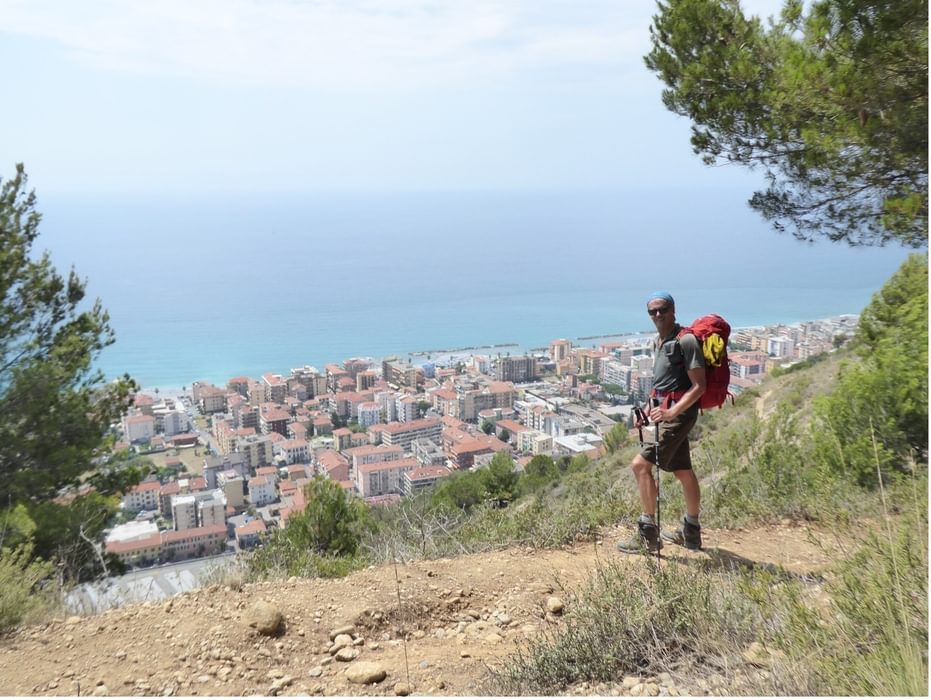 To read more articles like this get our newsletter
Sign up today for a 20% discount on your next purchase. Join over 30,000 enthusiasts from around the world. If you don't love our mix of new books, articles, offers and competitions, you can unsubscribe at any time. We will never spam you, sell your data or send emails from third parties.