The High Mountains of Crete
The White Mountains, Psiloritis and Lassithi Mountains
Guidebook of walking routes in Crete's mountains, covering the Lefka Ori (White Mountains), Mount Ida (the Psiloritis range), the Lassithi mountains and E4 trail. The 87 walks are graded, and range between 2 and 28km with various longer options, covering a multitude of terrains from rugged mountain ridges to forested crags and beaches.
Seasons
In theory year round, but winter really is winter and summer can be very hot indeed. Spring and autumn are the most attractive times.
Centres
Chania, Rethymnon, Heraklion, Hora Sfakion
Difficulty
Graded from A to E, easy to remote and rugged, including many backpacking routes in the high mountains. Managing water supplies is most important.
Must See
In the White Mountains, the famous Samaria Gorge and 12 equally spectacular others. Psiloritis (Mount Ida), the summit of the island in central Crete and Mount Dikti in eastern Crete.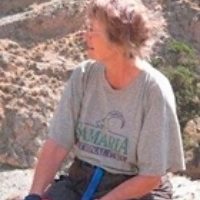 Loraine Wilson
Loraine Wilson is an experienced guide to the White Mountains with over 18 years experience, a wealth of local knowledge and contacts, together with a deep love of the wild landscape and local people. On her returns to England she is an architectural photographer and her photographs are a splendid attraction to this, her first guide.
View Guidebooks by Loraine Wilson