The High Mountains of Crete
The White Mountains, Psiloritis and Lassithi Mountains
Delivery & Returns
Free 1st Class postage on UK orders. European postage is £3 per item. Worldwide postage is £5 per item. If you're not happy with your purchase for any reason, we'll give you a full refund.
More information...
Guidebook of walking routes in Crete's mountains, covering the Lefka Ori (White Mountains), Mount Ida (the Psiloritis range), the Lassithi mountains and E4 trail. The 87 walks are graded, and range between 2 and 28km with various longer options, covering a multitude of terrains from rugged mountain ridges to forested crags and beaches.
Seasons
In theory year round, but winter really is winter and summer can be very hot indeed. Spring and autumn are the most attractive times.
Centres
Chania, Rethymnon, Heraklion, Hora Sfakion
Difficulty
Graded from A to E, easy to remote and rugged, including many backpacking routes in the high mountains. Managing water supplies is most important.
Must See
In the White Mountains, the famous Samaria Gorge and 12 equally spectacular others. Psiloritis (Mount Ida), the summit of the island in central Crete and Mount Dikti in eastern Crete.
Overview

Guidebook to walking and trekking the high mountains of Crete. The largest of the Greek Islands, Crete's mountains provide breathtaking walking and wilderness on this popular island. The routes in this guidebook are graded for difficulty and range from short, easy strolls to challenging, multi-day treks, providing options for all walkers. In addition to a wide selection of walks and trekking routes in the White Mountains (Lefka Ori), this book covers Mount Ida in central Crete and the Lassithi Mountains to the east. The guide includes: Western Crete (53 walks in the White Mountains and on the south coast with 10 multi-day treks; Central Crete (17 walks and treks on Mount Ida and in the Psiloritis range); Eastern Crete (12 walks and treks in the Lassithi Mountains) and coverage of the E4 Trail as well as mapping for every route. The book is packed with practical information on walking in Crete, getting there and getting around and advice on making the most out of exploring the island's mountains. With its dramatic gorges and numerous peaks rising to over 2100m, high mountain plains, forested crags, massive cliffs and remote beaches, Crete offers a wide range of landscapes and challenges for walkers.

Table of Contents

Contents
Introduction
Hillwalking and trekking regions
Plants, trees and flowers
Wildlife and hunting
Getting there
Getting to the trailhead
When to go
Shopping
Accommodation
Insects and other hazards
General information
Water
Types of pathways
What to take
Maps
Emergencies
Using this guide
Part 1 The White Mountains (Lefka Ori)
The Omalos Plain
Walk 1 Around the Omalos Plain
Walk 2 The Gorge of Samaria National Park
Walk 3 The Ascent of Gingilos
Walk 4 Xyloscala to Kallergi Refuge
Walk 5 Kallergi Refuge to Melendaou
Walk 6 Xyloscala to Koustoyerako via Strifomadi
Walk 6A Koustoyerako to Xyloscala via Strifomadi
Walk 7 Omalos to Koustoyerako via Ay. Theodoros chapel
Walk 7A Koustoyerako to Omalos via Ay. Theodoros chapel
Walk 8 Omalos to Ay. Irini Gorge
Walk 9 Ay. Irini Gorge to Souyia
Walk 9A Souyia to Lissos and Paleochora (E4 Trail)
Walk 10 Omalos to Zourva
Walk 10A Zourva to Omalos
Walk 11 Zourva to Meskla
Walk 12 Omalos to Lakki and Meskla
Walk 12A Lakki to Omalos
The Northern Foothills
Walk 13 Kambi to Volikas Refuge
Walk 14 Kambi to Melidoni
Walk 14A Melidoni to Kambi
Walk 15 Kares to Gournes
Walk 16 Melidoni to Fres
Walk 17 Fres to Vrisses
Walk 18 Fres to Vafes via Tzitzifes
Walk 19 Melidoni to Vafes via Vothanas
Walk 19A Vafes to Melidoni via Vothanas
Walk 20 Vafes to Vrisses
Walk 20A Vrisses to Vafes
Walk 21 Vafes to Askifou
The Askifou Plain
Walk 22 Around the Plain
Walk 23 Askifou to Imbros
Walk 24 The Imbros Gorge
Walk 25 Kommitades to Hora Sfakion
Walk 26 The Asfendou Gorge from Askifou
Walk 27 Askifou-Goni to Kallikratis
Walk 28 The Kallikratis Gorge
Walk 29 Askifou-Ammoudari to Niato (E4 Trail)
Walk 30 The Ascent of Kastro
Walk 31 Askifou to Imbros via Trikoukia
Walk 32 Askifou to Anopolis (or Hora Sfakion) via Kali Lakki
Walk 33 Askifou to Vafes
Walk 34 Krappis to Lake Kourna
Anopolis
Walk 35 Anopolis to Loutro
Walk 36 Kambia to Loutro
Walk 37 Kambia to Anopolis or Ay. Ekaterini
Walk 38 Kambia to Hora Sfakion
Walk 39 Anopolis to Aradena
Walk 39A The Aradena Gorge
Walk 40 Aradena to Ay. loannis and Sellouda
Walk 41 Aradena to Ay. Roumeli via Sellouda
Walk 42 The Aradena Forest and Kroussia
Walk 43 Anopolis to Askifou via Kali Lakki
The south coast of Sfakia
Walk 44 Hora Sfakion to Loutro (E4 Trail)
Walk 45 Hora Sfakion to Anopolis
Walk 46 Hora Sfakion to Mouri
Walk 47 Loutro to Livaniana and beyond
Walk 48 Loutro to Ay. Roumeli (E4 Trail)
Walk 49 The Gorge of Samaria National Park
Walk 50 Around Ay. Roumeli
Walk 51 The Eligias Gorge, Angelokampi and Turkish forts
Walk 52 Ay. Roumeli to Anopolis via Sellouda
Mountain treks
Trek 1 Theriso to Livada via Kolokithas
Trek 1A Livada to Theriso
Trek 2 Kambi to Livada via Volikas EOS Refuge
Trek 2A Livada to Kambi
Trek 3 Askifou to Livada via Niato and Grias Soros (E4 Trail)
Trek 3A Livada to Niato and Askifou (E4 Trail)
Trek 4 Livada to Katsiveli (E4 Trail)
Trek 4A Katsiveli to Livada (E4 Trail)
Trek 5 Katsiveli to Potamos (E4 Trail)
Trek 5A Potamos to Katsiveli
Trek 6 Omalos (or Kallergi Refuge) to Potamos (and Katsiveli) via Melendaou (E4 Trail)
Trek 6A Potamos to Kallergi Refuge (E4 Trail)
Trek 7 Potamos to Ay. Ioannis via Zaranokefala
Trek 7A Ay. Ioannis to Potamos via Zaranokefala
Trek 8 Anopolis to Katsiveli
Trek 8A Katsiveli to Anopolis
The Ascent of Pachnes
Trek 9 Roussies to Pachnes summit
Trek 9A Pachnes summit to Katsiveli
Trek 9B Katsiveli to Pachnes summit
The south coast
Trek 10 Ay. Roumeli to Souyia (E4 Trail)
Trek 10A Souyia to Ay. Roumeli (E4 Trail)
Part 2 Psiloritis (Mount Ida)
Walks and treks from trailheads of the foothills
Walk P1 Anoyeia to the Nida taverna
Walk P2 Zaros to Ay. Ioannis Rouvas chapel via the Rouvas Gorge
Walk P3 Ay. Ioannis chapel to the Nida Plain (E4 Trail)
Walk P4 Kamares to the Kamares Cave
Walk P5 Kamares Cave to the Nida Plain
Walk P6 Kamares to the summit of Mount Ida
Walk P7 The Arcadi monastery to Aravanes Kampos
Walk P8 Aravanes Kampos to the Nida Plain
Walk P9 Lakkos Mygerou (Livadia) to summit of Mount Ida
Walk P10 Aravanes Kampos to Toubotos Prinos EOS Refuge
Walk P11 The Amari Valley: Fourfouras and Kouroutes
Walks and treks from trailheads on the Nida Plain
Walk P12 Nida to the summit of Mount Ida (E4 Trail)
Walk P13 Summit of Mount Ida: descent to Kamares
Walk P14 Nida to Anoyeia on the E4 Trail
Walk P14A Nida to Anoyeia on Old Droving Trail
Walk P15 Nida to Ay. Ioannis chapel (E4 Trail)
Walk P16 Nida to Kamares via Kamares Cave
Walk P17 Nida to the Arcadi monastery
Part 3 The Lassithi (Dikti) Mountains
Walk L1 Kastamonitsa to Ay. Georgios (E4 Trail)
Walk L2 Ay. Georgios to Tzermiado
Walk L2A Tzermiado to Ay. Georgios
Walk L3 Tzermiado to Karphi and back
Walk L4 Ay. Georgios to the Katharo Plain and back
Walk L5 Ay. Georgios (for Mt Dikti summit) to Selakano (E4 Trail)
Walk L5A Selakano to Ay. Georgios (E4 Trail)
Walk L6 Selakano to the Katharo Plain (for Lassithi or Kritsa)
Walk L6A Katharo Plain via south rim road to Selakano
Walk L7 Katharo Plain to Kritsa (for Ay. Nikolaos)
Walk L7A Kritsa to the Katharo Plain
Walk L8 Magoulas to Xeniakos and Ano Viannos

Appendix A Route summary table
Appendix B Glossary
Appendix C Further reading
Appendix D Useful contacts
Appendix E Index of maps


Updates

October 2019

Walk 32 page 160.

Blue paragraph. The Sfakiano gorge from Trikoukia (not walked by author). At the chapel, which is about 400m down towards the bed of the gorge, there is now a water trough presumably fed by hosepipe from a small spring. (Peter Lang 2018 (see appendix))

October 2019

Walk 15 page 119

The footpath route up the mountainside east of the ravine is now waymarked throughout with red dots.

(Geoffrey Payne, 2019)

December 2018

Route update

Page 30. Left Luggage lockers at Chania bus station are electronically timed and take coins only. The Internet Corner facility is now closed.
Page 37. (third paragraph). Anavasi walking maps are stocked by the 'Survival' equipment shop, which is almost opposite Karistiyannis corner shop in Skalidi street.
Page 61. Revised maps 2016. Anavasi has revised and updated all the maps listed on page 61. Check their website, or that of e.g. Stanfords, for availability. Where non-standard scales are used on a paper map, in order to encompass wider coverage, a marked-up length of cord is useful for measuring distances.
Page 73. The Gorge of Samaria.

2017, the gorge ticket kiosk operated near the entrance to the Forestry Service Natural History Museum, beside Xyloscala car park. In 2018, the kiosk opened again at the entrance to the gorge.
LUGGAGE TRANSFERS. The Neos Omalos Hotel (and perhaps others at 'Omalos hotels' hamlet) offer luggage transfers to Ay. Roumeli for guests walking the gorge with a daysack only. Main luggage is labelled with the name of clients' accommodation in Ay. Roumeli, driven down to Souyia ferryboat pier and loaded onto the morning ferry to Ay. Roumeli where, notified in advance, relevant landlords collect it. This service costs E50 per truck (check) that is driving down to Souyia. For Walk 48, the coastal walk between Ay. Roumeli and Loutro, it is also possible to arrange main luggage transfers using the same formula. Enquire with your landlord.
Those who walk down the gorge after parking their hired cars at Xyloscala can return there in the evening by taking the ferryboat
Ay. Roumeli to Souyia and then the KTEL Souyia – Chania bus (departing about 18.15) which calls at Xyloscala before continuing on to 'Omalos Hotels' and Chania (2 hours). In the autumn the long return uphill return bus journey from Souyia is done in the dark so there are no views to be seen.
Pages 89 – 90 : Walks between Omalos and Souyia.

General Information: Although it is an increasingly popular resort, Souyia has very few taxis. Therefore, on the descent from Omalos (Walks 6 & 7)) expect to continue the walk down from Koustoyerako, or up from Souyia (Walk 6A &7A) if walking the route in reverse. Koustoyerako has a new (probably seasonal) kafeneon, about 100m from the plateia, along the dirt road leading south to the 'radio' masts sited high on the coastal escarpment above Souyia.
A circular day-walk from Souyia is now an option, such as up from the E4 coastal trail to the masts, along to the kafeneon, and then return via the Koustoyerako old mule track and the Livadas road.

P. 85 – 93. Walks 6 and 7. Koustoyerako to Souyia
The shortest walking route Koustoyerako down to Souyia (1hr 50 mins) goes via the old mule track to Livadas, a distance of 800m (30 mins) as against tramping 2km downhill on the main road between the two villages. Either choice offers tremendous views. The mule track starts alongside the closed kafeneon in the plateia, and loses height rapidly through shady olive groves and woodland. A huge crag marks the limit of village orchards. There are two 'gates' to open here, the second one giving access to the remaining section of the route (cleared 2017) and easy to follow. A surviving cobbled section joins the main road and from there turn left for Souyia (5km). Follow this main road downhill as far as a T-junction with a dirt road heading slightly uphill, and then downhill for Souyia. At first, after passing between two crags, you have the option of bearing left on a newer road. This traverses the mountainside to join another dirt road – the E4 Trail – where you turn downhill for Souyia, or eastwards for the Tripiti gorge and Ay. Roumeli.

For the longer route (3 hours) via the 'radio' masts, note a National Park information panel with a sketch map beside the closed kafeneon. As the southwards track nears the masts a waymarked footpath leads off it, SE, down the escarpment to join the E4 coastal trail. A steeper, rocky route, straight down from the masts is marked with cairns and dots but it is not used by commercial walking groups.
Walks 6A and 7A. Souyia to Koustoyerako.

Note: original route notes p. 90 are obsolete.
At the north end of the riverside promenade, cross the river bed on a car track that leads to the concrete-surfaced minor road to Livadas village. (bear Right at the first dirt-road junction off this road, Altitude 80m, for the E4 Trail coastal route). The road winds steeply up the hillside which is securely fenced off into various goat-grazing territories. Beyond a complex of stone-clad villas, it rounds a crag and levels off. Pass a Y-junction with a newer dirt road. This leads back across the mountainside and joins the E4 Trail at Alt300m.

Keep straight on for the main road up to Livadas, a linear village perched on the steep hillside. Houses above the road are in woodland but an obviously cherished well-kept church is sited below the road, beside a shelter canopy and a spring (said to be good mountain water). Further on, the terrace of the old school house, long closed, makes a poignant but pleasant picnic spot. After passing the last outlying hamlet, on a spur below the road, note the built ramp of a cobbled mule track. This is the footpath short cut (of 800m) uphill to Koustoyerako. It is waymarked and easy to follow until just before you reach the outskirts of the village. Here, open the 'gate' in a fence which marks the boundary of village orchards and vegetable gardens. The path continues up under a huge crag and alongside a terrace retaining wall. Koustoyerako plateia features a large monument to an early revolutionary against Venetian rule. Two WWII memorials also feature in or near the village. Across from the old kafeneon (closed) an E4 Information panel directs you uphill to the Omalos via Olisma (Walk 7A or 6A). There is a wash-board sink and tap further up the track. (The former short cut footpath is overgrown and disused.)
Page 144. Walk 24. The Imbros Gorge – Kommitades to Hora Sfakion.

The short cut overland route to Hora Sfakion upper village from the Sfakiano gorge is lately fenced off (May 2017, reported to author). There is no 'gate' in the fence and it is guarded by dogs. This unfortunate development may be due to the threat of stock rustling from the nearby main road. Walkers from the Imbros gorge (or Sfakiano gorge) heading for Hora Sfakion via the Byzantine Chapel and old village are now obliged to miss these features and tramp yet more of the main road. An option in the afternoon is to catch (at about 15.30) the Chania-Anopolis bus at the Hora Sfakion /Kommitades main road junction, marked by an isolated Taverna.

Page 160. Walk 32. Blue Paragraph. The Sfakiano gorge (not walked by author). Petr Lang (see appendix p. 392) reports (May 2017) that there is a water trough fed by a lastico pipe near to the chapel on the route down to the gorge bed.
Page 175. Facilities at Anopolis.

At Kambia the formerly named Tria Adelphia Rooms/Taverna (known locally as 'Stelios and Antonia") is now closed and replaced by Madares Apartments - four self-catering flats partly aimed at Hired-Car tourers. The nearby (5 mins walk) Panorama Rooms/Kafeneon offers simple meals, including breakfast, to non-residents and passers-by.

There is now a supermarket in Anopolis plateia. It has long opening hours and as with all village shops its stock expands during the tourist season.
P. 210. Around Ay. Roumeli.
The old 1920s school house houses a Forestry Service museum informing on the geology of the gorges of Crete. It apparently opens at the inconvenient time of 13.00 – 15.00, closed Mondays, but this depends on the availability of staff. Further enquiries: Stelios at Pachnes taverna/rooms.
P. 211 Walk 50. optional ascent of Papoures (Alt.983m) from the Turkish fort. From the fort (200m) continue the climb, steeply up the spur to reach the ruin of what may have been a small look-out shelter or signalling post (500m). The path is waymarked (2017) with blue dots and cairns – although these can suffer from winter storms which batter the escarpment. Above the look-out post, pass a gully and then, above the pine forest, reach a bare hillside. About 100m further on note a ruined goatherd's shelter where waymarking ends. Here, turn up right, N, and climb to a saddle with large cypress trees where you turn NE across easy terrain for the summit. Total ascent time from the look-out post about 40mins. Return down the same way.
p. 212 Walk 51. The Eligas Gorge

Since the Chania EOS installed assistance ropes (reported sound, Oct 2018) on the rock scrambling sections of this 'difficult' route between the Potamos valley in the Madares, and Skonyari beach (for Ay.Roumeli), this gorge has become more frequented by mountain trekkers. In addition, from Fliskounyas, a short-cut traverse up through the crags to the Kormoukopos cave and Ay. Ioannis gives another option for experienced rock scramblers only (no assistance ropes). Note: the only walkers' route up the escarpment to Ay. Ioannis from this direction is via the Sellouda mule track, Walk 52.
However the original notes p.213 are out of date. Presumably due to the rapid thaw of heavy snowfall, vastly increased natural erosion has obliterated the formerly steep but relatively 'easy' trail above Fliskounyas up to (and beyond) the smooth 'waterfall' section mentioned in the notes. Huge rock falls, displaced boulders, and yet more fallen trees now make this section very strenuous and time-consuming both in the uphill or downhill direction. The wider part of the gorge below Fliskounyas remains the same and so the return 'daywalk' from Ay.Roumeli now ends there – or by diverting up to Angelokampi to see the view.
p. 213. Angelokampi, the cistern and Turkish forts. (2017).

About 40 mins. from the entrance to the Eligas gorge, pass an indistinct Y-junction of paths on the stony trail, marked with cairns. The left hand option is a newly formed path leading directly to the start of the Angelokampi kalderimi (mule track), west side of the gorge. However, this new path is steep and it is better to continue up the main trail for another 10 minutes or so to where a stone-built goat fold is seen over on the left. This marks a cave, a goatherds' shelter, long disused. A small seepage of stagnant water makes it a habitat for biting insects. For the mule track climb up on the left side of the cave and follow an almost level path SW and then NW. as it heads for the cliff-face and the start of the kalderimi. (The steep new path joins this path). From the foot of the zig zagging kalderimi it is about 15mins to the cistern/seepage well, sited on top of a spur (views). You need a long line to draw up this water (see page 46). The old mule track then doubles back into a large gully running down from the top of the forested ridge high above. Follow this path around and up to the boundary wall of Angelokampi. Currently (2017) a bare wooden pole is fixed in the wall, making a useful marker on the return route. There are no particular paths across this spurge-covered hillside which, at first, is free of pine trees. For the old ruin at the cliff edge (perhaps also once a small fort) ascend the hillside SW and then, more steeply up NW, to reach the ruin after about 15mins. Note this direction for your return as the boundary wall cannot be seen from the ruin.

Continue up alongside the cliff edge to Alt. 350m for a stupendous view down to the coast. Domestic goats long gone, there is also no particular path up through the pine forest to the top of the ridge and the Turkish forts but the general consensus is that the easiest option is to tackle the climb diagonally NW uphill from the ruin. Return down the same way. Alternatively, local advice dated 1990s was that the climb is best tackled by going straight up from the Angelokampi boundary wall. It is also possible to descend from the forts by making your way down the gully near the cistern.

Page 262. Trek 10. Blue paragraph: The cistern above Domata beach has been repaired by EOS work parties and now holds water. Use purification kit as the run-in allows stagnant water into the cistern.

Reviews

We do not yet have any reviews for this book

If you would like to send us a review then please use our contact form. They will be published here shortly.

Downloads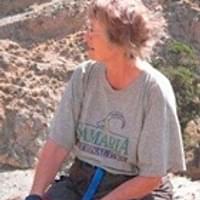 Loraine Wilson
Loraine Wilson was an experienced guide to the White Mountains with over 18 years' experience, a wealth of local knowledge and contacts, together with a deep love of the wild landscape and local people. She was also an architectural photographer and her photographs were a splendid attraction in her guidebook. Sadly, Loraine passed away in 2020.
View author profile