The Way of St Francis
Via di Francesco: From Florence to Assisi and Rome
Guidebook to walking the Way of St Francis, Via di Francesco. 550km pilgrimage from Florence, through Assisi to Rome through Central Italy visiting key sites from the saint's life. Described in 28 stages, the guide to the month-long route includes detailed maps, profiles and information about all the shrines, churches and towns along the way.
Seasons
Spring, summer and fall. Winters are possible, too, except for higher elevations where snow is not uncommon.
Centres
Florence, Camaldoli, Santuario della Verna, Cittá di Castello, Gubbio, Assisi, Spello, Spoleto, Cascata delle Marmore, Rieti, Rome.
Difficulty
Some steep climbs and descents, but no special gear required. All walks are graded either "Easy", "Moderate", or "Hard".
Must See
Renaissance Florence, the dark and lovely Casentino National Forest, the active hermitage of Camaldoli, St. Francis' beloved Santuario della Verna, historic Gubbio, beloved and beautiful Assisi, charming Spoleto, Marmore Falls. The walk is sprinkled with sacred sites from the life of St. Francis and culminates in the Eternal City of Rome.
Overview

Table of Contents

Updates

Reviews

Where to Buy

Downloads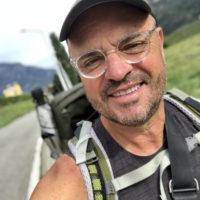 Sandy Brown (Rev)
Sanford 'Sandy' Brown is an activist, long-distance walker and ordained minister from Seattle, Washington. After reading 'The Pilgrimage', by Paolo Coelho, he planned his first trek on the Camino de Santiago and since then has walked over 3500 kilometres on pilgrim trails in Spain and Italy. He records his pilgrim adventures in his popular blog, www.caminoist.org.
View author profile