The Way Of St Francis – enjoy a pilgrim's progress in Umbria
Sandy Brown's Cicerone guide to The Way of St Francis, takes you through the 550 km pilgrimage route from Florence to Rome, via Assisi. For most of the walk, you will be exploring Umbria, justifiably known as the green heart of Italy.
Cicerone joined Umbria's Regional and Economic Development Agency at an event in Foyles bookshop, to launch Cicerone's new guide to The Way of St Francis, by Sandy Brown. Presentations were made to over sixty attendees by Jonathan Williams of Cicerone, Sandy Brown, Mons. Paolo Giulietti President of the Consortium "Umbria & Francesco's Ways", and Don Paolo Giulietti, Bishop of Perugia and Responsible for the St.Francis' Way Consortium.
The article below is compiled from contributions from three students from the Press Association who attended the event, as well as extracts from the introduction to the book.
The meditative sound of footsteps falling, crisp mountain air and green all the way to the horizon, space to be in the moment and think about the big beyond.
You are on a spiritual journey, exploring the world that is Umbria, but also finding yourself.
Following in St Francis' footsteps is getting to know the man behind the stories.
St Francis rejected the wealth he was born into to lead a life of simplicity and compassion.
They say all roads lead to Rome and The Way Of St Francis is no exception; the pilgrimage starts conveniently in the city of Florence and finishes at St. Peter's in Rome.
The modern Way of St Francis connects places and paths important in the life of this beloved saint and makes them available to pilgrim walkers who seek to retrace his steps and capture his love of this land. Indeed, the ministry of Francis of Assisi began with a walk – in 1209 when he and his friends walked from Assisi to Rome to meet Pope Innocent III. His travels north of Assisi and in Tuscany inspire stories told to this day. He loved to visit in the Holy Valley of Rieti for rest and prayer. The Way of St Francis links these travels and destinations into a month-long walk that even after many centuries echoes with his presence.
Sandy Brown's guide to The Way of St Francis, takes you through the 550 km pilgrimage route from Florence to Rome, via Assisi. Francesco pilgrim routes have developed over countless years, many beginning at La Verna and following a similar route to Assisi and then on to Rome, usually via Poggio Bustone. For all its significance in the life of St Francis, the La Verna sanctuary is relatively inaccessible, and best approached on foot, so the idea of the route taken in the Cicerone guide is to start in the beautiful city of Florence, itself with strong associations with St Francis, and to join with the other routes at La Verna, then on to Assisi and Rome.
For most of the walk, you will be exploring Umbria, justifiably known as 'the green heart of Italy'. Pass through forested hillsides, olive groves, bright fields of sunflowers and regimented vineyards, walking on ancient tracks and paths used over many millennia.
If the mountains of Umbria, Tuscany and Lazio could speak of all that has happened in their shadow. Every day of this walk brings evidence of another historic episode to see and touch: an Umbrian archway, a Roman road, a papal castle, a monument to soldiers lost in a war, a gleaming new European Union highway.
Sandy's impressions on arriving in Rome With your pack on your back you have rounded the last bend of the Tiber River. You have walked past the looming brown hulk of Castel Sant'Angelo, past some offices and stores and, with 140 stern, saintly and stony witnesses watching from the colonnade above, you have stepped out of Italy and into bustling Saint Peter's Square. This is holy ground, the Vatican City – for many the center of the world. After many days of walking you should be exhausted, but instead you're exhilarated. Before you is Michelangelo's spectacular dome, soaring over the tomb of St Peter. To your upper right is the Pope's balcony where he speaks to tens of thousands of the assembled faithful.
Around you are pilgrims from all over the world, here like you to experience the drama and grandeur of this place. They came in a bus or train or car; but like millions of pilgrims from centuries past who spent weeks or months getting to this very place, you walked. You feel your arrival in a joyful heart, but also you feel it in your bones and muscles and on the soles of your weary feet. You take off your pack to rest your back after a journey of many kilometers, and with a mixture of relief and joy you think back over your amazing pilgrimage – the Way of St Francis.
The Way of St Francis lays Central Italy at your feet and dares you not to love it. When you finally arrive in Rome and walk past the Swiss Guard to hand your credential to the man at the desk deep inside the Vatican walls, and are given your completion certificate − your testimonium − your sense of accomplishment will be well-earned, having just completed one of the world's greatest pilgrimages.
Thanks to Camilla Ker, Christine Dawson and Alicia Watts – students of the Press Association for their contributions.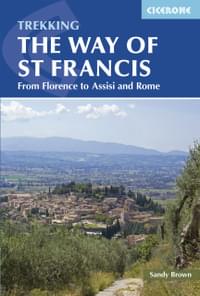 The Way of St Francis
Via di Francesco: From Florence to Assisi and Rome
£16.95
Guidebook to walking the Way of St Francis, Via di Francesco. 550km pilgrimage from Florence, through Assisi to Rome through Central Italy visiting key sites from the saint's life. Described in 28 stages, the guide to the month-long route includes detailed maps, profiles and information about all the shrines, churches and towns along the way.
More information
To read more articles like this get our newsletter
Sign up today for a 20% discount on your next purchase. Join over 30,000 enthusiasts from around the world. If you don't love our mix of new books, articles, offers and competitions, you can unsubscribe at any time. We will never spam you, sell your data or send emails from third parties.