Trekking in Mallorca – GR221 The Drystone Route – Sample route
Paddy Dillon's new edition of the Trekking in Mallorca guidebook is available now. The route description has been fully updated and includes new and improved mapping. Here we give you section from the introduction and a sample stage from the hike to give you an idea of what's inside the new book.
Introduction
Mallorca is the largest of the Balearic Islands, basking in sunny splendour in the Mediterranean between Spain and Algeria. It has been a favourite destination for sun-starved northern Europeans for many decades. While beach holidays remain popular, more and more visitors seek the quieter pleasures of rural Mallorca, especially taking opportunities to explore the island's most rugged mountain range, the Serra de Tramuntana.

In the high mountains there is more shade among the evergreen oak and pines, with cooling breezes to temper the heat of the sun. Away from the bustling resorts the pace of life in the mountain villages is more sedate and relaxing. Almond trees burst into blossom, oranges ripen in the sun and vineyards yield heavy bunches of grapes. Kid goats bleat plaintively, often unseen among the undergrowth, while bongling bells alert shepherds to the location of their free-range sheep and cattle. Every so often, emerging from the forests, walkers discover the sun-scorched façades of palatial country mansions, wayside ermitas and little casetas. In a sense, the visitor who is prepared to walk can forget everything they've ever heard about Mallorca and start afresh by making new discoveries every day, around every corner.
As walking became more and more popular over the years and guidebooks proliferated in many languages, the island authorities began to purchase some extensive rural estates, protecting them from development and marking paths and tracks for walkers. It was only a matter of time before they turned their attention to the creation of a long-distance walking route.
GR221 – Ruta de Pedra en Sec
The GR221 is also known as the Ruta de Pedra en Sec, or the Drystone Route. It was created by the Consell de Mallorca, or more specifically the Department de Natura i Medi Ambient, with input from local councils. While the eastern and central parts are well-signposted and fully waymarked, there is still some work to be done on the western parts, as well as on some of the alternative routes. Some old paths high in the mountains have been completely rebuilt at considerable expense, and one very popular path is protected along with its landscape as a site of cultural interest. The main route measures around 140km (87 miles) and is split into ten daily stages in this guidebook. However, there are half a dozen major variant routes, allowing several alternative start and finish points.
Most of the GR221 has been signposted and waymarked
Port D'Andratx
Port d'Andratx is busy with tourists and has a well-stocked marina, but it still maintains a small fishing fleet, with nets and ropes strewn around. Boats unload their catches and fish are sold from a shop on the harbourside. The village lies at the head of a bay surrounded by forested hills, with the distant peaks of Mola de s'Esclop and Puig de Galatzó in sight. Head inland to find old buildings and narrow streets clustered around the church of Nostra Senyora del Carme.
A good range of services includes hotels, banks with ATMs, a post office, plenty of shops and far too many estate agents. The sea front boasts a long line of busy bars and restaurants, naturally featuring fish dishes, along with plenty of cosmopolitan choices. Bus 102 links Port d'Andratx with Palma, while bus 100 runs ahead to s'Arracó and Sant Elm. Taxis are also available. Ferries occasionally sail between Port d'Andratx and Sant Elm, offering visits to the island of sa Dragonera. A tourist information office stands on the harbourside, tel 971 671300.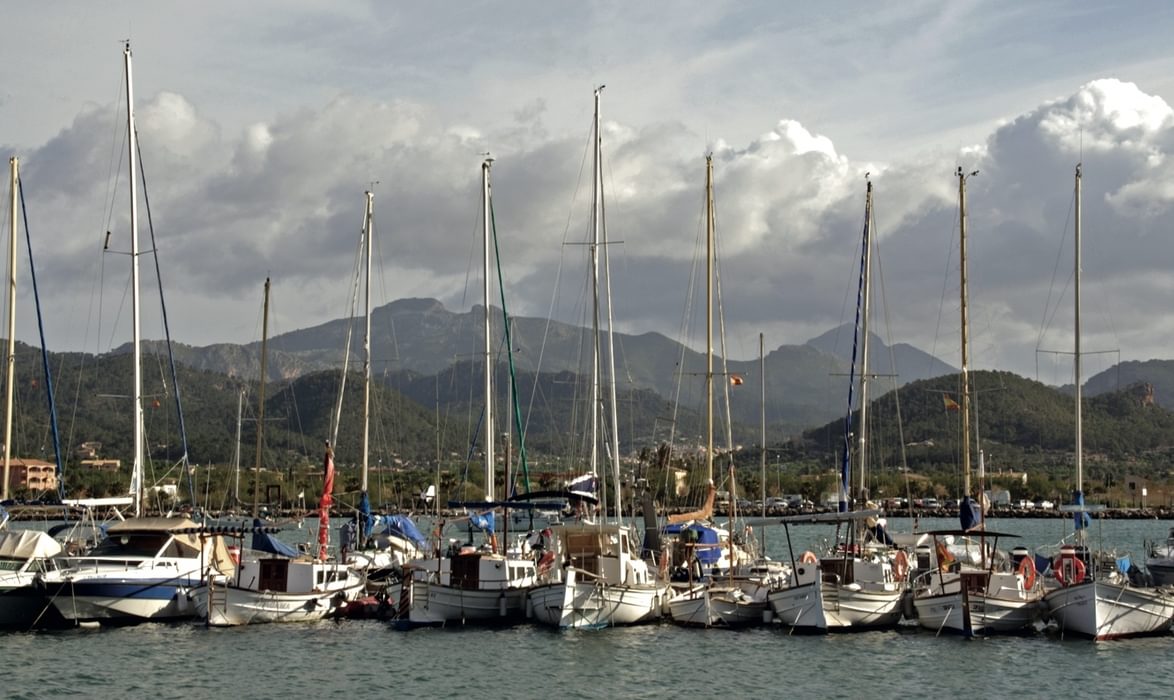 Leave the head of the bay at Port d'Andratx by crossing a humped footbridge over a river at s'Aulet. Follow a broad palm-fringed promenade past the Club de Vela boatyard and a marina. Turn right as signposted for Mon Port, up Carretera Aldea Blanca. Turn left at a crossroads along Carrer de Cala d'Egos, again signposted for Mon Port. Keep right when the road forks, as left leads to the Mon Port Hotel and a striking windmill.
Pass old olive terraces and avoid a road climbing steeply on the right, rising gently into pine forest instead. Watch for a steep and stony path on the right, often worn to bedrock. The road could be followed uphill, but it is very convoluted. The path climbs straight uphill, clipping three bends on the road.Take care at weekends, when mountain bikers tend to hurtle down the path, making the road a safer option. It is possible to switch between the road and the path at all three bends, as well as one more time where the path and road cross each other. The path finally reaches a track junction on the gap of Coll des Vent, at 163m (535ft). There are a couple of ruined limekilns nearby and views back to Port d'Andratx.
Turn left to follow a track away from the gap, keeping right at two junctions that appear soon afterwards. The track runs gradually downhill on a forested slope, reaching another junction around 110m (360ft). Keep right again, but note that a left turn leads down to a rugged little beach at Cala d'Egos. Follow the track uphill, climbing steeply at times, and keep left at a junction where there is a sitja. When a higher junction is reached below Puig d'en Ric, turn left to climb further, passing back and forth beneath a pylon line. Cross a high crest where there is a view north-east to Mola de s'Esclop; the mountain rising beyond the village of s'Arracó.
Follow the track towards a prominent red and white mast, but pass below it, rather than climbing to it. Watch carefully for a series of vague paths on the right, mostly marked with little cairns. All of these lead up to a rocky crest touching 300m (985ft).
Ascent of Pintal Vermell
1km (½ mile) there-and-back – 30m (100ft) ascent/descent – 30min
It is worth staying on the track, descending gently then climbing steeply a short way. It ends just below a trig point on Pintal Vermell, at 312m (1024ft). Enjoy splendid views to the island of sa Dragonera, Sant Elm and the mountains beyond, then double back along the track and turn left up one of the cairned paths to cross the rocky crest.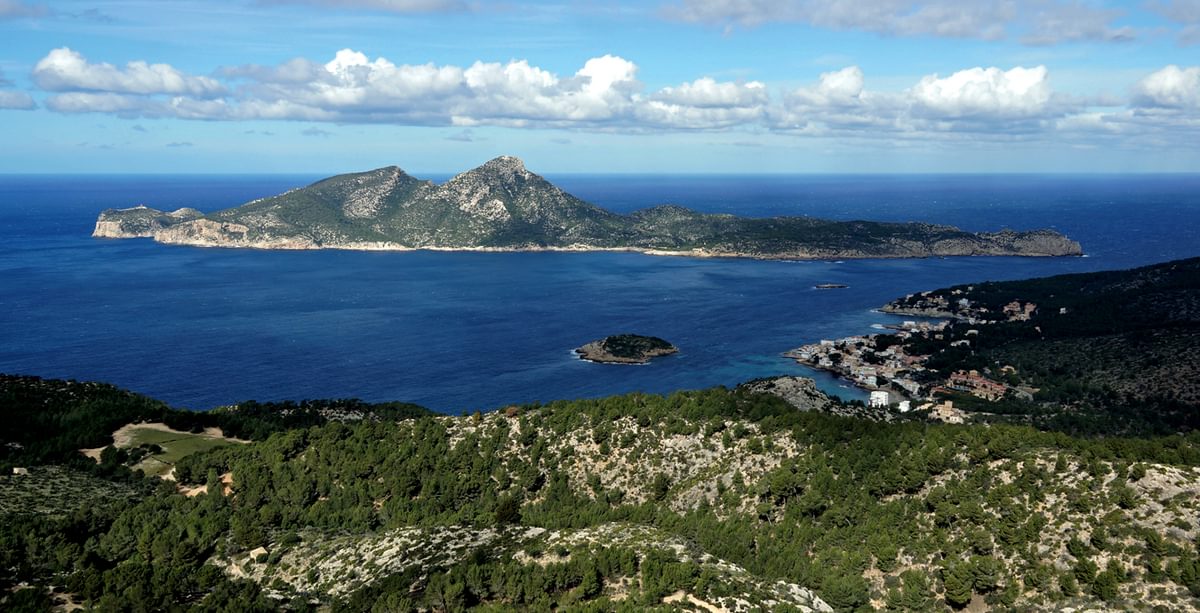 Scout around to find a fine mountain path called Pas Vermell, which cuts across a natural breach, easily avoiding fearsome overhanging cliffs. The path then drops through a well-worn groove, passing pines and càrritx to reach a track. Turning right down the track leads to a road, which in turn leads to the village of s'Arracó.
Turn left and follow the bendy track down into a forest. Stay on the main track, passing a junction on a pronounced hairpin bend. When another junction is reached, spot 'S Elm' painted on a rock, indicating a right turn. After a steeper descent among taller pines, there are three opportunities to turn right in close succession. Take the last of these, which should be marked by a small cairn and paint marks. Quickly turn left and a cable should be stretched across the track to exclude vehicles. Rise gently along the track to reach a little house called sa Pineta.
Continue down past small fields, and the track is later patched with concrete, with fine views of sa Dragonera and Sant Elm. Pass a chain, continue down to a junction and turn right along a forest track. Emerge into a field and turn left along a path, then go through a gap in a wall, briefly back into forest. Cross a road at the gateway to Castell de Sant Elm, also known as the Torre de Sant Elm. Continue along a track and turn left down a flight of 50 concrete steps. Turn right along a road, passing the Hotel Aquamarin to reach a road junction and bus stop beside a sandy beach. Look out to the little island of Pantaleu, with the larger sa Dragonera beyond.
Turn left and follow the pedestrianised, brick-paved Avinguda Jaume I all the way through Sant Elm. Either continue straight to a bus stop on Plaça de na Caragola, or keep left towards the end, passing above the ferry landing before reaching the bus stop.
This popular little village of Sant Elm might have become a large resort but for its proximity to sa Dragonera. When the island was given special protection in 1995, the coastline north of Sant Elm was protected from development. The Torre de Sant Elm stands above the village and is floodlit at night. There is a small range of services, including a hotel, hostal, bank with ATM, bars, restaurants and shops. A tourist information office is available, tel 971 239205. Bus 100 links with s'Arracó and Port d'Andratx, and there are also taxis.
Sa Dragonera
This rugged island is historically important, being where Jaume I prepared for the Conquest of Mallorca in 1229. The Parc Natural de sa Dragonera is a strictly controlled nature reserve, with special emphasis on the bird-life and endemic plants of the island. The information centre in Sant Elm offers advice in advance of a visit. La Margarita ferry, tel 639 617545 or 696 423933, runs daily for most of the year, but not always on Sundays or in bad weather. Other options include Bergantin, tel 627 966264 or 600 520503; the Water Taxi, tel 667 592657; or Jumbo II, tel 971 686849 or 687 800400. Access on sa Dragonera is limited to a track running the length of the island, where lighthouses stand at Cap des Llebeig and Cap de Tramuntana. A winding path climbs to the highest point, na Pòpia at 349m (1145ft), which is crowned with a disused lighthouse. See www.conselldemallorca.net/dragonera.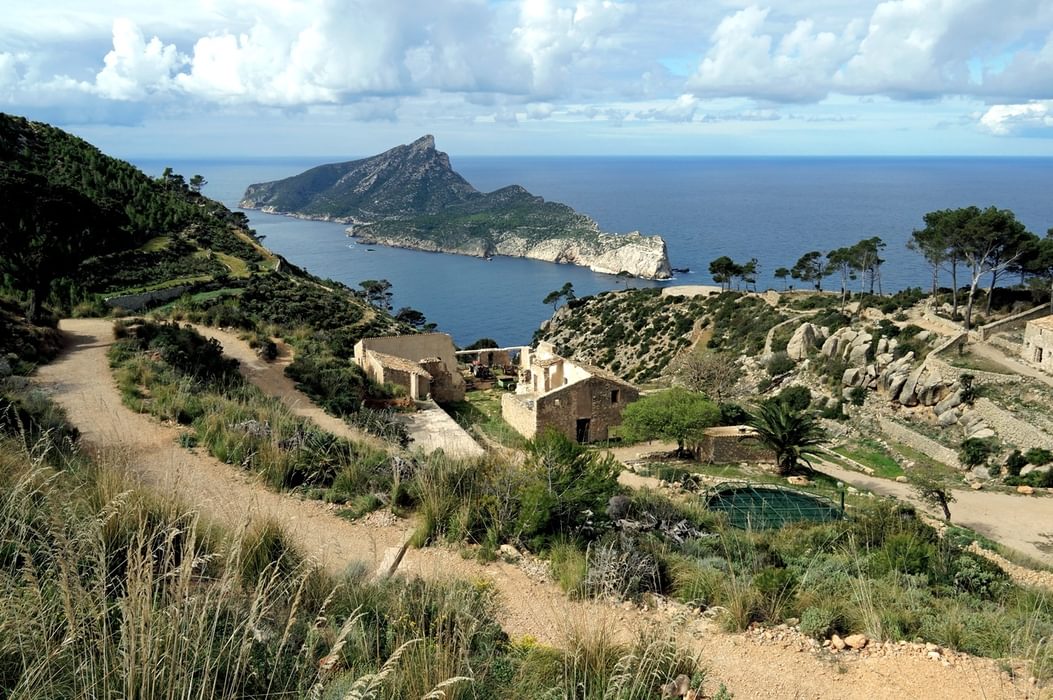 To read more articles like this get our newsletter
Sign up today for a 20% discount on your next purchase. Join over 30,000 enthusiasts from around the world. If you don't love our mix of new books, articles, offers and competitions, you can unsubscribe at any time. We will never spam you, sell your data or send emails from third parties.