Walking on Rum and the Small Isles
Rum, Eigg, Muck, Canna, Coll and Tiree
This guidebook to walking and backpacking on Rum, Eigg, Muck, Canna, Coll and Tiree includes a tough 55km backpack around the coast of Rum, a circuit of the Rum Cuillin and an ascent of An Sgurr (Eigg). The 16 routes across all these Western Isles of Scotland are suitable for a range of abilities exploring coasts, mountains and wilderness.
Seasons
spring, early summer and early autumn are the best times as the weather is mildest and the midges are in abeyance; high summer is the busiest season and midges can be a nightmare on Rum; winter days are short and storms are frequent, but the solitary grandeur of the islands in winter weather is ample reward for the well-prepared walker.
Centres
Kinloch, Dibidil, Guirdil (Rum); Galmisdale, Cleadale (Eigg); Port Mòr (Muck); A'Chill (Canna); Arinagour (Coll); Scarinish, Balephetrish, Hynish (Tiree)
Difficulty
routes range from the challenging to the relatively undemanding; weather can change suddenly in the Hebrides - be prepared for wet, wild and windy conditions.
Must See
the Rum Cuillin, Kinloch Castle, Kilmory bay; An Sgurr and Cleadale on Eigg; Canna's cliffs and rock stacks; verdant landscape and sparkling shores of Muck; white sand bays and flower-carpeted machair of Coll and Tiree; wildlife, geological features and ancient monuments; stunning coastal landscapes
Overview

Table of Contents

Maps

Updates

Reviews

Downloads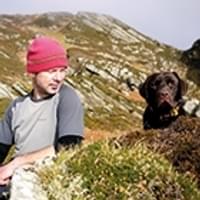 Peter Edwards
Since moving to Scotland from the south of England in 2006, Peter has developed a passion for the Hebrides. He lives at Rhenigidale on the Isle of Harris with his wife, Fiona and their Labradors, Dougal and Mara.
View author profile