5 Fantastic Fell Walks from Ambleside
The quaint town of Ambleside within the Lake District National Park is, amongst many things, a great base for fellwalkers. If you're travelling to Ambleside and want to explore the Lake District Fells, here are 5 of the best routes to include in your adventures.
1. Loughrigg Fell (335m/1099ft)
Loughrigg Fell, formed at the confluence of the Rothay and Brathay rivers, offers a diverse landscape. Loughrigg Terrace offers picturesque strolls, while higher sections feature wilder terrain with pools and panoramic vistas. Loughrigg Cavern, a remarkable quarrying feat, can be explored near Rydal Water. A web of paths disperses visitors from Ambleside, with twelve highlighted routes and a low-level tour for cloudy days.

Featured in: Walking the Lake District Fells: Langdale
2. Wansfell (489m/1604ft)
Wansfell, nestled in the heart of the Lakeland fells, hosts popular paths while maintaining quiet, unfrequented pastures. It lies between Stock Ghyll and Trout Beck valleys, isolated by the Kirkstone Road. To the south, it slopes down to Windermere's shores with grand buildings, including the Lake District Visitor Centre at Brockhole. Ambleside sits at its western base, a historic starting point for walkers. Troutbeck, on the eastern slope, is a charming Cumbrian village with traditional yeoman's steadings. Routes from Ambleside, Skelghyll Wood, and Troutbeck offer accessibility, but the wildest and highest track descends from the Kirkstone Road.
Featured in: Walking the Lake District Fells: Mardale and the Far East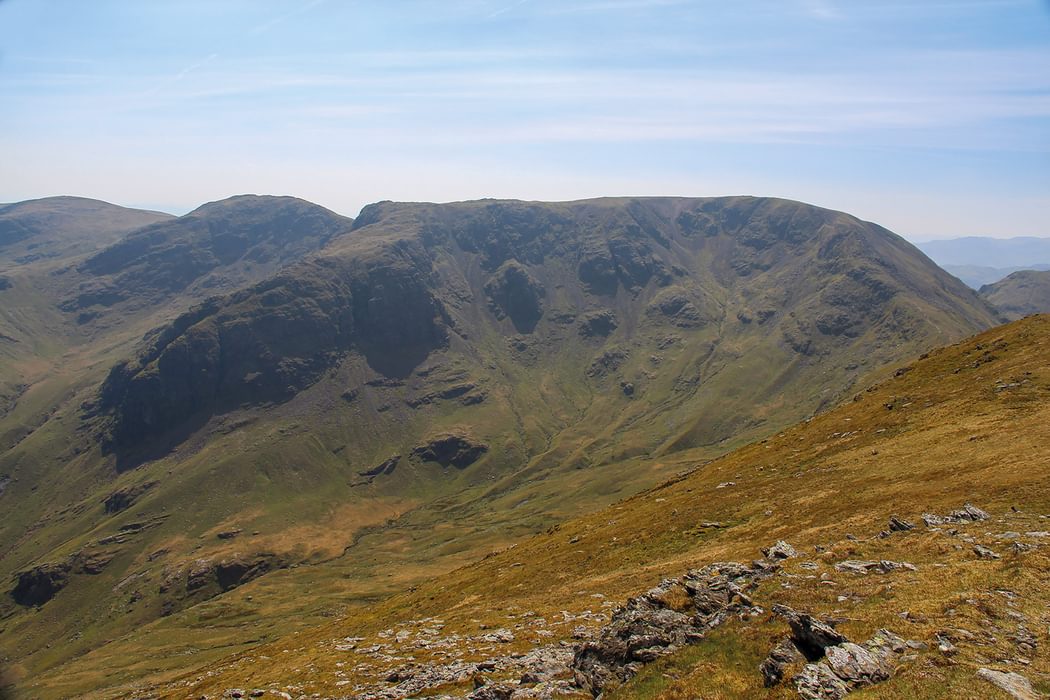 3. Fairfield (873m/2864ft)
Fairfield, located in the southern part of the Near Eastern Fells and separated from Helvellyn by Grisedale, is a magnificent mountain. While the Fairfield Horseshoe on its south side is popular, the fell's most stunning qualities lie on its northern slopes. High vantage points like St Sunday Crag and Deepdale offer impressive views of crags and scree-filled dale heads in Link and Cawk Coves. Much of the fell consists of relatively featureless slopes, making it a valued viewpoint for those on the Horseshoe route, especially for the breathtaking northward view towards Helvellyn from the headwall of Grisedale.
There are five natural lines of ascent, with the pathless route from Deepdale into Link Cove leading to the Step being the best but least travelled. Other routes include ridges from the Rothay valley connecting to Great Rigg and Hart Crag, a scree-covered west shoulder from Grisedale Hause, and a fine ridge from St Sunday Crag over Cofa Pike. In recent years, three paths have also developed, with two leading to Deepdale Hause and one, though challenging, going directly to Cofa Pike from Grisedale Tarn.
Featured in: Walking the Lake District Fells: Patterdale
4. Nab Scar (450m/1476ft)
Nab Scar is not a fell by any proper measure, marking the beginning or end of the Fairfield Horseshoe ridge walk. When viewed from across Rydal Water however, it appears as a shapely minor summit. The term 'Nab' refers to the entire attractive south-facing hillside, with Nab Scar forming its prominent edge.
Due to heavy use over the years, the steep ascent from Rydal Mount suffered wear and tear, but extensive restoration and reinforcement efforts have rejuvenated the popular Nab Scar path, ensuring its preservation. Apart from the well-travelled ascent path, there's also a scenic circular route that showcases Nab Scar's unique qualities as a viewpoint, not only from its summit but also from the lower bridleway (known as the Coffin Route).
Featured in: Walking the Lake District Fells: Patterdale
5. Red Screes (777m/2549ft)
Ambleside is often known for its lively lakeside setting and, unfortunately, its traffic. However, to a fellwalker, the town's real significance lies in its proximity to the imposing Red Screes. This mountain stands out from a distance, offering the best view of the High Street range and a splendid vista towards Helvellyn when approached from Kirkstone Pass.
Regardless of your route, you'll notice the extensive drystone walls that crisscross the fell's landscape, making it one of the most partitioned fells. While the popular scramble from the Kirkstone Inn is eroded, there are better options: the climb from Ambleside via Scandale or Stock Ghyll, or, the best choice, ascending the south ridge over Snarker Pike. The blunt Middle Dodd ridge offers an appealing contrast to the long south ridge, making it ideal for those who prefer ascending to descending and fancy a fantastic traverse from Hartsop to Ambleside.
Featured in: Walking the Lake District Fells: Patterdale
For more Fellwalking options, take a look at Mark Richards' Walking the Lake District Fells range, a unique collection of guidebooks full of routes to the summits of all 230 Lakeland Fells.
To read more articles like this get our newsletter
Sign up today for a 20% discount on your next purchase. Join over 30,000 enthusiasts from around the world. If you don't love our mix of new books, articles, offers and competitions, you can unsubscribe at any time. We will never spam you, sell your data or send emails from third parties.