(Not) finishing the Wainwrights
While the Covid pandemic has put the brakes on Cicerone's Natalie Simpson's attempts to finish the Wainwrights, the welcome addition of the Fellrangers to her list has led to isolated tops on out-of-the-way summits - amazing views for minimal effort
I can't remember which came first: my decision to climb Skiddaw or my decision to do the Wainwrights.
I was glamping with my parents near Penrith to celebrate finishing my doctoral thesis and I wanted to climb some fells. One of my friends had posted a gorgeous picture from Skiddaw Little Man on social media and so, on that bright day in August, I persuaded my folks to accompany me up the 'tourist trail' from Gale Road.

The route is a bit of a slog but easy enough. I got my first summit vista from the little rock-and-metal cairn on Skiddaw Little Man – and what a vista!
Having admired the views of the Lakeland Fells laid out beyond Derwentwater and Keswick, we continued up the clear trail onto Skiddaw. Here, on the summit of the fourth highest mountain in England, I really did feel as though I was on top of the world.
There was a magnificent panorama: northwest across the slate slopes to the north end of Bassenthwaite and the Solway Firth; northeast to those wild heather-clad fells Back o' Skiddaw; southwest to the Northwestern Fells; and southeast to Little Man and our ascent route.
Although it was midsummer, it was cool and breezy on the top and I was grateful for my fleece coat; however, the cold only added to the sensation of being on a true mountain. It was such an uplifting feeling… and one I wanted to experience again and again.
The next day we went up Catbells, and a week later I climbed Black Fell with a schoolfriend. The weather was even better than when we went up Skiddaw, and the views were breathtaking. I was hooked.
Wainwright bagging
I moved back home to Cumbria in autumn that year, and then that winter my Wainwright bagging began in earnest. I was starting from scratch.
Although I'd done lots of walking in the Lakes as a kid, this was mostly confined to the smaller non-Wainwright tops of the South Lakes – Carron Crag, Top o' Selside, Gummer's How and the likes.
I'd done a couple of the Wainwrights when I was very little – Holme Fell and Lord's Seat and probably a few others – but I decided not to count them as I don't really have clear memories of the walks.
I quickly acquired a tick-map and made my own little log, too. Neil, the friend with whom I'd climbed Black Fell, was also doing the Wainwrights and soon became a regular walking-buddy, and he was also kind enough to give me lifts, as at that time I couldn't drive.
We started out with a handful of small fells – Loughrigg, Holme Fell, Troutbeck Tongue – and then progressed onto longer routes and higher fells in the spring.
But Neil wasn't always available, and so in March I did my first solo fell: a trip up Wetherlam from Coniston. I was no stranger to solo walking and was confident in my ability, having orienteered as a teenager and having completed several solo walks on the Isle of Man more recently.
I enjoyed a wonderful day under bright blue skies. There was snow on the tops: enough to make it feel like a real adventure but not enough to cause any kind of problems.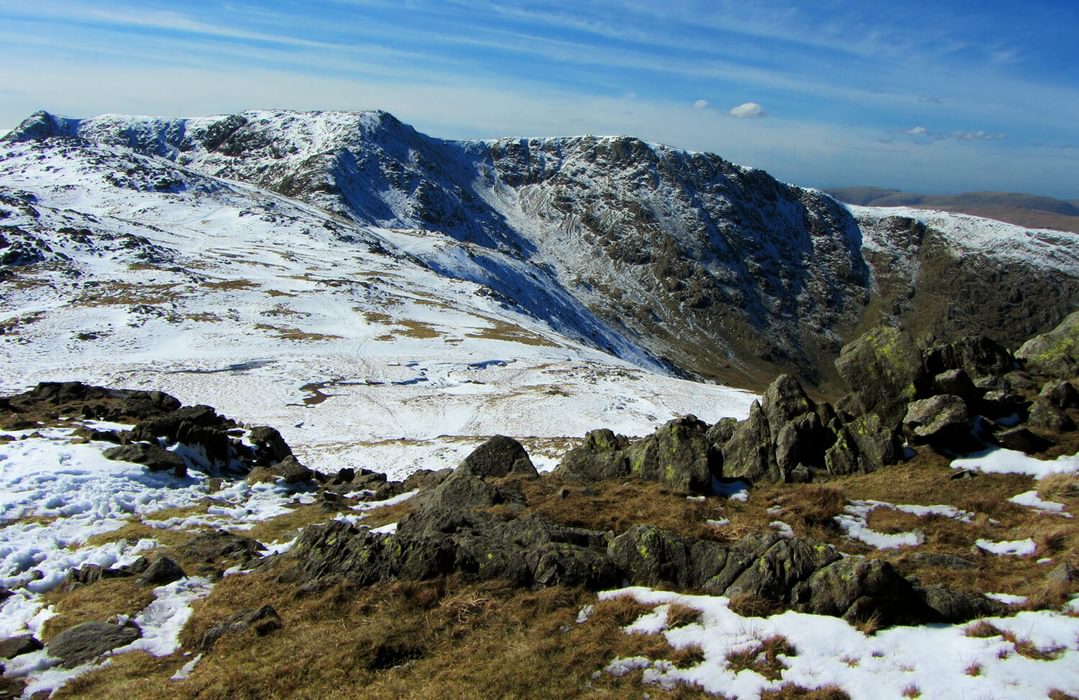 I did many more solo walks after that. The bus timetables weren't exactly ideal and I'd sometimes have long waits between connections, but they allowed for a sufficient window for walking and, on my £10.80 day pass, I got as far as Honister, from where I climbed Dale Head, Hindscarth and Robinson.
I was so worried about missing the bus home that day that I completed the route in very little time and ended up with about 40 minutes to kill in the café at the mine!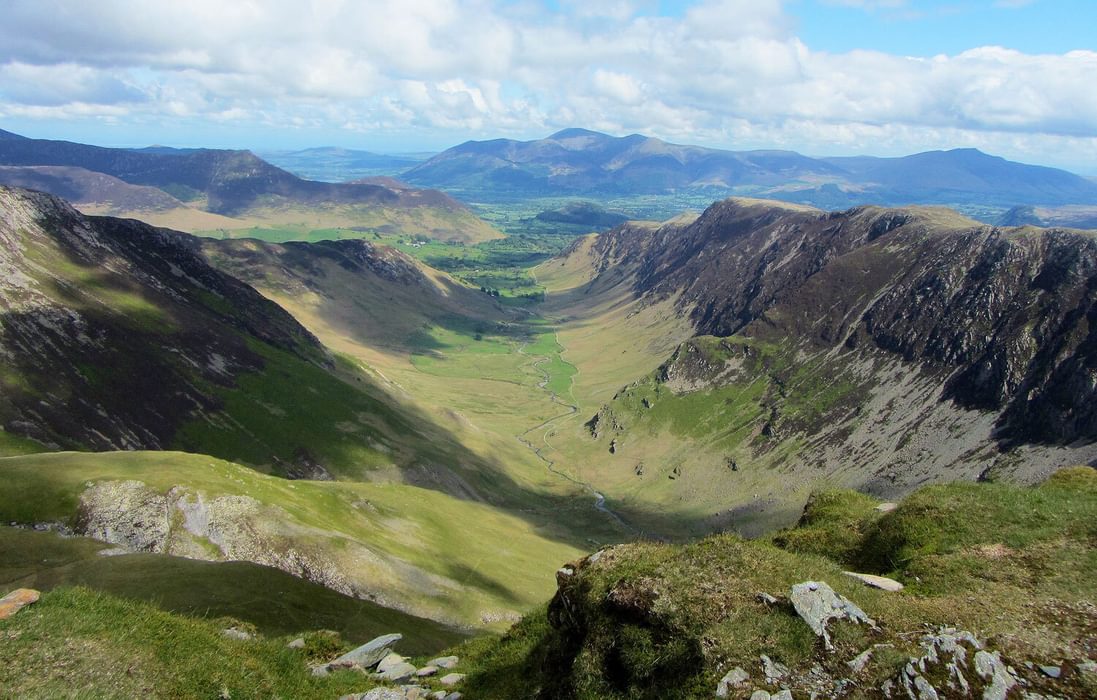 I did suffer one mishap, though: on one occasion the bus from Keswick was delayed and I missed my connection, meaning my parents had to come and collect me from Windermere. (I could have got home via Kendal, but it would have made for a very long day.)
I had taken my camera on all my early walks, so at some point I made a resolution to document all my trips in a series of photobooks. I remember how my granddad used to treasure his wonderful collection of albums and it made me appreciate how a photograph can evoke a happy memory of a particular walk. I'm really pleased with how the books came together and I love looking through the photographs.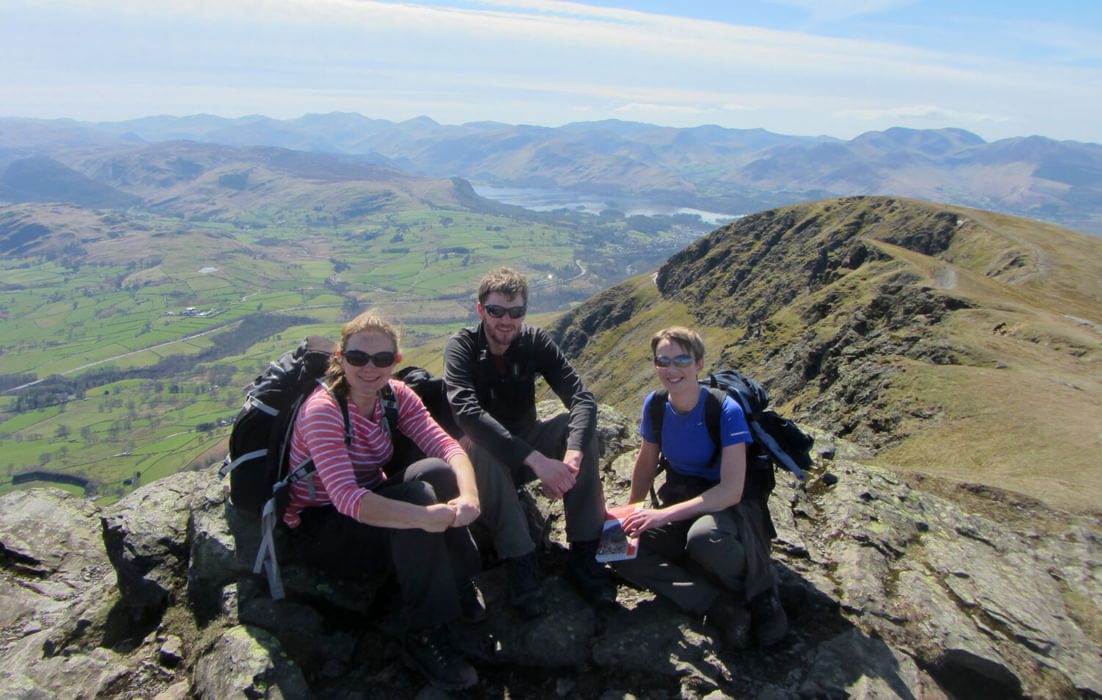 I'm something of a fair-weather walker, so I didn't get out every week; however, I was averaging around 50 'new' fells per year.
Where possible, I tried to visit multiple summits on the same walk, taking advantage of ridge-lines to avoid losing height. I came to really enjoy planning routes.
Neil introduced me to another friend who was also doing the Wainwrights and I enjoyed many walks with her too, including a trip up Dodd, her last Wainwright – we celebrated with a champagne picnic on top.
I passed my driving test and at last was no longer dependent on the buses. And, somewhere along the way, I got a job at Cicerone!

Adding the Fellrangers
When I started working on the Fellranger guides, I decided to add the extra Fellranger fells to my list. Most are in the southern half of the district, around Birker Fell and Corney Fell, so they are very convenient for me. I ticked off Walna Scar on my way down from Dow Crag and Great Worm Crag on my way to Great Crag.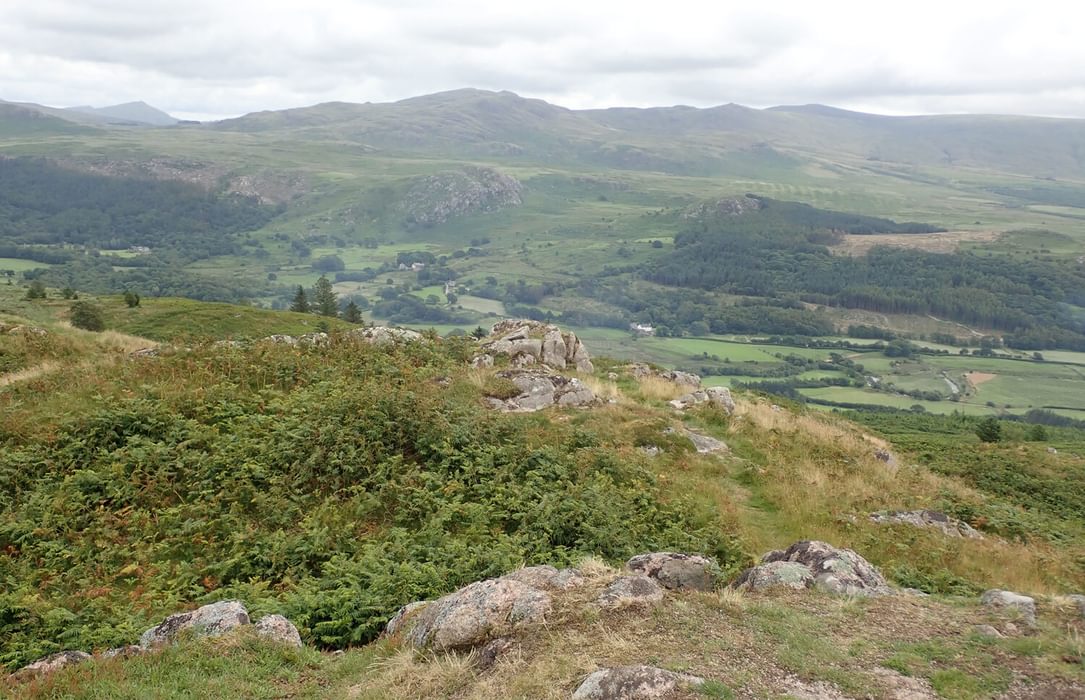 But then I got stuck. With just four more Wainwrights to go, I've hit an impasse. I haven't increased my Wainwright tally in well over two years.
I've decided on Castle Crag as my final Wainwright so I'm saving that till last. The other three I have left are High Crag, High Stile and Red Pike, Buttermere: a big route and one I'm looking forward to.
However, it's a long drive from Ulverston to Buttermere and if I'm going to go all that way to climb such panoramic peaks, I want the perfect day for it. And somehow, that perfect day has never come around.
When the Covid pandemic struck, my intentions were scuppered even further. Even when restrictions were temporarily lifted, I didn't fancy going all the way up to Buttermere: Neil and I would have to go in separate cars, and it just didn't seem worth it. At least we were able to tick off a few more of the Birker Fell Fellranger tops though, and we also climbed a few of Wainwright's 'outlying' fells (although I'm not really making a specific effort to climb those).

Hill-bagging can sometimes get a bad rep and it's true that it does have its limitations. I confess, there was a point when it wasn't a proper walk if it didn't involve at least one new Wainwright. But I'm well and truly over that now.
I've had so many great walks on fells that aren't Wainwrights and the coronavirus pandemic has made me value those isolated little tops even more: those out-of-the-way summits of the South Lakes that see little footfall but boast amazing views for minimal effort.
The central Lakes can get very busy at peak times, with lots of traffic and parking difficulties, and it's days like those when I prefer to seek out the quieter parts.
For me, walking the Wainwrights/Fellrangers has been a great way to discover the Lake District. It has motivated me to travel much further within the region, to climb the Northern and Northwestern Fells and to take those narrow roads up to Kentmere and Longsleddale.
And hopefully soon I'll be able to get out and visit those final four...
Highlights
I know the Lake District far better now than ever before. And it has created so many wonderful memories that it's hard for me to pick out just a few. There was that first hike up Skiddaw and my snowy adventure up Wetherlam. A starlit walk up Mosedale then along the road to Calebreck after we were benighted after our descent of Great Calva.
The breathtaking unexpected view from Dale Head after the tedious slog up from Honister. Watching ospreys from High Rigg. Snowball fights on Caudale Moor. Hoarfrost on Haycock. Wastwater shining below us in the evening sun as we came down off the Mosedale Horseshoe. That feeling of elevation as I strode out along the broad 'highway' of the Helvellyn ridge. Fantasising about what we were going to have for tea during an unintentional detour on the descent from Slight Side…
Do I have a favourite fell? It's hard to choose, but Bowfell and Lingmoor are particularly special – I keep returning to them – and Yewbarrow is also up there, and I love the fine ridges of the Northwestern group.
There are also, it's true, one or two I wouldn't exactly rush back to: the much-lauded Mungrisdale Common(!), Troutbeck Tongue, Loadpot Hill and some of those smaller western lumps (sorry, Mungrisdale! sorry, Troutbeck Tongue! sorry, Loadpot! sorry, lumps!). But all in all, walking the Wainwrights/Fellrangers has made me even more determined to continue to explore these magnificent fells and to enjoy the fantastic walking they have to offer.

Crinkle Crags and Bowfell from Lingmoor
On Lingmoor, one of my favourite Wainwrights
To read more articles like this get our newsletter
Sign up today for a 20% discount on your next purchase. Join over 30,000 enthusiasts from around the world. If you don't love our mix of new books, articles, offers and competitions, you can unsubscribe at any time. We will never spam you, sell your data or send emails from third parties.