An Introduction to the Tour of the Lake District
The Tour of the Lake District is a nine-day walking route exploring many of the best fells and valleys of the Lake District National Park. The tour covers nearly 150km passing through Ambleside, Elterwater, Tarn Hows, Coniston, the Duddon valley, Eskdale, Wasdale, Ennerdale, Buttermere, Keswick, Rosthwaite, Grasmere and Patterdale. There are high level options on five of the nine days, providing opportunities to climb to the top of iconic fells including Great Gable, Causey Pike, Helvellyn and Scafell Pike.
It's perhaps astonishing that the idea of a circular walking route taking in the best of the Lake District is just that – an idea, with no fixed route, and no signposts of any kind. This guide can be followed exactly, or it can be used as the basis for your own route around the Lake District. The route described takes in most of the major valleys of the region, staying away from many of the tourist honeypots near Windermere, preferring to explore ancient routes that link one valley with the next, one village with another. There are both high-level and lower-level options described for some stages; the high-level routes start and finish at the same points as the lower-level options, so it's easy to mix and match as you go, according to weather conditions, energy and time available.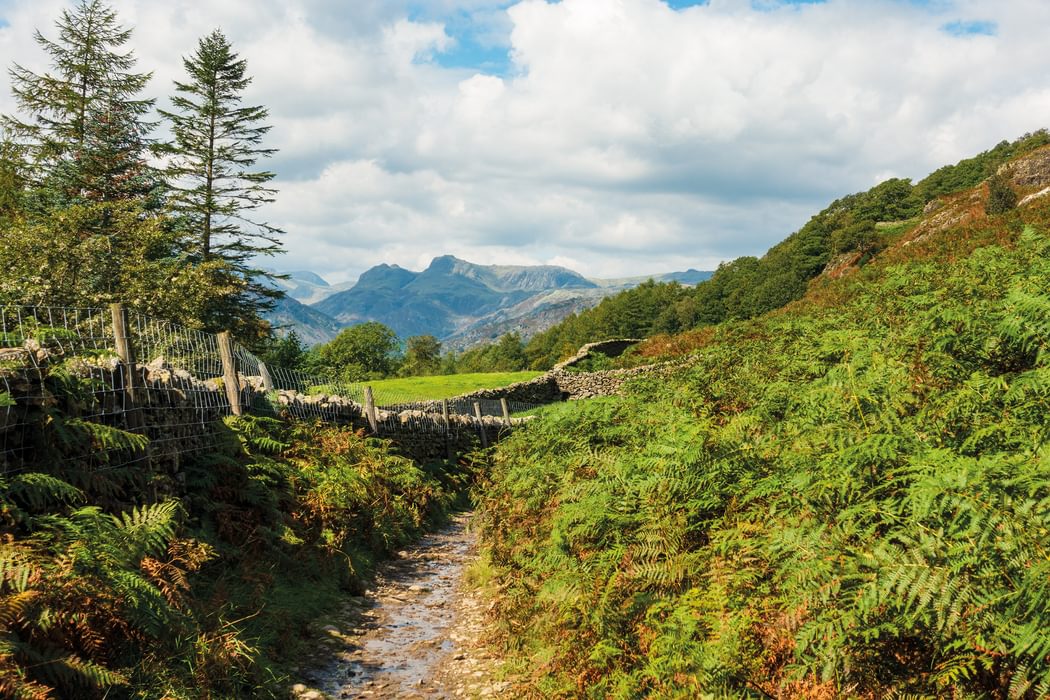 The main route described is for a circular tour that will take between one and two weeks to complete. The route is presented in nine stages and generally uses lower, easier paths and tracks linking most of the main valleys. It is suitable for most walkers, including active families with older children able to walk for sometimes up to five or six hours each day. The Tour can be fitted into a week by either combining some of the shorter stages or by taking public transport alternatives, or you can take your time and extend the Tour over two weeks, giving scope to visit many attractions on the way. Also described are a series of alternative routes that will take you to some of the Lake District's highest fells, including Coniston Old Man, Scafell Pike, Great Gable and Helvellyn. Extending the route with higher alternatives is ideal for fit and experienced walkers and those with more time available when the weather is settled.
Tour of the Lake District FAQs
How difficult is it?
The low-level Tour is suitable for most walkers with hillwalking experience, and it would suit active families with older children capable of walking for at least five hours each day.
When should I go?
The driest months are April, May, June and July, while the period from October to January tends to be wettest. Therefore the best months to walk the route are likely to be between April and September.

What should I bring with me?
What you take will depend on how you're planning your overnight stops. If you're camping you'll need a fairly large pack, to include a tent, sleeping bag and mat, and probably cooking equipment.
Remember to keep your kit to a safe but minimum level, as carrying extra weight will slow you down and make the whole trip less enjoyable.
Rucksack: 30–40 litres for hostelling, 20–30 litres if using luggage transfer, or 50–60 litres for camping and backpacking.
Rucksack cover, and ideally a liner of some sort. Consider using separate stuff sacks for groups of items – this allows you to keep organised and find things quickly and easily. It also adds further protection against getting wet.
Boots (or trail shoes if you genuinely prefer). The terrain is often rough and rocky, and there are boggy areas to cross, so comfortable waterproof boots that you know work well for your feet are the best option for this trip.
Walking poles can provide additional stability and are highly recommended, as there are some occasionally awkward stream crossings.
Waterproof jacket and trousers. Buy the best you can afford, as you may need to be using these all day, for several days.
Hat, gloves and maybe a neck warmer for additional warmth
Sun hat and sunscreen (in summer)
Good-quality walking socks – two pairs ideally
One or two fleeces or similar
One long-sleeved and one short-sleeved base layer
Two pairs of trousers, or one long and a pair of shorts or ¾ length
Underwear
Travel detergent for hand-washing clothes (most accommodation providers will provide drying facilities)
Toiletries and any daily medication
Spare shoes to change into in the evenings
A good basic first aid kit – including blister plasters, tick remover, pain relief
Whistle and torch
Compass, maps and guidebook
Mobile phone and charger (note that there are many places on the route where there is little or no signal. Remember to download anything critical such as mapping to use offline.)
You will also need to carry at least 1 litre of water each day – more in hot weather – as well as food and energy snacks.
In winter you'll need all of the above, but base layers will need to be winter-grade, and hats, gloves and additional outerwear will also be needed to provide sufficient warmth. Crampons or micro-spikes are advisable in winter, as is an ice axe for any high-level routes.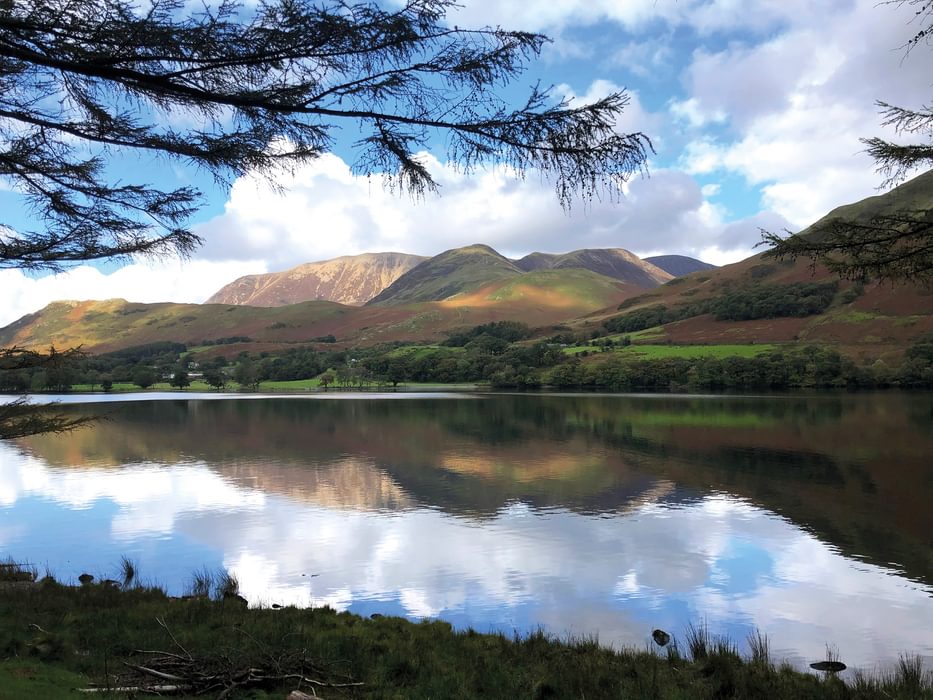 Stage Summary
This summary directly refers to our Guidebook, which you can use for detailed breakdowns of routes, accommodation, transport and more.
Prologue - Windermere to Ambleside
Distance 10.5km (6½ miles)
Total ascent 350m / Total descent 400m
A surprising way to link these two big Lake District centres, and a good way to get a first taste of the lower fields and hills as you move towards the start proper of your Tour of the Lake District. The route is usually very quiet, with good views across to the Old Man of Coniston and the Langdale Pikes and down to England's largest lake. Halfway along, Townend is an interesting and well preserved old Lake District farmhouse and gardens, now owned by the National Trust.
Stage 1 - Ambleside to Coniston
Distance 20km (12½ miles)
Total ascent 610m / Total descent 610m
Although this first stage of the Tour of the Lake District appears to avoid any major climbs, there are superb views from the high points reached and the accumulated ascent over the entire day is not insignificant. The route is full of interest, on low fells, waterside and woodland tracks and paths, passing delightful villages and some historic landmarks and buildings, including a farm once owned by Beatrix Potter. A brief detour at Hodge Close visits a huge and impressive quarry cavern with a water-filled bottom. The stage can easily be split into two shorter sections, with accommodation options at both Elterwater and Little Langdale, and camping at Chapel Stile (1km from Elterwater).
Stage 2 - Coniston to Eskdale
Distance 18km (11 miles)
Total ascent 865m / Total descent 855m
On this stage you leave the relatively accessible village of Coniston and begin what will be three or four days in the more remote western fells, only reaching a town of any size when you arrive in Keswick at the end of Stage 5. The Walna Scar Road takes you high into the Coniston fells, with great views in all directions. Seathwaite makes a perfect stopping point for lunch, before tackling the second, easier climb of the day via Grassguards into Eskdale.
Stage 2A - Coniston to Eskdale: high-level route
Distance 22km (13¾ miles)
Total ascent 1200m / Total descent 1190m
This is a long stage taking in the Old Man of Coniston – the highest mountain in the southern Lakes – and providing the opportunity to visit the Roman fort at Hardknott. Paths over the Old Man are good and dry, while those passing the bulky Harter Fell are grassy and may be squelchy in places. Particular highlights are the quiet and little-visited Duddon Valley, and remote, beautiful Eskdale with views ahead to the Sca Fell range. This long day can be shortened by overnighting in the Duddon Valley at Seathwaite (5hr), or by using the main route either side of the shared descent on the Walna Scar Road (saving 30–40min).
Stage 3 - Eskdale to Wasdale
Distance 18km (11 miles) direct route; 20km (12½ miles) via Nether Wasdale
Total ascent 470m / Total descent 460m
The day begins with an attractive riverside walk through Eskdale, passing waterfalls and visiting St Catherine's Church, before heading through the beautiful Low Wood to Eskdale Green. From here the route climbs over Irton Fell with superb views into Wasdale, and then you can choose either the direct route through lovely countryside to Wasdale Head, or a detour via Nether Wasdale for refreshments and accommodation options.
Stage 3A - Eskdale to Wasdale: high-level route
Distance 17km (10½ miles)
Total ascent 980m / Total descent 970m
This stage to Wasdale Head explores Upper Eskdale, approaching Lakeland's highest mountain through its remotest valley. For some hours you draw nearer to Scafell Pike, Sca Fell, Esk Pike, Bow Fell, Crinkle Crags and other mountains from their wild side where relatively few walkers venture.
Scafell Pike is England's highest mountain, and this high-level route provides a perfect opportunity to bag it – as well as its sister peak, Sca Fell, if you have the time and energy – before descending to Wasdale Head. (The optional climb to Sca Fell involves an additional 250m of ascent and descent over difficult ground.)

Stage 4 - Wasdale to Buttermere
Distance 12km (7½ miles)
Total ascent 780m / Total descent 750m
Although fairly short, this is a truly memorable day, as you climb out of the dramatic scenery of the Wasdale valley and drop into remote Ennerdale before climbing over a further pass to reach the Buttermere valley. The path from Wasdale Head keeps close to the Mosedale Beck as height is gained, first slowly and gently, then more steeply beside Gatherstone Beck (the crossing of which can be slightly tricky during and after wet weather) as it leads to Black Sail Pass. The descent path into Ennerdale is mostly clear to follow, with occasional piles of stones indicating the route. In wet weather the ground becomes quite boggy, and a short rocky step needs to be negotiated, which is particularly slippery when wet. The route passes the tiny hostel at Black Sail, nestling high in the Ennerdale valley, and after a short climb over Scarth Gap between Hay Stacks and High Crag the descent yields superb views into the beautiful Buttermere valley.
Stage 4A - Wasdale to Buttermere: high-level route
Distance 16.5km (10 miles)
Total ascent 1150m / Total descent 1110m
This outstanding high-level crossing between two beautiful valleys takes in two iconic Lakeland mountains – Great Gable and Hay Stacks, the latter most famous for being Alfred Wainwright's favourite. It's a full day's walk, with lots of interest and fine views throughout. The climb to Sty Head takes a lesser-used path that rises easily, and the ascent of Great Gable is on a finely constructed trail. After a steep descent and then a climb to Green Gable, the route skirts Brandreth and heads cross-country to the shaggy rocks of Hay Stacks before dropping into the Buttermere valley. In poor visibility, the navigation between Green Gable and Hay Stacks will need care, and the descent from Hay Stacks is steep over rocky ledges, so another descent route is also described.
Stage 5 - Buttermere to Keswick

Distance 16km (10 miles)
Total ascent 490m / Total descent 515m
This stage is characterised by a long, steady climb to the high point at around 470m – the watershed between the Sail Beck and Rigg Beck valleys. Views are good throughout, and there is little difficulty either in steepness or terrain. On reaching and crossing the Newlands Valley, the Tour crosses farmland below Cat Bells before joining the route of the Cumbria Way and the Derwent Water Walk through woods and meadows, touching the shore of Derwent Water before arriving in Keswick. There are very few facilities and no accommodation along the route until Derwent Water is reached.
Stage 5A - Buttermere to Keswick: high-level route
Distance 17.5km (11 miles)
Total ascent 1020m / Total descent 1050m
This is a brilliant route to do on a good day, and one of the best ridge routes in the western Lake District. The climb to Whiteless Pike is steady, with ever-increasing views behind towards Hay Stacks, Red Pike, and the now distant Sca Fells and Great Gable. From the summit an elegant ridge stretches away to the north, as you begin the first of a series of roller-coaster descents and ascents to summit Crag Hill (optionally via Wandope), Sail, Scar Crags and Causey Pike. The initial descent off Causey Pike is an easy scramble, but this can be avoided. A choice of paths then leads easily down to join the low-level route in the Newlands Valley just above Rowling End Farm.
Stage 6 - Keswick to Rosthwaite
Distance 15.5km (9½ miles)
Total ascent 560m / Total descent 560m
This is a stage to be relished, with numerous highlights along the way. The highly atmospheric Castlerigg Stone Circle is reached within the first hour, then the Tour heads across farmland to climb to the summit of Walla Crag, with extensive views in all directions. A good broad path descends gently across the fells to the pretty packhorse bridge at Ashness. From here you climb again through Ashness Wood before entering a beautiful and 'hidden' valley, following a stream up to the tiny community of Watendlath. A short, steep final climb brings you to a broad and remote moorland before you descend into the Borrowdale valley at Rosthwaite.
Stage 7 - Rosthwaite to Grasmere
Distance 14km (8 miles)
Total ascent 580m / Total descent 600m
On this stage you leave the flat valley floor of Borrowdale and once again climb high into the fells, this time exploring those which separate Borrowdale from Easedale. The climb is steady, with a short steep section up Lining Crag leading to Greenup Edge, where a number of paths diverge. This high, open moorland provides excellent views but in poor visibility can be a confusing place where good navigation skills are needed. It can be quite boggy at times, before a thankfully drier path descends into the valley of Far Easedale. As you draw nearer to Grasmere the path broadens, forming part of a popular circular walk from Grasmere to Easedale Tarn.
Stage 8 - Grasmere to Patterdale
Distance 13km (8 miles)
Total ascent 610m / Total descent 530m
This stage is one of the shorter stages of the Tour, allowing ample time to explore Grasmere before the walk over to Patterdale. However, if the weather is fine and you have the energy, then choosing the longer high-level route over Helvellyn (Stage 8A) might be preferred.
The route out of Grasmere is initially dominated by the view of iconic Helm Crag as you follow quiet narrow lanes which meander easily through farmland. The views expand to the north and east as the busy A591 crossing is approached. From here a bridleway leads up into the fells, with the steep craggy side of Seat Sandal to the left, and the slopes of Great Rigg and Fairfield rising to the right. The grassy path is always clear as height is gained, sometimes steeply, with superb views behind you back into the valley. On reaching Grisedale Hause, the highest point, the tarn below seems dwarfed by the surrounding high fells. The descent through Grisedale is steep and rocky at first, but the path is always clear and good. The gradient eases as lower slopes are reached, passing the tiny Ruthwaite Lodge, then descending further to reach farm lanes, and eventually Patterdale.
Stage 8A - Grasmere to Patterdale: high-level route
Distance 16km (10 miles); or 19.5km (12 miles) via Glenridding Common
Total ascent 1100m / Total descent 1020m
This stage traverses Helvellyn, the third highest and one of the best mountains in the Lake District, with fine views in all directions. Paths are good, so although there is a fair amount of ascent in the stage, it is fairly easy walking throughout, dry under foot and with no difficulties. There are several descent options from Helvellyn, including those for the more experienced walker (down the 'edges' to Glenridding and Patterdale), and a longer route more suitable for backpackers.
Stage 9 - Patterdale to Ambleside
Distance 18km (11 miles) via Red Screes; 15km (9½ miles) via alternative direct route
Total ascent 750m / Total descent 840m
This stage provides a delightful final day of traversing the fells. While the lower route is a perfect mix of pastoral, lakeside and fell walking, the higher route via Red Screes makes a fitting finale to the Tour. It is the preferred route, with exceptional 360-degree views from the summit of Red Screes on a good clear day. The way from Patterdale begins with mostly level valley walking, with views towards Kirkstone Pass and the high fells of Fairfield and Hart Crag to the south-west. Passing to the west of Brothers Water, the route then enters Caiston Glen, rising to reach Scandale Pass. From here on a clear day you can see many of the fells and valleys visited on the Tour. The Red Screes route offers a superb (but often boggier) ridge walk to Ambleside, while the slightly shorter direct route descends to follow the valley bottom straight into Ambleside.
To read more articles like this get our newsletter
Sign up today for a 20% discount on your next purchase. Join over 30,000 enthusiasts from around the world. If you don't love our mix of new books, articles, offers and competitions, you can unsubscribe at any time. We will never spam you, sell your data or send emails from third parties.