A new era begins for Everest trekking guidebook
Cicerone's Everest Trekking guidebook is to have a new author.
Kev Reynolds, author of Everest: A Trekker's guide is passing on his knowledge and ideas to Radek Kucharski, author of another Cicerone Himalaya guide, Trekking in Ladakh.

In a move to keep the Everest trekking guidebook fully up to date, Radek was delighted to take on the challenge. His love and respect for the mountains, particularly the Himalaya, combined with his extensive knowledge of mapping and conservation make him the ideal choice as the new author.
In recent years Kev has struggled to cope with the demands made by high altitude trekking on his damaged lungs. While his sadness at not being able to return to his beloved Nepal is profound, he is more than compensated by the knowledge that his guidebook will be in safe hands for many years to come.
Making plans for the new Everest Trekking guidebook
Kev, Radek and Jonathan spent a day at Kev's home in Kent working together to discuss and develop new ideas for the Everest guidebook. All three were then at the Adventure Travel Show 2016 at Olympia, where we took the symbolic photograph (top) as the guide was passed from Kev to Radek.
One of the highlights of the show was Kev's talk on trekking in Nepal, as he gave his packed audience a taste of the delightful stories of his decades of exploration in the Himalaya, many of the stories taken from his book Abode of the Gods. We had a bit of a stampede to the Cicerone stand at the show to buy copies of the book for Kev to sign – all greatly encouraged by the fact that all profits from the sale of that book go directly to Community Action Nepal (CAN) to help remote Nepalese villages devastated by the earthquakes of 2015.
The next Everest guidebook will provide even more information and routes in this fantastic trekking region, and is expected to be published in 2018.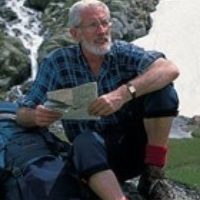 Kev Reynolds
A lifelong passion for the countryside in general, and mountains in particular, drives Kev's desire to share his sense of wonder and delight in the natural world through his writing, photography and lecturing.

Claiming to be The Man with the World's Best Job, he has enjoyed a fruitful partnership with Cicerone since the 1970s, producing over 50 books, including guides to five major trekking regions of Nepal, and to numerous routes in the European Alps and Pyrenees, as well as walking guides for Kent, Sussex and the Cotswolds.
View Articles and Books by Kev Reynolds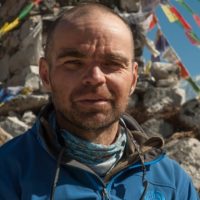 Radek Kucharski
Radek Kucharski was born in Poland. After graduating in Geography he worked for a small GIS company for over 12 years, which he would periodically leave every few years for months-long trekking trips to Asia. He trekked in Nepal, Iran, Pakistan and India, getting to know the landscapes, the people, their cultures and himself. After his first visit in 2004, Ladakh instantly became his favourite destination, and he made a promise to himself to return with the task of collecting data for a guidebook. A few years later he began this work.
Since that first visit to the Ladakh Range he has also changed profession. Now working as a tourist guide, which he has been doing since 2010, Radek lives in Warsaw and guides groups to India, Nepal and Scandinavia for one of Poland's leading adventure travel agencies.
View Articles and Books by Radek Kucharski